Environment
Can Asia Achieve Zero Emissions Despite Explosive Urban Growth?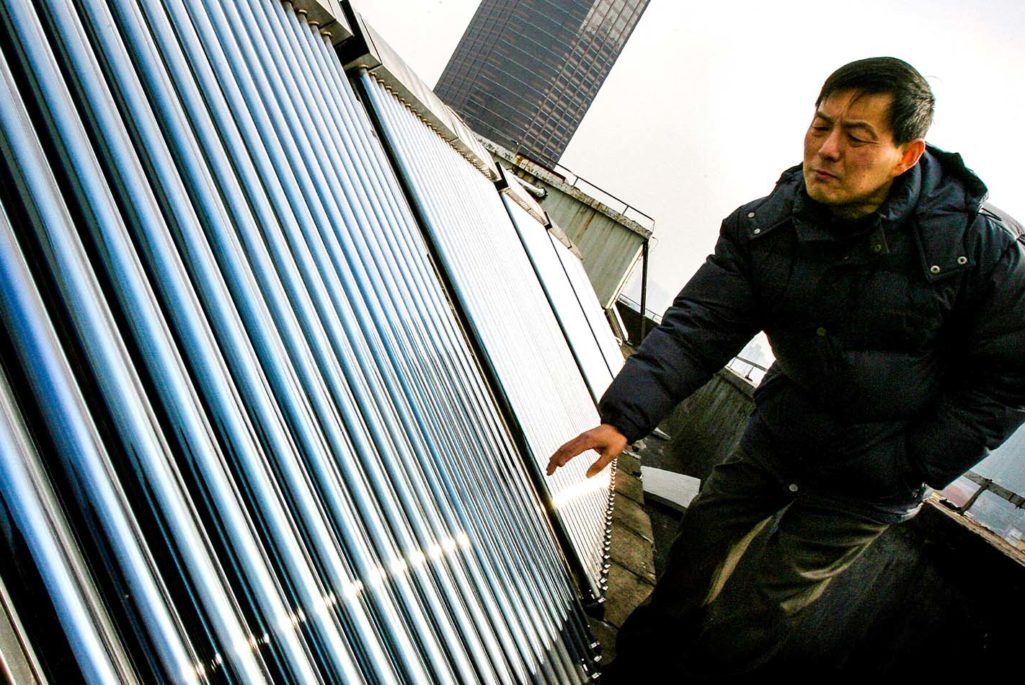 A rapid expansion of the construction industry in the Asia-Pacific region has focused attention on the need to reduce greenhouse gas emissions from buildings. Buildings are large consumers of energy, accounting for nearly one-third of the world's total energy consumption and a similar contribution to greenhouse gas emissions. With rising energy prices and deepening environmental concerns, many countries are looking at ways to reduce energy use in buildings and lessen their contribution to the global carbon footprint.
A joint report by ClimateWorks Australia and the Australian Sustainable Built Environment Council, Low Carbon, High Performance examines how Australia's built environment can make a major contribution to achieving emissions reductions, creating healthier and more livable cities, and how it can help inform strategies to manage energy consumption and emissions in Asia's booming metropolises.
Buildings are Crucial to Achieving the Paris Pledge
The Paris Agreement commits all nations to transition to net-zero emissions globally in the second half of this century. Countries are required to reduce greenhouse gas emissions to keep global warming well below 2 degrees Celsius.
In 2018, the United Nations will perform a global stocktake of emissions reduction actions and progress to review at the next international conference, which will take place in 2020. All signatories to the Paris Agreement will be called upon to demonstrate progress toward accelerating emissions reductions.
Under the Agreement, Australia has committed to reducing its greenhouse gas emissions by 26-28 percent (below 2005 levels) by 2030 and reaching net-zero emissions by around 2050. The Low Carbon, High Performance report found that buildings contribute 23 percent of Australia's annual emissions, offering a significant opportunity for emissions reduction.
Net-Zero Emissions from Buildings is Achievable
The technology to achieve zero-carbon buildings already exists today.
In Australia, market-leading property companies have demonstrated the potential for energy performance improvements over the past decade, consistently topping international green building benchmarks with world-leading sustainable buildings. The uptake of solar PV has been rapid and continues apace.
These activities have led to emissions reductions of over 180 megatons—more than 19 times the annual emissions of Australia's largest coal-fired power station.
Globally, the market for net-zero emissions buildings is predicted to expand considerably as the sheer number of buildings being constructed forces countries to adopt major steps and technologies to reduce energy consumption.
Our report shows it is possible to achieve net-zero emissions from buildings through:
Energy efficiency: improvements in the efficiency of appliances and equipment and improvements to the thermal efficiency of the "shell" of the building
Fuel switching: switching from appliances and equipment that use gas, wood or other fuels to electric alternatives
Zero-emissions electricity: deployment of zero-emissions electricity by building owners through the installation of on-site distributed energy systems such as solar PS and, increasingly, battery storage systems; the purchase by building owners or tenants of off-site carbon electricity; and de-carbonization of the electricity grid through the replacement of fossil fuel power stations with large-scale centralized renewable energy
Built environment emissions and opportunities to achieve zero carbon building emissions (MtCO2e)
Reducing Emissions from Buildings has Financial Benefits
Many of the energy efficiency measures actually provide a financial benefit to the building owner by reducing energy consumption and lowering their energy bills. The report found that implementing all of the energy efficiency opportunities identified could deliver almost $20 billion in financial savings by 2030.
In addition, there are productivity benefits and improvements in quality of life for businesses and households. Buildings that are well designed and constructed for energy efficiency are also more comfortable, quieter, and tend to have better indoor air quality. Other research shows that patients recover faster in hospitals designed to save energy, students learn better in energy efficient school buildings and office workers in high performing buildings think more clearly, are more productive and produce higher quality work.
The Cost of Delay
While the report highlights the massive opportunity to reduce emissions from the Australian building sector, it also found that overall progress in Australia to date has been slow.
Market leaders, particularly in the commercial office market, have achieved a step change and are recognized as global leaders in sustainable buildings on the Global Real Estate Sustainability Benchmark. And there are many examples of very high performing or net-zero-emission buildings around Australia. However, the market as a whole has improved its energy performance only by 2 percent over the past decade for commercial buildings and 5 percent for residential buildings.
Our report found that continuing to delay action to reduce emissions from buildings would mean a substantial amount of the cost effective opportunity is lost. Many emissions reduction opportunities exist only for a certain period of time, for example installing inefficient equipment or appliances locks in excessive emissions for many decades into the future.
The modeling shows that even five years of delay in the take-up of these opportunities could lead to $24 billion in wasted energy costs and more than 170 megatons of lost emissions reduction opportunities.
Furthermore, without additional action, buildings would eventually consume more than half of Australia's "carbon budget" by 2050, leaving less than half for all other sectors of the economy, including the emissions-intensive industries: transport, land and agriculture.
Strong Policy Framework Needed
To realize the emissions reduction potential in the building sector, strong policy will be required to address persistent barriers and impediments to energy efficiency and distributed energy. The report sets out a five-point plan containing specific policy initiatives to reduce greenhouse gas emissions across the Australian building sector including:
A national plan to coordinate policy development and implementation of emission reduction measures to ensure the gains made by market leaders can be extended across the entire building sector
Mandatory minimum standards for buildings, equipment and appliances with a future trajectory aligned with the long-term goal of net-zero emissions
Targeted incentives and programs to motivate and support higher performance in the short-to-medium terms, including the use of government market power, targeted programs and targeted support for key sectors
Energy market reforms to ensure that the energy market supports roll out of cost-effective energy efficiency and distributed energy improvements
A range of supporting data, information, training and education measures to enable informed consumer choice and support innovation, commercialization and deployment of new technologies and business models
Implementing these policy measures would set Australia on a pathway to zero-carbon buildings and unlock the large potential for buildings to deliver improved health outcomes, and more livable and productive cities.
While the context and conditions differ country-by-country, and the optimal policy mix will need to be established for each country, this framework can help inform the development of strategies to manage Asia's extraordinary urban growth.