Economy
Australia's Superior Innovation Spurs High-Growth Firms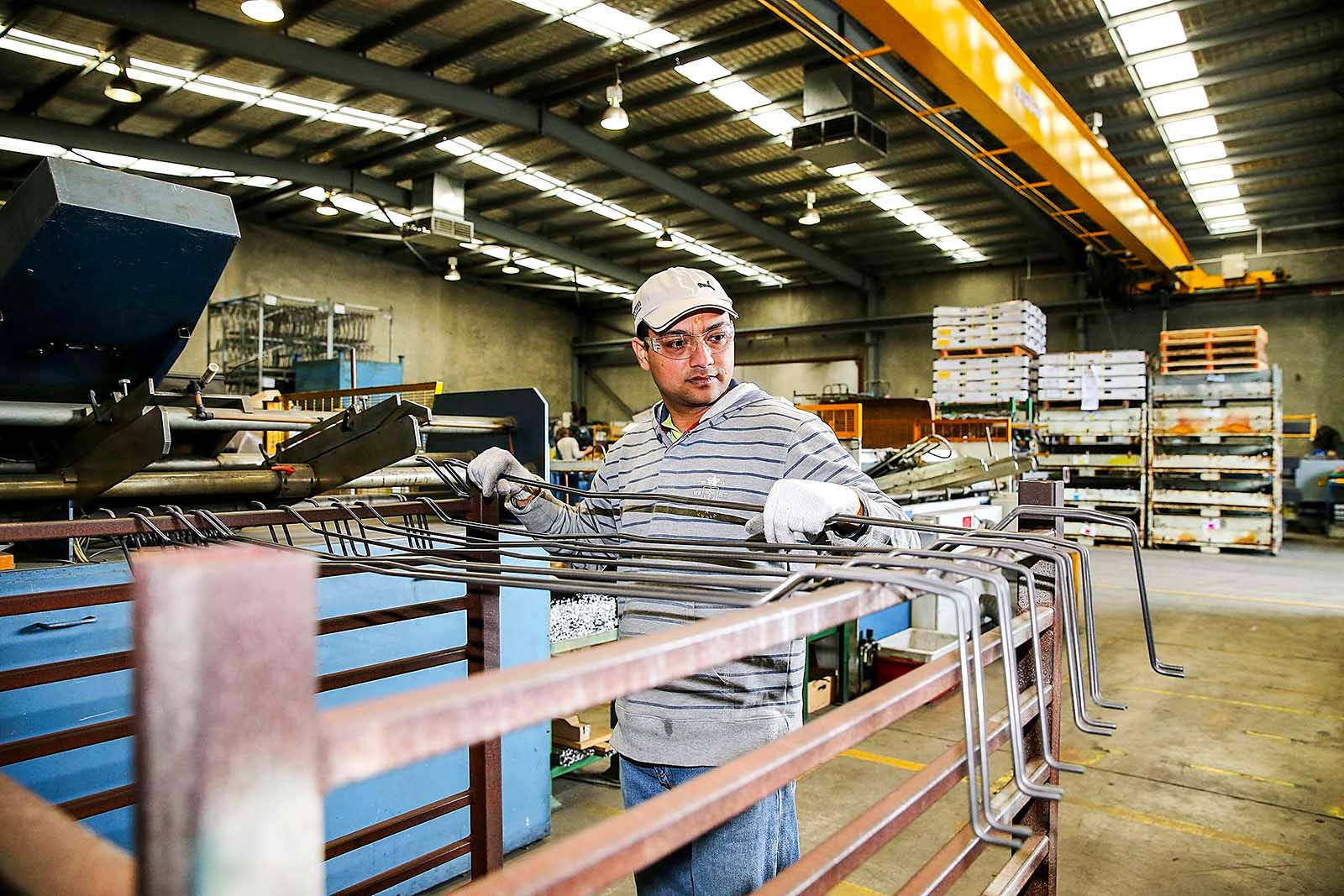 The advantages of innovation go beyond economic benefits, and its impact on the quality of daily lives in Australia is significant, according to a recent report from the Office of the Chief Economist in the Australian government's Department of Industry, Innovation and Science. "The living standards of Australians have risen due to innovations including those in healthcare, communication, education, services, infrastructure and environmental sustainability," the report says.
Exhibit 1: Businesses Reporting Improved Performance on Various Metrics Since the Last Year, by Innovation Status, 2015-16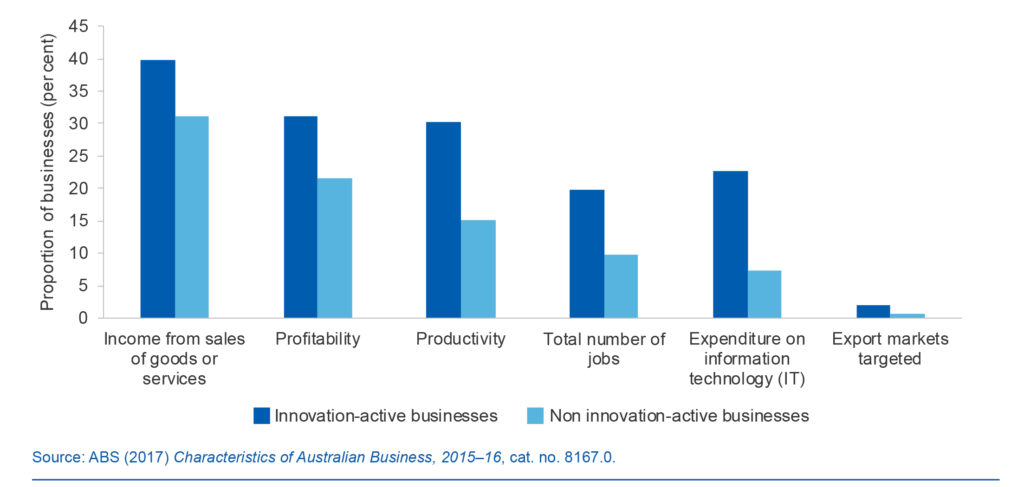 Manufacturing Sector Most Innovation-Active
In 2015–16, an estimated 48.7 percent of all employing firms in Australia were active innovators—with the manufacturing sector taking the lead. Currently, 58.3 percent of manufacturing firms are innovation-active, as compared to 53.4 percent in 2007-08.
Retail trade followed closely at 58.1 percent, while the least innovation-active sector was agriculture, forestry and fishing, at 29 percent. "In 2014–15, the overwhelming majority of Australian innovators across all business sizes were domestic modifiers …, and this has been the case since at least 2008–09," the report says. This is in contrast to introducing new-to-market innovations, an area in which Australia ranked 23rd out of 31 OECD countries in 2015. These new-to-market innovations are the ones that provide businesses with a greater competitive advantage.
Exhibit 2: Australia's Innovation System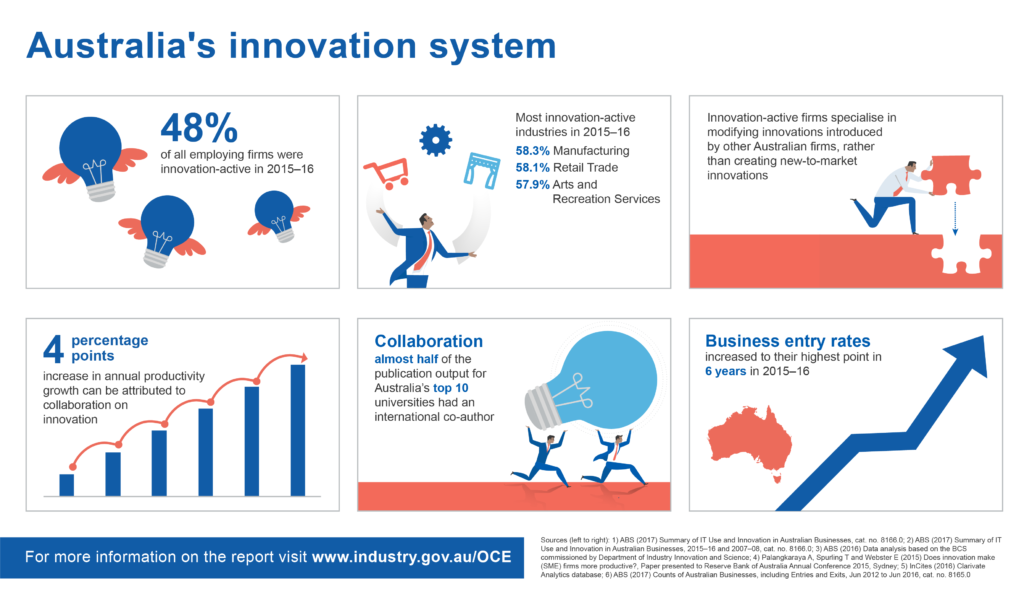 Contribution of High-Growth Firms in Australia
From 2004–05 to 2011–12, high growth firms (HGF) in Australia contributed an estimated 46 percent of net positive employment growth. Of this, 23.5 percent of net positive employment growth was attributed to large employment HGFs. Typically, HGFs in Australia tend to be medium-sized businesses with greater capital spending accompanied by higher labor productivity growth.
Between 2002 and 2013, median capital expenditure of turnover HGFs was AU$71,132 ($56,015) as compared to AU$44,954 for non-HGFs. In 2014, turnover HGFs witnessed a median turnover of AU$184.2 million, a 45 percent increase from 2005 after adjusting for inflation. On the sales front, 66 percent of net positive sales growth was derived from only 15 percent of firms in consideration.
Exhibit 3: Trends of High-Growth Firms in Australia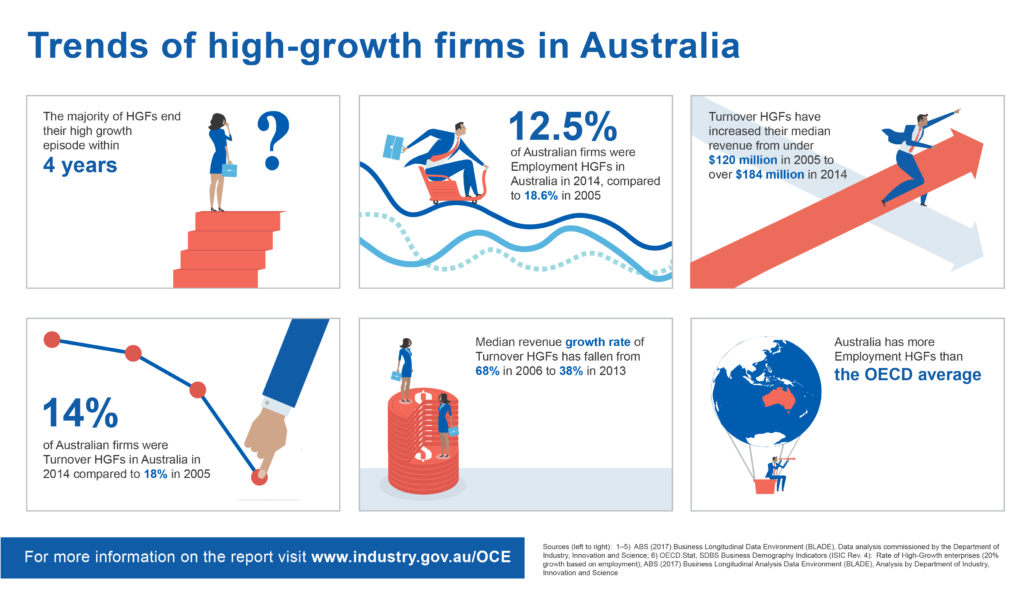 Embracing Technology
Australian businesses and HGFs in particular are keen on technology adoption. In 2015-16, income derived from Internet business was more than AU$320 billion, a significant increase from AU$144 billion only five years earlier. During the same period, more than 50 percent of Australian businesses placed orders over the Internet, 40 percent had a social media presence and 30 percent used paid cloud computing services.
Impact of Innovation on Organizational Growth
Innovation in goods and services boosted organizational growth by an average of 3.3 percentage points. In marketing, innovation resulted in higher turnover growth by an estimated four percentage points. Turnover HGFs with a consistent focus on innovation recorded an increase in turnover growth by 9.7 percentage points. In fact, for Australia's least innovation-active agribusiness sector to grow, it is necessary to establish a framework that enables businesses "to acquire the capabilities and capacity necessary to transition from a Business of Today into a Business of Tomorrow—into a[n] HGF."
Globally, the OECD's Digital Economy Outlook 2017 positions Australia at par or exceeding the OECD average, "suggesting that framework conditions in Australia are more favorable to the creation of innovative startups, new business models and new services enabled by digital technologies."