Society
Business Continuity and Coronavirus: Your Questions Answered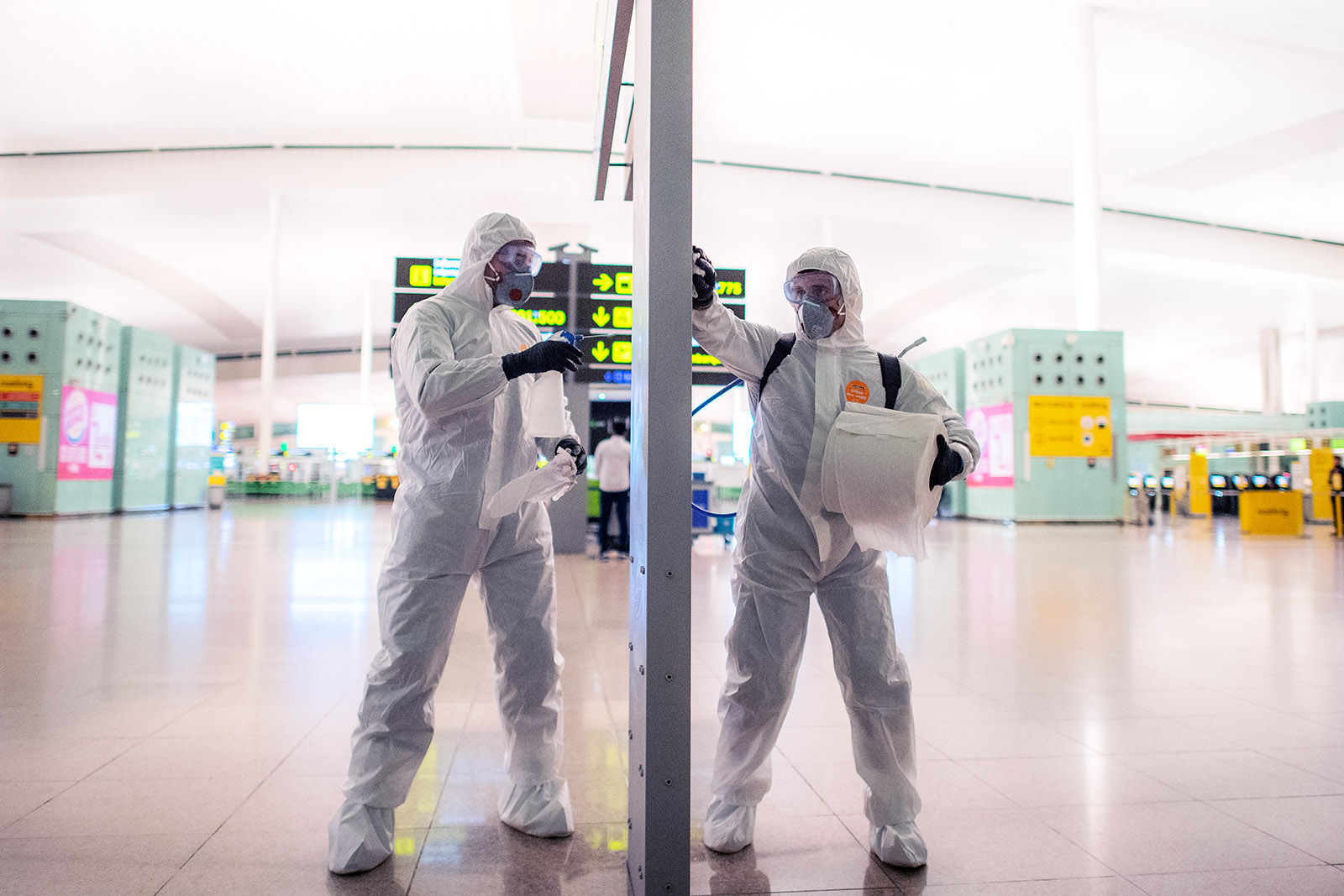 On March 11, 2020, Marsh held a webcast to discuss aspects of the COVID-19 situation. Following is an edited transcript of the discussion.
Jeff Alpaugh: We have a great lineup of Marsh colleagues and others joining us to answer your questions, as you can see. We want to move right into the questions that we've received from the audience. Let's direct this first question to Dennis Tierney, director of claims in Marsh's Workers' Compensation Center of Excellence. This first question is: 
If one of our employees files a workers' comp claim in the U.S. for the coronavirus, will we be covered? 
Dennis Tierney: Thanks Jeff. This is a really important question, so first and foremost we have to remember that workers' comp here in the U.S. is very jurisdictional. Every state has their own statutes and case law, which complicates things a little bit. Generally, compensability requires an illness or disease to be occupational. What this means is that the illness needs to arise out of the course and scope of someone's employment. It also needs to be proven that the result is due to a workplace exposure. 
Lastly, it needs to be "peculiar" to the employee's work. When we're talking about peculiar, this means that this disease is found exclusively among or poses greater risk to certain employees. In the case of COVID-19, we're talking about health care workers, first responders, hospitality workers. These are the ones with the highest likelihood of exposure.
Really, at the end of the day, whether a specific case is compensable is going to be determined by the facts established during the investigation, as well as the governing law within the jurisdiction. There really isn't one single test, so it's ultimately going to come down to a decision by a court or the state workers' compensation board.
Alpaugh: This next question just came in: Are we expecting a rise in bankruptcies as a result of the outbreak? Can any insurance coverage protect us if customers or suppliers go out of business? I think this question is best directed to Tim Smith, Marsh's global trade credit leader.
Smith: We are aware of many companies that are trading into some of those red zone areas. All credit insurers are reviewing their current exposures and are expecting losses to increase over the coming weeks and months. Most are working with our clients to establish if payments are still being made or if they are being delayed. At the same time, while insurers expect trade to fall, they are specifically looking at some of the key areas of the outbreak to see whether they can reduce exposures to just a need basis — what is being delivered, what is pending, what is being ordered.
During this time, insurers are likely to reduce their covers to need-only. Trade credit insurance typically will cover outstanding sums if a customer goes into insolvency or defaults on any valid due debt.
Alpaugh: The next question came in just now for employees who absolutely must travel during the outbreak: What precautions should they be taking? This question is best directed to a special guest we have today, Dr. Daniel Slaim, who is the regional medical director for the Americas at the International SOS. 
Slaim: Excellent question. I want to emphasize what is really critical travel, what must happen, and what doesn't need to happen. As time passes, we'll be reviewing that more and more as we see how much this spreads. If someone has to travel, we want to make sure that we're selecting an appropriate candidate, an employee to do that. There are some HR issues here to consider, but certainly, you wouldn't want to pick anybody that is at the higher-risk level, someone who could be immunocompromised or [part of the] older population, et cetera.
Then, they should be first and foremost practicing the same precautions that we would emphasize anywhere, whether it's in the workplace or outside: They want to prevent the spread of any potential virus from their hands into their eyes, nose or mouth. They shouldn't be touching surfaces. They shouldn't be shaking hands. 
There's a much longer conversation that could be had about masks, which we may not get to further here, but the main purpose that we find them serving in the general community is preventing a person from touching their own face. 
If that traveler can, on their own, prevent touching their own face, then they may not need a mask. The last thing I'll say is simply that we are trying to practice social distancing where we can, so if you do have to travel, coming up with creative means to do that, that don't get you into very crowded locations, if at all possible, would be preferred. 
Alpaugh: The next question: Can we file a business interruption claim if we are forced to close due to the outbreak? And, can we recover any expenses incurred? This is best directed to Paul McVey, Marsh's U.S. property claims leader. 
McVey: I'll keep this pretty simple. Yes, you can always file a business interruption claim. The collectability of it is going to be factored and based on the loss scenario itself. Was there physical damage at your location? Was there nonexcluded peril involved? If you're talking a mandatory evacuation under a civil authority, that's another issue, but again, the same trigger mechanisms are important here as far as the four corners of the insurance contract. If it's voluntary, it's highly unlikely insurers will entertain that. 
If you just have fright and you decided to close or send everybody home, that will be a difficult loss scenario under any particular property contract. Again, as you'll hear as we go further into some of the other discussions, [it depends on] whether it's contingent business interruption, whether it's civil authority, whether it's ingress/egress. 
Any of those time element extensions, business interruption extensions, you're going to have a trigger mechanism in the policy, e.g., physical damage, which will be an interesting discussion with policyholder counsel as well as the extent of a pollution or contamination exclusion.
Yes, you can always file. Let the insurers respond to you. Most likely you'll immediately get a reservation of rights letter, but sometimes, the better course of valor is to go to the insurer with the facts as you know it and let them tell you what they think. There will be various opinions on different entities about what's physical damage, scope of pollution and contamination exclusions.
Alpaugh: The next question: If one of my employees is exhibiting symptoms of the coronavirus, can I send them home without putting my business in danger of an employment practices liability claim? This is best directed at Kelly Thoerig, Marsh's U.S. employment practices leader.
Thoerig: With all the things appearing on COVID-19, employers first and foremost should be consulting with legal counsel before making any employment decisions or altering any pre-existing policies that you have in place. With that said, generally speaking, the answer is yes. 
An employer can, and arguably should, send a symptomatic employee home for the current recommended incubation period of 14 days. In addition to those who are ill or exhibiting symptoms, individuals who've traveled to countries where there is a heightened risk of exposure or who have been exposed to the virus through contact with friends or family should also be asked to remain home.
Current guidance is that employers should not endeavor to conduct medical testing to determine whether an employee might be infected, so on that point, temperature testing is considered to be a medical exam under the Americans with Disabilities Act. Employers are cautioned not to engage in that practice, at least not now. Employers should also be careful not to exclude employees from work or work-related activities or for customer or client opportunities and interaction unless they have evidence of illness or exposure or have recently traveled to a high-risk area. It's a good idea, if you haven't already, to review your communicable disease and travel policies to make sure they don't implicate any antidiscrimination laws in the way that they've been framed and crafted.
In general, an employer can send a nonexempt or hourly employee home without pay as long as that employee is not performing compensable work while they're there. There are, as you can imagine, some very important exceptions to this general rule. There are issues around waiting time, on-call time, predictive scheduling laws. 
A public company director or officer could be sued in a securities class action for failing to disclose the impact of the virus on the company or materially misrepresenting the company's preparedness.
Consult with counsel to determine what your obligations might be in those regards, but if the employee, this nonexempt employee, is able to work from home, also consider how you're going to track employee check-in and overtime requests and the like. It's made more difficult with them not being on your work site.
Conversely, exempt employees or salary employees must be paid their full salary if they perform any work in a work week during which they're quarantined. Bottom line is, your workplace is unique, but regardless of your situation, any policies that are implemented during this particularly challenging period should be enforced impartially and uniformly.
Alpaugh: The next question is: We've seen a lot of school closures globally and, as you've noted, we could see more going forward. That means our employees may need to stay home to take care of their children. How can we prepare for that? This is best directed to Renata Elias, a vice president in Marsh's Strategic Risk Consulting Practice. 
Elias: I want to keep this brief, but right now, you need to plan for those scenarios where your employees may need to work from home when there are children. The one question you need to ask yourself as an organization is: Can your employee work from home, and Kelly touched on a lot of these points. 
If the answer is no, they can't work from home, then can they work shifts, staggered shifts, thus allowing the parents to take turns looking after their children or family members to come and take turns looking after their children.
The next thing is to pull out your business continuity plans for a loss of workforce. This is in the event not only if your employees are sick, but in the case which we're talking about right now, where employees cannot get to work because they have children at home, so determine which of your employees are impacted, and then see if anyone can backfill for them with employees from other departments or functions. This is where the work done and where a business continuity plan is really valuable.
Then ask yourself what your minimum required staffing levels are for those critical functions that you need to keep going in order to keep operating. Finally, in the event an employee cannot come to work and cannot work from home, does the employee have enough leave to cover staying at home? 
If not, consider these extensions to your leave policy. Again, we talk about the No. 1 priority for any organization right now during COVID-19 being your people. They are your most important asset. You must consider the exceptions to current policies in order to ensure the safety of all of your employees and their families and their loved ones, but also make sure you're looking at policies and looking at what you can do to support your employees. Make sure that you're working with your legal counsel to make sure that these policies are properly amended accordingly.
Alpaugh: The next question is: What kind of liability do directors and officers have here? Sarah Downey is U.S. D&O product leader in Marsh's FINPRO practice. 
Downey: In general, directors and officers will likely face the same potential exposures or potential liabilities here as they do with any other event impacting their business. By event, I mean events we've seen recently are cyber-related events, #MeToo-related events, wildfires, product recall or safety issues — and those are just a few that we've seen recently impact directors and officers. Specific to COVID-19, a public company director or officer, for example, could be sued in a securities class action for failing to disclose the impact of the virus on the company or materially misrepresenting the company's preparedness and its SEC filings. Keep in mind there has to be an accompanying stock drop for there to be a securities class action. Time will tell whether we have that kind of trigger.
Probably the most important exposure from the perspective of a director or officer on an individual basis — whether they're a director or officer of a public company, private company, nonprofit company — is the possibility of a breach of fiduciary duty type of claim. What I mean is, if you're a director or officer and you're sued in a derivative action for a breach of a fiduciary duty, that exposure is likely nonindemnifiable, meaning the company served will likely be prohibited or unable to indemnify that individual for any settlement or judgment that is reached in that litigation.
While breach of fiduciary duty claims tend to be very difficult to sustain or to prove, we mainly see a director or officer being found liable or guilty only for very, very egregious actions. 
Alpaugh: The next question is: What are companies doing to screen visitors and others for potential exposure? The second part of the question is, are there companies out there that already have a decontamination team or a vendor prepared to respond in the event of an exposure? I'm thinking this question is best directed at James Crask, global resilience advisory lead with Marsh Risk Consulting.
Crask: Let me take the last part of that question about decontamination teams. I think that's a grand way of saying cleaners. That's what most organizations have got in place, and the clients that I'm working with have increased the level of cleaning activity taking place within their premises all the way through to doing deep cleans every weekend, just to make sure that there's no potential for infection spread. On the visitor side, there's quite a lot of variation. I've seen organizations that are doing nothing. I've seen organizations that do temperature scans for visitors coming into the building. I've seen organizations that ask visitors to self-declare any travel to some of the more high-risk locations prior to attending a meeting. If they confirm positively, they're asked not to come, and they switch the meeting to a video conference if that's possible.
Quite a broad range of responses from businesses. Coming back to the cleaning piece just for a moment, one of the things that I've seen organizations do here in London is talk with their cleaning contractors and make sure that the contracts they have in place for those cleaning contractors are able to cover an increase in demand for cleaning services. Checking before you need it is really important. 
Alpaugh: The next question: What types of guidance are companies seeking on employee testing, e.g., symptoms, test results and standards for protocols on having employees stay out of the office? I'm thinking this is best directed to Dr. Lorna Friedman, global health leader in Mercer's Multinational Client Group.
Friedman: I would put this answer into context by referencing Kelly's very thorough discussion of the legal constraints and the appropriate constraints on disclosure for any employee. Employers should absolutely be referencing their local health authorities, particularly their instructions and particularly as cases begin to come to their communities. The major construct of the containment phase for any public health epidemic is to identify individuals who are infected with the virus and to be able to track their contacts so that those people too can limit their exposure to other individuals.
Again, testing has been generally and initially done through the public health sector. However, this is changing as we have more of the private sector being able to utilize the testing. That said, the instructions will continue to be the same, which is, those individuals who have either been exposed or are concerned with exposure should contact their providers, they should discuss their symptoms and they should identify and make sure they are in contact with local public health authorities.
Alpaugh: That's all we have time for today. I want to thank each one of our panelists for participating in today's discussion. I also want to thank each and every one of you for joining us in what is a busy time.
This webcast was held on March 11, 2020. Please be aware that information presented reflected the situation at that time and may have changed since. The next webcast is planned on Wednesday, March 25, with a focus on business interruption insurance coverage and employment law issues related to the pandemic.