Economy
Changes in China's Consumer Market Challenge Businesses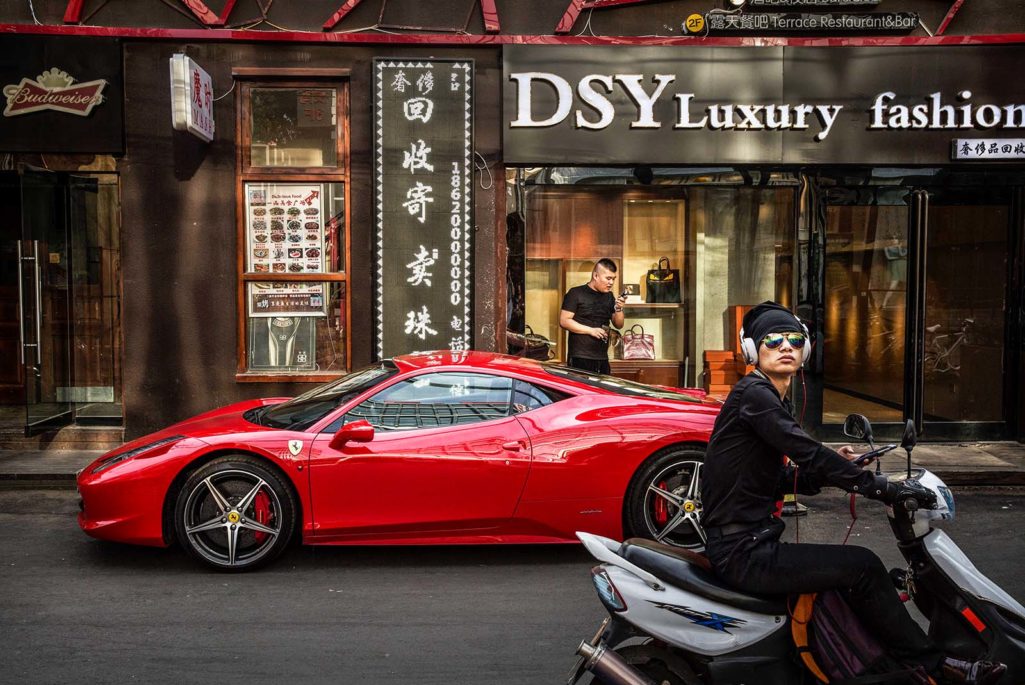 Nearly 35 percent of China's population—480 million people—will count as upper middle-income or high-income consumers by 2030, reflecting a sharp change in China's consumer landscape. This "rapid evolution of China's consumer market will make it tough for companies to keep up," according to a recent report.
The rise of this class of consumers, who have at least $10,000 in disposable income, will be widespread, extending from first-tier cities along the eastern coast to the nation's interior regions. Additionally, rising incomes will be accompanied by a change in consumer tastes, resulting in a shift in consumption patterns.
While these factors will open plentiful opportunities, it will be critical for businesses to understand these trends and the regional divergences in China, the report said. It added that high-income populations will emerge in provincial capitals such as Chongqing, Xi'an and Changsha in interior China.
"Less-developed parts of the country will still offer opportunities for consumer goods companies … However, such firms will need to be aware that consumption prospects in some regions will be weighed down by industrial restructuring challenges," the report said.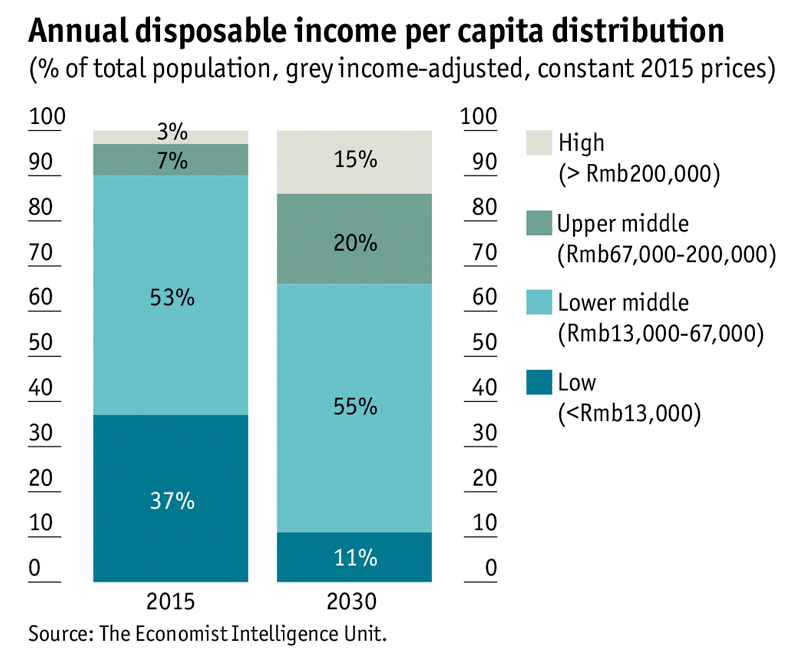 Consumption Dominates Chinese Growth
In 2015, while overall GDP growth in China stood at 6.9 percent, private consumption increased by 8.4 percent and is expected to increase at an average of 5.5 percent per annum for the next 15 years. This means that consumption is forecast to comprise 47.4 percent of nominal GDP in 2030, up from 38 percent in 2015, according to the report. The incremental gain expected in Chinese consumption between now and 2030 will be greater than the entire consumer economy of the European Union today.
Rising incomes are likely to positively impact spending in areas such as health, transport and communications, leisure, education, and financial services. They are also likely to alter spending patterns in these sectors. 
Automotive. China is already the biggest passenger car market in the world; however, given that there is one car for every five people in China, as compared with one for every 1.3 in the United States, there is significant room for growth, particularly as incomes grow. While certain provinces such as Beijing and Zhejiang are reaching the end of the high-growth sales phase and experiencing a softening of sales, others such as Ningxia and Chongqing are entering the high-growth phase. Yet, others such as Shaanxi and Gansu currently lag behind.
Tourism. International travel by Chinese tourists has surged in recent years. In 2015, for example, 120 million outbound tourists from China spent $104.5 billion, an annual increase of 12 percent and 16.7 percent, respectively, over 2014. Here, too, tastes and preferences of location are bound to shift with increased incomes, as people travel to more expensive destinations and travel for longer. While this presents opportunities for companies in this segment, it is also critical for them to understand the changing travel patterns.
Financial services. With an increase in income, consumers will slowly move from cash holdings and deposits to other financial assets such as stocks and wealth-management products. With China liberalizing the financial sector, there has already been rapid growth in internet finance and the non-bank wealth-management industry, which, until now, were considered unconventional. The demand for a host of financial services is sure to rise, but much will depend on loosening of restrictions and investment-friendly policies.
While there is no question that opportunities are significant, changing consumption habits and preferences will pose a significant challenge for companies that are unable to adapt. "China's economic trajectory has become more uncertain, and firms will need to monitor risks accordingly in order to stay ahead of the curve," the report said.