Environment
Disaster Losses Soar 68 Percent to $158 Billion in 2016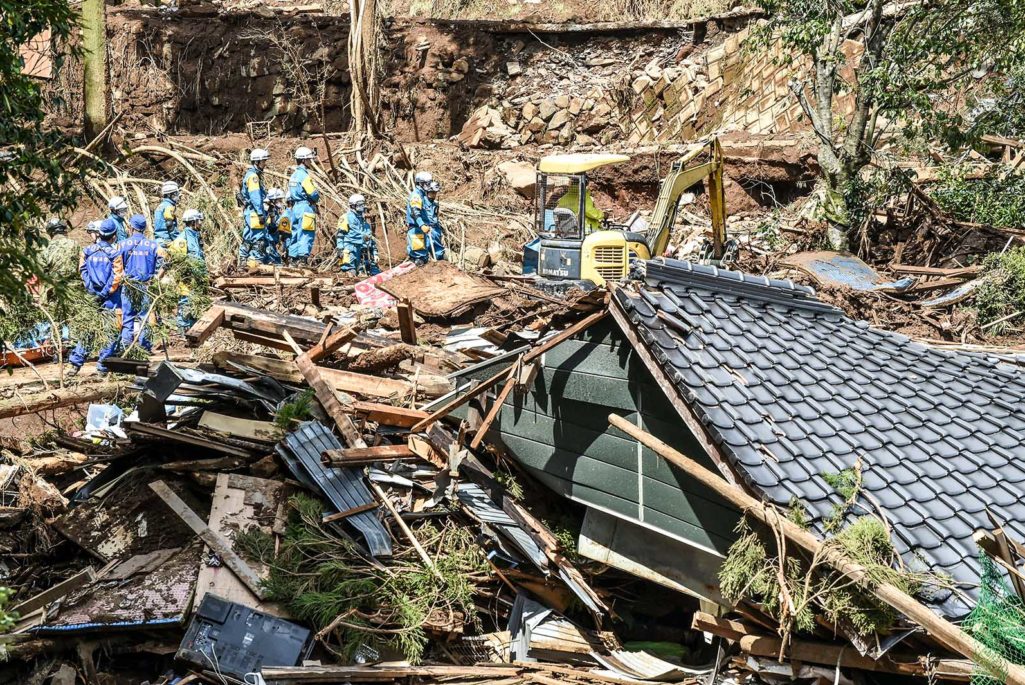 Total economic losses from natural and man-made disasters jumped 68 percent to $158 billion in 2016 compared with 2015, according to preliminary estimates. Despite the dramatic jump, 2016's figures are still below the previous 10-year average of $175 billion. Globally, disasters took the lives of approximately 10,000 people.
Large natural disasters, such as earthquakes and floods, made up the bulk of the losses for 2016 ($150 billion) after 2015's total ($94 billion) dipped slightly from those in 2014. Meanwhile, insured losses also rose 33 percent in 2016 to about $49 billion, compared to $37 billion in 2015, according to Swiss Re, which compiled the initial report. The "insurance gap," the amount of total losses compared to insured losses, shows areas of low insurance were particularly hard hit.
Insured losses for natural catastrophes were $42 billion in 2016, up from $28 billion in 2015, but slightly below the previous 10-year average of $46 billion. Man-made disasters added $7 billion in insurance claims during 2016, Swiss Re said.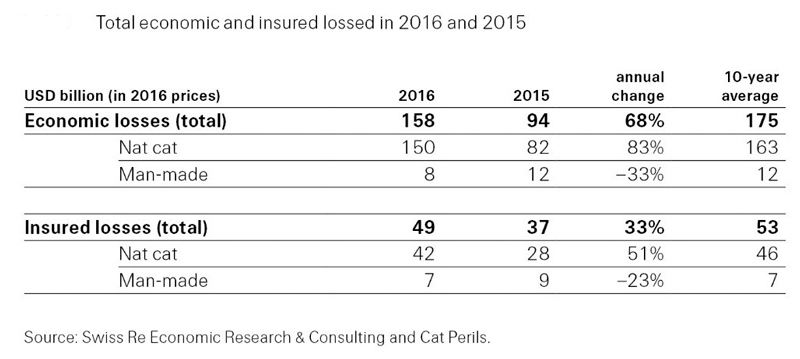 Earthquakes Expose Fault Lines for Insurance Coverage
Large, devastating earthquakes hit many areas of the globe in 2016, from Taiwan to Japan to New Zealand, Italy and Ecuador. Among the largest was the 7.0 magnitude quake that rocked Japan in April. The quakes resulted in at least $20 billion of economic loss, of which only 25 percent was insured, Swiss Re reported.
Quakes shook Italy twice, costing as much as $5 billion in losses; however, insured losses for those events were only a fraction of the total ($70 million) and came mostly from commercial assets.
"Society is underinsured against earthquake risk," said Kurt Karl, chief economist for Swiss Re, in a statement. "And the protection gap is a global concern," he added. "For example, Italy is the eighth largest economy in the world, yet only 1 percent of homes in Italy are insured against earthquake risk. Most of the reconstruction cost burden of this year's quakes there will fall on households and society at large."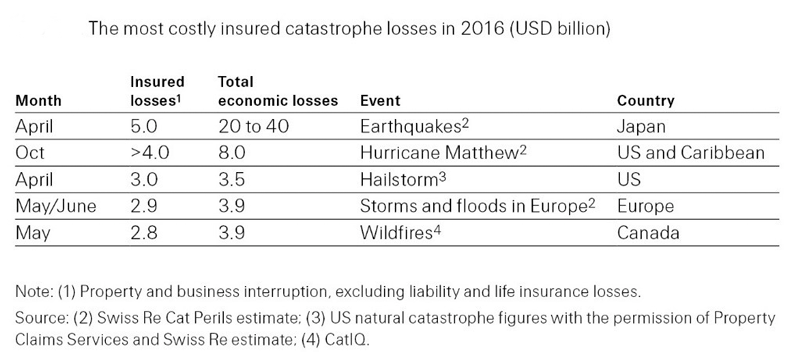 U.S. Pounded by Hurricanes and Severe Storms
Hurricane Matthew roared through the Caribbean and southeastern United States in fall 2016 leaving behind $8 billion in losses, with insured losses "estimated to be in excess of $4 billion," Swiss Re said.
Severe weather also buffeted the U.S. in 2016, including a series of hail and thunderstorms. The costliest hailstorm struck Texas, resulting in losses of $3.5 billion; however, the insured loss amounted to $3 billion. "In this case, because households and businesses were insured, they were much better protected against the financial losses resulting from the storms," Karl said.
Widespread flooding hit the U.S., Europe and Asia in 2016, causing $3.9 billion in total losses, with $2.9 billion of that covered by insurance. Severe flooding in China and other Asian countries led to a total economic loss of at least $16 billion, Swiss Re said.
Biggest Losses Ever in Canada
Canada suffered extended losses due to wildfires, which are still under investigation for the possibility that they may have been man-made. Economic losses reached $3.9 billion, owing to the fires hitting the heart of Canada's oil sands production, which carries a high concentration of insured economic assets. Losses from the Canadian wildfires amounted to $2.8 billion, making it one of the costliest wildfire events in the history of the insurance industry and the biggest loss the Canadian insurance sector has ever dealt with.