Technology
Doubt Darkens $19 Billion Global Market for Cloud Computing
The future of cloud computing depends on the trust and acceptance businesses place in the industry to store their critical data, but a recent survey of four key markets in the Asia-Pacific region might give the $18.9 billion global market a reason to be concerned.
According to the survey—of 130 small and medium enterprises (SMEs) in Indonesia, Malaysia, the Philippines and Singapore—70 percent said they weren't likely to adopt a cloud first strategy, while just 29 percent have either adopted it or will do so in the next 12 months.
More concerning: 73 percent of companies surveyed believe that their data is safer in their control than it is in the cloud, and only 12 percent believe it to be the other way round.

This suggests while businesses may see the cloud as part of their strategy, a majority are not inclined to make it the focal point in terms of how IT is run.
Revenue for the global cloud storage market is expected to grow from $18.9 billion to $67 billion between 2015 and 2022, driven largely by the increasing access to the Internet, a growing demand for big data storage by companies and the swift adoption of cloud storage gateways.
In tandem with its expected economic growth in the years to come in Asia, the region will be responsible for much of this growth in the cloud storage market. However, cloud service providers in ASEAN are not going to find the going easy.
Worryingly for them, 26 percent of businesses surveyed cite security as a major concern when it comes to cloud adoption. According to the survey, concerns over backup and security illustrate that "control over data remains a critical concern" for IT professionals. Another key concern they have is cost (11 percent).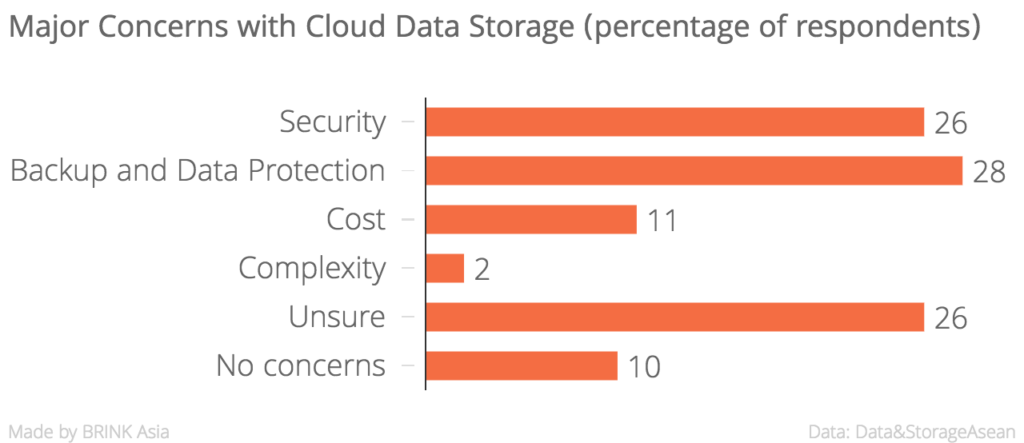 These numbers are surprising, however, considering that 42 percent of companies believe that cloud providers adequately protect and secure their data and only about one in five believe otherwise. Yet, over a third of the companies are unsure, highlighting the need for cloud providers to spread awareness and convince businesses of their security and reliability.
These numbers point to a perception problem, the report says, with SMEs in the region not having the confidence to place their data in the hands of outsiders, even though most cloud providers have a higher standard of data safety technologies as compared to the IT departments of SMEs.
This, rather than the technical capability of cloud providers, is the primary reason why cloud adoption is taking time in ASEAN, according to DSA. If cloud providers want to tap into the region's economic dynamism, they should focus on educating small businesses and helping them build confidence in external cloud data protection.
"Ultimately they [businesses] need to feel like they retain control of their data whilst leveraging the benefits of cloud," the report said.