Society
Highlights and Lowlights of the Global Bribery Crisis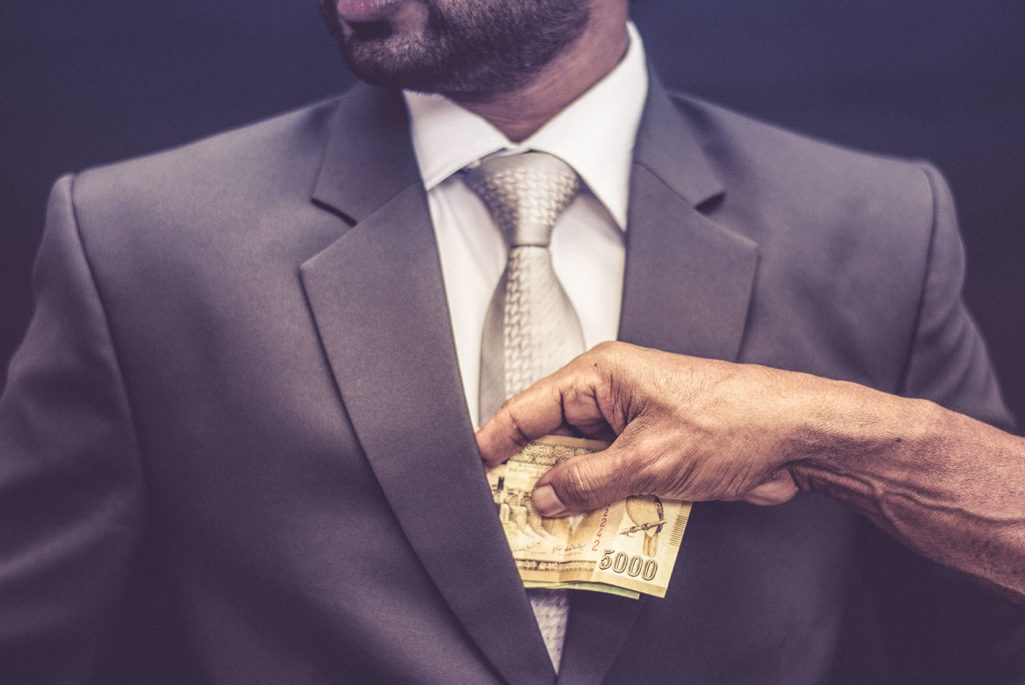 The outlook for global bribery is becoming increasingly polarized, owing to several new countries deemed "very low risk," and a rising number of nation states falling into the "very high risk," categories, according to a new report.
Overall, there was a 32 percent increase in countries with a reduced risk bribery risk and a 60 percent rise in countries with an increased bribery risk, the report said.
TRACE International, a business compliance group, released the second edition of its anti-bribery index, called the TRACE Matrix, which is aimed at helping companies better assess the risk landscape for conducting business across the globe.
The previous index, issued in 2014, categorized only one country as very extremely low risk—that number has increased to five. Meanwhile, also in the 2014 rankings, 14 states were judged to be in the very high risk category—today that number stands at 19.
The index provides a composite score of 199 countries on a 100-point scale (the lower the number, the lower the bribery risk). Countries are assessed across four "domains":
Business interactions with government includes the subdomains of "contact with government," "expectation of paying bribes" and "regulatory burden." These indicators capture aspects of the "touches with government" that TRACE identified as very important for business bribery through regulatory and business interviews they conducted.
Anti-corruption laws enacted by a country and information about enforcement of those laws.
Government and civil service transparency, which includes indicators concerning whether government budgets are publicly available and whether there are regulations addressing conflicts of interest for civil servants.
Information concerning the extent of press freedom and social development, both of which serve as indicators of a robust civil society that can provide government oversight.
Sweden and New Zealand are considered to have the lowest levels of bribery risk while Nigeria and Angola are considered to have the highest risks. The United States dropped out of the top 10 to rank at number 20 this year, compared to its 2014 ranking.
Despite the polarization, bribery risk is generally decreasing throughout the world, Alexandra Wrage, TRACE president, told Forbes, due to "increased enforcement of anti-bribery regulations, more awareness of the damaging effects of corruption on economic and social development and a seismic shift in the business community over the last decade in how they view bribery and corruption."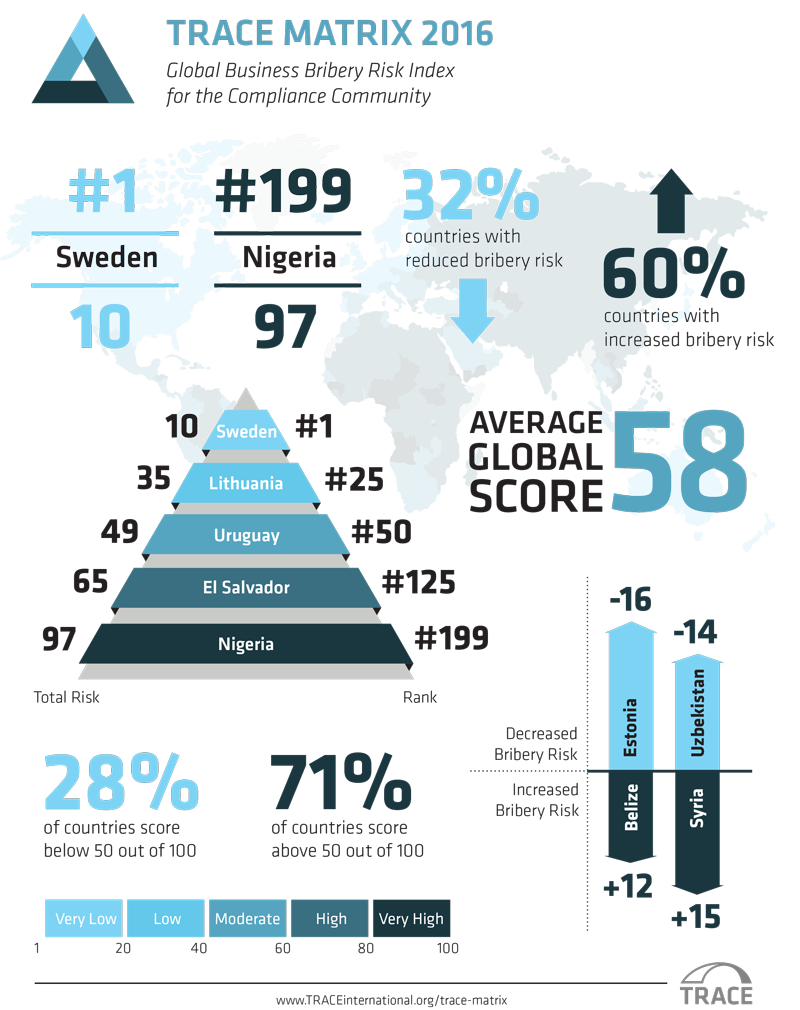 Estonia lead all other countries in its move to decrease bribery risk, jumping from a ranking of 22 in 2014 to 3 in this year's index. A large part of the country's successful rise in the rankings can be traced to its commitment to a digital overhaul of its information infrastructure with an emphasis on openness, privacy and security. Dubbed the "World's most tech-savvy government," by The Atlantic, the country has built transparency and traceability into its dealings with the public and private sector.
The fragile state of Syria, wracked by internal strife and a general breakdown of government authority and civil-society, was the biggest decliner in the 2016 rankings, falling to 192 from its previous ranking of 162.
Businesses can use the overall Index rankings as a general benchmark for bribery in a specific country; however, unpacking the scores behind that general number by examining the various domain rankings can provide a better understanding of the biggest in-country risks. For example, if a company's business dealings include interactions across many government offices, then a country with a high risk in this domain would be of particular concern.
"By providing granular business bribery risk information, the TRACE Matrix has helped us refine our internal anti-corruption risk matrix and to identify in which markets we will conduct in-person anti-corruption monitoring visits," said Gregory Bates, director of Ethics & Compliance LATAM for Avon Products, in a statement on the TRACE International website.