Economy
Homegrown Brands Lead Expansion in Asia-Pacific Retail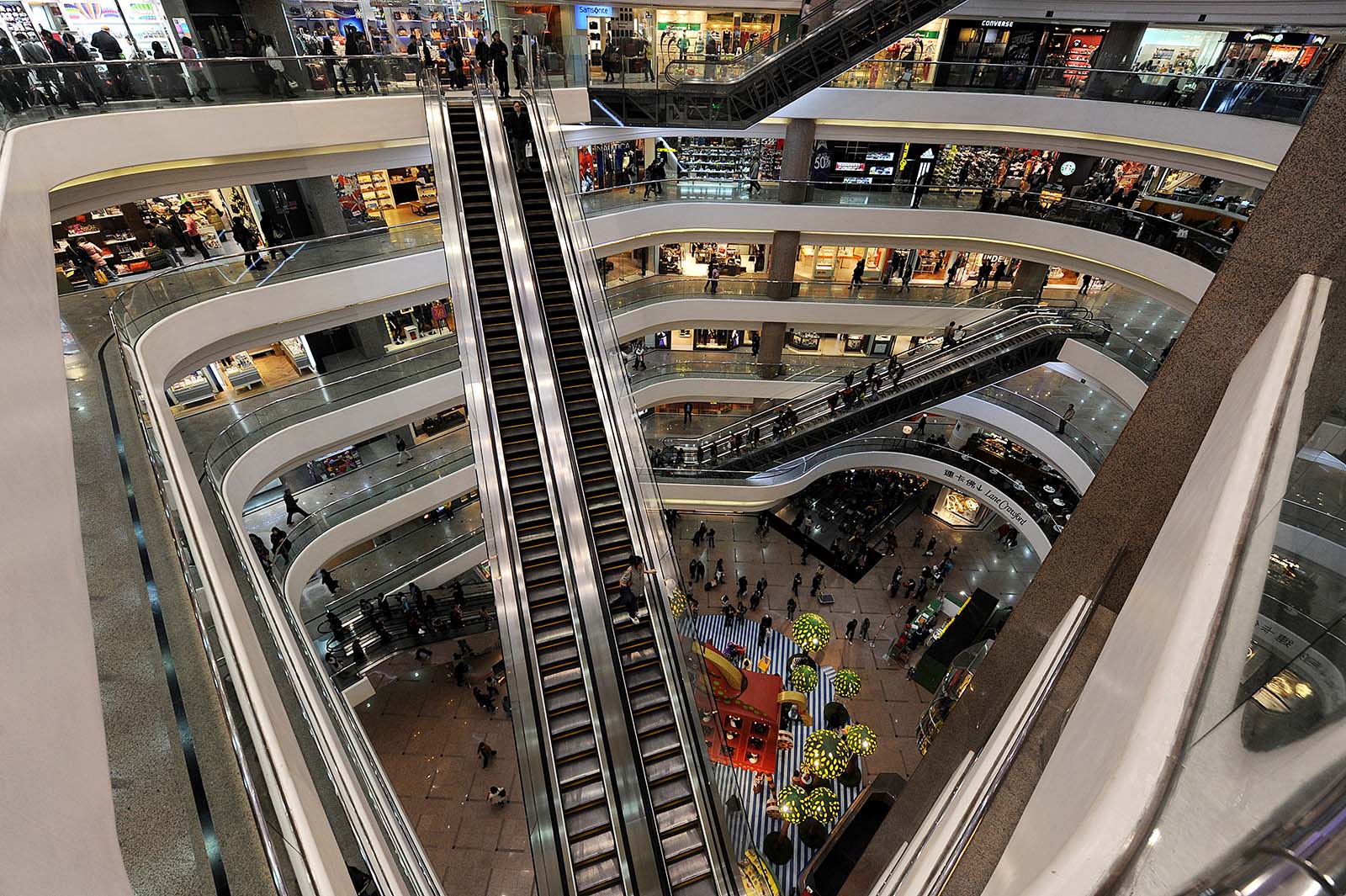 With a strong appetite for expansion in Asia-Pacific, global retailers continue to face significant challenges on entering the region, such as the rapid growth of e-commerce and the emergence of homegrown retailers across the region. Additionally, consumer preferences are changing alongside the growing middle-class population and urbanization, while rapid advances in technology are forcing retailers to invest in more innovative sales and marketing strategies.
The retail landscape across the region is changing meaningfully, with the regional expansion of domestic Asia-Pacific retailers offsetting selective repositioning by global names.
Strong Focus on Gateway Markets
Most retailers expect the retail environment in Asia-Pacific to remain challenging, making them more risk-averse and likely to invest in markets with proven sales performance. Developed markets, therefore, remain the most popular destination for retailer expansion. Hong Kong is the most popular spot, with more retailers keen to expand in the city as rents have fallen to more affordable levels. China, Japan, Singapore and Australia follow as the most attractive markets for retailer expansion.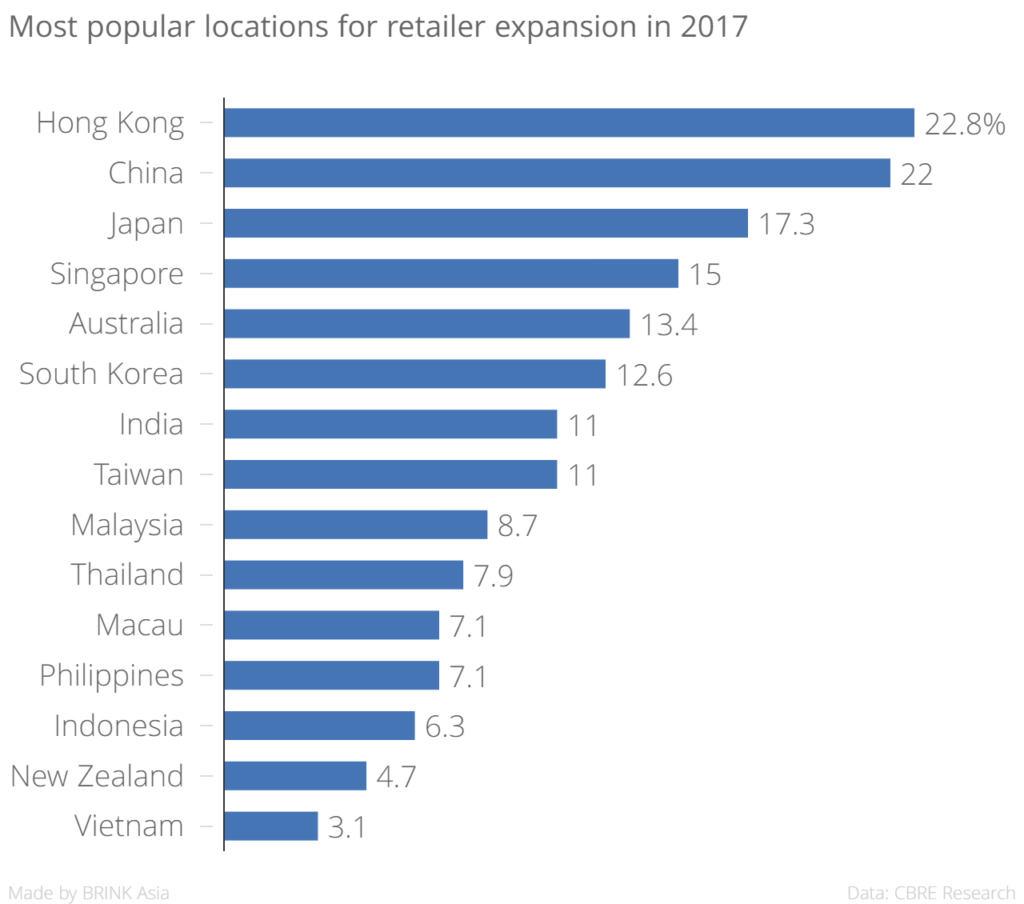 Furthermore, CBRE's survey indicates that fewer retailers intend to expand to new cities within existing countries in 2017, with around one-third of retailers saying they plan to expand within existing cities, particularly those that have proven to perform well.
This divergence in expansion strategy reflects the risk-averse attitude that has taken hold among retailers. Many groups have observed the experience of luxury retailers, which have consolidated their Greater China sales networks over the past two years. It has led many retailers to adopt a cautious approach on building brand awareness in major cities, rather than expanding rapidly across the entire country.
Entering new countries remains the foremost channel for retailer expansion, although activities are largely confined to developed markets. Demand continues to be partially driven by the limited growth opportunities in retailers' home markets, as well as their confidence in Asia-Pacific's long-term growth potential.
Domestic Retailers Expand
While global retailers tend to be more cautious in expansion activities in the region, Asia-Pacific homegrown retailers showed a robust appetite for regional expansion, accounting for 40 percent of the total new retailer entrants in 2016. Led by retailers from Japan, South Korea and Australia, the expansion activities were largely driven by static sales growth and market saturation in their home markets, combined with regional shopping center landlords' demands for native brands.
Over half of new openings by Japanese and South Korean retailers in 2016 were cafes and restaurants, reflecting strong consumer demand for Asian cuisine and eating out. Activity by Australian retailers was led by apparel, footwear and houseware stores expanding in New Zealand.
Overseas expansion by Chinese retailers was driven by domestic fashion retailers opening more stores abroad, as prime retail space in China remains tightly held by international brands. Chinese retailers are also using overseas expansion as a means by which to enhance their status among Chinese consumers.
Food and Beverages Lead the Way
The food and beverage sector, particularly restaurants and confectionary/pastry shops, continued to drive retailer expansion in Asia-Pacific, which accounted for around one-third of new retailer entrants in 2016. Among them, Japanese, Korean and Taiwanese brands were especially active.
The growth of the F&B sector continues to be supported by consumers' tendencies to eat out and landlords' strategies of extending their F&B offerings to enhance their "retail-tainment" elements to compete against e-commerce.
Eating out is increasingly popular among the young customers, with our APAC Millennials Survey revealing that those aged between 20-29 years old eat out on average 9.7 days per month. Many will share pictures of their food on social media, making it a useful promotional tool. Riding on this trend, more landlords are approaching high-profile F&B brands to open outlets in their malls to boost publicity and the number of visitors.
Embracing New Technology
In today's retail market, consumers are constantly seeking new products and display lower brand loyalty. At the same time, online retail has improved price transparency and prompted retailers to standardize their prices across different markets and channels. E-commerce poses an additional challenge to traditional retail formats with rapid and low-cost delivery.
Retailers are increasingly using technology to monitor and analyze consumer behavior to help them respond to rapidly changing demand. Many retailers are integrating in-store experience with social media platforms to leverage on this powerful promotional tool. Together with online sales, this involves a large volume of data that retailers need to track. Collecting information on who their consumers are, the products they buy and try, and how they navigate around stores can play a key role in helping retailers improve operational efficiency.
Although the total number of new retailer entrants registered its first decline since 2012, the retail landscape in Asia-Pacific continues to evolve. While careful strategic planning slows down new store openings by global retailers, homegrown brands stay active in exploring expansion opportunities across the region. With consumer preferences changing constantly, both retailers and shopping center landlords will need to leverage big data to enhance their tracking and understanding of consumers. And those who can effectively use the new technology will be more competent to gain advantages in this competitive environment.