Society
Inside the U.S. Fight to End Ebola: Lessons in a Time of Crisis
An interview with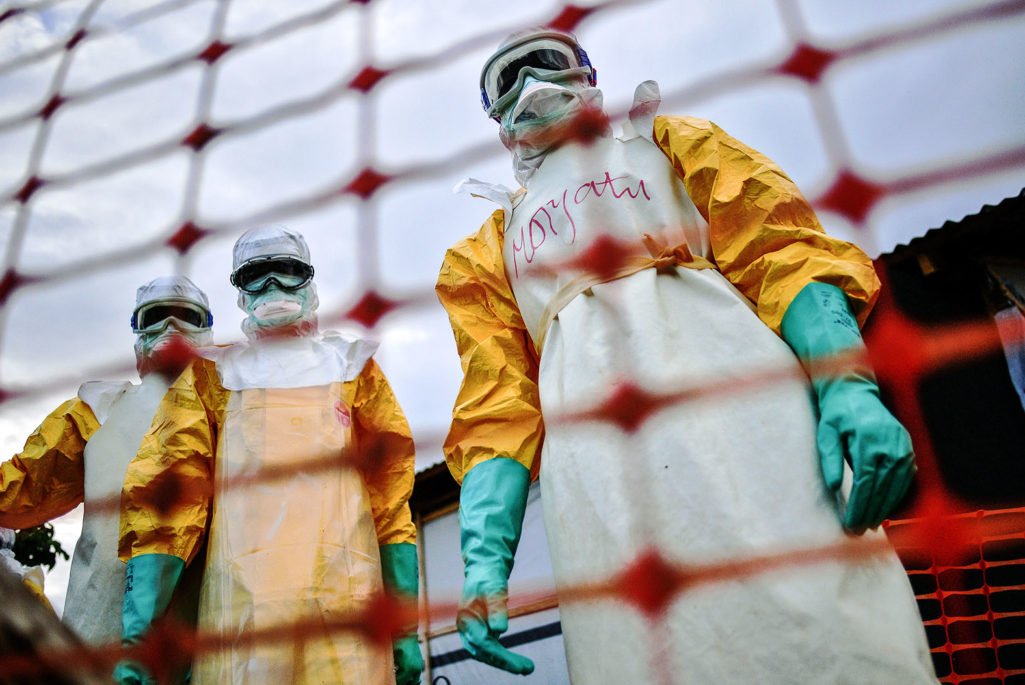 The recent Ebola crisis caught the world off-guard, no less so the United States. Amid the early hand wringing and predictions of a possible global outbreak of the disease, President Obama reached out to Ron Klain, a trusted political veteran, and tapped him to lead the nation's Ebola fight.
Although the U.S. effort was an interagency process, Klain spearheaded the operation. The effort was a resounding success, both domestically and internationally. In an exclusive interview with BRINK, Klain talks about his early days at the helm, some of the lessons learned during the process and provides a glimpse of what needs to happen to make sure the present gains don't get lost when the next health threat emerges.
BRINK: How did you set priorities and manage the Ebola outbreak in the early days?
Klain: We had two immediate priorities. One was to get a system in place to identify people coming to the United States who might have Ebola, quickly diagnose them and get them care quickly. The second one was to accelerate the efforts to fight the disease in West Africa. We had to increase the pace of training African health care workers and opening up Ebola treatment centers there, and to step up our efforts to support social mobilization efforts.
Most of the U.S. team was already in place. People were obviously working on these problems, people in the agencies, CDC, USAID, State, Defense, HHS, and others were already at the White House working on this. So I was brought in, not so much to build a team from scratch, but to coordinate those efforts and to try to do what I could to keep those efforts organized.
My challenge was also to make sure we could take all these different pieces of the president's massive and unprecedented response and make them work better together, increase the pace, and eliminate any challenges from interagency conflict or lack of coordination.
BRINK: You took some early flack for not having the right credentials to take on the job. How did you ignore that background noise to get the job done?
Klain: This was one of those tasks that had a very clear and simple metric: how many people had Ebola in the United States and West Africa. Either we were going to succeed in bringing the disease under control in West Africa, in which case, the early noise was just going to be noise. Or we weren't going to succeed, in which case, even a favorable press reaction at the front end wouldn't really be much consolation. Either this was going to be a clearly successful effort or a clearly failed effort and that was the only thing that really mattered.
BRINK: How did you manage the public's fear in reaction to the Ebola threat?
Klain: Our goal was always to respect that fear and address it with truthful, scientifically-based information about what the risks really were. We wanted to show the public that we had a robust program to protect the American people and keep them focused that the real threat wasn't in the United States, it was in West Africa.
"People power response… what you need are key officials running the key parts and working together effectively."
BRINK: In-person meetings were a major part of your strategy. What was the purpose of that and what advantages did such an approach have?
Klain: People power response, and particularly in government interagency response, what you need are key officials running the key parts and working together effectively. We also met in subgroups, but getting everyone around the table once a week was important for a couple reasons.
First of all, it's a real-time way to flag problems and resolve them with decision-makers. Secondly, inevitably well-coordinated responses turn on trust and human relationships between the players involved, and it's hard to have that without face-to-face interaction. Third, there's a serendipity of insight that comes from having people all together offering their solutions and perspectives.
BRINK: You've written that it's important to "turn the telescope around" by focusing on patients and not providers. What was behind that reasoning?
Klain: We had an effort underway to try to prepare every touch point in the health care system—numbering about 500,000—for a potential Ebola patient. It was gridlocking everyone trying to figure out how to do something of this size, scope and scale. Then we thought about it, and realized we knew the only people who might have Ebola were people who had been in West Africa in the past 21 days. We could identify those people in the U.S. using technology and DHS databases. We could use local public health officials to track them, contact them everyday to make sure they're well, and work to get them to facilities where they could be diagnosed, tested, or treated. That reimagining of the problem made it much more manageable.
BRINK: You're on record saying "don't oversolve problems"—which is something anyone could benefit from, regardless of the field they're in. Can you explain why it's important?
Klain: At several key junctures, there were efforts to make this more complicated than it was. For example, one thing we had to do for people within the 21-day period was to get their temperature twice a day to make sure they were not getting sick. People came up with all kinds of complicated ways of doing that, using some very high tech and expensive devices, like bracelets or tracking devices. In the end, we decided the simplest thing to do was to give people a cellphone and a cheap digital thermometer and just call them twice a day and ask them to take their temperature. It was much less expensive than all this high tech wizardry, turned out to be more reliable and also gave us an actual human touch point with someone everyday. I think there were a lot of examples where the simplest solution often turned out to be the best solution.
BRINK: At the start of the Ebola crisis, only three U.S. hospitals were prepared to treat the disease, and now that number has grown to 48. How sustainable is that? How do we stay prepared for not only the next Ebola crisis but the next pandemic threat in general?
Klain: I think this is a critical question and a critical challenge for our country. The good news is that Congress was very generous in response to the president's funding request and appropriated robust sums.
My guess is that we will wind up with a fewer number of places than 48—certainly more than three—that will continue to develop expertise to become real regional centers of excellence. Americans will hopefully live within a two or three hour drive at most from a place that can really handle this kind of outbreak. Then, we'll have a ring of hospitals beyond that that have a little less readiness but could deal with an unexpected case.
The challenge is that it's going to require ongoing funding year after year to continue to fund drills and preparedness, new equipment, or rotate out expired gear. The important thing will be to continue to stay focused as the Ebola epidemic moves in the rearview mirror and future threats are a little less acute, but still are very serious.
BRINK: You wrote in a New York Times Op-Ed about the global community's tardy reaction to the Ebola outbreak, early stumbles and the "incoherent leadership by the World Health Organization." How can we be better prepared when a global pandemic even more virulent and contagious than Ebola strikes?
Klain: I think that there are a couple things we have to do. First, we have to reform the WHO. Its leadership has acknowledged that it needs reform. It's had a number of meetings about reform. All the right things are being said, but we have to go from the right things being said to the right things being done and that's still an open question. Second, I think we need to really have an effort to increase the preparedness of health care systems around the world to be able to identify and respond to these kinds of infectious disease outbreaks. President Obama has proposed a global health security agenda and again Congress gave some funding for that in the Ebola emergency response legislation. We need to continue to work on that.
While it's great to have a World Health Organization to come into a situation and provide help, these nations' own health care systems need to be more capable of identifying and responding to these crises. We also need some kind of global white hat battalion, an emergency response capacity that can provide the kinds of health care response—but also security and logistics—that we relied on the U.S. military to provide in this instance. This shouldn't always fall on our country alone, and in some places our troops wouldn't be the right people to send in anyway. Having more of a globalized response unit is an important thing.