Economy
Price Tag for Hurricanes Harvey and Irma Could Hit $290 Billion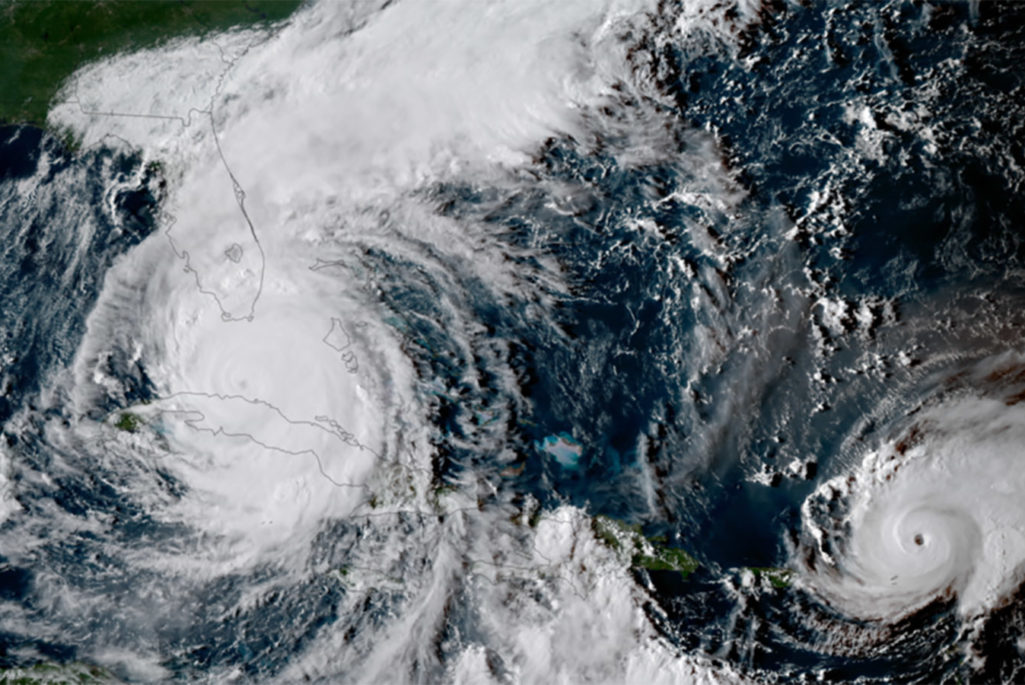 Hurricanes Harvey and Irma have combined to wallop the respective economies of Texas and Florida with an estimated $290 billion in damages. But it could have been worse.
As Irma pounded the Caribbean and gathered force for its assault on Florida, a meteorological "wobble" caused it to veer 20 miles to the west, largely missing Miami and its densely populated surroundings. The change in course dropped Irma's price tag, by one estimate, to $58 billion from $200 billion over the weekend.
"With Irma, little wobbles made a huge difference," Chuck Watson, a disaster modeler with Enki Research in Savannah, Georgia, told Bloomberg News. Enki's most recent damage estimate now stands at $58 billion for Florida, bypassing Hurricane Andrew's inflation-adjusted price tag of $47.8 billion.
Meanwhile, AIR Worldwide is now estimating Irma could rack up insured losses as high as $65 billion for the U.S. and Caribbean.
"This is a story for many days to come," Joel N. Myers, AccuWeather founder, president and chairman said. "We believe the damage estimate from Irma to be about $100 billion, among the costliest hurricanes of all time." AccuWeather's estimate for Harvey, "the costliest weather disaster in U.S. history," is set at "$190 billion or one full percentage point of the GDP."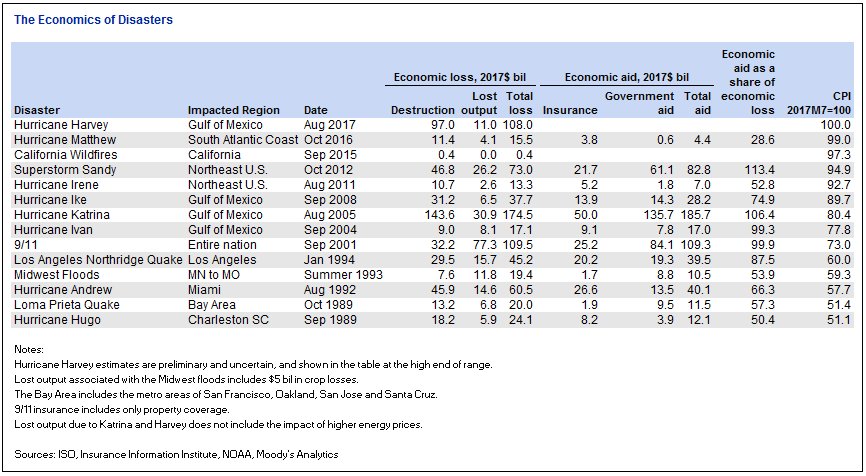 Sorting Out Harvey's Impact
Hurricane Harvey, which brought over 40 inches of rain to southeast Texas and parts of Louisiana—and with it, catastrophic flooding and destruction—is set to be one of the most costly natural disasters in U.S. economic history, second only to Hurricane Katrina. Texas's Harris County, which bore the brunt of Hurricane Harvey, is the third-most-populous county in the United States. William "Brock" Long, administrator of the Federal Emergency Management Agency, recently described Hurricane Harvey as "probably the worst disaster the state's seen."
Despite this, Harris County and its surrounding areas are likely to come back more quickly than regions that have suffered from disasters of similar magnitudes, according to analysts from Moody's Analytics during a recent briefing in which they outlined the losses, their historical context, and the outlook for recovery.
In the Shadow of Hurricane Katrina
Moody's analysts were quick to caution about parallels between Hurricane Harvey and Hurricane Katrina. "This is not going to be Katrina-like," said Mark Zandi, chief economist at Moody's. Noting Houston's large, diverse and dynamic economy that's also a magnet for foreign and domestic workers, Mr. Zandi said he thinks Houston and its surrounding areas "will come back quickly."
For starters, the numbers do not support the comparison between the two regions—or the two storms. According to Moody's analysis, the combined destruction and lost economic output after Katrina cost $174.5 billion; the total loss in the aftermath of Hurricane Harvey is calculated to be $108 billion.
Moreover, there are yawning economic and demographic gaps between Houston and New Orleans. "[Houston] is an economy that has a huge base of drilling, refining, related manufacturing, distribution, petrochemicals, energy-related engineering expertise, and non-energy industries like health care and education. All much more well-established than New Orleans," said Ed Friedman, a director at Moody's.
"Median incomes [in Houston] are 25 percent higher than New Orleans, and poverty levels now are substantially lower," Mr. Friedman said. "All these things point to a recovery that's going to be essentially complete."
Calculating the Losses
However, although Hurricane Harvey didn't measure up to the most economically devastating natural disaster in U.S. history, the regions impacted by Harvey still suffered significant losses—and many more potential losses going forward.
According to an analysis conducted by Moody's, the total property damage inflicted by Hurricane Harvey ranges from $77 billion to $97 billion; more than half of that figure comes from damage caused to residential real estate.
One of the sectors most impacted by the hurricane is the region's substantial energy sector. As a result of the hurricane, roughly 21 percent of the country's refining capacity was temporarily disabled.
"In terms of million barrels per day, we've lost about 1 million [barrels] per day in crude oil production, about 3 million barrels per day in refining capacity, and about a 150,000 barrels per day in petroleum product demand," said Chris Lafakis, a Moody's director. "That works out to 11 percent of the U.S.'s total oil production."
As a result, gas prices are likely to go up, and domestic inventories of petroleum products are likely to get smaller—if only temporarily.
"It will take a very long time for all of the refining capacity and crude oil productive capacity to come back online," emphasized Mr. Lafakis.
A Quick Recovery Projected
Despite these losses, Moody's analysts expressed optimism about the impending recovery.
Despite $9 billion to $11 billion of lost economic output, Mr. Zandi expressed confidence that Houston's economic strengths would contribute significantly to its revitalization. Addressing concerns about migration out of Texas, he emphasized that "Houston is not going to lose anybody. In fact, we might get more migrants because of the rebuilding; there will be more jobs."
According to the analysis presented by Moody's, within the next fiscal year, Houston's economy would return to near-pre-Harvey conditions. Employment is also unlikely to be impacted by the hurricane.
However, Mr. Zandi cautioned that much of the analysis rested on one big assumption: "In recent years, the government … stepped in sufficiently to make up for any losses not covered by insurance money," he said. Since the early 2000s, government aid and insurance together covered almost 100 percent of costs after natural disasters—with the notable exception of Hurricane Matthew, where government aid and insurance money covered only 28.6 percent of the economic loss from the disaster.
"[Government aid] is really important to the economic recovery," Mr. Zandi said. "If that aid doesn't come, and if it doesn't come relatively quickly, then obviously the economic damage from the storm is significantly greater."
"This storm hurt," Mr. Zandi said. "But at the end of the day, I think Houston's economy will quickly find its way back. This is not Katrina."