Economy
Risk and Reward Seen in Global Economic Outlook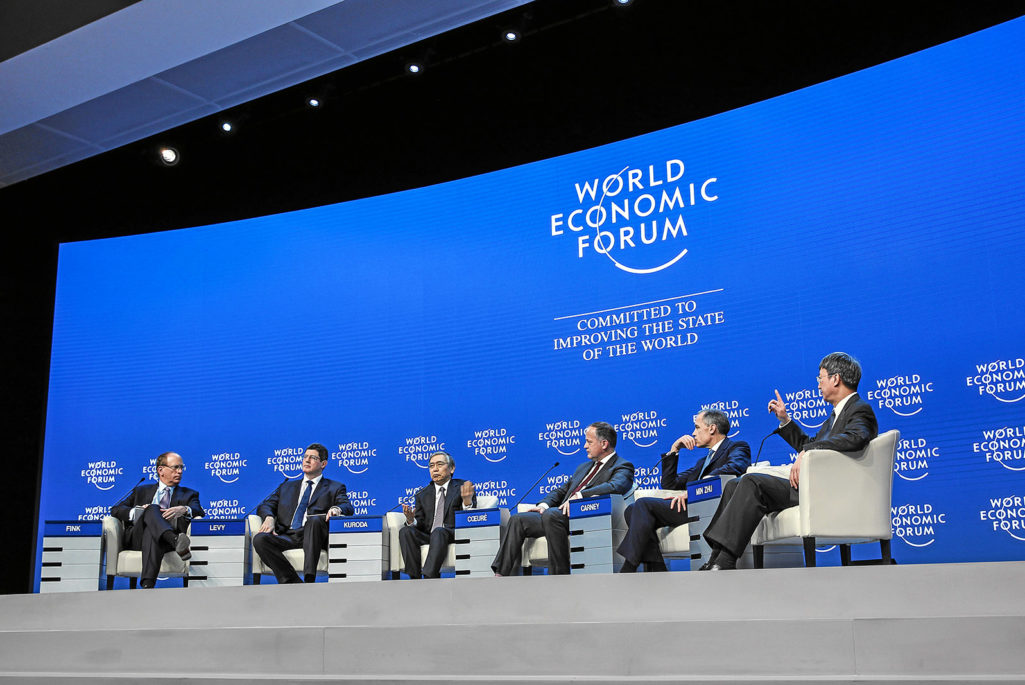 A panel of central bankers and economic leaders at World Economic Forum in Davos outlined the risks and rewards for the global economy in 2015, noting that quantitative easing measures from the European Central Bank could prompt excessive risk-taking.
"In an environment of low interest rates, and low interest rates for a period of time, and also quantitative easing, there can be excessive risk taking," said Bank of England Governor Mark Carney, one of the panelists. "What those monetary policies are looking to do is move from an environment of reticence to take risk to responsible risk-taking. We're trying to avoid reckless risk-taking."
However, Carney also acknowledged that he was "cautiously optimistic" about the global economic outlook, noting the recovery in the U.S. and the falling price of oil.
The International Monetary Fund (IMF) last week cut its global-growth rate for 2015 to 3.5 percent from its earlier prediction of 3.8 percent in October.
The ECB decision to move to quantitative easing presents a challenge for governments to move ahead with structural reforms. "We have done our part, but the ECB cannot raise productivity, increase employment or encourage investment. That requires a more comprehensive set of reforms," said panelist ECB Executive Board Member Benoît Coeuré. Explaining the ECB's intervention, he said: "We could not sit by and watch the political foundations of the European project being undermined."
"In an environment of low interest rates… and also quantitative easing, there can be excessive risk taking."
"QE creates in some markets some distortions," said panel moderator Laurence Fink, CEO of BlackRock, Inc. "It moves huge volumes of money into the equity markets."
Other panelists welcomed the ECB package while underlining the need to back up this monetary maneuver with structural reforms, including labor market reform and fiscal stimulus to increase aggregate demand. "QE creates the space for the structural reforms and investment," said Min Zhu, IMF deputy managing director, Washington DC.
Any pessimism is "a bit exaggerated," said Bank of Japan Governor Hruhiko Kuroda. "By making this big decision the euro zone could recover strongly and deflationary pressures could be eradicated. That would be great for the global economy."
Kuroda also noted that Japan is well into a program of aggressive monetary easing, gradual fiscal consolidation, and structural reform that are intended to lay the foundations for 2 percent growth this year. Kuroda also said he is upbeat about China's prospects. "China is making huge structural reforms while continuing to grow at 7.5 percent," he said.
Meanwhile, Brazil is shifting from increasing incomes of its poorest citizens, which was the focus of its economic policies for the past decade, to building investment, both by companies and the government, said Joaquim Levy, Brazil's minister of finance. "Our goal is to make Brazil a nimbler, more agile market, where it is easier to do business," he said.
U.S. economic performance is strong and provides a significant boost to global demand. But Zhu warned that much of the growth is coming from consumers and government spending, with private investment still relatively low. Meanwhile, he called on policy-makers to put the poorest countries, which have been battered by economic headwinds, at the top of the policy agenda.
The World Economic Forum contributed to this report.