Society
South Korea Poised to Lead Global Life Expectancy Increase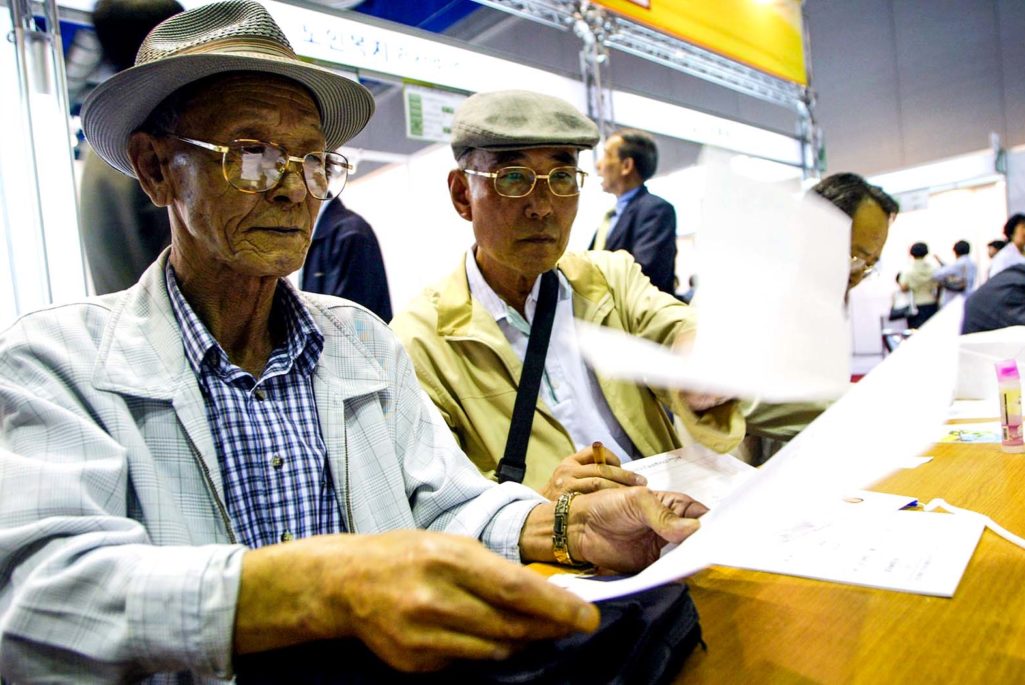 Asia, with its rapidly aging population, is on track to become one of the oldest regions in the world in the next few decades. This has implications on public finances, education, health care, pensions and economic growth in general.
Over the past few years, average life expectancy has increased steadily given the advances made in health care and access to it, and the trend is expected to continue.
Among industrialized countries globally, South Korea is expected to lead the world in terms of life expectancy by the year 2030, while other Asia-Pacific countries, such as Japan and Australia, are not far behind, according to a recent report.
These projections of future mortality and life expectancy illustrate that careful planning for health services, social services and pension plans is needed.
By 2030, South Korea is projected to have the highest life expectancy for both men and women. There is a 90 percent probability that life expectancy for South Korean women at birth in 2030 will be higher than 86.7 years and a 57 percent probability that it will exceed 90 years, the report said.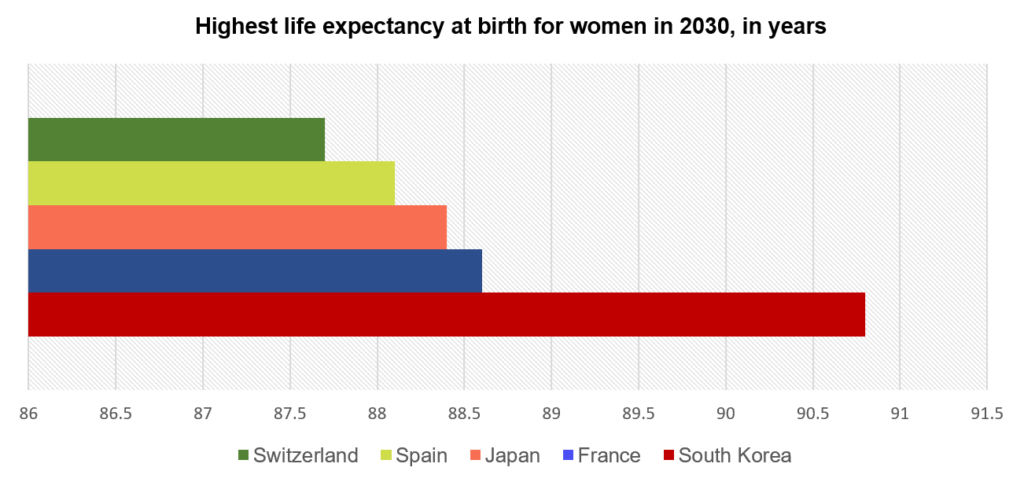 South Korean women have recorded an increase of 3.7 years every decade since 1985. By 2030, there is a 45 percent probability that South Korean women will witness the highest life expectancy globally, overtaking Japan in the process.
According to Professor Majid Ezzati, lead researcher from the School of Public Health at Imperial College, scientists once thought that an average life expectancy of over 90 was impossible. "We repeatedly hear that improvements in human longevity are about to come to an end. Many people used to believe that 90 years is the upper limit for life expectancy, but this research suggests we will break the 90-year-barrier. I don't believe we're anywhere near the upper limit of life expectancy—if there even is one," he said.
Life expectancy among South Korean men is expected to make large gains as well. There is a 95 percent probability that in 2030, men will live beyond 80 years, and a 27 percent probability that they will surpass 85 years of age, giving South Korean men a higher life expectancy than in the rest of the industrialized world.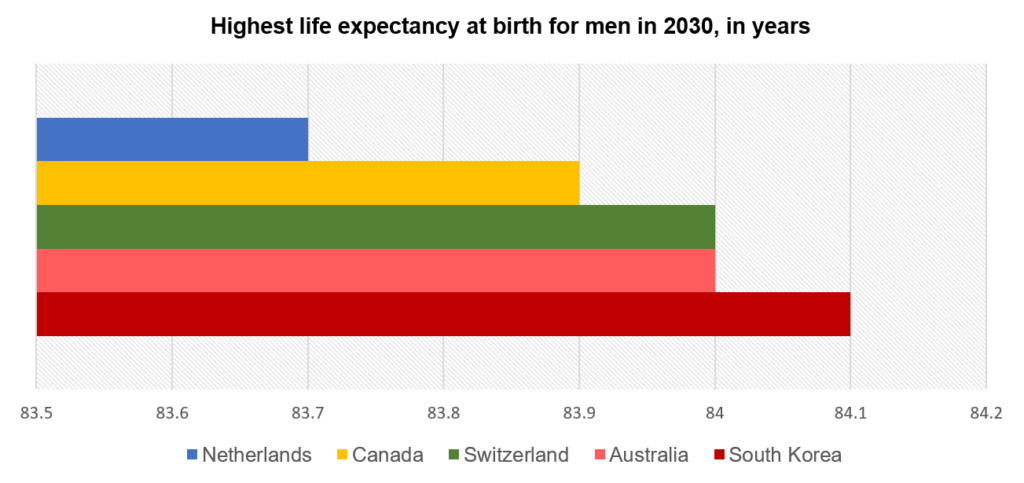 According to Ezzati, South Korea's high life expectancy was likely due to factors including good nutrition in childhood, low levels of smoking, low blood pressure, access to good health care and uptake of new medical technologies, among others.
While the biggest gains in life expectancy are expected in South Korea, there remains a 22 percent probability that Japanese women will continue to have the highest life expectancy, as it has for decades.
The report notes that early life expectancy gains in Korea—and earlier, in Japan—were led by declines in deaths from infections; and more recent gains have been made mainly due to postponement of death due to chronic illnesses. The gains are also attributed to inclusive improvements in economic status and social capital, including education, which led to an improvement in childhood and adolescent nutrition, expanded access to primary and secondary health care, the scale up of new medical technologies, and lower smoking in women.
Across Asia, more than 200 million people are expected to turn older than 65 years of age by 2030, according to Marsh McLennan Companies' Asia Pacific Risk Center (APRC), representing a 71 percent increase in the number of elderly people, compared to increases of 55 percent and 31 percent in North America and in Europe respectively.
The speed of aging across much of Asia poses many challenges for economies, the most critical of which is the exponential growth in elderly health care expenditure, according to APRC. The projected cumulative cost of elderly health care across Asia over the next 15 years, based on current cost trends, is $20 trillion.
What is Needed
Greater life expectancy across most of the industrialized world implies a need for health services that provide long-term care for a growing number of older people who are affected by limited mobility. As societies age, social security and pension plans will also face bigger payouts, which could result in the need for extended retirement ages.
The report adds that assistive technologies that compensate for lack of sensory and/or mobility abilities are going to be important in the face of increasing life expectancy. Finally, policymakers need to put in place policies that support healthy aging, invest in health and social care, and revamp education–work–retirement practices as the phenomenon of increasing longevity is here to stay.