Economy
The Four Pillars of Corruption and How to Topple Them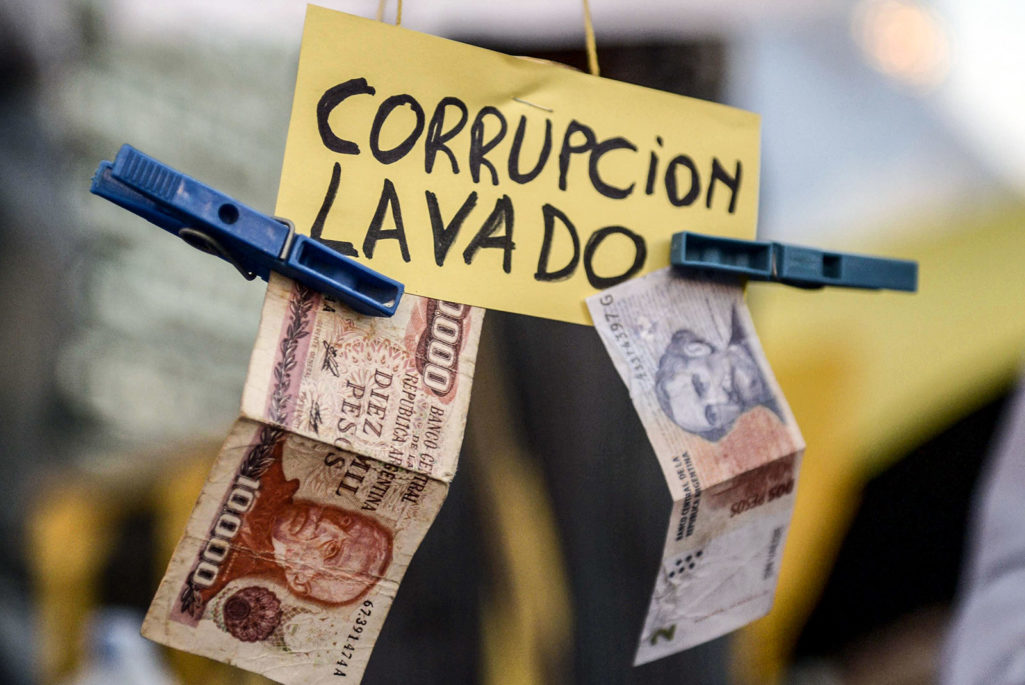 The single greatest factor in determining the legitimacy of leaders, governments and institutions (whether public, private or non-profit) is probably the amount of confidence citizens have in them. Corruption, or even the perception of corruption, erodes this trust. It not only undermines democracy and the rule of law but is corrosive to formal economies and the lives of individuals, while simultaneously promoting crime and the illicit economy.
Although corruption is far-reaching and all-encompassing, it disproportionately affects the poor and the developing world, diverting funding and investment from the people and areas that need it most. It therefore directly affects the stability, security and development of societies and states. For these reasons it was an important topic of discussion at the recent World Economic Forum on Latin America, held in Mexico. It was the particular focus of an interactive session I participated in, titled Expanding the Light, which examined initiatives by the public and private sectors to increase transparency in Latin America.
The growing interconnectedness of economies, states and people means that corruption is a truly transnational phenomenon that links to other illegal activities, such as the drug trade and organized crime. A comprehensive and multidimensional approach that bridges countries, sectors and actors needs to be implemented to prevent and disrupt corruption at all levels and in all forms.
To successfully combat and prevent corruption, focus must be put on what I call "the four pillars of corruption" and their relationship with one another:
The corrupters
The corrupt
Impunity
Tolerance
Of these four elements, the last—tolerance—is the most difficult to target and eradicate. This is due to the fact that it cannot be codified and so few conventions actively address it. In many countries and communities, corruption is an established and accepted part of the culture, and a standard daily practice.
To effectively eliminate corruption, specific vehicles and policies are needed that intersect these four points, aligning with the concept of a comprehensive and multidimensional approach that involves both public and private sectors. The Forum's Partnering Against Corruption Initiative, a partnership of more than 100 companies, is a strong example of private-sector involvement, and is currently one of the leading global business voices on anti-corruption and transparency. It works with business leaders, international organizations and governments to address corruption and set the agenda. But the private sector needs help; it needs involvement by civil society and policies that promote awareness and eliminate impunity through functioning justice systems.
NGOs and non-profit organizations—such as Transparency International, Global Financial Integrity (GFI) and Mexico's ¿Cómo Vamos?—are playing a key role, forcing legislative change but also challenging cultures of tolerance and impunity. GFI, for example, focuses on illicit financial flows; it conducts research, promotes policy and advises governments. Transparency International is a movement dedicated to eradicating corruption in government, business, civil society and daily life. Cómo Vamos, meanwhile, works as a bridge between academia and civil society, applying economic research to public policy. One particular initiative of theirs is the Anti-Corruption Thermometer, which promotes government transparency.
Recognizing the significant connection between criminal activities, the Forum's Meta-Council on the Illicit Economy seeks to strengthen the multistakeholder approach to corruption. It advocates public-private collaboration, as well as the engagement of all relevant actors, as an essential component in addressing the issue. It also strives to enhance public awareness about corruption, along with other aspects of the illicit economy.
In the international arena, anti-corruption conventions by the United Nations and Organization of American States actively pursue many of the aspects outlined above, promoting international cooperation and focusing on both the public and private sector to prevent and eradicate corruption. To raise awareness and disrupt existing norms the United Nations Convention Against Corruption (UNCAC) promotes "the active participation of individuals and groups outside the public sector—such as civil society, non-governmental organizations and community-based organizations." The OAS's Inter-American Convention Against Corruption, like UNCAC, also encourages states to adopt the necessary legislation to ensure laws are upheld and corruption punished in the courts, shedding notions of impunity.
The OAS convention addresses several pivotal points. It:
Aims to prevent, detect, punish and eradicate corruption
Promotes, facilitates and regulates cooperation among states to this end
Fosters exchanges of experiences and meetings between relevant bodies and institutions
Calls for the establishment of central authorities to improve direct communication, international assistance and cooperation between member states
Outlines increasing links between corruption and the illicit drug trade
Calls for mechanisms to encourage and strengthen civil society and NGO participation
Includes extensive preventative measures section aimed at imposing and enforcing standards of conduct, implementing public-sector activity oversight systems and protection systems for those who report corruption
Appeals to states to prohibit and punish transnational bribery as an act of corruption
Calls for corruption offenses to be included as extraditable offenses.
While such conventions are crucial in the fight against corruption, there must be a comprehensive and multidimensional approach that includes cooperation and active engagement from international organizations, national governments, civil society, the private sector and individual citizens. Such a multistakeholder approach that targets the corrupters, the corrupt, tolerance and impunity, and how each are linked, will have the knowledge, strength and reach to prevent and eliminate widespread and rampant corruption all over the world.
This piece first appeared on the Agenda blog of the World Economic Forum.