Beginning May 1st, BRINK Asia coverage will become integrated with BRINK, which will now include more regional coverage on risk and resilience issues.

President of Observer Research Foundation
Samir Saran is the president of Observer Research Foundation (ORF), one of Asia's most influential think tanks. Working with the Board, he provides strategic direction and leadership to ORF's multiple centers on fundraising, research projects, platform design and outreach initiatives. He curates the Raisina Dialogue, India's annual flagship platform on geopolitics and geoeconomics, and chairs CyFy, India's annual conference on cyber security and Internet governance. Samir is also a Commissioner of The Global Commission on the Stability of Cyberspace, member of the South Asia advisory board of the World Economic Forum, and a part of its Global Future Council on Cybersecurity.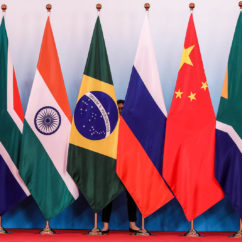 ​​