Economy
Challenges from Slowing Productivity Growth in Asia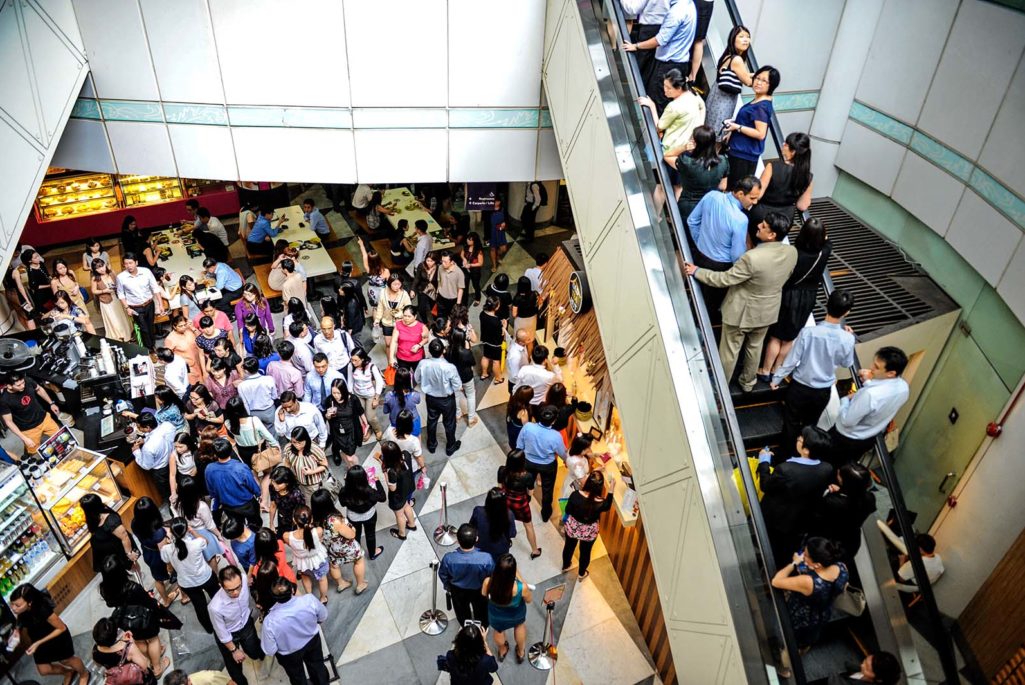 In the current volatile macroeconomic environment in Asia, raising workforce productivity remains a key, albeit daunting, lever for most organizations. In addition, rising wage inflation, skills gaps amidst increasing automation, ineffectual leadership and low workforce engagement levels are making it difficult for firms to deliver further productivity gains.
Since the mid-2000s, productivity growth has been declining, according to The Conference Board's report, Prioritizing Productivity to Drive Growth, Competitiveness and Profitability.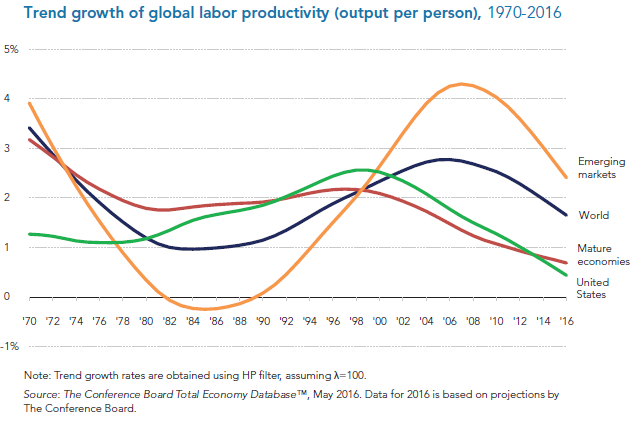 Asia's rapid economic development in the past few decades has not fully shielded the region from this trend of productivity decline. The productivity gains from the 1990s in emerging markets, including Asia, slowed down with the rise in wage costs and the inability of the workforce to move up the value chain quickly. This is partially due to the difficulty businesses have trying to optimize the combination of labor, capital and supply chains across this complex and diverse region.
In Singapore, for example, labor productivity growth plunged more than a quarter, from 3.89 percent between 1999 and 2007 to 0.77 percent between 2008 and 2016. During the same period, Malaysia and China also experienced a dip in productivity growth, from 3.27 to 1.05 percent and from 7.74 to 5.2 percent, respectively.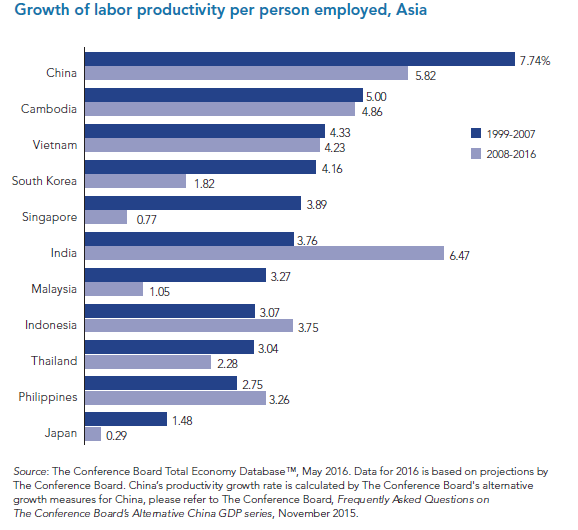 An alternative to measuring labor productivity is to look at total factor productivity (TFP), which takes into account not only labor as an input, but also other intangible forms of capital investments in the production of goods and services such as research and development, design, branding and innovation. Looking at TFP, businesses would need higher levels of capital investment in new technology, training and development of workforce and innovation.
The challenge is exacerbated in Asia as the demand for skilled talent continues to far outstrip supply, leading to wage inflation that is much higher than productivity gains. Merit increases in Indonesia and Vietnam were at 8.9 and 9.4 percent, respectively, in 2015, according to Mercer's Asia Pulse Survey. Similarly, in India, increase in compensation costs from 2007 to 2012 has been about three times the average labor productivity. If left unaddressed, declining productivity growth will heavily constrain the ability of organizations in the region to compete and continue to grow.
Why is Productivity Growth Slowing?
Slow productivity growth can be traced to the diminishing gains resulting from the introduction of new technology in manufacturing and logistics 20 years ago. Today, while the world is abuzz with the impact of new technologies such as artificial intelligence and robotics, widespread productivity gains are yet to be realized on the ground as challenges with technology adoption, adaptation and absorption remain. The severe skills shortage in Asia was highlighted in our previous BRINK Asia article.  
Another challenge with realizing further productivity gains has been an almost myopic focus on business outcomes such as sales, service and profit without establishing clearer correlation with the inputs such as time-to-productivity for a new hire, clarity of roles and responsibilities and span of control.
There may be other macro issues that are beyond the control of individual businesses, such as labor market restrictions, less-than-conducive regulatory environment and access to capital and technology in different countries across Asia. The mobility of labor across the region or the lack thereof, and trading blocs such as the proposed Association of South Eastern Asian Nations Economic Community (AEC) also impact productivity, as they influence the ability of businesses to hire for specific skill requirements.
What Can Businesses Do?
One of the ways for organizations to prioritize productivity-enhancing initiatives is to begin with a deeper understanding of the drivers of workforce productivity, using analytics as an evidence-based approach to productivity.
Another important way to enhance productivity is to invest in skills development of the existing workforce. In this age of digitization, businesses will need to innovate and adapt far more quickly in order to sustain themselves, and lifting productivity levels will be crucial to long-term success.
A follow-up piece on this topic will be published on BRINK Asia later this month.