Economy
Fasten Your Seatbelts: The Global Risks of Most Concern to Business Leaders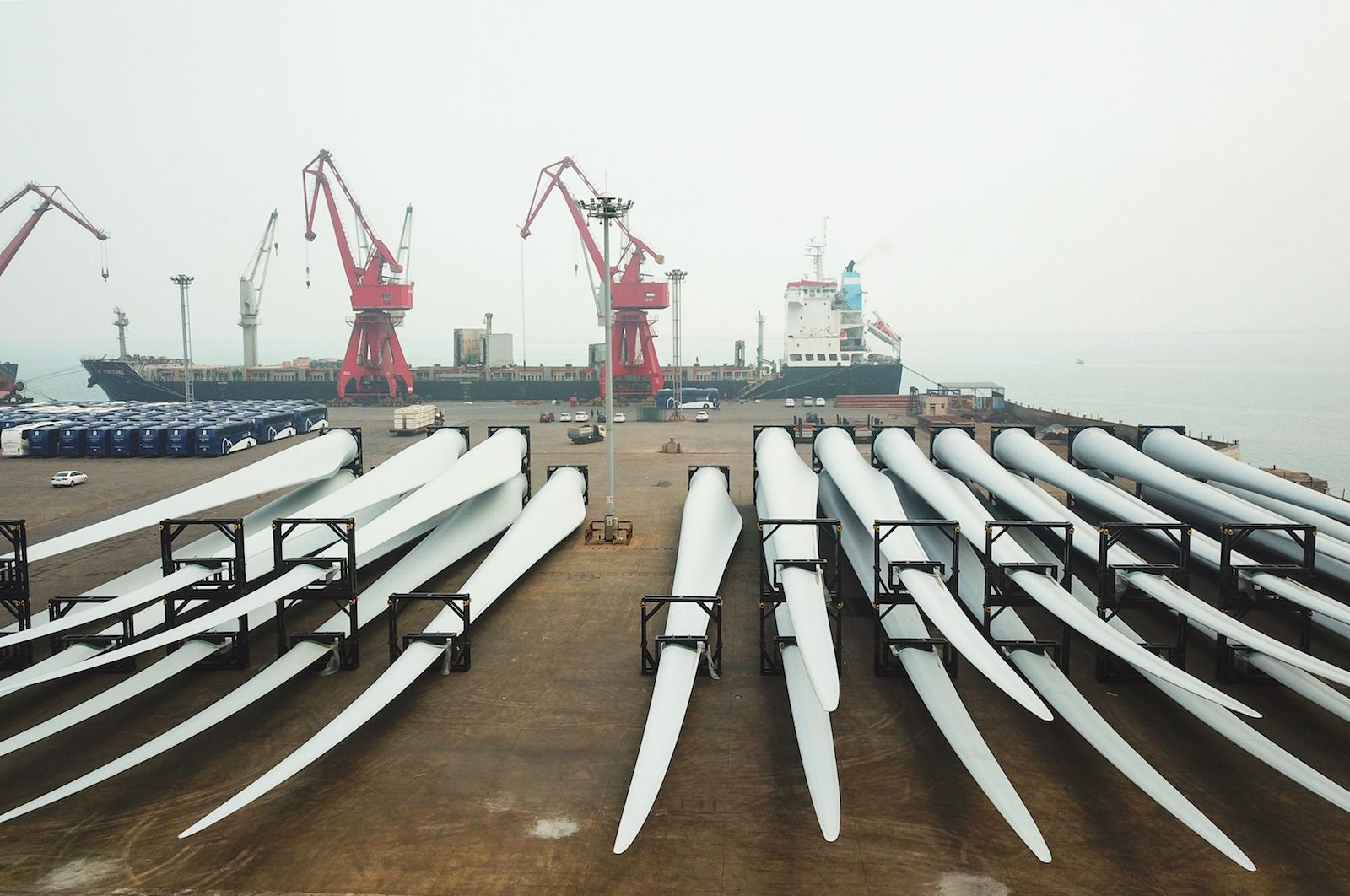 Results from the World Economic Forum's 2019 global survey of business leaders, The Executive Opinion Survey 2019, indicate a world inching toward a cliff-edge. 
The top-ranked risks and key risers — at national, regional and global levels — suggest that the specter of a major economic slowdown is high on executive minds, along with apprehension about a wide range of possible geopolitical shocks.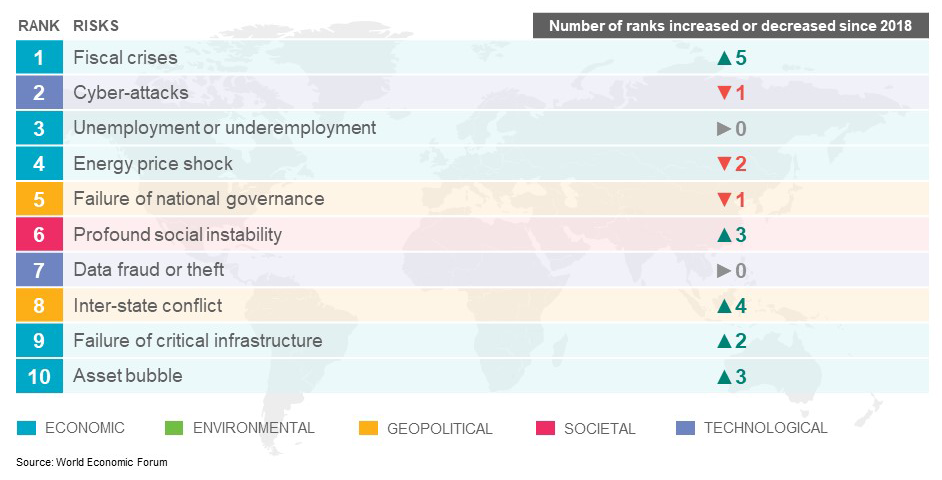 The Resurgence of Economic Risks
Softer growth projections in major economies since the beginning of the year, the gradual ratcheting up of trade conflicts and persistent high levels of government debt in key advanced economies have propelled fiscal crises to the top spot overall. It's a top-five risk for business leaders in all regions except North America and South Asia, showing a notable uptick in concern in Latin America.
Fears of a sudden decline in asset prices have surged into the global top 10, ranking second in Europe, where many countries have enjoyed prolonged low interest rates, and top in several Southeast Asian countries. It has also risen significantly in the Middle East and North Africa as well as South Asia.
A possible lurch in energy prices remains in the minds of business leaders in both net oil-importing and exporting countries alike — in the former, possibly due to continued OPEC production constraints and rising tensions in the Gulf; in the latter, due to lower-than-expected demand from China, in particular. 
The failure of critical infrastructure is a new entrant to the global top 10. The risk is particularly prominent in sub-Saharan Africa and Latin America, with a rising risk in North America. Concern is, perhaps, driven by two reasons: first, persistent underinvestment in many emerging market countries to meet growing and changing demand; and second, the vulnerability of infrastructure on which business activity depends to cyberattacks and weather- or climate-related damage.
The narrative of cross-connections between these four risks may differ between countries, but they point to economic fragilities that may well exacerbate societal concerns that are already being vociferously expressed in many places.
Widening Geopolitical Fractures and Mounting Domestic Strife
The increasing incidence of unpredictable, controversial and high-stakes initiatives by national leaders is, unsurprisingly, high on business executives' risk radars — in part because of the resulting international discord and also because of the exacerbation of domestic societal unrest. 
Concerns about interstate conflict grew significantly versus the 2018 survey results, not only in longstanding hot spots, but also in Europe and, most notably, in East Asia and the Pacific. These fears continue to be justified by the reverberating trade dispute between the U.S. and China, more fractious relations between countries in Northeast Asia, a marked deterioration in relations between Iran and the West, continuing low-level provocations by Russia and the rising threat of a disorderly Brexit.  
Domestically, ineffective national governance and mounting social instability (often correlated in the survey results) continue to be among the most critical threats to doing business. Concerns about national governance failure rose eight places in East Asia and the Pacific (where the threat of social unrest also increased by 10 places) and six places in North America. But the worrisome cocktail of divisive domestic politics and associated societal unrest is most prominent in Eurasia, the Middle East and Latin America. And, in the third of these regions, the febrile conditions go hand in hand with concerns about mass unemployment and vulnerable government finances.
A More Pervasive Web of Technology Threats
Cyberattacks and data fraud or theft continue to rank very high among concern for executives globally, especially in Europe, North America, and East Asia and the Pacific. In Europe, cyberattacks were the top risk in France and Italy for the first time. Although, as noted above, other concerns dominate the top place in Latin America: Apprehension of cyberattacks leaped 10 places, and data fraud rose eight places. 
While this is a testament to the ongoing and evolving challenges presented by criminal and state-affiliated actors (and the increasing blur between them), it's noteworthy that business leaders, especially those in advanced economies, have become increasingly concerned by a broader set of technology-related risks. "Breakdown in critical information infrastructure," for example, showed a seventeen-rank jump among North American respondents versus last year's survey, likely due to multiple challenges associated with the development and rollout of domestic 5G networks and the prospect of the increasing balkanization of the global internet. 
Likewise, both U.S. and European executives demonstrated rising unease about the misuse of emerging technologies (a top-five concern in the U.K. and Germany, for example). While concern may stem from historic incidents, such as the proliferation of misinformation and political provocation on social media, it may also relate to broader governance shortfalls in the application of artificial intelligence and the prospect of more widespread use of cryptocurrencies.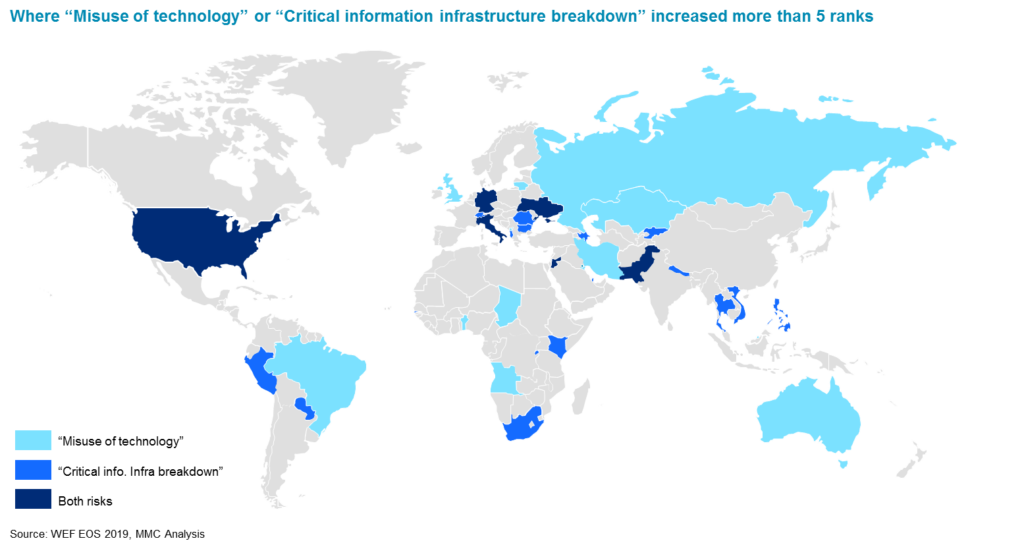 Any Concern About the Environment?
The fact that environmental risks don't feature in the global top 10 doesn't mean they have been overlooked. Three of the top-10 risks in the U.S. and four in Canada relate to natural disaster damage and the failure of climate change adaptation plans. In East Asia and the Pacific, natural catastrophes and extreme weather events featured among the most significant threats to doing business. In India, water crises ranked highest, with man-made environmental catastrophes (such as pollution) and the failure of urban planning also ranking in the top five.
Even more than previous years, the 2019 Executive Opinion Survey results reflect executives' appreciation of a rapidly changing world characterized by high levels of uncertainty and the threat of disruption from many quarters. As the world races toward 2020, a constant eye on the big picture will be a vital foundation for a multifaceted approach to resilience.