Economy
Business Leaders Wary of Increasingly Geopoliticized Global Economy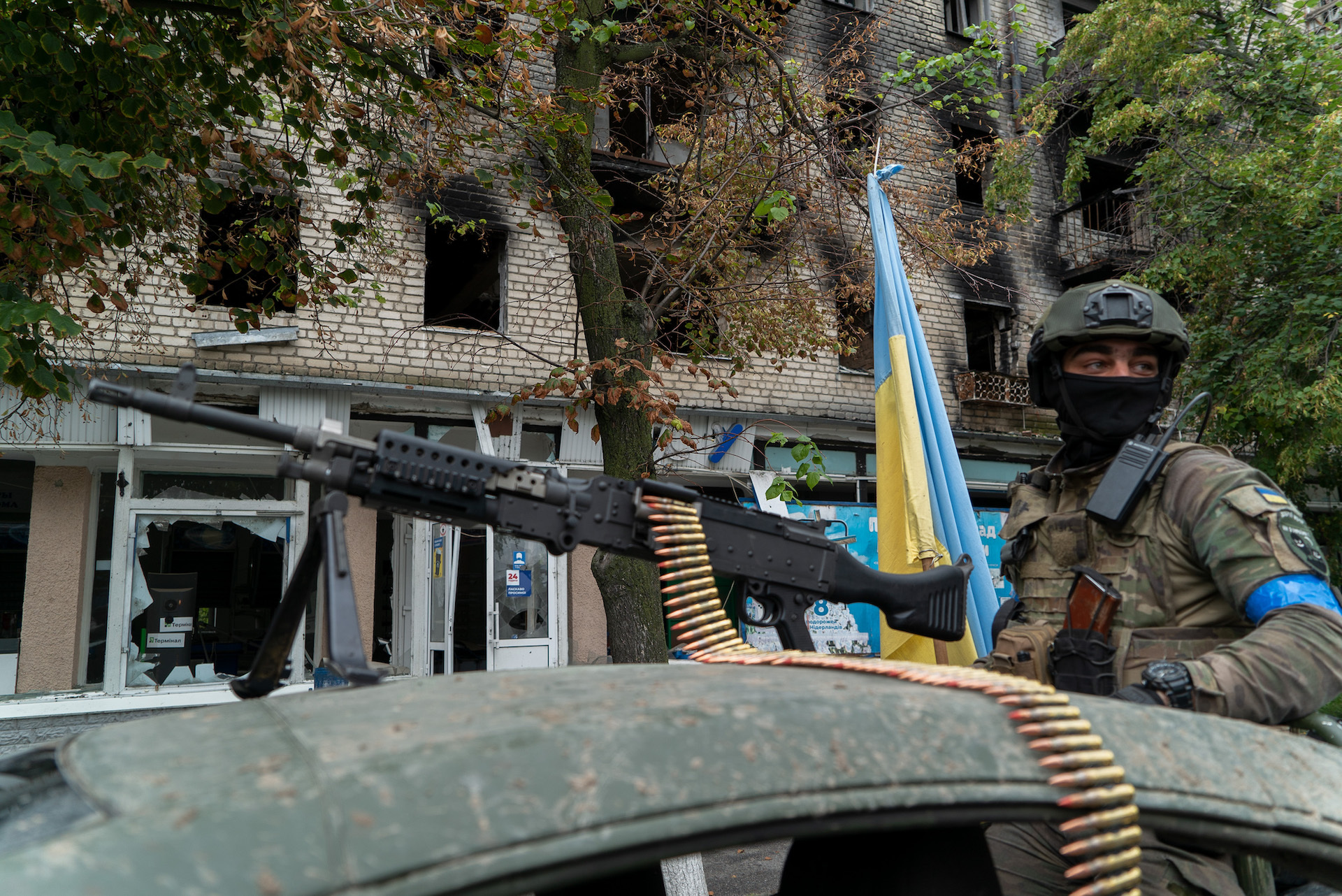 After more than two years of navigating different dimensions and phases of the COVID-19 crisis, concerns over inflation, affordability and national debt are front of mind for businesses, according to the World Economic Forum's 2022 Executive Opinion Survey (EOS).
Executives were asked to identify the risks they considered the biggest threats to their country over the next two years. The responses from more than 12,500 executives across 122 economies reflect a clear unease about economic headwinds against a backdrop of aggravated geopolitical tensions. 
Although a true comparison with last year's results isn't possible owing to changes in the list of risks presented, "infectious diseases" has plummeted as a concern despite new variants of COVID-19 and periodic surges in case numbers; cost-based challenges trump concerns about growth and employment; and cross-border friction is now perceived as more of a threat than domestic stability within countries, except for a notable elevation of concern about "state collapse" in certain emerging market countries.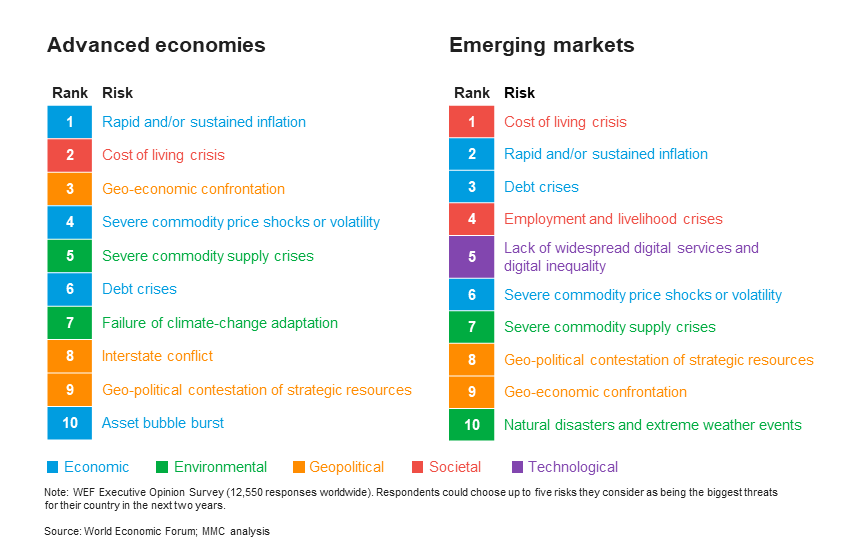 All Eyes on the Economy 
With growth in many large economies stalling and debts mounting, "rapid and/or sustained inflation" and "debt crises" featured among the top 10 risks in every region, with the former being top-ranked in Europe, Latin America and the Caribbean, and East Asia and the Pacific. Public finances were already strained due to the pandemic, but governments globally are continuing to face fiscal pressure. Just last month, national debt in the U.S. reached a record high of $31 trillion. 
Respondents to this year's survey have shared concerns about commodity prices and supply. Reverberations of Russia's invasion of Ukraine have exposed commodity dependencies and spurred governments to reassess trade relations. With a conflict-driven energy crisis underway and multiple countries facing key shortages of grain, cooking oil and fertilizer, commodity-related challenges are top-ranked for leaders in both emerging markets and advanced economies. The risks of "severe commodity price shocks or volatility" and "severe commodity supply crises" featured among top-five risks in North America, Europe, Middle East and North Africa, and Central Asia. 
Economic precarity threatens to cause knock-on societal impacts in both advanced economies and emerging markets, with "cost of living crisis" ranked as a top-two risk for executives in seven out of eight regions. For emerging markets, unemployment remains a key barrier to growth as those countries struggle to restore the millions of jobs lost during the past two years and tackle the rise of the informal economy.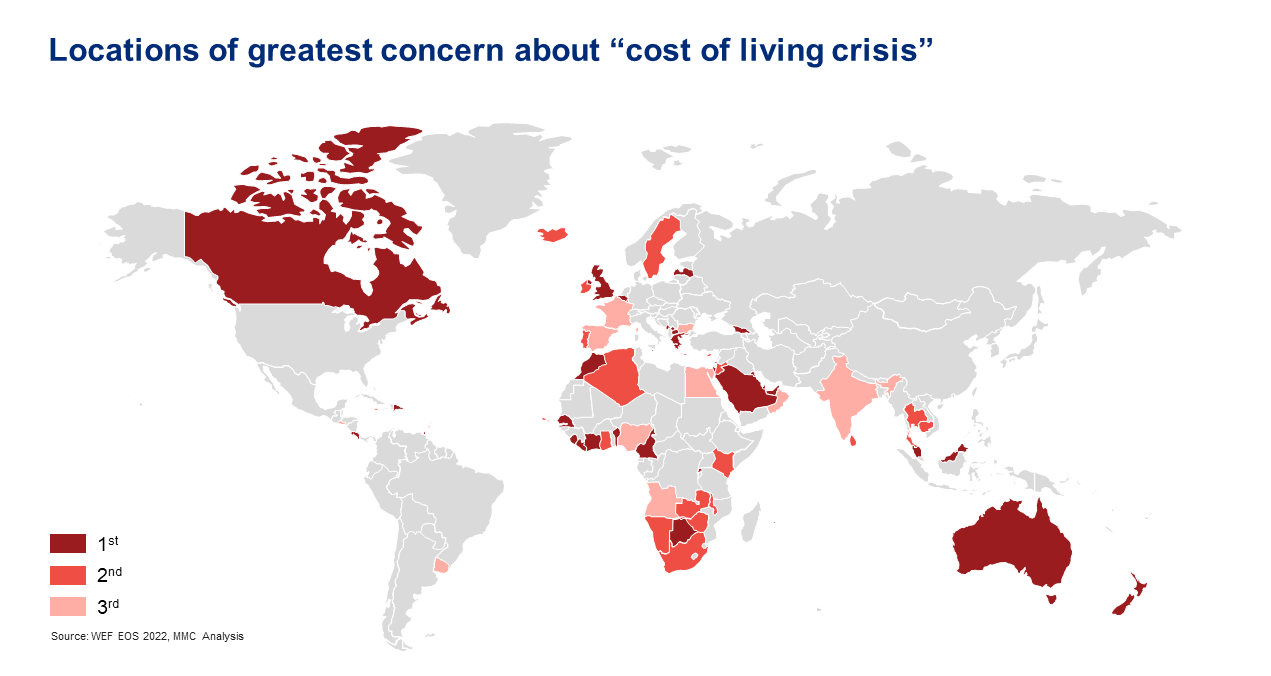 A Tense Geopolitical Landscape
Reflecting the multiple instances of conflict and strained international relations, "geoeconomic confrontation" and "geopolitical contestation of strategic resources" are top 10 risks for business leaders in both advanced economies and emerging markets. The former ranks in the top five for executives in East Asia and the Pacific, Europe and Central Asia. In advanced economies, "interstate conflict" ranked as a top 10 concern, reflecting not only the invasion of Ukraine but also increased tensions in the Taiwan Strait. 
However, geopolitical concerns vary between regions. While "state collapse" featured among top risks in multiple Latin-American countries, the threat of economic sanctions and trade wars worry respondents in China and Japan the most. 
Shifting Environmental Risk Profile
In a year of notable extreme heat events, droughts, wildfires, floods, and windstorms that have translated — to date — into more than 29 billion-dollar weather disasters in North America, Europe, East and South Asia, it's no surprise that "natural disasters and extreme weather events" is a top 10 concern in emerging markets, while aggregate responses from advanced economies prioritize the "failure of climate-change adaptation."
Environmental and geopolitical challenges come together in concern about "severe commodity supply crises," owing to lower yields and crop failures. Through a different lens, resources (such as lithium and cobalt) that are critical for the global clean energy transition have geographically concentrated supply chains: The top three producing countries of rare-earth minerals provide over three-quarters of global output.
Cyber Risks Overshadowed 
With such an intense focus on economic and geopolitical issues, cyber and digital risks featured less prominently in the rankings this year, especially for executives based in advanced economies, where no technological risk appeared in the aggregate top 10. This is despite notable recent cross-border cyberattacks and hopefully, therefore, not indicative of a blind spot in risk awareness.
However, with more than one-third of the global population still lacking access to the internet, responses from emerging markets continued to highlight concerns about the digital divide, which the pandemic has made more glaring. "Lack of widespread access to digital services and digital inequality" was in the top five for respondents in Latin America and the Caribbean, South Asia, and sub-Saharan Africa. 
Scope for International Collaboration? 
The upcoming G-20 summit in Bali represents an important opportunity to find a shared agenda for resolving economic pain points. But divided responses to the invasion of Ukraine (only half of G-20 countries have joined international sanctions against Russia), marked but varying concerns about the ambitions of China, and simmering resentment of U.S. diplomatic pressure suggest complex polarities that will likely make progress by leaders of this disparate group of countries even harder to achieve than normal.
Interestingly, Indonesia's presidency of the G-20 is the first in a series of major emerging market economies assuming leadership of the forum — India, Brazil and South Africa are next in line — providing an opportunity for the forum to foreground the risk realities of Global South nations.
From Concurrent Crises to Different Possible Futures
Having come through the pandemic, businesses must nonetheless anticipate a series of concurrent, entangled crises that may herald future strategic contexts they had not considered several years ago. While many firms, with an eye to a global economic downturn, are tightening their belts, the most strategic leaders are scoping out the scenarios that may lie beyond and examining how well their plans stack up against each. Only bold thinking and a fulsome commitment to preparedness will keep their businesses sharp in a world where the next flashpoint is barely over the horizon.