Disruption
Divergent Responses to the Pandemic Pose Major Challenges for the Future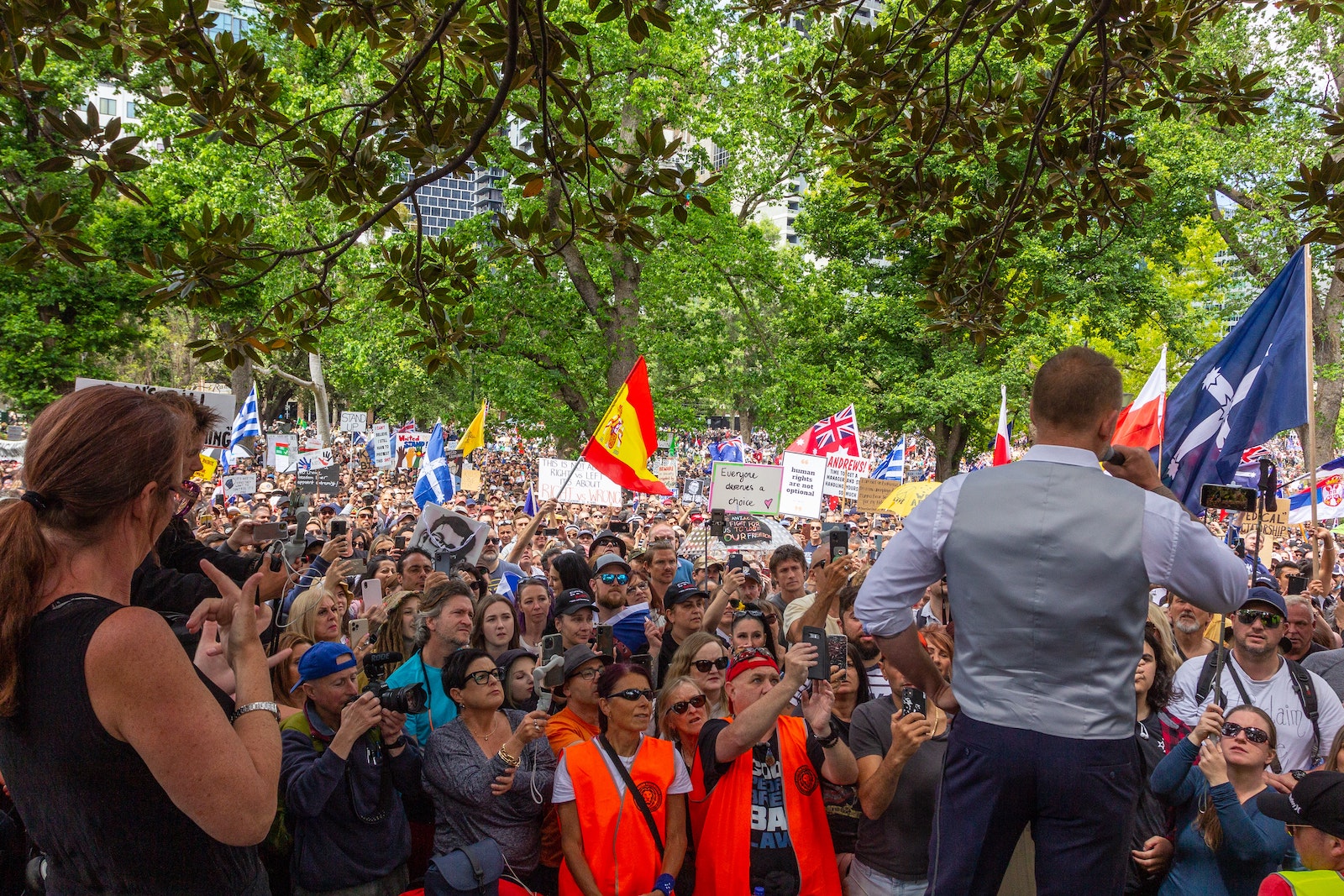 With the COVID-19 pandemic entering its third year, the disparate — some call it inequitable — response among nations is causing a divergent economic recovery that makes it difficult to address global challenges. 
As highlighted in the 2022 Global Risks Report — prepared by the World Economic Forum (WEF) with the support of Marsh McLennan and other partners — countries, companies and individuals are experiencing the pandemic, economic recovery, geopolitical shifts and environmental risks in vastly different ways. For example, as the report notes, by 2024, the GDP in developing economies (excluding China) is expected to have fallen 5.5% below pre-pandemic growth forecasts; advanced economies are expected to have surpassed those targets by 0.9%.
These divergent trajectories threaten to lead countries to pursue conflicting response strategies in areas including cyber risk, climate transition, and social unrest, which could exacerbate global frictions. 
Such risks must be carefully, creatively and holistically managed through cooperative efforts, data-based decision-making, regular communication, adaptive regulation and flexible strategies if there is to be a more sustainable and resilient future for people, businesses and governments. 
Pandemic Fallout
While some wealthier nations have rolled out vaccine booster shots, many others — where health systems were overtaxed even before the pandemic — are struggling simply to get a first dose of the vaccine administered to their citizens. 
Major economies are increasingly looking to achieve sustainable long-term growth, while others will labor under debt overhangs and investment shortfalls. And all countries and businesses are being forced to manage supply chain bottlenecks, energy price increases, mounting cyber risks in an increasingly digitized world, and other issues. The net result is a highly uncertain time for the global economy.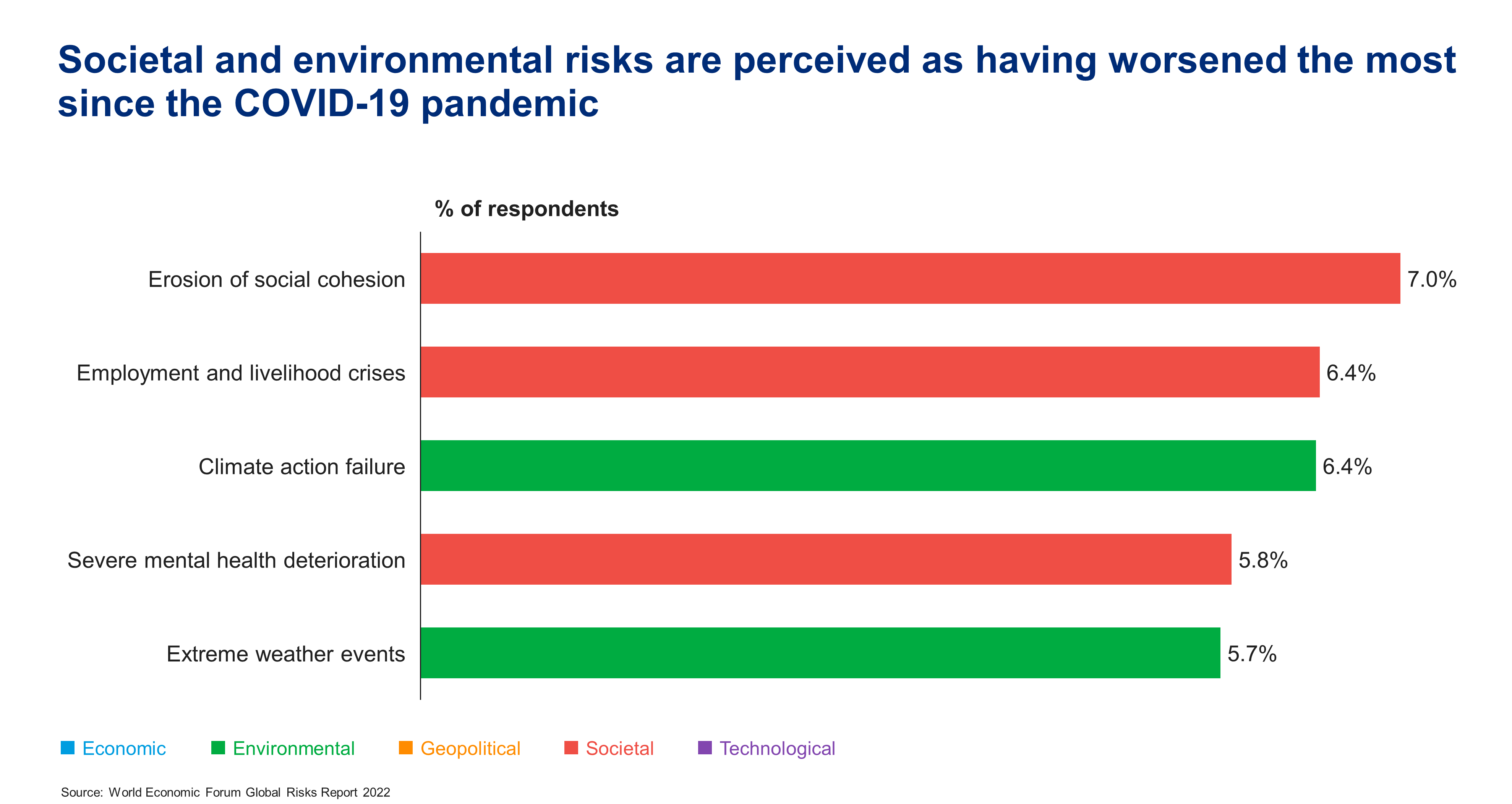 According to the experts surveyed for the 2022 Global Risks Report, societal risks — including the "erosion of social cohesion" and "livelihood crises" — have worsened more since the start of the pandemic than any other risk. It is seen as a critical short-, medium- and long-term global risk and among the most potentially damaging for the next decade. 
Only 16% of respondents to the WEF Global Risks Perception Survey felt positive and optimistic about the outlook for the world, with only 11% believing the global recovery will accelerate. Volatility, they said, is the keyword for the coming three years. 
Environmental Threats
Over a 10-year timeframe, the main concerns center on environmental threats, with the top three risks being the failure of climate actions, extreme weather events, and biodiversity loss.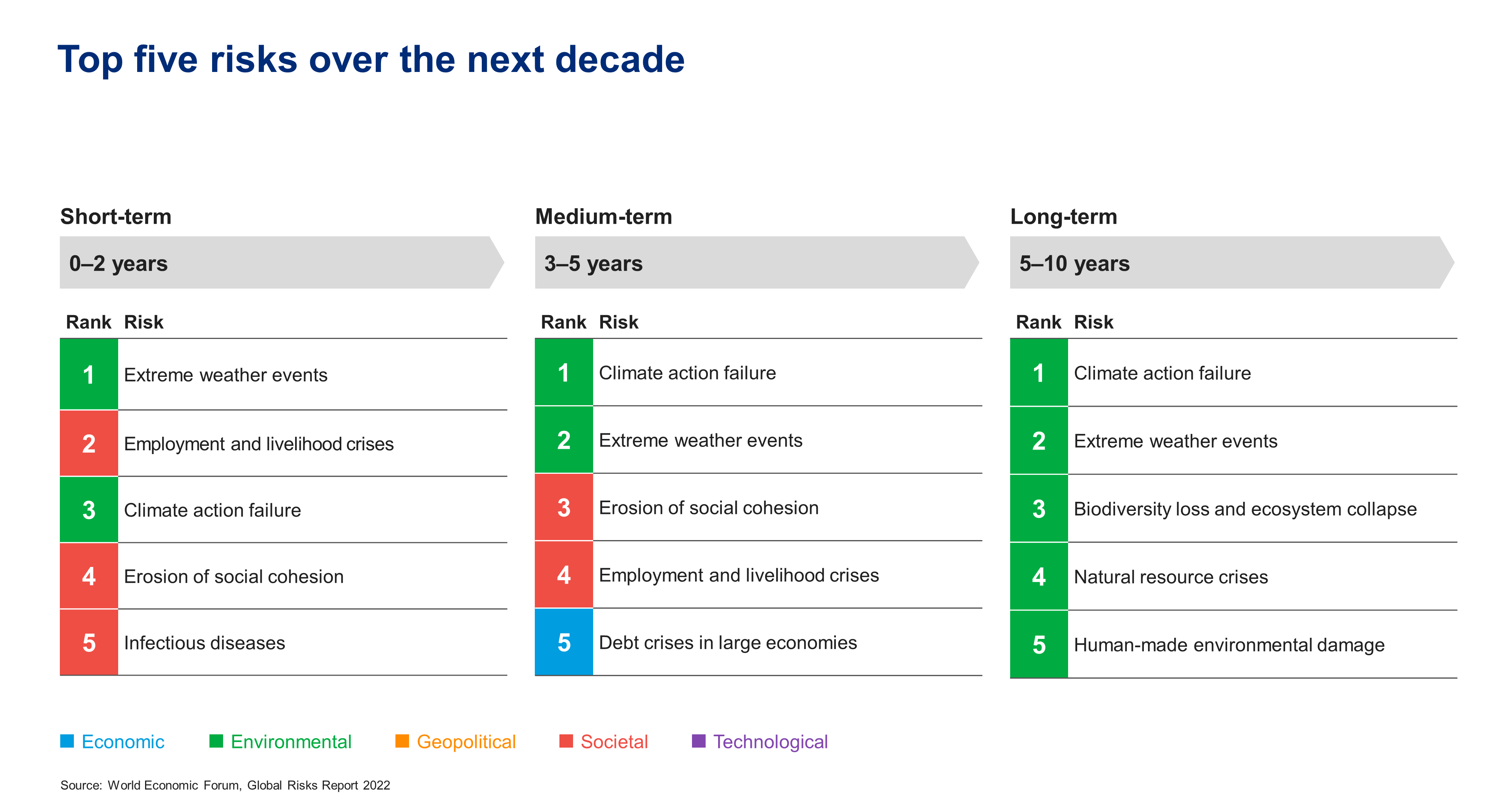 There is a much broader agreement now than there was 10 years ago on the reality and scale of climate-related threats, and some aggressive actions are being taken. But as countries, sectors, and businesses strive to meet the challenges of transitioning to a low-carbon future, many obstacles remain. For example, the global maritime industry aims to decarbonize shipping, but feels inadequately prepared to do so. 
And, as seen at COP26 in Glasgow, individual countries and industries are diverging in their responses to climate risks. This will create a number of cascading effects and challenges, including the formation of climate agenda blocs with differing interests, unequal access to or control of key resources and technologies, economic disruptions and rising inequality, particularly in emerging markets.
Cyber and Technology Risks
The pandemic has had an accelerator effect on digitization and technology development and dependence. The potential adverse consequences around technology are seen by survey respondents as a top 10 risk over the next five to 10 years.
While cyberattacks are not new, they have intensified and become more costly, with the past year being no exception. 2021 saw the highest average cost of a data breach in almost two decades, rising from $3.86 million to $4.24 million on an annual basis. Furthermore, cyber insurance pricing in the United States rose by 96% in the third quarter of 2021, marking the most significant increase since 2015 and a 204% increase year-over-year. 
As companies rethink their business offerings and the way they work, there is pressure to digitize and automate. This, in turn, opens more avenues of attack for threat actors, with ransomware in particular becoming a signature cyber threat in recent years — to the point that ransomware-as-a-service now exists.
The aging of technology infrastructure and the inadequacy of network protocols at many organizations adds to the threat. The growing frequency and severity of attacks has significant implications that include supply chain and critical infrastructure disruptions, loss of public trust in governments, higher costs, changing and divergent regulatory schemes globally, a slowdown of "smart cities" agendas, and escalating geopolitical conflicts.
At the same time, businesses need to consider the emergence of the metaverse, which will more tightly connect individuals, businesses, and governments through the convergence of digital tools and platforms, including a backbone built on blockchain technology and immersive virtual reality experiences. Discussions about potential regulation, privacy guardrails and cyberattack vulnerabilities are already taking place at government, industry, and societal levels — but the metaverse may come into existence without all of its risks addressed.
Space Exploration Risks
The ever-expanding nature of risk is seen by the discussion of space issues in this year's Global Risks Report. The increasing number of countries and businesses involved in commercial space exploration — 2021 saw a record number of 145 orbital space launches globally and there could be as many as 100,000 launches over the next decade — highlights the need to improve governance and international risk mitigation. 
And while there are opportunities for public and private players to collaborate, reap the rewards, and manage the risk of space activity, cooperation is likely to be difficult given geopolitical and security sensitivities. Increased activity in space could lead to as yet unknown environmental impacts and heighten the danger of debris damaging critical space infrastructure. For example, the proliferation of launches increases the chance of collisions involving space debris, satellites, and other near-Earth infrastructure, which could escalate international tensions. 
COVID-19 continues to test risk management strategies in many ways, some foreseen, others never imagined. During the past two years, countries and organizations have seen successes and failures as they adapt their risk strategies to the virus's shifting course. 
Among the many factors that are critical to managing and recovering from the pandemic, two stand out: adaptability and trust. Governments and businesses need to be ready to adapt response strategies based on evolving circumstances. And they must foster trust that their strategies are based on principled, science-based decisions taking a broad stakeholder view — and effectively communicate them.
The Need for Building Resilience
Many have lamented that more strategic planning was not done ahead of time to build resilience against a pandemic. It's important now to build greater resilience ahead of future crises — not only pandemics and health risks. Doing so will require a concerted, collaborative effort by governments and businesses. It will also mean developing the means to allocate risks more meaningfully, agile regulations that embrace resilience properly, and more effective data-sharing mechanisms.
At the same time, businesses would do well to focus on such areas as reducing the "resilience deficit" exposed by the pandemic. Over time, efficiency has often been rewarded over resilience, growth over sustainability. As shown by the pandemic, being too lean left some companies vulnerable to shocks. Allowing for redundancies — which some may consider inefficient — may enable businesses to adjust and find alternative models in a more timely fashion.
The pandemic has also highlighted the importance of connecting risk to strategy. The companies that have best weathered the pandemic are those that quickly made needed shifts in strategy, strengthened communications with stakeholders and empowered their leaders and employees to make real-time decisions.
The focus on diversity and inclusiveness in organizations is also increasing. Diversity improves the quality of decisions and reduces the risk of groupthink. It helps companies better understand and reflect the markets they serve. And it enables companies to take a holistic view of the emerging risk landscape.
The Global Risks Report is an important resource for organizations as they navigate the ongoing pandemic and its divergent responses while also seeking guideposts for managing future emerging risks. It is not enough to consider the day-to-day risks of doing business — planning to be resilient in the face of the unexpected is critical.