Economy
Resilience Mindset Needed in Response to Compounding Global Risks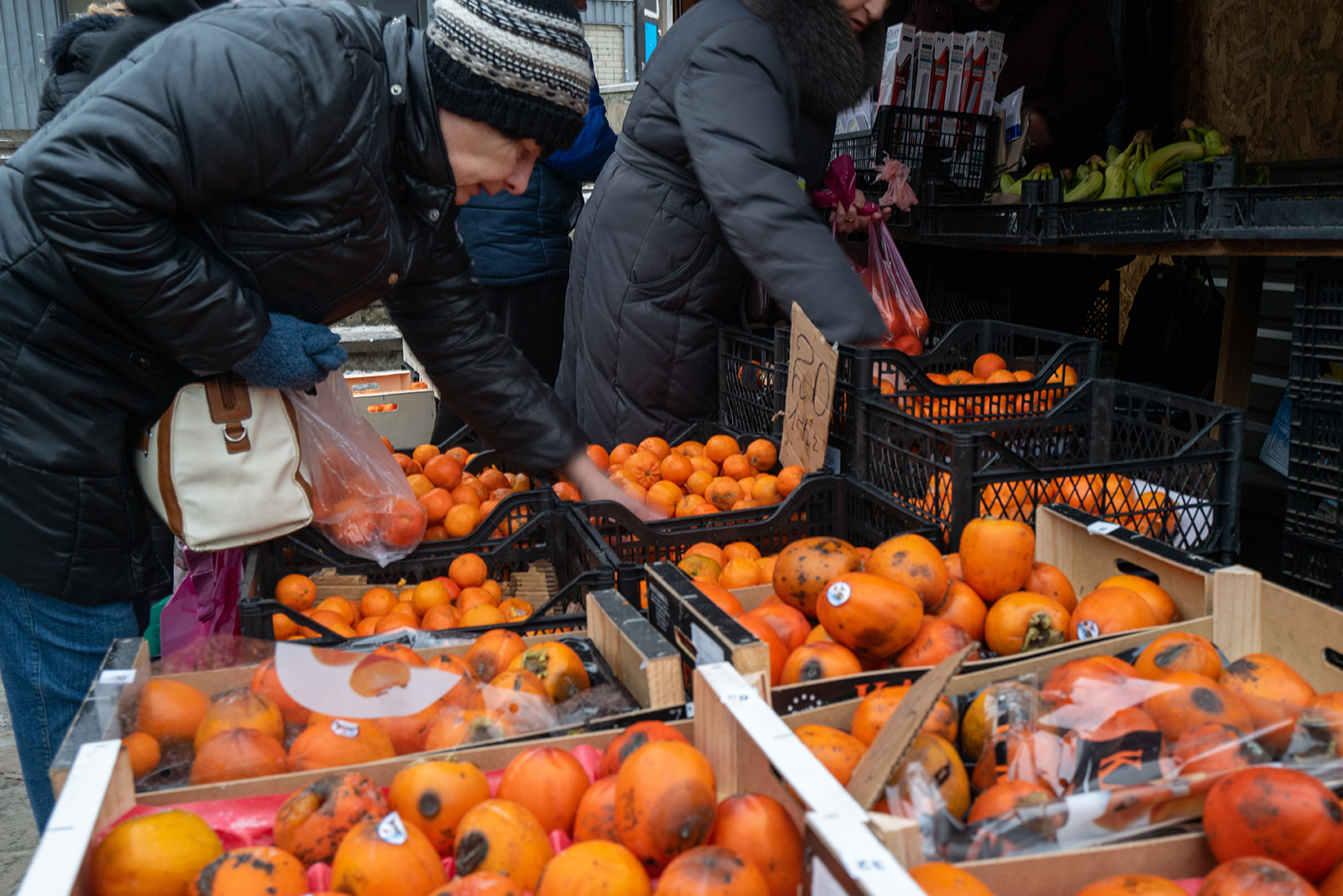 As the volatility, velocity and magnitude of global risks increase, many organizations are caught unprepared for the cascading impacts of developing polycrises — multiple events occurring close together in time, space or both. 
As highlighted in the 2023 Global Risks Report (GRR) — prepared by the World Economic Forum (WEF) with the support of Marsh McLennan and others — the likelihood of polycrises increases as interacting risk events compound one another, resulting in impacts that greatly exceed the sum of each part.
Such events currently include uneven recovery from COVID-19, the Russia-Ukraine conflict, inflation, natural catastrophes, cyberattacks and more. Taken together, these compounding risks raise the level of food, energy, cyber, supply chain and livelihood insecurity worldwide, while challenging effective short-term responses and long-term resilience strategies.
This is forcing many business leaders, policymakers, and other societal stakeholders to refocus their resilience approaches in order to simultaneously manage today's crises while preparing for future risk states.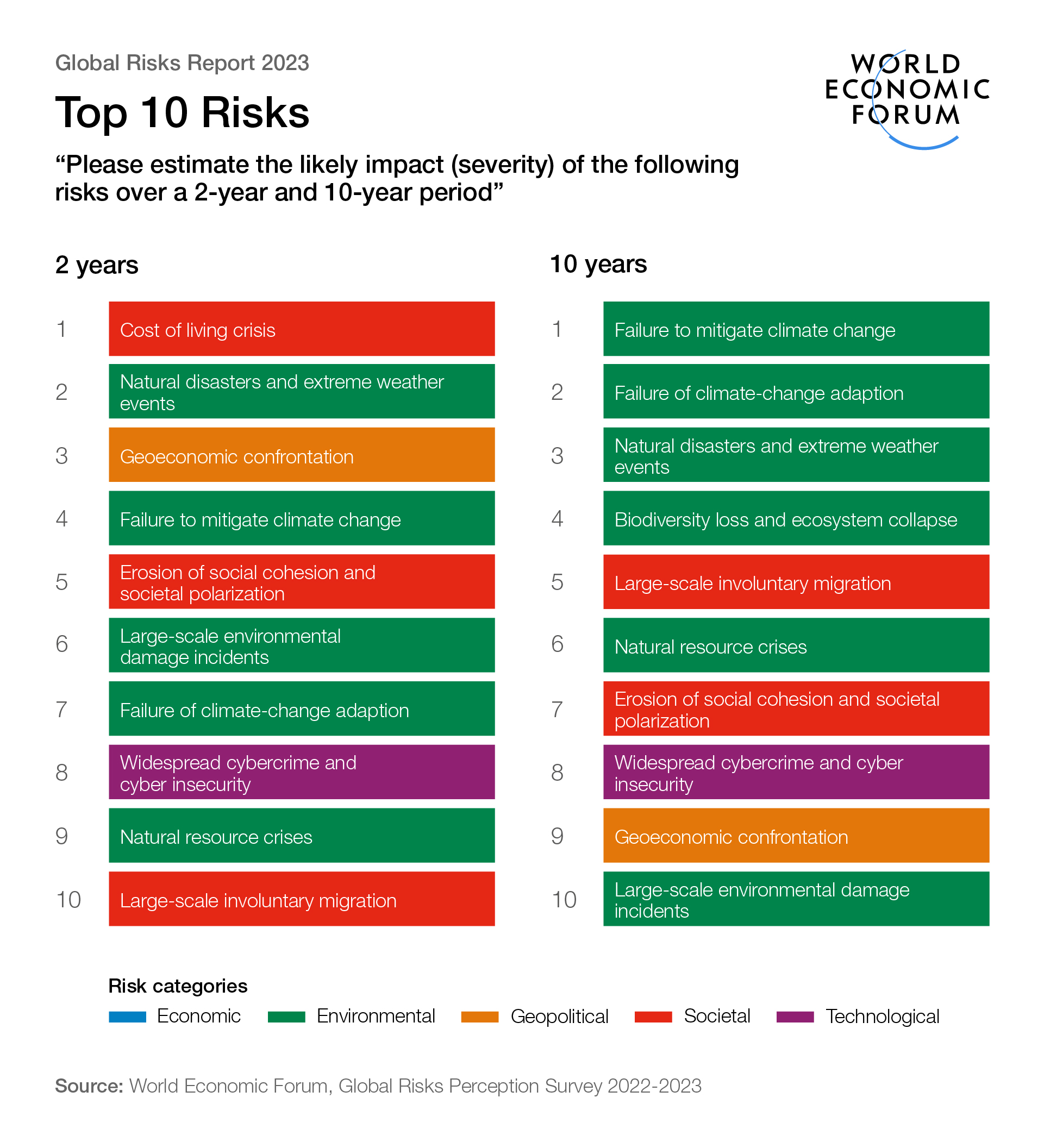 In much the same way that risks themselves interact, early and effective actions aimed at increasing resilience can also have a compounding effect. Adopting a refreshed, proactive and inclusive resilience mindset can lead resilience actions in one area to take on a multiplier effect on overall preparedness.
Geopolitical and Geoeconomic Insecurity Dominates 2023
Russia's invasion of Ukraine in February, 2022 propelled geopolitical risk front and center. As the conflict continues, many organizations and nations have found themselves ill-prepared for the knock-on impacts on energy markets, cost of living increases, supply chains and other areas. Cybersecurity, food security, climate change mitigation and other risks also have become entangled.
Geopolitical and geoeconomic risks have heightened in other regions and even among trading partners. There are increased tensions within the Asia-Pacific region as well as between the U.S. and China; EU concerns about the U.S. Inflation Reduction Act, given its significant tax credits and subsidies for local green technologies; and more frequent delistings of foreign companies from stock exchanges to protect local ones. 
In the coming years, countries will use economic policies to build self-sufficiency from rivals and restrict the rise of others. This is likely to create inefficiencies in supply chains and lead to rising prices worldwide, among other impacts. 
The GRR notes that economic and information warfare is expected to pose a more severe threat than "hot conflict" over the next decade, even though military expenditures are on the rise and new technologies are proliferating. Both interstate conflict and the use of weapons of mass destruction ranked lower this year for anticipated severity compared to geoeconomic confrontation and misinformation and disinformation in the coming decade.
There remains a large gap between what needs to be done to make progress toward a net-zero carbon economy and the political will to do so. 
Climate Change Critical in the Short- and Long-Term
Climate change and related environmental issues continue to rank at or near the top of risk issues in both the short and long term. The failure to mitigate climate change and its related natural disasters and extreme weather events is seen as one of the most severe short-term threats, as well as being the risk with the most severe impact over the next 10 years. These environmental risks are also seen as ones for which the world is least prepared.
There remains a large gap between what needs to be done to make progress toward a net-zero carbon economy and the political will to do so. This is due in large measure to a "climate action hiatus" as the increased demands that other issues — such as the cost of living crisis and the Russia-Ukraine conflict — are placing on public- and private-sector resources.  
If there is a plus side on climate-related issues, it can be seen in the increase in worldwide investment in clean energy sources after years of remaining flat. The International Energy Agency (IEA) projects that clean energy investment will have exceeded $1.4 trillion by the end of 2022 and account for almost three-quarters of the overall growth in energy investment. Additionally, signs of global cooperation were witnessed at COP27, where a breakthrough was reached as countries agreed on a fund to compensate developing countries for losses and damages caused by climate change.
Some progress also can be seen in new approaches being considered to climate change and renewables risk modeling, assessment, and allocation, which could help businesses, governments and financial markets accelerate moves toward a net-zero economy. But with each year that passes without significant progress, the existential nature of this risk will increase. 
Cyber Risk a Continuous Threat Given Technological Transformations
The risk of cyberattacks continues to increase globally, and widespread cybercrime and cyber insecurity ranked among the top 10 risks for both the short and long term. One area highlighted by the Russia-Ukraine conflict is the ongoing and growing threat of direct and spillover cyberattacks on technology-enabled resources and services, whether financial, security, transport, energy, health care or other critical infrastructure. For instance, during 2022, critical infrastructure cyberattacks detected by Microsoft comprised 40% of all nation-state attacks, whereas previously they comprised only 20%. 
Building cyber resilience in part depends on cybersecurity awareness, engagement and cooperation by the public and private sectors, which will improve protection against future threats, whether from a state actor, rogue consortium or individual.
Concerns about cyber insecurity also are rising as businesses and governments gather ever-larger data sets of valuable and value-added commercial and personal information. The nature of the data being collected includes more sensitive vocal inflections, facial expressions and other biometrics, which could be the target of geopolitical or commercial warfare and bioweaponry. Inconsistent global regulations and governments' efforts to address data concentration by private-sector technology companies may enable larger-scale breaches or misuse. 
Organizations need to protect their own intellectual property and processes, as well as sensitive data gathered from suppliers, employees and customers. Resilience strategies should include efforts to address and manage cyber risk as an enterprise-wide endeavor. 
Inflation and Other Risks Complicate Personal Security and Health 
The rising cost of living is seen as the most severe risk for the coming two years. Though it is viewed as a short-term threat, if it persists, the resulting economic pressures could lead to extraordinary social unrest and political instability. In 2022 alone, fuel price increases led to protests in an estimated 92 countries, some of which resulted in political upheaval and fatalities, alongside strikes and industrial action.
Additionally, in a world of compounding risks, the impacts of inflation will be felt elsewhere, and over the longer term, some countries may divert resources away from education and health care, as well as climate adaptation and green energy investments, in order to meet basic food and energy security needs. This is of particular significance in relation to reductions in climate change and nature loss mitigation investments since exposure to heatwaves, air pollution, waterborne diseases and malnutrition can compromise health and well-being. Accumulating impacts would be detrimental to sustainability and the advancement of society, which could prove disastrous when the next major global shock materializes. 
Keeping employees and their families physically and mentally healthy amid cost of living, infectious disease, political and environmental crises is a critical step in risk resilience. This lesson was learned during the worst of the COVID-19 pandemic, which amplified existing pressures and strains on global health systems and revealed inadequacies in physical and mental health management.
On a positive note, the pandemic increased focus and engagement with health and safety issues by C-suite executives. It has shown companies that if they understand and address their employees' workplace and personal needs, they are likely to fare better in the competition for talent and their ability to respond effectively to a crisis. The pandemic further highlighted the importance of building blocks such as digital access to health care and support for essential workers. 
Businesses and governments are able to improve both the social determinants of health and health behaviors, boosting the resilience of individuals, societies and health systems. This can be accomplished by focusing on changing the environments that people work and live in and improving the availability of the supports they truly need.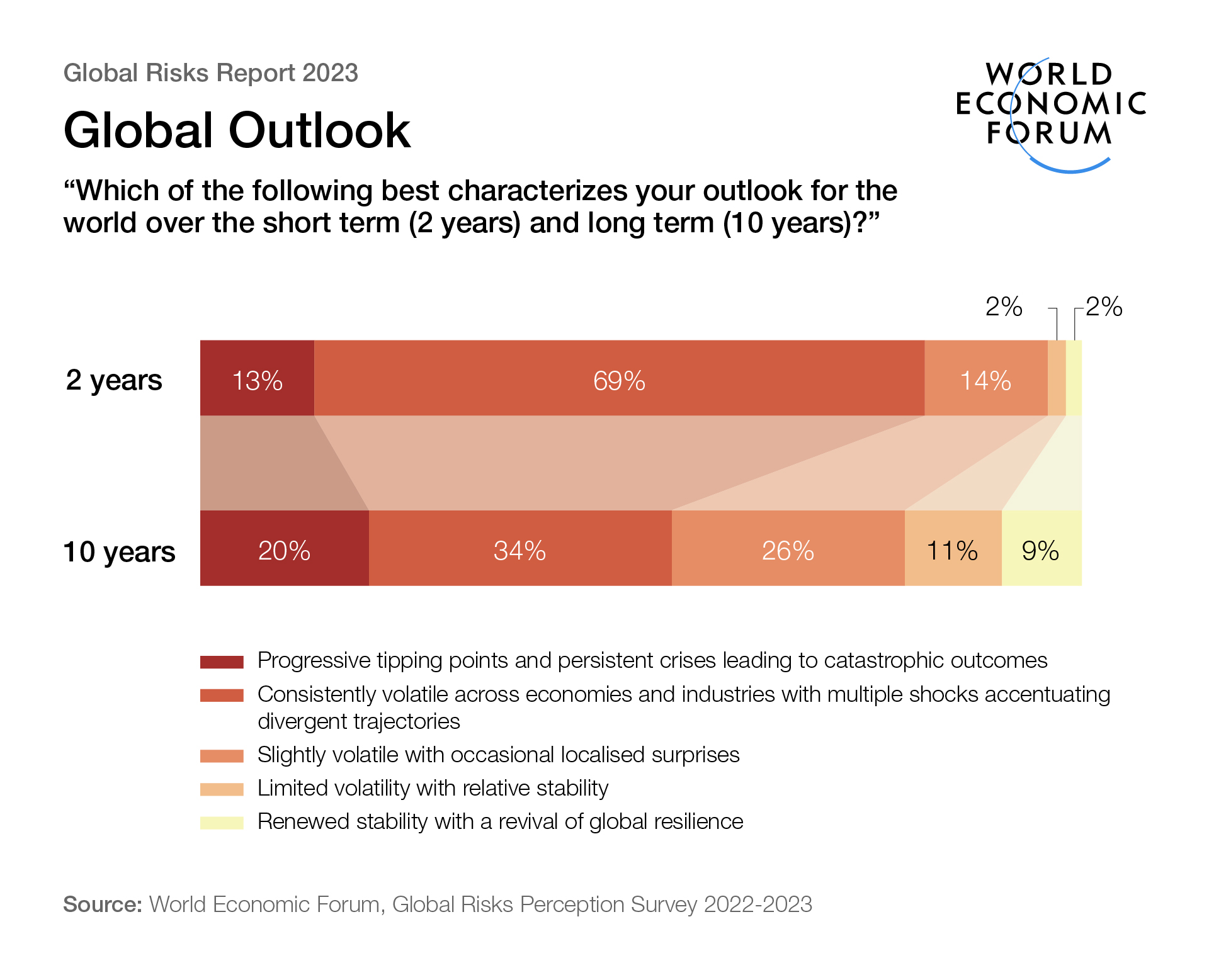 Advancing a Risk-Resilience Mindset
Though we face the most severe geopolitical, geoeconomic and societal crises in a generation, we should recognize that resilience investments are not a drag on national and corporate growth, but an enabler. In that sense, a resilience mindset needs to become more deep-rooted. 
Investments in resilience strategies and solutions should cover common capabilities that can address multiple risks. Doing so will support greater agility in our responses to crises and our ability to anticipate the next ones. By focusing on resilience strategies that position organizations, states and the world to better tackle short- and long-term risks, we can reduce uncertainties and make better decisions about where to invest limited resources. 
If we think creatively and collaboratively about resilience, we can prepare for and respond to today's compounding risks and coming polycrises with greater agility and increase the possibilities for a more secure and stable future.