Geopolitics
What Would a 'Marshall Plan' for Ukraine Look Like?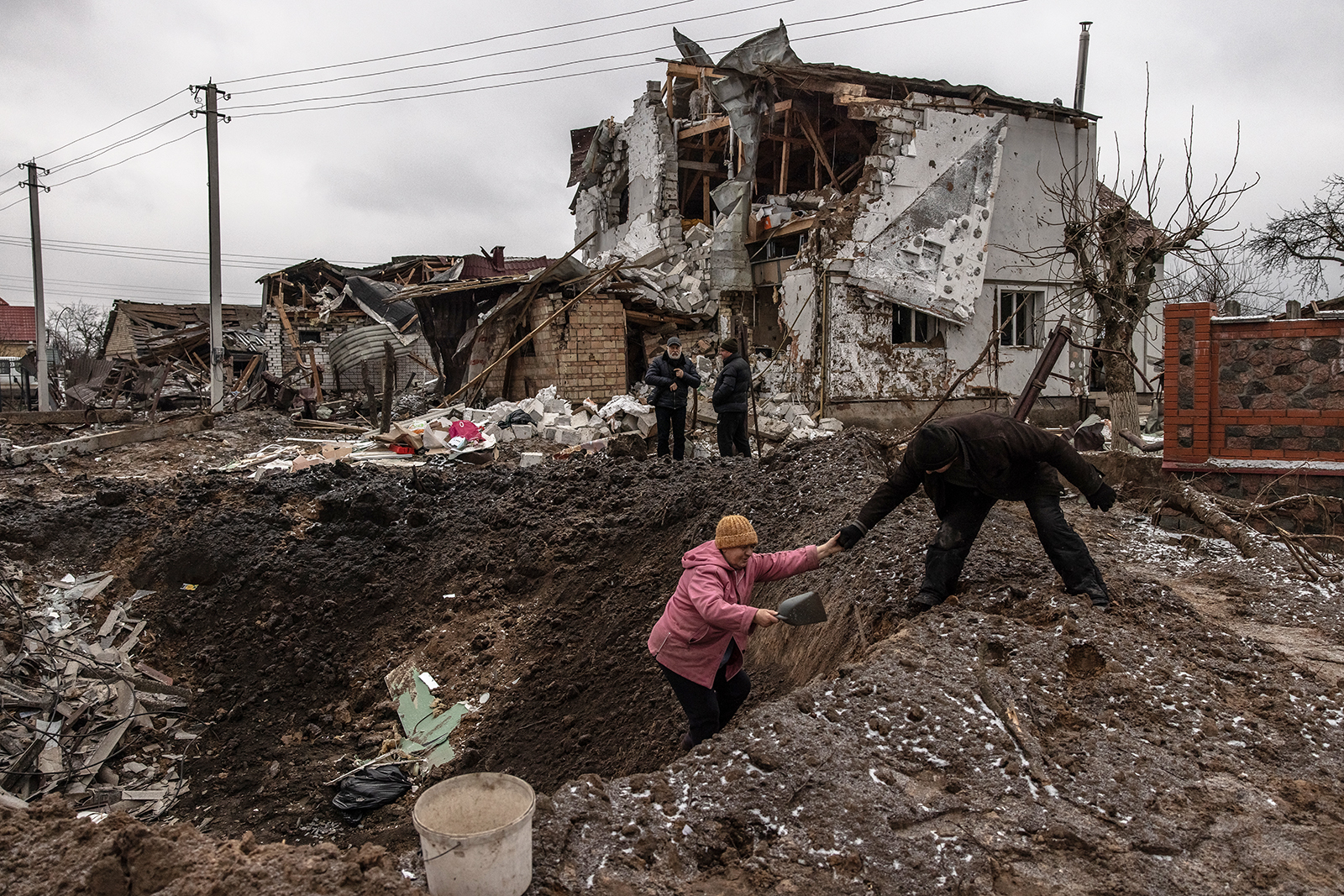 Europe hasn't witnessed a conflict like this since World War II. Now, an even more ambitious reconstruction effort may be required.
Russia's devastating attacks have stirred calls to muster a Marshall Plan for Ukraine in response, in reference to the US-funded rehabilitation of western Europe that began not long after Adolf Hitler's defeat.
At the springtime Davos convened last year, references to a Marshall Plan for Ukraine were both explicit and implied; Ukrainian President Volodymyr Zelenskyy borrowed words used to initiate the plan three-quarters of a century earlier for his own special address.
Last month, at Davos 2023, the German chancellor amplified the historical analogy. The president of the European Bank for Reconstruction and Development made the same reference during yet another session.
In truth, the Marshall Plan has long served as a benchmark for just about any ambitious attempt at a multilateral rebuild. It's been applied to everything from combating the climate crisis to boosting prosperity in Africa.
Wherever the money comes from, experts say rebuilding shouldn't just be about restoring what's been lost. Instead, it should help Ukraine, which has been one of the most energy-intensive countries in the world, leapfrog to another level in terms of innovation and sustainability.
A World Bank official estimated that fully restoring Ukraine would cost at least the equivalent of $540 billion. The Marshall Plan, in today's money, cost less than a third of that amount.
It was also bankrolled by a single country courtesy of its taxpayers, and heavily weighted in favor of public- rather than private-sector involvement.
That's an approach that presumably won't be repeated once the [conflict] in Ukraine ends.
In 1948, as the first Marshall Plan funds were being delivered, the U.S. was in the midst of an economic boom that elevated employment and consumption. Meanwhile Europe was suffering from critical food shortages and a lack of basic commodities.
In the few years of the plan's existence, industrial production in recipient countries in Europe jumped from 87% of pre-war levels to 135% by 1951 — when food consumption per capita also recovered. The political and psychological impacts of the aid, coming in the wake of such severe trauma, were profound.
In Ukraine, the destruction continues to mount.
By the end of last year, the estimated cost of replacing damaged infrastructure in the country had reached nearly $140 billion. Roughly 150,000 residential buildings had been damaged or destroyed, alongside more than 3,000 schools.
In addition, millions of hectares of protected area in a nation home to roughly a third of Europe's biodiversity have been impacted by shelling and war-related pollution. Much of Ukraine's agricultural land, containing a quarter of the world's prized chernozem soil, has been mined and littered with unexploded ordinance.
Planning Another Historic Rebuild
When the then U.S. Secretary of State George Marshall first outlined what would become known officially as the European Recovery Program, during a 1947 commencement speech to undergraduates at Harvard University, most listeners probably didn't grasp its historical significance.
More than 90% of the plan's aid was delivered in the form of interest-free grants. Ultimately, the U.S. ended up spending the equivalent of nearly 3% of its GDP on the effort.
There have been calls for Ukraine's Marshall Plan, which would come on the heels of funding currently flowing in for more immediate wartime needs, to also prominently feature grants. But a wider variety of wealthy countries would necessarily contribute to a project now being described in terms of decades, not years.
Significant private sector investment will also be necessary this time around, experts say. After meeting with the CEO of the world's biggest asset manager last year, President Zelenskyy said Ukraine needed to both win on the battlefield and "be an attractive country for investors."
Corruption has been flagged as a concern for those investors; Ukraine ranked 116th among countries in Transparency International's most recent Corruption Perceptions Index. The government has responded with what's been described as a "wartime anti-corruption purge."
One option to help fund Ukraine's reconstruction might be to pursue reparations from Russia. The UN General Assembly recently adopted a resolution calling for just that — though it is not legally binding.
Wherever the money comes from, experts say rebuilding shouldn't just be about restoring what's been lost. Instead, it should help Ukraine, which has been one of the most energy-intensive countries in the world, leapfrog to another level in terms of innovation and sustainability.
Of course, nobody expects coordinating an effective reconstruction to be easy.
The Marshall Plan wasn't an easy sell, either. Critics in Congress who thought it was a waste of money dubbed it "operation rat hole." An alternative proposal, thankfully shelved, would've de-industrialized Germany and turned into an agrarian state. Ultimately, the Marshall Plan ended largely due to the eruption of yet another war, this one in Korea – one more way in which the world can do better this time around.
Yet, the original plan itself could come to Ukraine's aid, more than 70 years after being wound down. At least, indirectly. That's because it's widely thought to have laid the groundwork for the modern European Union — which may yet extend membership to Ukraine, alongside all of the economic benefits that come with that.
This article first appeared on the World Economic Forum's website.