Society
For Workforce of the Future, Basics Aren't Enough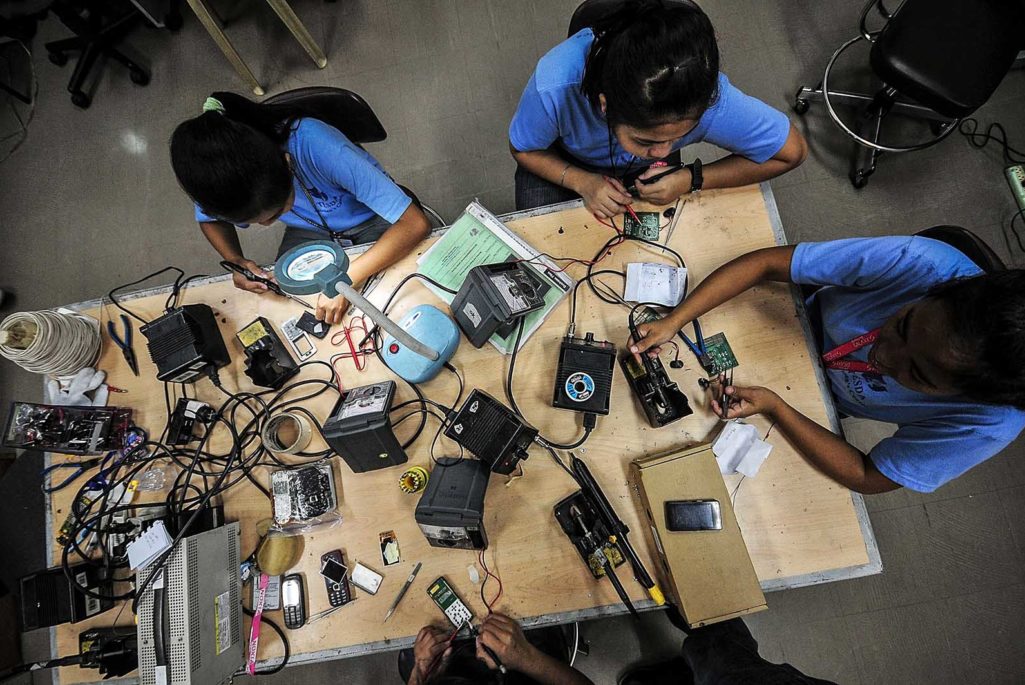 In the past three decades, economic growth in Asia has been the envy of the world. This was driven in part by millions of workers who had completed their basic education and who were willing to work for low wages.
Asia's education systems provided hard skills, including technical and vocational skills such as machine operation and welding, as well as the soft skills like literacy and numeracy that were needed to capture a share of global production and catch up with the rest of the world.
This is rapidly changing as the report Challenges and opportunities for skills development in Asia: Changing supply, demand, and mismatches explains. The basic education and skill set that powered "factory Asia" to its current success is not enough to move the region to the next level of development. The world is transforming in six ways that have an impact on how to train and educate people in Asia for today's global economy:
Labor force participation has been affected by the so-called Great Doubling in the 1990s, with the entry of the People's Republic of China, India and the former Soviet Union into the global economy, which has effectively doubled the size of the global pool of inexpensive labor.
Increased access to education has been driven particularly by the universalization of basic education. While this generated a large pool of young workers with at least basic skills, making them better prepared to function in mass production industries and basic service sector jobs, it is no longer capable of fueling continued growth and dynamism, and leaves challenges in quality and relevance of secondary and tertiary education as well as Technical Vocational Education and Training (TVET).
Economic and industrial transformation has changed the demand for labor around the world, and particularly in Asia. This includes shifts in the allocation of employment across sectors where the rapid rise of manufacturing and service industries led to a dramatic expansion in employment shares in these sectors.
Technological advancement has increased demand for non-routine tasks that require problem-solving skills and creativity—with characteristics of professional, managerial, technical, and other creative occupations—while leading to displacement of manual and routine jobs.
Globalization and increasing regional integration has increased labor mobility and offshoring, and removed barriers to free trade and the mobilization of resources across borders.
Demographic shifts have impacted the supply of skills, with the expansion of the working age population continuing at a rapid pace in some countries, but decelerating or even contracting in others.
In the new global economic era, Asia's economic growth will require realigning its labor supply to match new needs.
In this new global economic context, maintaining Asia's economic growth will require realigning its labor supply to match new needs. Asia's education systems must be transformed to ensure that the skills supply can respond to rapidly changing employer demands. Asia's supply-driven and government-dominant education systems need to become more demand driven with support from employer and private sector partnerships for continuous learning and improving technology-enabled learning. Without this transformation, skills mismatch in Asia could continue to widen and potentially drive down economic growth.
Governments in Asia need to urgently prioritize policies and investments to transform education and training. There is no 'one-size-fits-all' solution, but there are some common initiatives that will help forge effective national policies.
Skills development must be placed at the center of national economic development plans. Sound strategies and planning can ensure skills supply is effectively aligned with skills demand. Skills supply should be properly sequenced to match the demand according to different stages of economic development.
Scale up investment for TVET sector. This sector is generally fragmented, severely underfunded and undermanaged. It composes only a small fraction of most education budgets in Asia. Significant investment is required to modernize the TVET sector and rebrand it as an integral part of the education systems.
Reorient and rebalance education systems to meet rapidly evolving economic and labor market needs, and recognize TVET as a valuable pathway that can evolve to provide a mix of soft and hard skills required by the labor market.
Prioritize reforms to improve the relevance and the quality of TVET, such as switching the focus from supply-driven to demand-driven education and training, or improving links to industry. Governments also need to strike the right balance between TVET provision by public institutions and private providers. This requires the creation of an enabling framework for innovative public–private partnerships to share the responsibility for developing curricula and delivering training while also ensuring quality control. The promotion of internships, apprenticeships, and training for existing workers is critical for the development of a TVET system that is in tune with private sector needs.
Efforts by individual countries to tackle skills mismatch can also benefit from regional cooperation. This can include collaboration in regional labor market information and analysis; and promoting regional industrial cooperation. Development of mutual recognition mechanisms to remove geographic barriers to mobility of skilled workers can likewise help alleviate the skills gap.
This piece first appeared on the Asian Development Bank Blog.