Environment
How Business Can Bolster the Paris Agreement
An interview with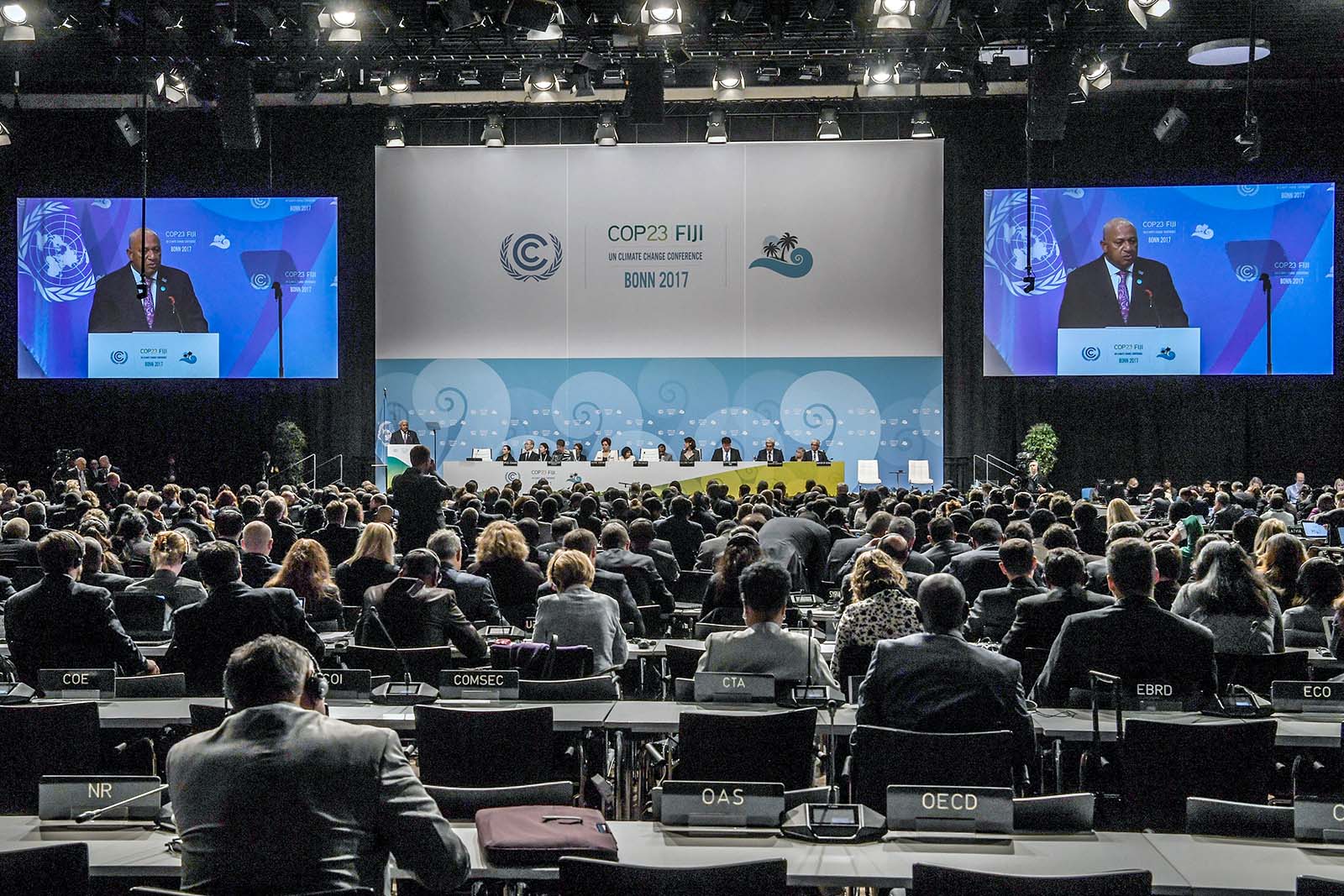 With the U.S. administration preparing to walk away from the Paris Agreement, U.S. government officials have drastically scaled back their presence at the COP 23 climate talks in Bonn, Germany, this week. But dozens of other American leaders—governors, mayors, state attorneys, university presidents, business leaders, investors and more—have arrived in force to send the message that they are still taking the agreement very seriously.
The "We Are Still In" coalition, as it is known, is coordinating a pavilion at the conference that will act as the de facto U.S. headquarters at COP 23—effectively replacing the "U.S. Center" that the U.S. State Department had set up in previous years to promote U.S. progress on climate change. Dubbed the U.S. Climate Action Center, the pavilion will host a series of forums and launch an initiative to quantify the actions of states, cities, businesses and other actors to reduce carbon emissions.
The We Are Still In coalition—announced just days after the U.S. announced its intention to pull out of the agreement—declared its intention to deliver the goals set by the previous U.S. administration with or without the help of the federal government.
Since it was first announced in April, the group's size has nearly doubled to 2,500 signatories representing $6.2 trillion of the U.S. economy and about 40 percent of the U.S. population. Among the business signatories: Apple, Google, Nike, Ikea, Walmart, Microsoft, Amazon, Starbucks, Target and PG&E.
World Wildlife Fund is one of the organizations helping support signatories to the We Are Still In statement. BRINK spoke with David McCauley, senior vice president of policy and government affairs at World Wildlife Fund, about how business can fill the void left by the U.S. administration.
BRINK: The Paris Agreement is an accord among national governments. Why would individual businesses matter to its success?
David McCauley: Actually, the Paris Agreement was designed differently than most international agreements. It creates clear opportunities for the private sector, including under the so-called Global Climate Action Agenda, to launch new initiatives and collaborate across borders. And of course, the agreement only works if governments set and meet national targets, which is only possible if the private sector is on-board. National governments can encourage the achievement of these targets through laws, regulations, incentives and subsidies. But ultimately, they must rely on others—states, cities, businesses—to take action. The role of non-national actors is especially important in countries with a federal structure, like the U.S. or India, where power is decentralized.
The national targets under the agreement are not legally binding—they are effectively political commitments. And that underscores the need for other politically influential actors to exert pressure in a variety of ways. The We Are Still In signatories, and other nonfederal actors present at COP 23, are demonstrating that those elements of the American economy most involved with climate action remain committed to the agreement. They're assuring the rest of the world that American leadership on climate change extends well beyond the federal government.
'The Paris Agreement was designed differently … it creates clear opportunities for the private sector.'
BRINK: We Are Still In is a broad coalition, but what about the role of business in particular?
Mr. McCauley: The private sector is, in many ways, the most important non-national actor. It sets the tone on R&D, and collectively it accounts for over 60 percent of U.S. emissions. As more businesses pledge to increase energy efficiency or switch to renewable energy sources as part of reaching their emissions goals, they are driving the market for low-carbon technologies and pushing utilities to install more renewable capacity. As a result, business has become the biggest source of demand for renewable energy. This is contributing to the falling price of wind and solar and is setting the stage for a rapid rollout of a lower-carbon energy mix.
BRINK: What can businesses and investors do to bolster the Paris Agreement?
Mr. McCauley: First, they should join the We Are Still In movement, which demonstrates their commitment to taking action on climate change and their continued support of the goals of the Paris Agreement. Nearly half of America's largest companies have a goal to cut climate pollution and many are part of the We Are Still In movement today.
Second, they should adopt science-based targets for greenhouse gas emissions reductions and encourage their supply chains to follow their lead. WWF and others have been providing guidance to companies to set these goals. By disclosing their audited progress towards these goals, these businesses are demonstrating that they are doing their part to keep global temperature rise well below 2 degrees Celsius.
Companies should consider other commitments such as driving renewable electricity, improving energy productivity, or sourcing sustainable agriculture depending on their emissions footprint. Investors can take their own actions, such as signing the Montreal Carbon Pledge, in which investors commit to measure and disclose their carbon footprint of their investment portfolios.
The cumulative progress of nonfederal actions to address climate change will be tallied by America's Pledge, an initiative headed by Michael Bloomberg and Jerry Brown to record the climate actions of actors across the U.S. economy.
The We Are Still In signatories all understand that the Paris Agreement is a global blueprint for job creation, stability, and long-term prosperity. They're saying that they will put the best interests of their customers and communities first.
Full Disclosure: Mr. McCauley is the father-in-law of our Deputy Editor, Richard Sine.