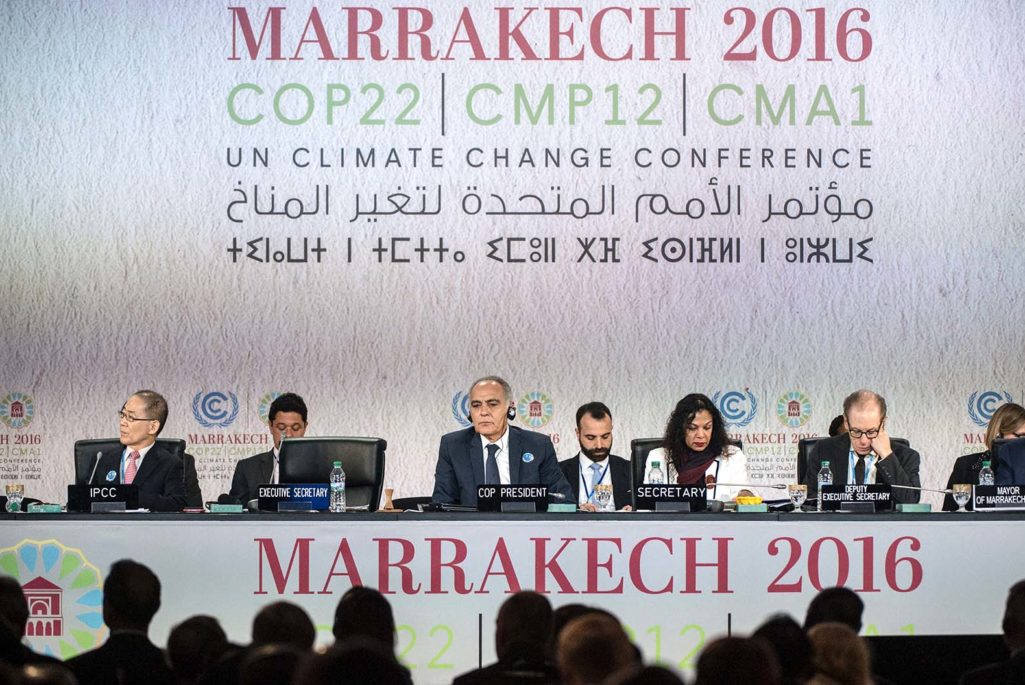 Green mountains and clear water are the answer if you ask Chinese President Xi Jinping. According to him, "to protect the environment is to protect productivity, and to improve the environment is to boost productivity." That sounds like what the world needs, right?
The Paris Climate Change Agreement formally entered into force two weeks ago. The 22nd Session of the Conference of the Parties to the United Nations Framework Convention on Climate Change—a.k.a. COP22—is underway in Marrakesh, Morocco. The focus is on bringing action to last year's historic Paris Agreement.
Last December, the Paris Agreement was adopted by 195 countries that unanimously agreed to limit the rise in global temperature well below 2 degrees Celsius, compared to pre-industrial levels. This year, COP22 moves the Paris pact from agreement to action via global action plans, making measuring progress transparent, involving business and empowering developing countries. This is not a small task.
I have participated in many previous COPs—in Copenhagen, Cancun, Doha, Warsaw and last year in Paris—and I have written articles about previous climate negotiators being "no-go-tiators," due to their "no-go" response to form planned agreements. But the "no-go-tiators" are nearly history: 195 countries adopted the universal Paris Agreement and 90-plus parties have since ratified it, suggesting we are ready to take global action.
The battle has not yet been won, partly because many still ask, "Which battle?" Is it the battle against climate change, the battle against inequality, the battle against local pollution and the ability to breathe in the city you and your children live in, or is it one of the many other battles we are fighting?
Windmills, Not Walls
We live in a time of transition, but many do not see the opportunities and immediate benefits of change. We live in a time where, rather than building windmills, many seem to want to build walls—walls to maintain what we see as ours, and walls to keep the negative effects of globalization and trade, as well as diversity and alternative ideas, out of our own countries. Many want to do this while continuing to live and pollute as we have for years.
Because we all live in the same world, we must realize that our actions have impacts at home and across borders.
While we can build as many walls, enforce as many borders and limit as much trade as we want, we can't change the fact that pollution and climate change do not respect borders or walls. Like it or not, we all live in the same world, where about 5.5 million people worldwide die yearly as a result of air pollution.
Because we all live in the same world, we must realize that our actions have impacts both at home and across borders that affect our children, grandchildren, neighbors, communities, the environment and people around the world that we may never meet. All our actions have consequences, and we are faced with a crucial opportunity to make positive choices that will have the right consequences. If we do not make the right choices, we will lose out on green mountains and our productive economies will struggle.
Everyone—including citizens, cities, governments and businesses—is at risk of feeling the effects of climate change and many already have felt the effects directly or indirectly. Even though everyone should have an interest and responsibility to make change, it can be difficult, especially if you don't see the immediate benefit.
We need to communicate that our actions should not be dictated by long-term fear, but by the clear short-term and long-term economic and health benefits we will achieve by increasing the stability of our global climate. A stable climate will create healthier societies with fewer sick children, respiratory diseases and asthma attacks; lower energy bills; increased energy security; improved transportation and innovation and better jobs, all of which are ingredients for safe, productive societies and strong economies.
The Solution to Pollution
Government has a responsibility to be a change agent, and the Paris Agreement has highlighted many governments' willingness to address change. To shift the focus of our action from governments to local trendsetters, though, I believe that we need to make our reasons for action relevant and concrete: the benefits of being healthy, breathing fresh air, drinking clear water and enjoying green mountains (or white mountains, depending on the altitude), as President Xi Jinping mentioned in his speech, which some would say was provoked by the millions of Chinese citizens living in cities with severe pollution problems.
China has struggled with pollution and has seen the impacts on its people; one study found that 1.6 million people in China die per year from health issues related to air pollution. The world's largest manufacturer in 2015 has not only exported goods to the western world, but also its waste. Water and air pollution from China has traveled across the Pacific  western North America, so while walls might limit who and what enters or exits our countries, pollution and environmental disaster do not respect borders.
The selfish argument is that only by ensuring all countries are using the best available technology to fight pollution and climate change are we able to protect ourselves from pollution and climate change.
We already have the Paris Agreement as well as the 2030 Agenda and its Sustainable Development Goals. The success of these two historic global agreements made in 2015 will define what world we want to live in and what world our children experience.
Now, at COP22, instead of talking, we need action and it must come from all angles. We need global and local trendsetters to take action and show that it is cool to make relevant changes. We need to have people all over the world identify themselves as stewards of the land, which will affect the rest of the world and our future generations in the right way.
We need action, not only for human health and well-being, but for strong economies everywhere. If we fail to realize that the actions of our neighbors as well as those across the globe will have an impact on our health and children's lives, this will be hard to achieve. We are in this world together, so instead of fighting each other, let's together fight the battle against what can kill us if we fail to act.
This article first appeared on GreenBiz Insights.