In Practice
How Hardening and Resiliency Planning Helped Entergy Survive Hurricane Katrina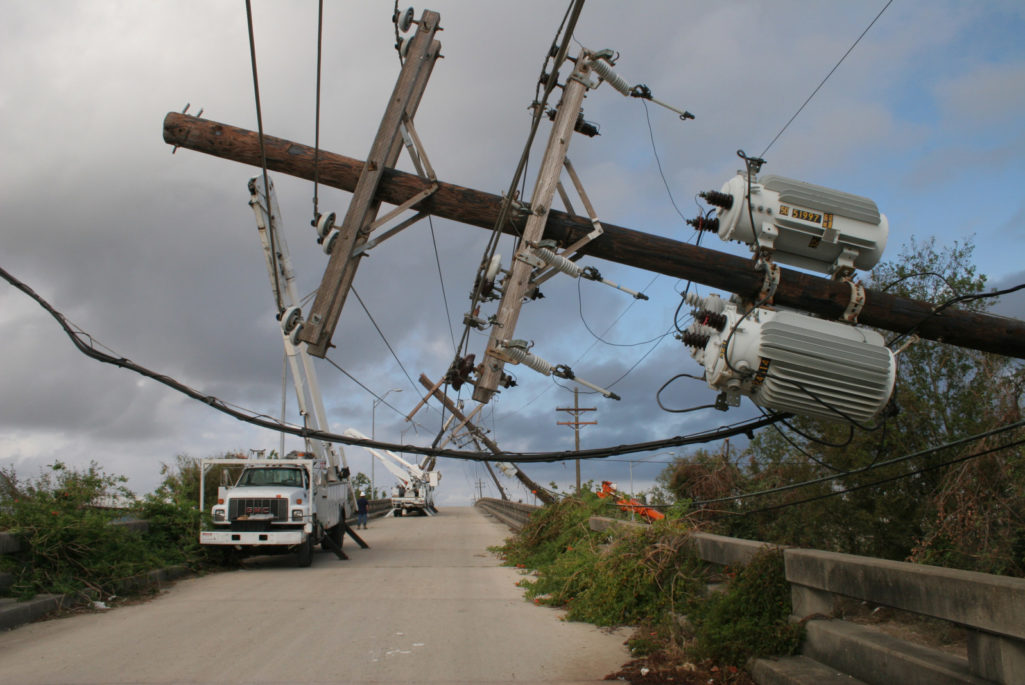 Editor's Note: This is the fourth article in BRINK's special series on extreme weather
Hurricane Katrina left many local and national organizations facing major capital, clientele and infrastructure losses in its wake. Many scrambled to recover these lost resources, while some had no option but to shut down. But one of these companies, Entergy, a New Orleans-based energy company, had an emergency response plan and subsequent recovery strategy in place before Katrina made landfall, leaving them much better equipped for the catastrophic event.

Below, Chuck Barlow, Entergy's vice president of environmental strategy and policy, uses Entergy's story to outline the importance of putting such a plan in place prior to a devastating natural disaster.
Hurricane Katrina destroyed hundreds of acres of coastal wetlands, transmission towers, distribution poles and lines, substations and generating facilities, leaving 1.1 million Entergy customers without power.
Katrina led to nearly $300 million in facility improvements and $1.7 billion in hardening investments at Entergy. But our hardening strategy actually began 40 years earlier, when Hurricane Betsy pummeled the region, causing widespread flooding and extensive power outages in the New Orleans area. Afterward, we took stock of measures necessary to sustaining transmission lines and other facilities during such damaging events. The goal was to keep storm outage frequency and duration to a minimum. Because Hurricane Betsy's wind speeds topped 140 mph, we hardened our transmission system well beyond National Electrical Safety Code (NESC) requirements.
The decision to take this action decades ago proved justified when hurricanes Katrina and Rita struck the coastline. Although Entergy sustained significant system damage, a 2007 hardening study commissioned by the company indicated that 99 percent of the structures located within 20 miles of the Louisiana and Texas coastlines survived the winds. In total, of more than 90,000 structures along that stretch of coast exposed to the high winds of both hurricanes, only 770 sustained structural damage such as breaks in utility poles. National news photos showed leaning poles, but many of those structures were able to be straightened and did not require additional repairs.
The decision to take this action decades ago proved justified when hurricanes Katrina and Rita struck the coastline.
Major storms like these are not just coastal events. Although NESC changed the codes in 2007 to require structures to withstand 140 mph winds along the Louisiana and Texas coastlines, Entergy exceeds these requirements further inland than codes require by hardening our structures to withstand strong winds that accompany hurricanes long after landfall.
Data collected for our 2007 study gave engineers information needed to develop a number of strategies, including investments that reduce costs to customers over the life of the facilities. Steps we've taken include building transmission lines using concrete or steel poles within 20 miles of the coast, replacing transmission and distribution crossing structures over major highways with concrete or steel poles, and building new substations to elevations above the 100-year flood plan, as established by the U.S. Geological Survey. We've also studied our distribution system and other structures along the coast and farther inland and have taken steps to harden and protect those properties from high winds and potential floodwaters a hurricane can cause.
Additionally, resiliency efforts by Entergy extend far beyond our own facilities. We know there's no purpose in providing electricity if customers can't receive it. Through our partnership with America's Wetland Foundation, we've helped develop resources for communities to guide their own hardening and resiliency planning.
Entergy and its employees have also partnered with nonprofit organizations to help build or rebuild 1,300 single or multi-family homes that were destroyed by Hurricane Katrina. More than 150 employees worked in the week leading up to the storm's 10th anniversary on rebuilding two homes with one of our partners, the St. Bernard Project. We've also recently joined forces with the American Red Cross through a two-year $450,000 contribution to support disaster response. This partnership supports our commitment to creating value for our communities by better preparing them for potential disasters and helping facilitate their recovery.
We have seen the devastation major weather events like hurricanes can cause, and we understand both the economic and emotional toll they can take. We believe that through better preparation, we can minimize the impact. We know that while no amount of infrastructure hardening will eliminate all storm outages, these steps play a role in minimizing outage times and reducing repair costs to customers.