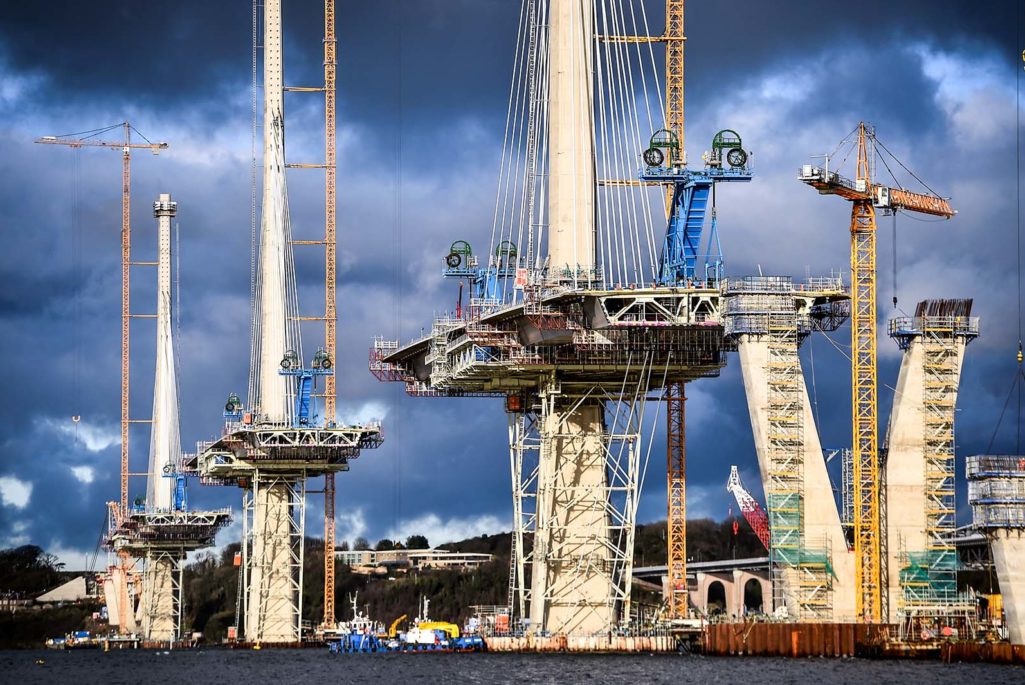 [Perspectives on Innovation: Part of our regular monthly series featuring content from Perspectives on GE Reports.]
In Britain, they've used it to expand railways. In India, they've earmarked it to build sustainable cities. And in America, companies are pooling it to invest in infrastructure.
The "it" is private capital and marks the most viable and effective way to build and revamp world-class infrastructure. But first, many governments need to make legislative fixes and follow proven best practices to unleash this money.
If they do, countries can expect economic growth, world-class railways and roads without busted public budgets, and top-shape infrastructure for future generations.
These ideas were discussed at length during the Spring Meetings of the International Monetary Fund and the World Bank Group.
Economic and Investor Benefits
Unlike other areas of public and private investment, the benefits to infrastructure are clear. A recent S&P Ratings report highlighted the multiplier effects of infrastructure: Every dollar spent on building, restoring and modernizing it generates more than one dollar in economic activity.
Increasing spending on infrastructure by one percent of real gross domestic product would support 730,000 jobs in the U.S. and increase economic growth by 1.7 percent. In China, it would support 600,000 jobs and 2.2 percent in economic growth. For emerging economies such as Brazil, it would generate 2.5 percent in economic growth.
Every dollar spent on infrastructure returns more than one dollar in economic activity.
While investors are increasing their allocation to infrastructure significantly, their commitment remains only a small percentage of assets under management and is significantly lower than other asset classes such as real estate. This relatively low commitment level underscores the capacity to ramp up contributions to major projects, should governments adopt a public-private partnership model. Infrastructure needs to be developed as an asset class by capital markets, facilitated by greater transparency and deal flow.
How the Public and Private Sector Can Work Together
Some governments already successfully partner with the private sector. In Singapore, where the population grew from 1.9 million in 1965 to nearly 5.3 million in 2012, the antiquated water system faced tremendous strain. To supplement the existing water infrastructure and form a citywide sewage line, city officials created institutional investment vehicles that not only guaranteed the successful completion of the project, but also led to the city having one of the lowest water-loss rates in the world. In states such as Virginia, governments have partnered with the private sector to expand roadways and relieve congestion for tens of thousands of commuters.
One of the most basic ways for private capital to support public infrastructure is through a mechanism called a public-private partnership (P3).
Although a step in the right direction, new P3 efforts in the U. S. shouldn't distract us from the difficult regulatory environment. Governments have complicated the process of forming P3s, discouraging companies from bringing their project expertise, capital and cost-saving ideas to the table. In fact, some U.S. states such as Michigan, New Jersey and New York have effectively banned P3s, a move that fails to acknowledge our fiscal realities. Closing the avenues of opportunity, each of which presents different risks and responsibilities, hurts companies and communities alike.
Working with the Bipartisan Policy Center (BPC), we helped craft model P3 legislation to ensure the public, governments and investors reap the full benefits of infrastructure projects. On May 16, the BPC Executive Council on Infrastructure released a call to action with recommendations on how states in the U.S. can attract valuable private investment through a legislative framework that protects the public interest.
Unsurprisingly, people appreciate the benefits of strong infrastructure and its role in boosting local economies. What might shock policymakers, though, is the fact that the vast majority of Americans hold a favorable view of P3 projects. In a J.D. Power survey from October 2015, 55 percent of respondents indicated a positive perspective on P3s, as opposed to a mere 6 percent who voiced opposition. Furthermore, those who were more familiar with the background and guidelines of P3 were far more likely to consider them valuable. It's evident that people crave smart, efficient solutions to infrastructure issues, yet some legislators often eschew this by rejecting any and all P3 proposals.
Planning for the Future
Getting the proper upfront investment for a new infrastructure project isn't enough. Governments need to take into account the full investment of an infrastructure project, not just the procurement costs. It might cost $1 billion to build a new bridge, but how much will it cost in five or 10 years to keep it up to date? And what are the costs of not keeping it up to date in terms of traffic and other factors?
Answering these questions might help drive governments toward using P3s, because P3s generally put the onus on the private investor for long-term maintenance.
Governments need to be transparent with the public about this information so they can make informed decisions about how their tax dollars are being spent.
For many countries, including the U.S., letting infrastructure languish doesn't make sense. Roads once occupied by Model Ts will soon teem with autonomous-driving vehicles; high-speed trains will carry passengers to their destinations in a matter of hours rather than days and ports will be called upon to handle a new generation of giant cargo containers that have moved through an expanded Panama Canal. Infrastructure is key to all of this and needs to keep pace.
This piece first appeared in Perspectives on GE Reports.