Economy
India's Infrastructure Gap: A Drag On Growth?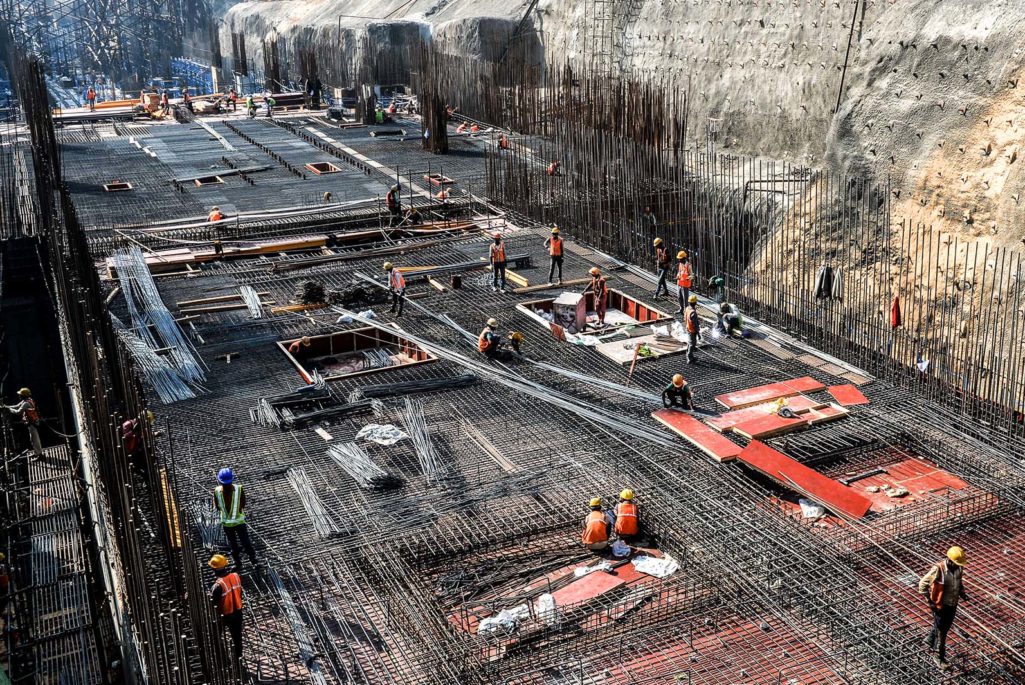 Increased investment in infrastructure is critical for India to improve its manufacturing competitiveness and achieve higher growth. A failure to bridge this infrastructure deficit—particularly in the power and transport sub-sectors—could dampen expected economic growth in the years to come, according to a recent report.
The report shows India's strong growth prospects over the next three years, but also points to a few areas of concern, of which inadequate infrastructure is the biggest. According to the report, while India is witnessing improvement in power generation and transmission, transport infrastructure is still facing capacity constraints that are having an adverse impact on corporate performance.
The Indian government expects it will need $1.15 trillion in infrastructure investments over the next 10 years, but according to the report, this figure will only help India meet the existing infrastructure shortfall "rather than create room for more growth in future."
"We believe, for India, investments in infrastructure equal to 1 percent of GDP will result in GDP growth of at least 2 percent as infrastructure has a 'multiplier effect' on economic growth across sector," the report said.
Playing Catch-up to China
India's economy is expected to grow at a rate of about 8 percent over the next three fiscal years (until March 2019) just as China's average economic growth is expected to fall below 7 percent in this same period, according to the report. However, this outperformance could be short-lived if India does not invest in infrastructure development, the report noted.
It added that the infrastructure shortfall is illustrated most clearly in the power sector. China's entire population, for example, had access to electricity in 2012, while less than four of five Indians did. The number stood at 96 percent in Indonesia and at 88 percent in the Philippines.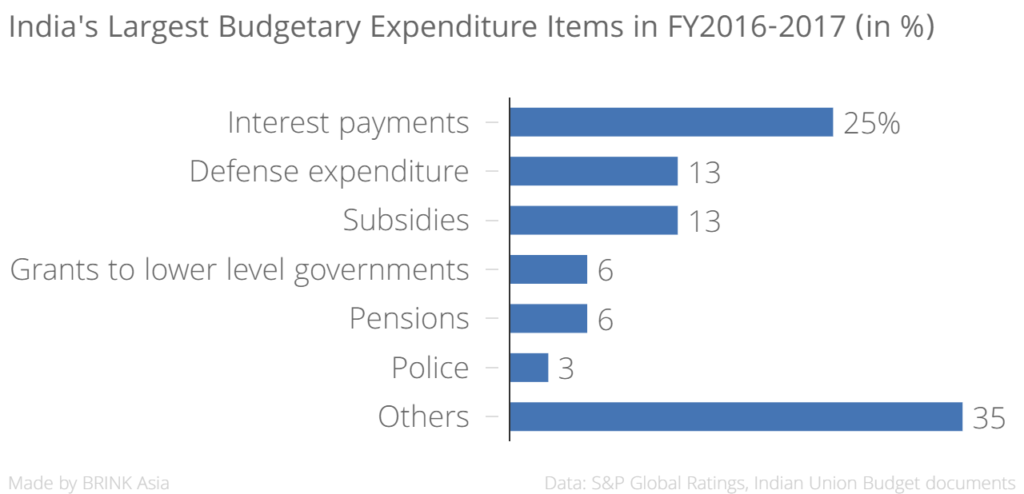 Similarly, while India saw more air passenger and freight traffic than China in 1980, that is no longer the case. Today, Chinese aircraft carry four times more passengers and 10 times more goods than those in India.
India's weak public finances are one key reason behind this infrastructure gap between the two economies, according to the report. A heavy debt burden and a large fiscal deficit make it hard for India to address this constraint as they limit its ability to spend on infrastructure.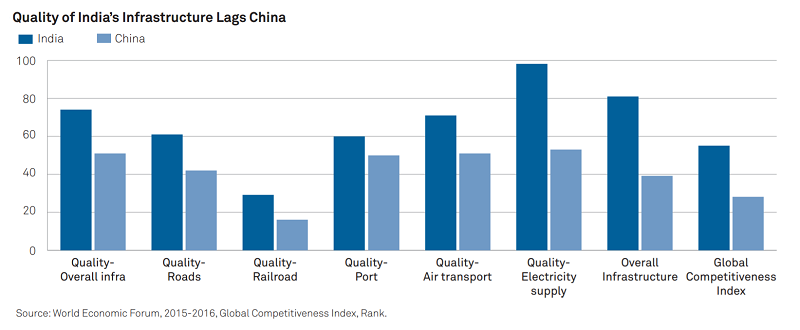 Where's the Money?
Indian governments over the past decade have sought and encouraged greater private sector involvement in infrastructure—while this is a positive, the government's attempts have not been successful, owing to legal and bureaucratic hurdles.
Its push for public-private partnerships for roads, power plants and ports has also met with challenges such as delayed or stalled projects due to either a shortage of private sector funds, regulatory changes or difficulties with land acquisitions (or more than one of these).
"Increasing budgetary allocation to public capital spending remains the most likely way to speed up infrastructure building in the near term," the report said, but given that raising taxes was likely to hurt growth and the fiscal deficit could not be increased as government debt is already high, India would need to reallocate its expenditure.
According to the report, one way to address this is by accelerating subsidy reform. This has started happening with the government abolishing diesel subsidies in late 2014, for example, and with the push to get more subsidies directly transferred to individuals to cut leakages. These steps have helped lower subsidies as a percent of total government spending, and could free up more money to be spent on infrastructure development.