Society
Infrastructure in Indonesia: Campaign Promises Kept?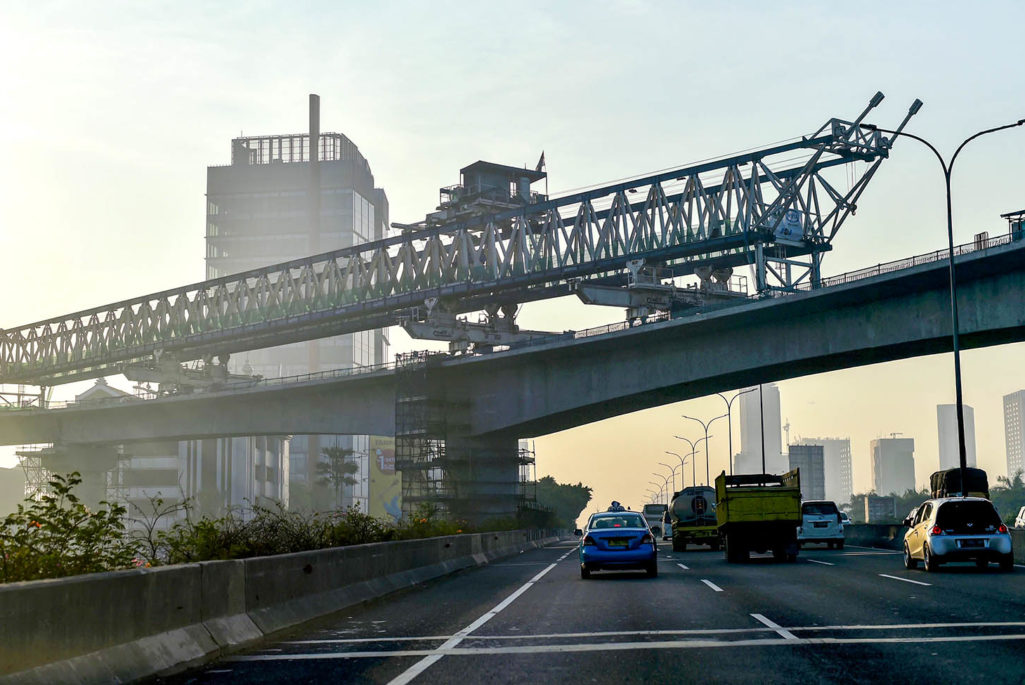 After being overshadowed for decades by debates over the roles that trade policy and financial liberalization play in generating economic growth, developing quality infrastructure has reasserted itself as a top development priority. Success in infrastructure can bring spectacular gains in growth, exemplified by China.
Across Asia, many rapidly developing economies are following suit, perhaps none more actively than Indonesia's. Prior to the most recent presidential election, a foremost campaign pledge of then candidate Joko "Jokowi" Widodo was to improve his country's crumbling infrastructure. His predecessor, President Susilo Bambang Yudhoyono, had also made a similar pledge. The book Indonesia's Changing Political Economy: Governing the Roads provides a detailed analysis on how Yudhoyono's infrastructure program failed.
Part of the problem was financial—the state was capable of supplying only one-third of what was necessary for Indonesia's economy to grow at an annual target of 7 percent. The Yudhoyono administration sought recourse in the public-private partnership (PPP) policy tool that is popularly promoted by international financial institutions (IFIs). PPPs promise private investors special benefits and cost advantages. In return, the government gets infrastructure developed with a lower burden on its own finances.
Shortly after taking office, Yudhoyono held a well-publicized infrastructure summit at which foreign and domestic investors were invited to bid on projects. Thirteen years later, only a handful of the 90 projects planned have been completed. Foreign investors balked at Indonesia's weak rule of law, while domestic counterparts with political connections sought project permits in order to sell them for a quick profit. Capital-holders, foreign and domestic alike, who did invest, swiftly experienced Indonesia's difficulty in acquiring the necessary land, which slowed project implementation to a crawl.
Infrastructure Spending Boost
After assuming the presidency in 2014, Jokowi began to fulfill his infrastructure campaign promise. Boldly, he slashed billions from the government's fuel subsidies bill and spent nearly all the savings on infrastructure investment. Since then, he reportedly meets with cabinet ministers regularly to assess progress on strategic projects.
In addition, Jokowi has relied more heavily on the state sector than his predecessor did. In partial response to the limitations of the PPP approach, Jokowi is turning back the clock to the time before the rise of neoliberalism in the 1990s and its championing of less state and more private sector participation in economic affairs more generally, and in infrastructure development more specifically.
Jokowi is also following in the footsteps of China, the destination he chose for his first presidential trip abroad. He has more control over the capital spending of state-owned enterprises (SOEs) than he has over private capital. Overbearing interference in this regard, however, would imperil the good corporate governance program that, with IFI backing, Indonesia has pursued since the devastating Asian financial crisis of 1997/98. Political resistance to full-scale privatization kept gains minimal. But many SOEs, including those in the infrastructure sector, are now partially privatized, where minority ownership stakes are traded on the country's stock market. So what emerges is a mismatch in policy as one government tries to undo the policies of the former, leading to confusion over which laws or policies take precedence. This, coupled with a corruptible and unreliable judiciary, leads to uncertainties that often make capitalists think twice before investing in Indonesia.
Big Ticket Projects
So, what are the big-ticket infrastructure projects underway, and how has their progress been?
The first section of an underground mass rapid transit (MRT) system in the nation's capital is slated to open in 2018. It is hoped this Japanese-funded project will aid in alleviating gut-wrenching traffic jams that hobble Jakarta's economy daily. When this much-welcomed project is completed in its entirety—at a present cost of $1.7 billion—maintaining the MRT will prove challenging. This includes protecting it from earthquakes and floods. Indonesia notoriously underfunds maintenance, and decaying irrigation canals and pot-holed roads illustrate this fact. If this happens, problems with the MRT are inevitable.
Jokowi promised to be a man of the people, but the benefits of his infrastructure plans aren't reaching the poor.
At the same time, toll-roads are still being built in the bustling capital. A sixty-nine-kilometer inner road ring project may ease traffic congestion, but in due time it will become as choked as nearby toll roads. Additionally, it may not necessarily lead to profits for its investors, either. First, its project price tag is exorbitant—more than three times that of the MRT—given the very high land acquisition and building costs in the heart of Jakarta. Meanwhile, construction has been delayed by land appropriation. It was with reason that the partially privatized, state toll-road corporation, Jasa Marga, with nearly forty years of experience of building and operating toll roads in Indonesia, bypassed participating in this massive project.
Then there is Indonesia's first high-speed train from Jakarta to Bandung. The Japan International Cooperation Agency was appointed to fund it until state-owned China Railway International stepped in with a sweeter offer, and according to them the project did not require funding from the Indonesian government. However, the building of the 142-kilometer railway is already stalling. And while China wants to export its train technology, it will soon learn that in a democratic Indonesia, land acquisition is not easy as people cannot be thrown off their land at will.
Politically, this project may hold promise, but its economics does not. A toll road connecting Jakarta to Bandung was built not so long ago. However, there isn't brisk business traffic between these two cities. Highway drivers get stuck in Bandung's traffic once they exit the tollway. It is difficult to guarantee that the situation will improve after a ninety-minute train ride.
A train connecting Jakarta to its international airport is also under construction. In theory, the project should have the support of urban transport specialists. But the tickets will reportedly be above the promised price of $7.50 for the hour-plus journey. Cost overruns leading to higher ticket prices are being blamed on the elevated costs of acquiring land. The question that arises is, how many passengers will it service when it costs roughly the same to go by conventional taxi, or less with a Grab or Uber vehicle?
A common thread running through these projects is that they service Jakarta. Consider Jokowi's ambitious, nationwide electricity generation plan already behind schedule. Only 16 percent of the planned 35,000 megawatts will be used in the country's impoverished eastern half although the rate of villages without electricity is the highest in that part of the country. Meanwhile, the proliferation of coal-fired plants will undermine the government's commitment to reduce its greenhouse gas emissions considerably by 2030.
Besides infrastructure improvement, candidate Jokowi also promised to be a man of the people, but it is not clear that the benefits of his grand infrastructure development plans are reaching the poor, particularly those living outside of the capital city.
To be sure, hopeful programs are being introduced such as free health care for the poor and monthly aid of IDR200,000 ($15), vouchers. But the health care programs are in fact being run by local governments whose commitments to providing quality care for the poor vary significantly across jurisdictions. And the voucher program is but a variation of a Yudhoyono program that distributed cheap rice to the poor.
A more meaningful infrastructure development program with tangible benefits, not only across this sprawling archipelago, but also for the most vulnerable populations, would result in Jokowi leaving behind a stronger legacy as a man of the people.