Society
Medical Tourism in Asia-Pacific Growing Rapidly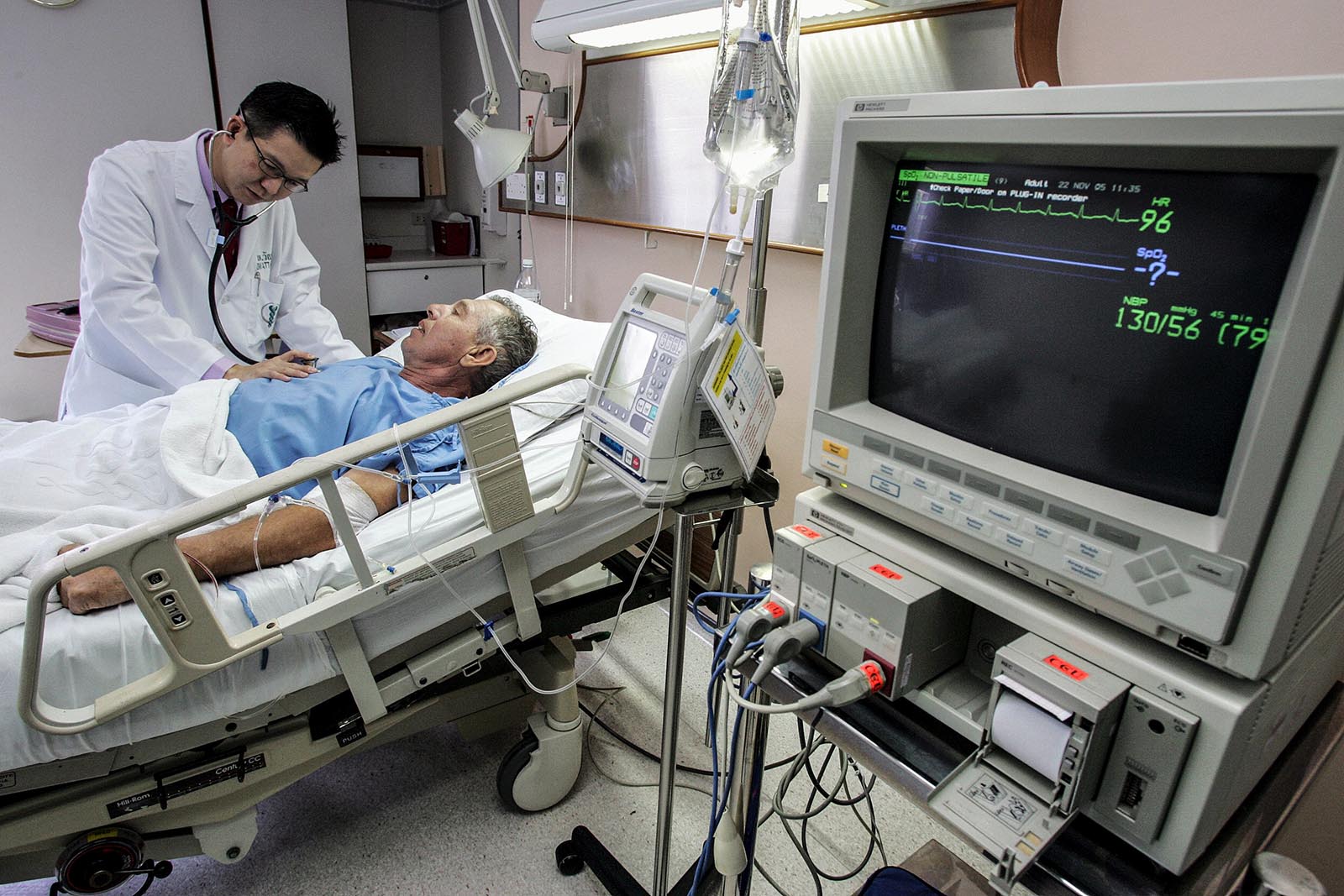 Asia-Pacific is the fastest-growing region in the global medtech market. This growth is fueled by public health care reforms, but even more so by the rapidly expanding private sector and with medical tourism, a connection not often made when the booming medtech market is talked about.
In most Association of Southeast Asian Nations countries, medical tourism represents a third or more of private hospital revenues. With every country looking to extract a piece of this pie, competition between countries and hospitals is intensifying.
How Big is Medical Tourism?
In 2016, between 105 and 120 million medical tourists traveled abroad to seek health care services. This number is expected to grow by 10-14 percent annually in the coming three years. Worldwide medical tourism generated 150 billion euros ($177 billion) in 2016 and is expected to grow to 200 billion euros by 2020.
The Southeast Asian health care market is expanding faster than in other regions, especially driven by the private sector and, notably, medical tourism. Foreign patients are a major revenue generator for private hospitals in the region. Their share represents 40-55 percent of the private hospitals' revenue in countries such as Singapore, Malaysia and especially Thailand. In India, medical tourism accounts for 25 percent of revenue, and in the Philippines, South Korea and Taiwan, it accounts for 10-15 percent of revenue.
In 2016, the medical tourism sector in Asia-Pacific accounted for 10 million patients and 15-17 billion euros in revenues. For instance, India attracted more than 4 million medical tourists in 2016, generating around 4 billion euros in health care revenues. Similarly, in Thailand, which has perhaps the most advanced medical tourism sector, 3.5 million foreign patients spent more than 4 billion euros on health care in 2016. In Singapore, medical tourism accounted for almost 1.6 billion euros with close to 900,000 patients in 2016.
The sector will continue to grow 15-17 percent annually for the coming three years.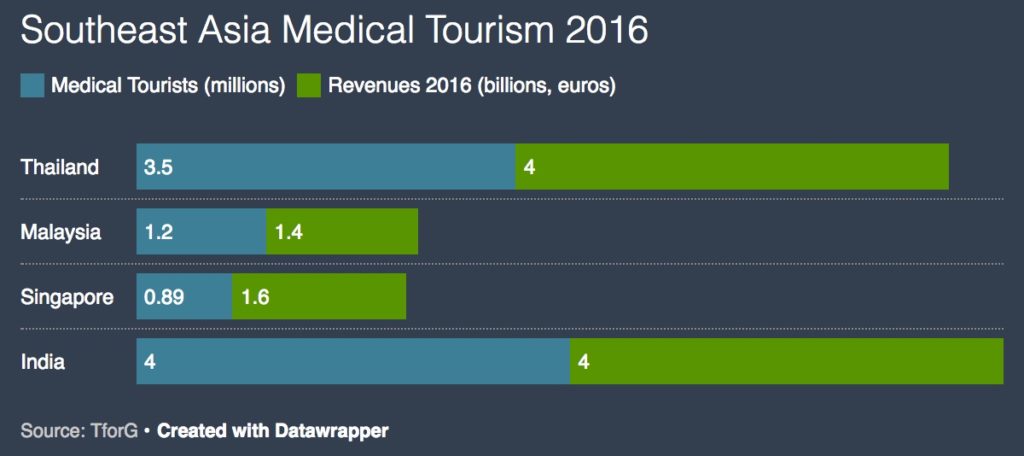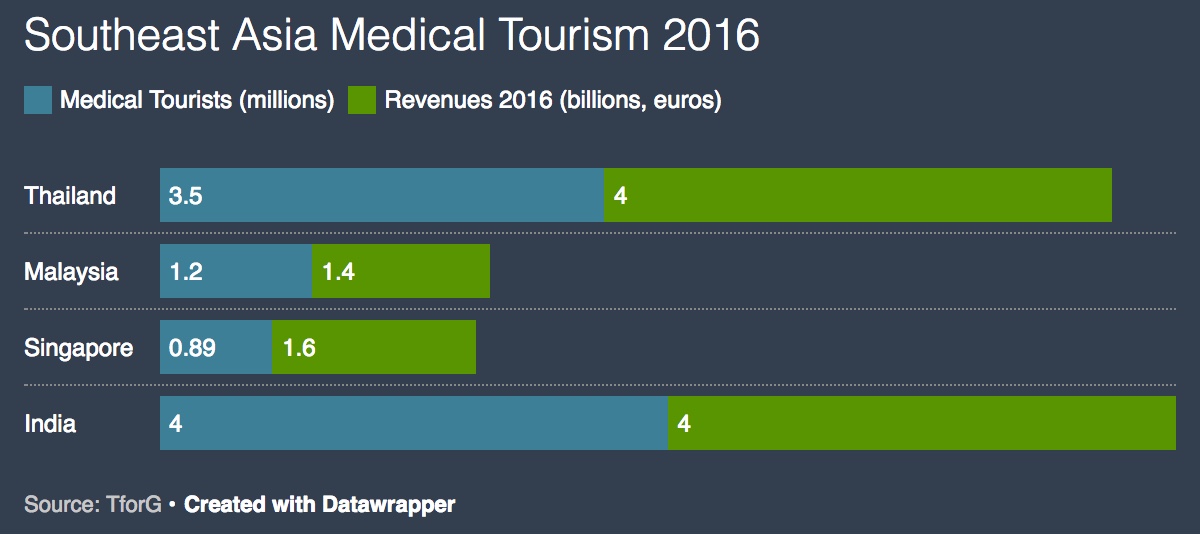 Impact of Medical Tourism on Medtech
Due to fierce competition, private hospitals in the region regularly upgrade facilities and increase capacity. Recently, the sector has started attracting more international hospital groups and investors seeking to enter this lucrative market.
Countries seeking to develop medical tourism are teaming up with large multinational players (for example, Mayo Clinic with Raffles Medical Group in Singapore, Cleveland Clinic Abu Dhabi, John Hopkins Singapore and Anadolo Medical Center in Turkey). While increasing competition between the care providers is leading to differentiating investments and services, it is also leading to increased cost pressure and dilution in quality of health care.
The growth of medical tourism in Southeast Asia obviously impacts the medtech market segment. Southeast Asia and India together represent more than 50 billion euros, or more than 10 percent of the global medtech market, and are growing faster (7.5 percent) than any other region in the world.
Market dynamics in the health care tourism segment impact the providers of medical equipment and devices in terms of product offerings and customer services. It also creates new opportunities for global as well as local medtech companies. With recent trends, there has been a shift to more day-care and ambulatory procedures in order to deal with staff shortages and cost-effectiveness.
There is also an increased need for telemedicine and e-health to improve the continuum of care. In recent times, medtech companies have increased group purchasing  and central warehousing and are also offering innovative IT-based and value-chain solutions to improve or defend their competitive advantage. They are also shifting from product-focused offerings to customized value-based solutions.
What Fuels Medical Tourism in Southeast Asia?
There are a variety of reasons why the medical tourism market has taken off in the region and continues to grow.
Push Factors
Wealthy patients in emerging countries seek high-quality care in high-standard settings, which medical tourism destinations can offer. Middle-class and underinsured patients in developed countries feel disenfranchised by their national health care systems, which are often plagued by long waiting times for treatments. They shop outside the organized medical system to find services that are affordable, timely or simply available.
Healthcare insurers motivate patients to seek more cost-effective medical provisions outside their home countries, and the usually lower cost of medical treatment in medical tourism destinations is an obvious attraction.
Moreover, national health insurance in developed countries does not typically cover some types of care, such as cosmetic surgery and dental care.
Pull Factors
Triggered by the opportunities of medical tourism, governments actively promote their countries and hospitals for patients shopping for health care services. Health care providers deploy referral systems to attract patients, and service companies offer innovative products to guide patients in their choice of country and hospital. To meet this demand, entrepreneurs are building technologically advanced facilities using foreign and domestic capital. They are hiring physicians, technicians and nurses trained to international standards, and where qualified personnel are not available locally, they are recruiting expatriates. Additionally, new service providers in these markets are also offering state-of-the-art health care technology for patients.
The increasing affordability of international air fares for intercontinental travel has also played a role in supporting the growth of the regional medical tourism market.
Finally, many nations in the region regard medical tourism as a resource for economic development; for instance, the ministries of Tourism in Thailand, Malaysia and India have been aggressively and fiercely promoting medical tourism in their countries. In the same vein, private hospital chains and investors perceive medical tourism in Asia-Pacific as an attractive business opportunity and invest in infrastructure, equipment, staff and services.
Primary Challenges
The market is not without its challenges. Chief among them are:
Political stability. Political stability is a requisite to draw any international tourists, irrespective of whether they are traveling for leisure or medical treatment. For instance, political unrest in Thailand and in some Malaysian provinces had an impact, albeit temporary, on medical tourism in these countries. 
Staff shortage. The volume of adequately trained clinical staff (doctors and nurses) can hardly keep up with the growing numbers of medical tourists and the level and quality of care they expect. Hospitals hire physicians abroad or collaborate with western hospitals to deal with the shortage. At the same time, they review their operational processes and invest in equipment and solutions that impact the productivity of the hospital.
Competitiveness and cost pressure. The increasing number of hospitals and investors offering global health care services creates in competition between countries, often resulting in price wars that can potentially dilute the quality of health care provided.
The medical tourism market in ASEAN is in the midst of a boom, and this is impacting the medtech market, among others. For stakeholders that can mitigate these and other operational challenges, the opportunity is abundant. Much of their success, however, will depend on how governments and the private sector can work together to create a conducive medical tourism ecosystem.
A sequel to this piece will focus on the specificities for the main countries and the consequences for the medtech industry, including product offering, distribution strategies, purchase and decision processes, among others.