Society
The Number of Older Workers Is Growing Fast. The Workplace Isn't Ready.
An interview with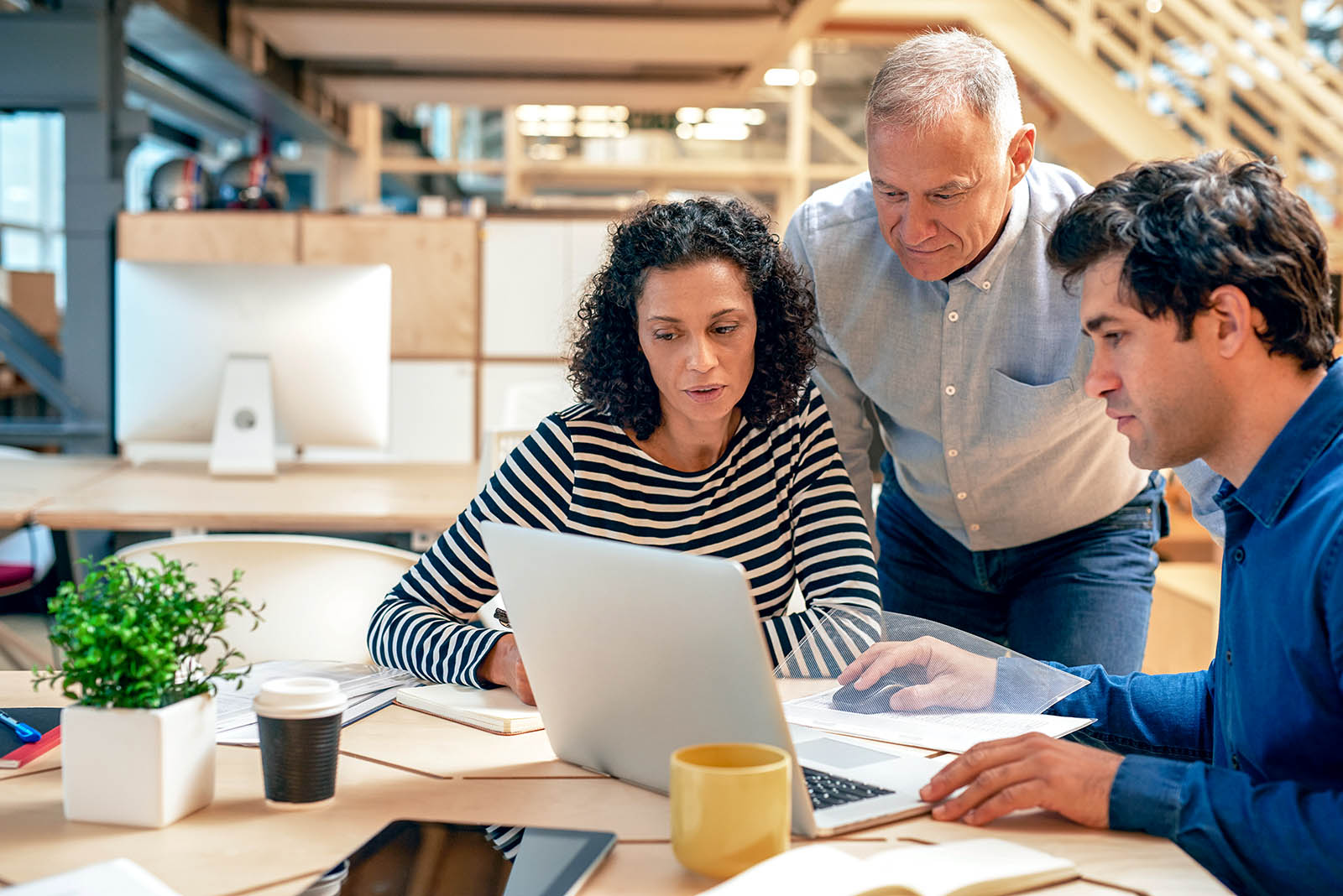 By 2030, people 65 years and older will outnumber children in the United States—for the first time in history. Similar trends are visible across Europe, where in 2017, it was recorded that 19 percent of citizens in the European Union were 65 and older. This has huge implications for the future of work and for people's capacity to retire in their mid-60s. The U.S. Bureau of Labor Statistics data show that the percentage of older workers has been steadily increasing between 2011 and 2018, while in Europe, sources show that the working-age population may soon be outnumbered by citizens old enough to retire.
In light of these trends, BRINK News's deputy editor, Mikhail Klimentov, spoke to Chip Conley, the author of a new book on how older workers can leverage their years of experience into a second wind in the workplace, titled WISDOM@WORK: The Making of a Modern Elder. At the age of 26, Mr. Conley founded what would become America's second-largest boutique hospitality brand. After 24 years at its head, he sold the company and soon joined Airbnb as a mentor to the startup's then-31-year-old CEO, Brian Chesky. During our conversation, we discussed what younger employees stand to learn from their older counterparts, how human resources departments can better account for generational diversity in their hiring decisions, and the risks of rampant ageism.
BRINK News: Could you explain the idea of the "Modern Elder"?
Chip Conley: The reason I came up with the term was because at age 52, I joined Airbnb as the in-house mentor to one of the co-founders and CEO, Brian Chesky, who was 31. I certainly had the industry experience. And, yet, the digital world was, to me, a total mystery. Moreover, I was roughly twice the age of the average Airbnb employee and reporting to a CEO young enough to be my son. So when I came on, I joined to advise and mentor these 20-somethings. But at the same time, I was also very much a student and mentee.
This is how the idea of the Modern Elder came about. Modern Elders possess a set of invaluable skills—high emotional intelligence, good judgment born out of decades of experience, specialized knowledge, and a vast network of contacts. But also, a Modern Elder has to have humility, self-awareness, and curiosity. If you can marry wisdom and experience with curiosity, a beginner's mind, and a willingness to evolve—that is crucial.
BRINK News: In your book, you suggest that retiring in your mid-60s doesn't work anymore. And yet there's probably a lot of nostalgia for that model: People want to be able to retire at a reasonable age. The idea of the Modern Elder assumes that that model no longer works. What would you tell someone who's not convinced of that?
Mr. Conley: There are a lot of online longevity sites where you can put in your data and they'll tell you how long they think you'll live. Obviously, it's a bit of a guessing game, but for me, it says that I'm going to live to age 98. I'm 58 today. If I start counting at age 18, which is when I became an adult, I'm exactly halfway through my adult life. Most of us at age 58 don't think that way.
So if you want to retire at 65, you're welcome to. If you want to go live on a golf course for the rest of your life, you're welcome to. But just know, if you have the same longevity as me, you'll be on that damn golf course for 33 years.
So I do think more and more people are looking at the variety of ways they can slow their lives down—maybe call it retirement, maybe not—and imagine new things for themselves.
BRINK News: In an ideal workforce in which there is the generational diversity you envision, what are younger members of the team learning from older members of the team, and vice versa?
Mr. Conley: I think that the future is all about mutual mentorship. It goes in both directions. Wisdom goes from young to old or old to young. It just depends on the subject matter. I think what I am encouraged by is that more and more companies are looking at how to create mutual mentorship relationships. Rather than formalizing the process and assigning you a mentor, they are creating an environment conducive to mutual mentorship.
There are some companies that have been speed mentoring, where in an afternoon, people come ready to teach or learn. When we did this at Airbnb, what I taught about was why festivals of all kinds were growing in popularity and what Airbnb can learn from that. I had 25 people come and show up, it was mostly younger people because it was a young company. That's what I mentored on. Later, I got mentored on how to understand the 97 percent of my iPhone that I don't know how to work with.
Our brain operates differently in our mid-50s than it does in our mid-20s. So why not use aging as one of the diversity markers that companies focus on?
The idea that we are going to be learning and teaching at the same time is something that companies can actually develop in their learning and development programs. I think that will then create more of an environment where people are familiar with the idea that a mutual mentorship relationship could happen.
That is what I had with Brian, the CEO at Airbnb. I taught him about leadership and hospitality and strategy and emotional intelligence. He taught me about Silicon Valley investors, about what it is like to create a tech startup, about millennial travel habits.
BRINK News: Recently, there has been an effort to increase diversity in terms of gender and race. Not all companies have been successful with this—and generational diversity is a whole additional vector of diversity to account for. How do you see HR departments improving to better factor in greater diversity along generational lines?
Mr. Conley: There are people in companies whose sole responsibility is diversity, inclusion and belonging. There are even whole departments in larger companies that do that. We see it when it comes to gender and race, sexual orientation, disability and a few other things. When it comes to age, however, this practice is only in the early stages. In companies that have a diversity and inclusion strategy program, only 8 percent of them globally have expanded that strategy to include age or generational diversity.
I think one of the things that could have a meaningful impact in this area is cognitive diversity. Now, cognitive diversity can also be a label for neuro-diversity and people who have various ways of looking at things—sometimes it includes autism, for example. But when I think of cognitive diversity, it just means somebody who looks at something differently. Their brain function might be different. And age is absolutely an example of that. Our brain operates differently in our mid-50s than it does in our mid-20s. So why not use aging as one of the diversity markers that companies focus on?
BRINK News: Earlier this month, a ProPublica and Urban Institute analysis found that for the majority of older Americans, "working after 50 is considerably riskier and more turbulent" than ever before. How does this complicate your efforts to show the value of an older generation of workers?
Mr. Conley: There's a lot of evidence that ageism is rampant. So I agree with that premise, but what I think is missing is the growing number of companies that actually are shifting.
Tech companies, for example, have been as ageist as any industry out there, other than maybe fashion and entertainment. The tech world used to view 35-years-old as the oldest you would want for a software engineer. That's changing. What they're seeing is that software engineers who are older have an emotional intelligence and a team-building collaboration skill that younger people often don't have. There's a really great opportunity to mix the old and the young in a positive way. Having interviewed over 150 people who have gone back into the workforce in a modern elder kind of role, I do know change is happening in a significant way.
BRINK News: Have you seen any trends amongst the people you interviewed in terms of best practices of going back to work?
Mr. Conley: A headhunter, probably one of the most successful headhunters, said something to me that rang true. She said, "I understand how difficult it is for people past age 45 or age 50 or 65, depending on the industry, to be able to make it through the LinkedIn profile process and the recruiting process and then feel like somehow they don't make it to the second-round interviews." But she also said that one of the things people have to do is look at their soft networking skills and find people who know someone who knows someone else.
The key is—if you can get your foot in the door—here's what works when you're older. It does not work trying to be a know-it-all. It does not work trying to talk about the way things have always been. This is what she told me absolutely works: She said, "When someone shows up with curiosity and passionate engagement, it's almost like the wrinkles fade away and what a recruiter notices is the energy." And if that energy is an energy that mixes curiosity and wisdom—which is my definition of a modern elder—when someone actually shows up with that curiosity and wisdom together in a way that feels energized, people don't notice the age as much.
Now, will there be people who will? Yes. Will there be ageism? Yes. Is there sexism? Yes. Sexism 30 years ago in the workplace was much worse than it is today. Hopefully, 20 years from now, ageism will be less bad than it is today. This is a process that doesn't happen overnight.
This interview has been edited and condensed for clarity.