Economy
Waiting for U.S. Firms to Boost Capex? You'll Need Patience of Biblical Proportions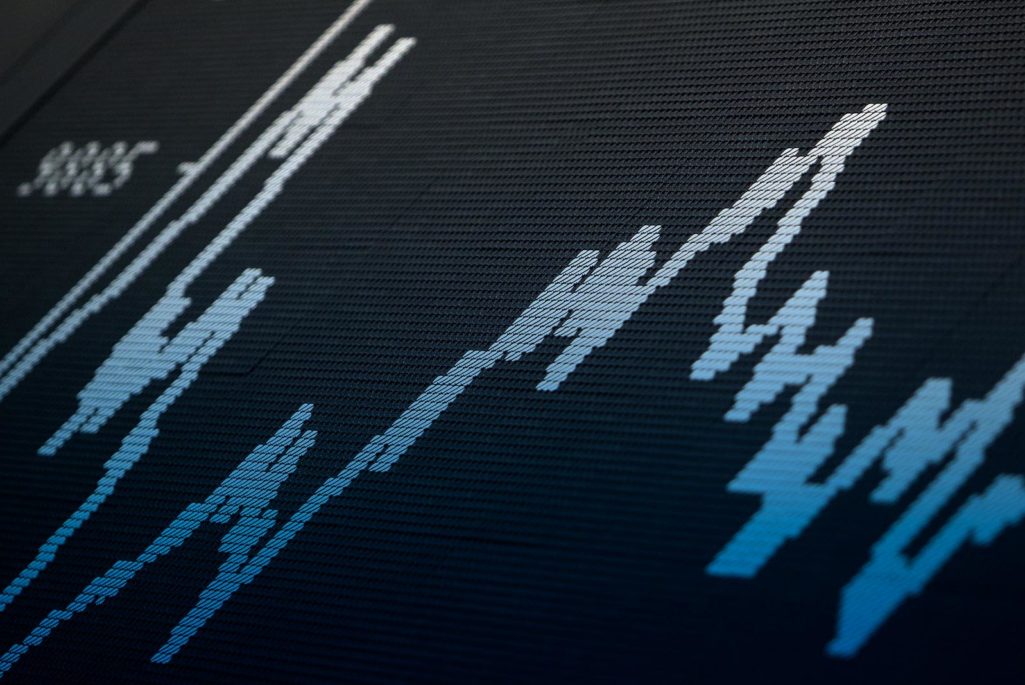 If you wish American treasury and finance executives would loosen their corporate purse strings, you could be waiting for a long time.
Indeed, hoping American businesses will deploy cash and boost capital expenditures can turn even the most patient observer into a 21st century version of Hillel, the Talmudic scholar and religious leader who died in 10 A.D. and coined the phrase, "And if not now, when?"
For impatient observers of U.S. businesses, the results of the Association for Financial Professionals' October 2016 Corporate Cash Indicators survey offer little cause for optimism.
According to the October CCI, U.S. firms actually accelerated cash hoarding this quarter, even after diligently building reserves for more than a year. What's more, the October CCI found that treasury and finance executives grew even more conservative in their short-term investments, suggesting a flight to safety in lieu of growth.
Before we look at the quarterly numbers, recall that the CCI, published each quarter, measures changes in corporate cash holdings quarter-to-quarter and year-over-year, as well as the expected change in short-term investment and cash accumulation in the coming quarter.
With that in mind, let's go to the data: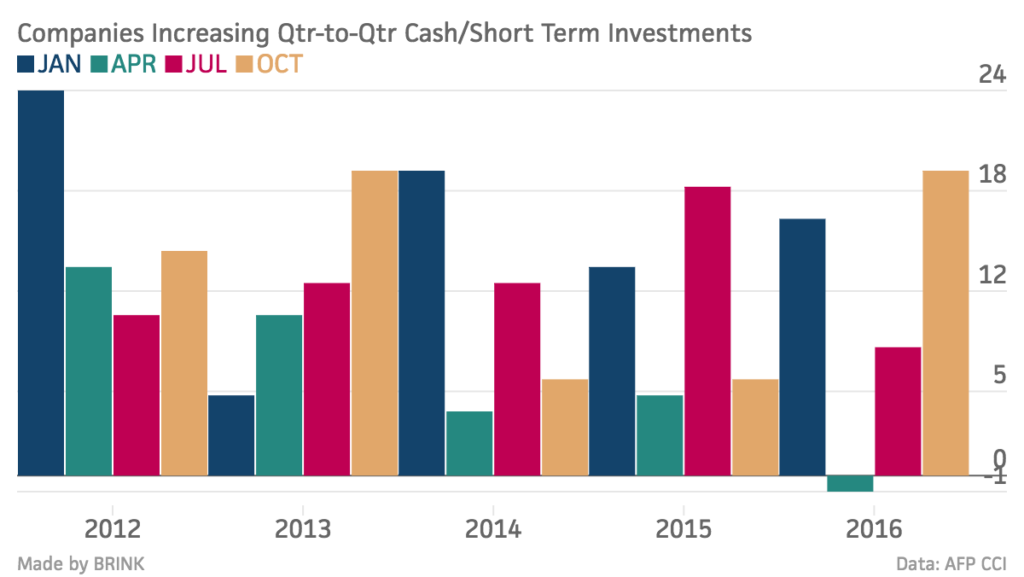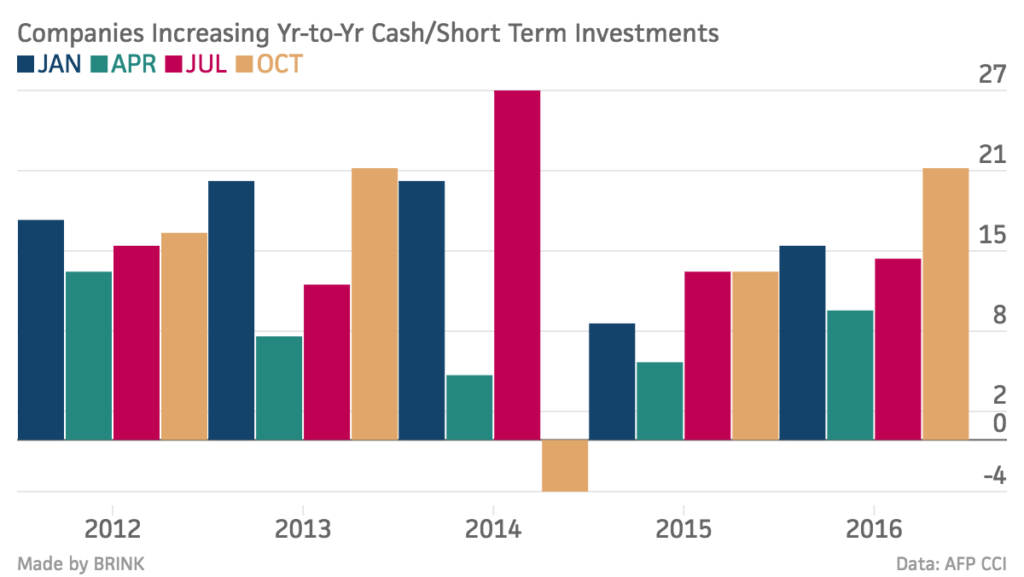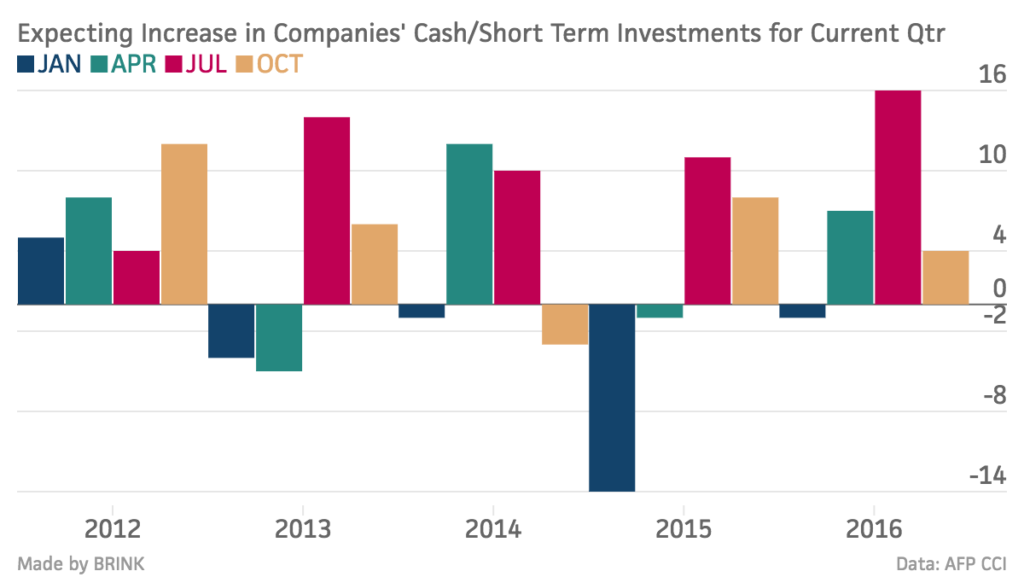 Looking at the latest CCI, we see that the quarter-over-quarter index surged 11 points to +19, while the year-over-year indicator added 7 points to +21, suggesting that organizations are extremely focused on building their cash reserves. In the first three quarters of 2016, organizations indicated that they planned to accumulate cash in the upcoming quarter and they made good on their promises, highlighting the cautious approach.
The indicator for short-term investment aggressiveness shed 4 points to a reading of -5 in the third quarter, suggesting companies were leaning towards a more conservative approach with their investments.
Why are American businesses so cautious about capital expenditures? And does the third quarter CCI offer any hope that treasury and finance executives will spend?
The answer: maybe.
The forward-looking indicator measuring expectations for increasing cash during the fourth quarter of 2016 decreased from a reading of +16 to +4, signaling that organizations will continue accumulating cash this fall—but at a significantly slower pace. Treasurers and CFOs have followed through on what they told the CCI before; they don't say they'll do one thing in one quarter and then do the opposite. So when they tell the October CCI that they will accumulate cash at a slower pace in the last three months of 2016, they'll most likely do it.
What's more, the aggressiveness of their short-term investments—or the lack thereof—could be attributed to a one-time event in the form of new money market fund regulations that took effect earlier this month. These new SEC rules heavily incentivize businesses to move their short-term cash from prime funds to government-backed funds that are safer but more conservative.
Once the dust settles around the new money fund regulations, treasury and finance executives could resume investing in more aggressive prime funds. Indeed, Richie Prager, BlackRock's managing director and head of the trading, liquidity and investments platform, predicted this at an AFP event in May. "So what we expect to happen is, as people will work through their accounting and operational issues, is that we're going to see a migration back," he said.
Admittedly, it's not much to go on. But, like Hillel, all observers can do is watch and wait—and ask a pointed question whose answer has profound implications for the world.