In Practice
What Does 2019 Hold for Health Care in Asia?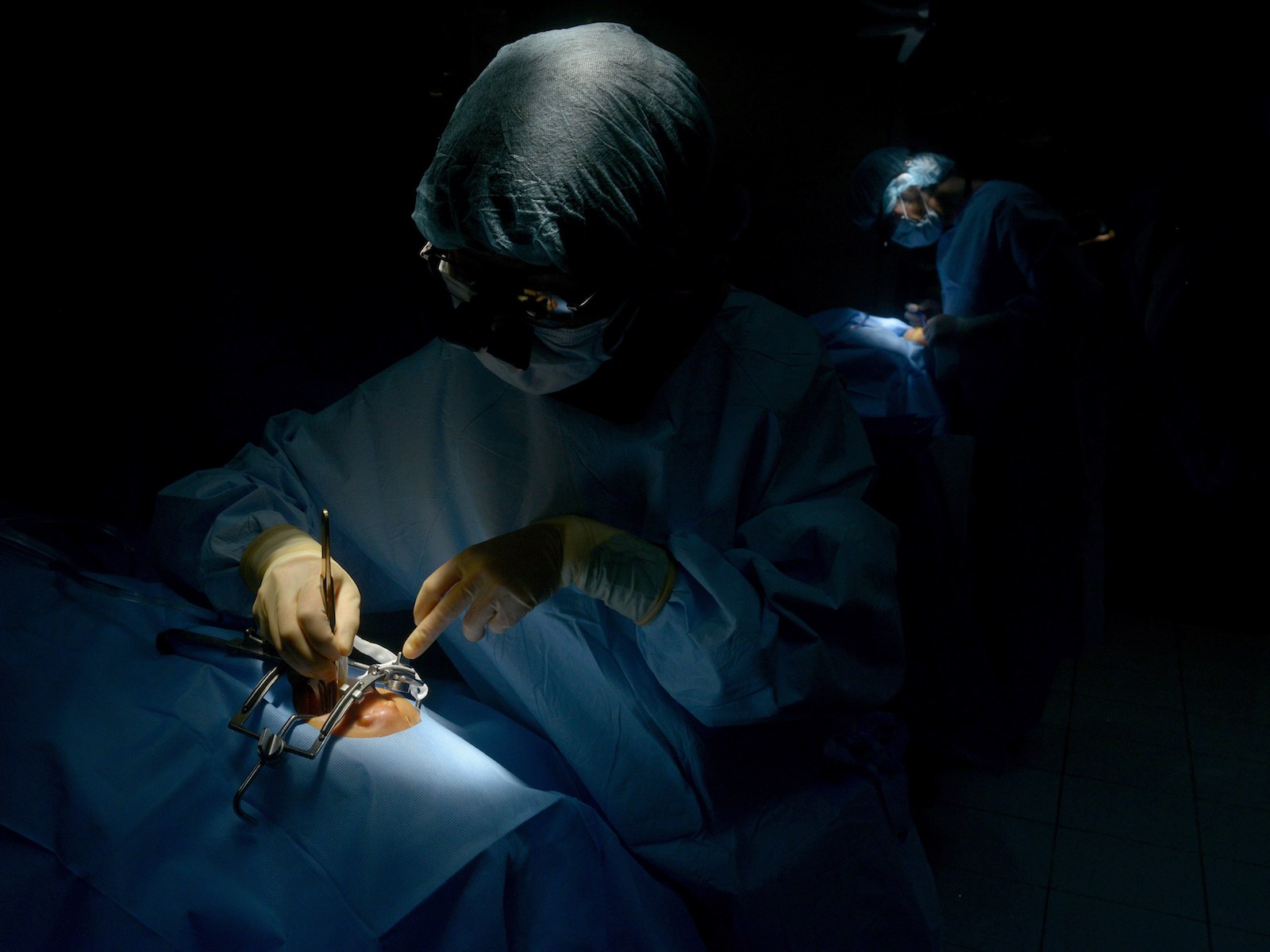 Asian health care made notable strides in many areas in 2018, but much work remains. Looking back at our 2018 predictions, universal health care made significant advances, notably in India, which launched Ayushman Bharat, and Singapore, which increased Medishield Life coverage and introduced the long-term care plan CareShield Life. But continued deficits faced by Indonesia's BPJS, its national health insurance program, show that this is a long journey indeed.
Incumbent players and pharmaceutical companies continued to seek digital partnerships to enter new parts of the value chain—such as Ping An Good Doctor, Grab and Prudential's AI-backed ecosystem—and governments also spearheaded private partnerships. However, it is too early to say broadly what impact these will bring.
M&A activity rose in 2018, with 154 Asian health care deals valued at over $50 million each (up from 141 deals in 2017); notable hotspots were India, Singapore, Indonesia and Malaysia. Regional M&A deals and partnerships remain dwarfed by massive deals in the U.S., such as those between CVS and Aetna and the JPMorgan-Berkshire Hathaway-Amazon partnership.
There was digital acceleration with advances in both public and private sectors: We saw the region's first national electronic pharmacy information system in the Philippines, "AI doctors" gaining traction (WeDoctor, Ping An Good Doctor, Prudential Asia's partnership with Babylon Health), and big digital technology companies (such as Tencent and Alibaba) announce new health care ventures. Investment in digital health totaled $6.3 billion in Asia in 2018.
We believe these themes will continue to have ongoing relevance for the foreseeable future. Here's how we see Asian health care developing in 2019.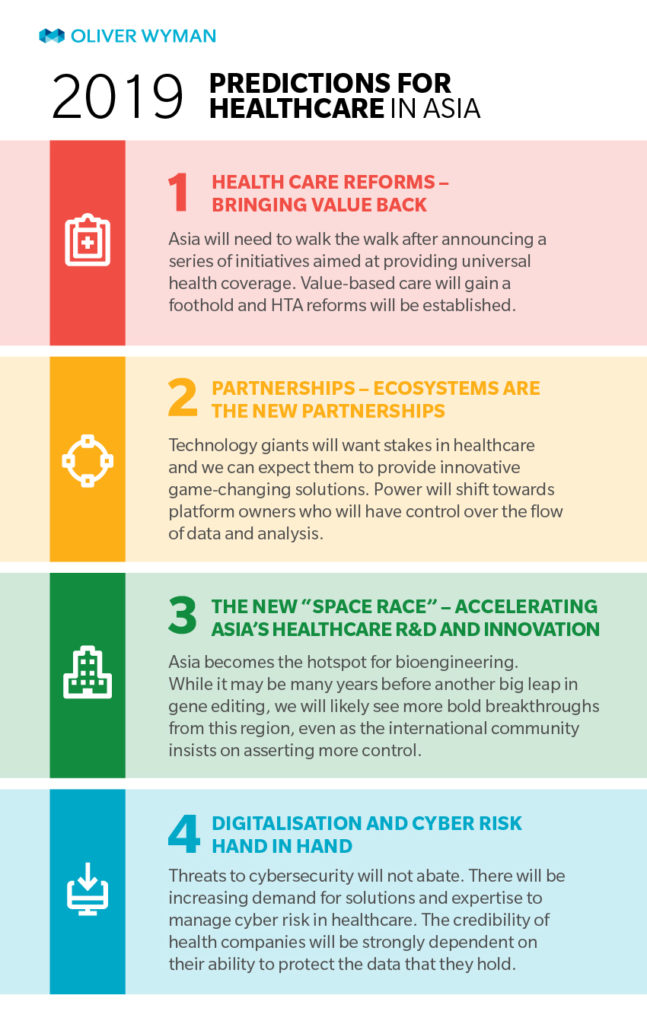 Reforms Will Shift Value in Health Care
Asia had some big successes in progressing universal health care last year—such as in India, the Philippines, Thailand, and Singapore—and 2019 will test how robust these initiatives are. Following national elections in some countries, we can expect steps toward some painful but necessary guidelines and legislation that will better define the areas where the public sector is deficient and where private enterprise can provide support.
As the structural reforms of 2018 begin to take effect, a new wave of opportunities will come in implementing and strengthening value-based care in existing systems. Payers—both governments and private insurers—have been investing steadily to prepare for long-term change management in reimbursements. The Philippines has signaled a move toward an evidence-based diagnosis-related group payment scheme across a broader range of services for its PhilHealth social insurance program. Insurers such as AIA have continued to implement pre-authorization and other plan features that place a heavier weight on outcomes to determine eligibility for medical care coverage. A new wave of reforms in health technology assessment in Japan and China will emphasize outcome-driven reimbursements and value-added services, which will impact the profit margins of providers and pharmaceutical companies.
Ecosystem Partnerships Will Go Beyond the Health Care Industry
While not a novel strategy, ecosystem partnerships will be a major theme in 2019 as the consumerization shift reshapes health care as it has done in many other industries. Many pharmaceutical companies and payers have ventured out from their traditional B2B focus, spending on innovation centers and funds in the hopes of finding and owning the next health care unicorn. However, other players also see an opportunity to take a share of the region's growing health care spending, and the industry is attracting the likes of regional telcos, banks, and the new leaders of Asian tech such as Alibaba, Tencent and Grab. These new stakeholders are piloting new technology, financing products, marketplaces and tie-ups with innovators and incumbents to access new segments of the population. At the same time, we will see an increasing trend in more personalized offerings—in terms of health, wealth and access to information—which has long been a forte of the tech and consumer players, but is now an increasingly important capability for health care incumbents as well.
While these many new parties want a piece of the pie, the eventual winner will be the one that controls the serving dish—in other words, the owner of a platform connecting players to customers that governs when and where cash and data flow. Such a platform could be the key to generating insights with real commercial potential and impact for health care players.
While insurers are well-positioned to act first, they don't currently have access to a broad-enough segment of the mass market and suffer from a relatively low level of consumer trust. However, regional telcos and banks don't necessarily fare better in this regard. This opens the door for regional disruptors such as Grab, CXA Group, or Ping An to expand outside their home markets and offer broadly accessible products to underpenetrated markets in Asia.
Asian R&D and Innovation Accelerate
The center of innovation and engineering for medtech and devices is beginning to shift toward Asia. Last year, China developed its first drug-releasing heart stent, and many companies are developing research partnerships with local universities, medtech firms and hospitals. Singapore and China have made massive investments to attract biotechnology to their shores and create new global hubs, such as China's Zhangjiang Pharma Valley.
At the same time, the CRISPR babies controversy that originated in a Chinese university at the end of 2018 has also opened a Pandora's box over the ethics, consent and morality of gene editing. It also showed that some parts of Asia might be prepared to redefine and bend some international norms. If fields like gene editing will be the space race of this generation, we can likely expect key advances to come from the power players in this region, given the large number of research projects combined with looser regulations than in the West.
Digitization and Cyber Risk Hand in Hand
Along with the automation and integration that we predicted in 2018 comes a need to invest in cybersecurity. 2018 was a year of leaks and breaches: In the 12 months to October 2018, 27 percent of health care organizations reported a cyberattack. Even Singapore's much-lauded public health care system experienced a high-profile data breach affecting 1.5 million patients, as did Hong Kong. More attacks are likely to occur, and it takes almost five times as long to detect an intrusion for companies in the Asia-Pacific region compared to global counterparts.
Governments are increasingly beginning to understand the risks and how to mitigate them. Singapore, for instance, has responded swiftly and strengthened its health care cybersecurity by introducing several new measures. That will likely trigger a growing wave of hires for cybersecurity roles and technology investment in the region. While larger insurers, hospitals and other stakeholders have gradually built up their cyber resilience, smaller players will also need to make investments in order to retain customers. Public tenders for digital health projects will have lengthy sections assessing risk, given the high-profile nature of these attacks.
Conclusion
Even with the global geopolitical climate in its most tenuous and unstable state in recent memory, the pace of health care change will continue steadily: It must, because Asia's populations are growing older and sicker.