Economy
Why Apple's New Energy Business Should Scare Utilities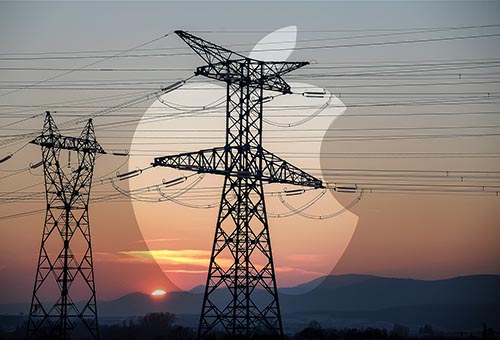 Backing large-scale solar farms in locales such as California, Mongolia, China and Nevada may have just been a warm-up for Apple's foray into clean energy.
As the tech site 9to5Mac reported, the i-device giant has filed a federal application to become a solar company in its own right—sort of. More specifically, Apple is asking the Federal Energy Regulatory Commission for the green light to begin selling excess power through a subsidiary called Apple Energy LLC within the next 45 days.
A spokesperson confirmed the filing to GreenBiz and said the move is part of the company's efforts to both implement a much-discussed $848 million California solar project and achieve an overall 100 percent renewable energy goal.
Those watching the market for corporate renewable energy say the filing—which comes after similar steps by Walmart, Dow Chemical, Google and Amazon—could signal both a shifting competitive landscape for energy incumbents and a change in Apple's own product strategy.
"The bigger picture is that you see large companies willing to participate directly in the electricity market," Hervé Touati, managing director of the Rocky Mountain Institute's Business Renewables Center, told GreenBiz. "The question is, what is the utility of the future if you see companies doing the work on their own?"
"The bigger picture is that you see large companies willing to participate directly in the electricity market."
While the physical electrons being transferred over the electrical grid won't change with Apple offering to sell excess capacity, the proposed sales model is significant for more existential reasons.
In addition to corporate buyers investing in utility-scale wind and solar projects, utilities and other existing power providers are contending with the proliferation of rooftop solar and alternative distributed energy models that could undermine their current stranglehold on fossil fuel-based electricity.
On the commercial side, companies with large, energy-intensive manufacturing operations or data center networks, for example, could look to lock in energy prices by buying a solar farm or entering into a long-term Power Purchase Agreement in an increasingly appealing hedge against fossil fuel prices.
Touati compares the divide between incumbent and renewable energy providers to the 1970s-era divide over telecom services that ultimately spurred large-scale fragmentation of the industry.
That's not to say that fossil fuel companies are on board with the changing tide in energy generation. "We see corporate America fighting corporate America," Touati said. "The consumer goods company fighting the energy incumbent."
Still, not all companies mulling their energy options today have Apple's or Walmart's billions to experiment with clean power investing.
"The vast majority of companies are not excited about being energy companies," said Letha Tawney, the World Resources Institute's director of utility innovation. "In this case, I think the economics work out well for Apple. They own the projects or they are a significant investor."
A Clean Energy Pivot
Even though Apple ranks highly among the most valuable companies in the world, the tech firm's operations use only a fraction of the energy consumed by industrial heavyweights in industries such as petrochemicals.
Though Apple declined to elaborate on any broader strategic significance for the new energy subsidiary, the company has long been rumored to be interested in electric cars. Growing the company's data centers is another option.
"You have to understand when prices are high and when prices are low," Touati said. In policy speak, Apple wants "to sell energy, capacity and certain ancillary services … to any purchaser that is not a franchised public utility affiliate," according to the new filing.
While full-time power providers are no doubt watching the actions of Apple and other deep-pocketed corporate clean energy buyers carefully, one of the conditions for approval of the proposed power sales is that Apple is small enough in its generation capacity not to impact retail prices.
Touati compares the significance to other businesses, such as hospitality giant MGM Resorts, deciding to end their procurement agreements with existing power producers. "It's part of the trend where customers have more options, and they are starting to take their energy supply into their own hands," Touati said.
The issue now, Tawney said, is how many companies could conceivably follow suit. Though Apple and Google are among a relatively small number of large businesses investing their own capital in utility-scale renewable power installations, she said companies leading in the corporate renewables space could help unlock access for others.
With a company like Apple, she explained, the trick is finding ways to balance clean energy supply between large facilities like manufacturing centers with less power-intensive retail stores or offices.
Determining that balance could be a boon to companies on the forefront, Tawney said.
"Anybody who figures out how to aggregate those smaller loads, or customers that have smaller energy teams, then Apple has a real market opportunity at their fingertips," she said. "There's just tremendous demand from that next tier of customers."
This piece first appeared on GreenBiz.