Environment
Wildfires Can Cost Billions. What Comes After the Fire May Be Even Costlier.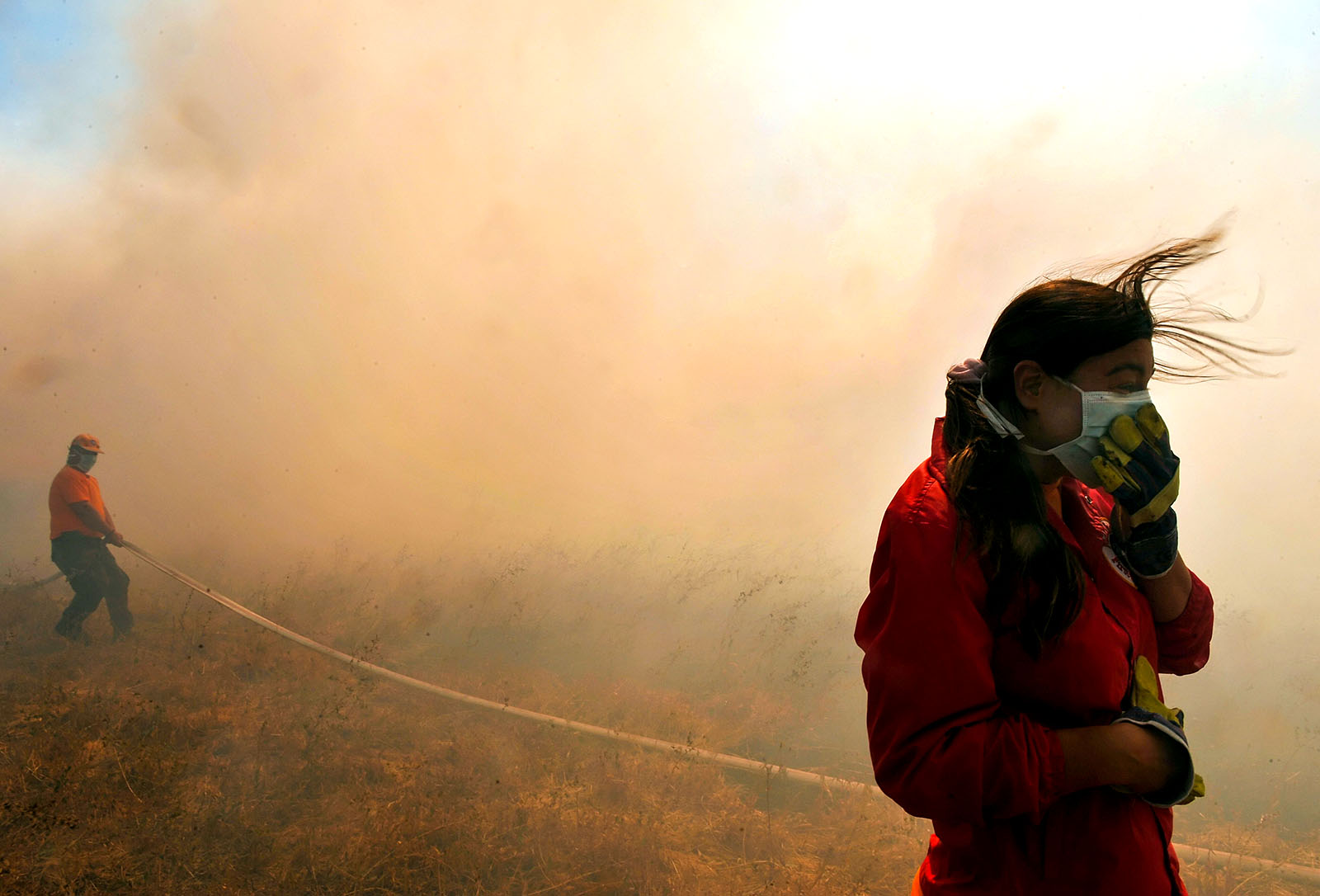 The 2019 wildfire season is already underway in the northern hemisphere, and it has the potential to become just as extreme as the 2017 and 2018 seasons. In Northern California alone, last year's Camp Fire was one of the deadliest and most destructive in modern history, resulting in at least 85 deaths and insured losses of at least $11.4 billion.
Furthermore, smoke from that fire blanketed the San Francisco Bay Area for several days, exposing millions of people to unhealthy levels of air pollution. Herein lies a huge, oft-overlooked threat from wildfires: While only a relatively small number of businesses will ever be directly threatened by wildfire, a much larger number of businesses are impacted by the secondary concern of smoke pollution.
Work in progress at the IZA Institute of Labour Economics suggests that wildfire smoke exposure leads to reduced labor participation and income losses that persist long after the smoke clears. Across the United States, the total economic impact of a smoky summer was estimated at $94.5 billion in 2010 dollars.
The Health Threats from Smoke
Wildfire smoke causes episodes of the worst air quality that most people living in high-income countries will ever experience.
This type of air pollution is a complex mixture of gases and particulate matter, composed of tiny soot balls that measure less than 2.5 micrometers in diameter, which are categorized as PM2.5. It can change rapidly depending on the fuels, the weather and how far the smoke has travelled (Figure 1). The smaller the particles, the more harmful they are to human health.
Figure 1
Wildfire smoke has been associated with a wide range of acute health outcomes in exposed populations, from minor symptoms through to premature mortality. There are two important mechanisms underlying these effects: irritation and inflammation. The PM2.5 and gases in wildfire smoke first make contact with the eyes, nasal passages, throat, trachea and lungs—and they can cause irritation in all of these areas.
Unlike larger particles, PM2.5 can travel deep into the lungs, where the body perceives it as a foreign invader and mounts an immunological response; however, PM2.5 cannot be neutralized in the same way as live bacteria or viruses, so the immunological response is sustained. This can lead to low-level systemic inflammation that affects other parts of the body beyond the lungs, particularly the cardiovascular system.
The Impact of Smoke on Business
Everyone has to breathe, so everyone is affected when it is smoky outside. Even so, the physiological response to wildfire smoke is highly variable. For some people, the effects may be negligible or mildly to moderately uncomfortable; however, for others, they can be life-threatening. Wildfire smoke is bad for business primarily because it affects the health and well-being of the people who keep businesses running, from top to bottom.
One reality of modern life is that most people spend the vast majority of their time indoors. The best way to protect employees and your business during wildfire smoke episodes is to invest in cleaner indoor air. Strategies for cleaning indoor air depend on the characteristics of each building, but consulting with HVAC specialists long before the wildfire season starts will pay dividends when the smoke rolls in.
Wildfire smoke is even more challenging for businesses operating outdoors. First, outdoor employees are at greater risk of health impacts because they are more exposed. Second, the degradation of visibility can affect all forms of transportation, making it difficult to move people and products. Third, the overall degradation of the outdoor experience affects participation in and enjoyment of recreational activities, which many businesses rely on in the summer months.
Smoke in the ambient air can also affect the growth and flavor of agricultural crops, which has been well-described by the wine industry. All businesses that can be affected by smoke will benefit from proactive planning for smoky summers, rather than reactive scrambling when smoke arrives.
Smoke as a Business Opportunity
Given the severity of wildfire seasons of the past decade, many commercial enterprises have turned to the problem of wildfire smoke. From academic startups to global consultancies, there are several businesses working to fill the many niches in this evolving market.
In 2017, a group of U.S. federal agencies issued the Wildland Fire Sensors Challenge to improve smoke monitoring and provide better data for public health protection. The winning team was from SenSevere, a startup focused on hydrogen sensing for industrial applications.
When it comes to personal protection, some companies have developed products for cleaning and monitoring the home environment. Other companies are focusing on better mask technology, as well as developing comfortable respirators that fit faces of all shapes and sizes.
Other companies have worked to develop systematic approaches to cleaning and monitoring indoor air for large, multi-site companies during wildfire smoke episodes. For example, the Pine Centre Mall in Prince George, British Columbia, retrofitted its HVAC systems and purchased multiple air scrubbers to protect tenants, goods and customers when outdoor conditions are smoky, making the mall an inviting, cleaner-air destination.
Smoke in the Climate Future
The duration and intensity of wildfire seasons is increasing globally, partially driven by the changing climate. This is especially true in the western U.S., where climate change has doubled the cumulative area burned by wildfire. All of the key indicators suggest that the global wildfire regime is shifting, putting some areas at a much higher risk than previously experienced.
While it is tempting to believe that extreme wildfire seasons are anomalies, it is far more realistic to anticipate that every upcoming wildfire season has the potential to shatter previous records. Preparing businesses for the risk of smoke may not pay off in the next wildfire season, but it is sure to pay off in the years ahead.