In Practice
As Active Shooter Events Increase, Companies Can Prepare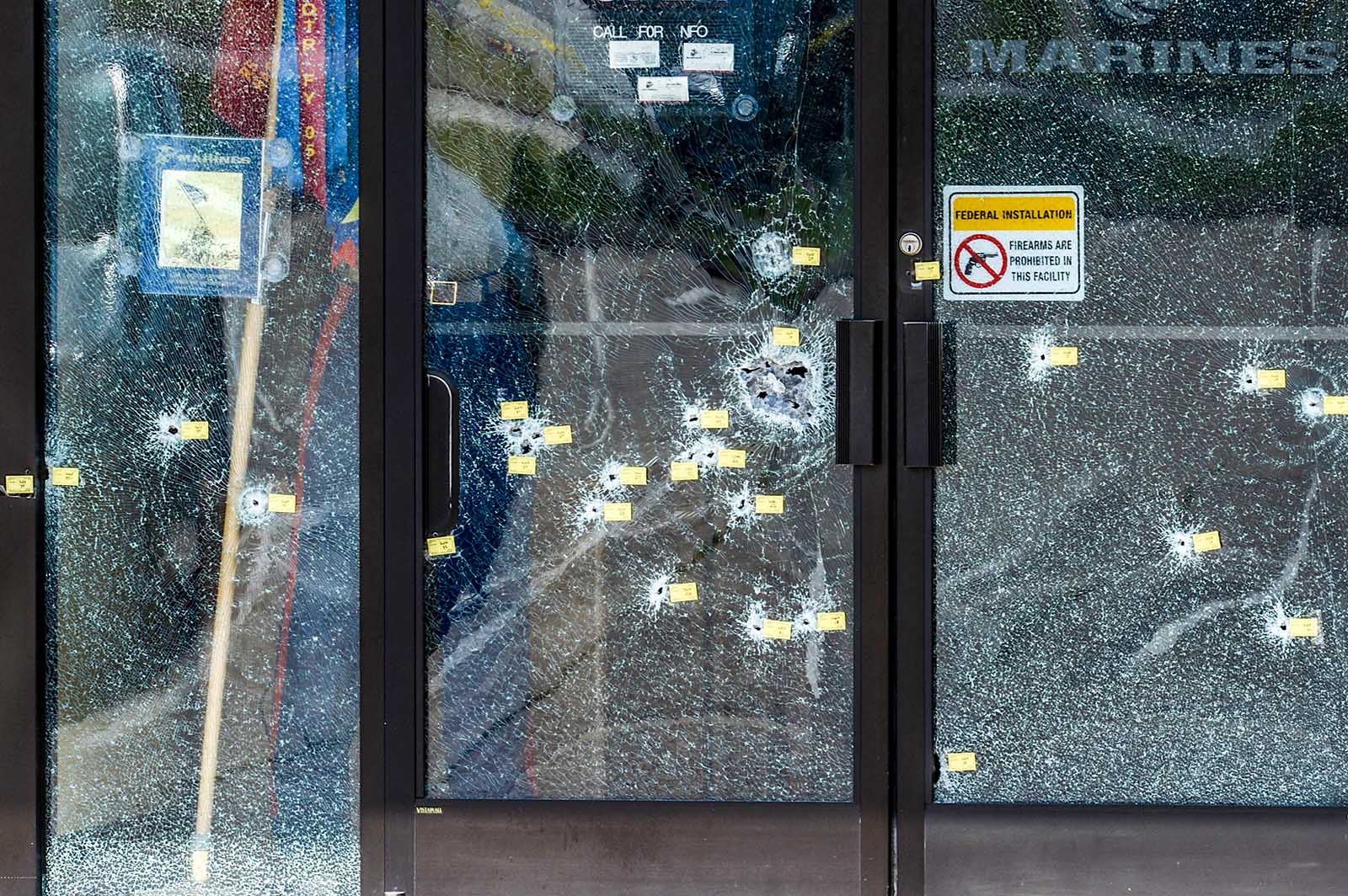 With little or no warning, in a matter of minutes, an active shooter can kill or injure dozens of people. While not limited to the United States, such situations are pervasive in the U.S., occurring from coast to coast, in large cities and small towns, and in a variety of settings. And the risk has been increasing.
Between 2000 and 2008, there were about seven active shooter events per year. Over the next eight years that average nearly tripled to 19 per year (153 events total), according to the FBI and the Advanced Law Enforcement Rapid Response Training Center.
Among recent examples:
October 2017: Firing from a hotel room high above the crowd, a shooter kills 58 and wounds more than 500 attending an outdoor concert in Las Vegas, Nevada.
June 2016: A shooter kills 49 people and injures more than 50 at a nightclub in Orlando.
December 2015: Two shooters kill 14 people and wound 21 others at a holiday office party in California.
April 2014: An Army officer kills three and wounds 16 at a Texas military base.
December 2012: A gunman kills 26 students and staff at an elementary school in Connecticut.
About half of the time an active shooter has no known relationship to the setting where the shooting takes place. Organizations cannot eliminate the danger from such threats, but they can take steps before and actions after an attack to reduce the risk, mitigate potential damage, and hasten recovery for those injured, as well as their business.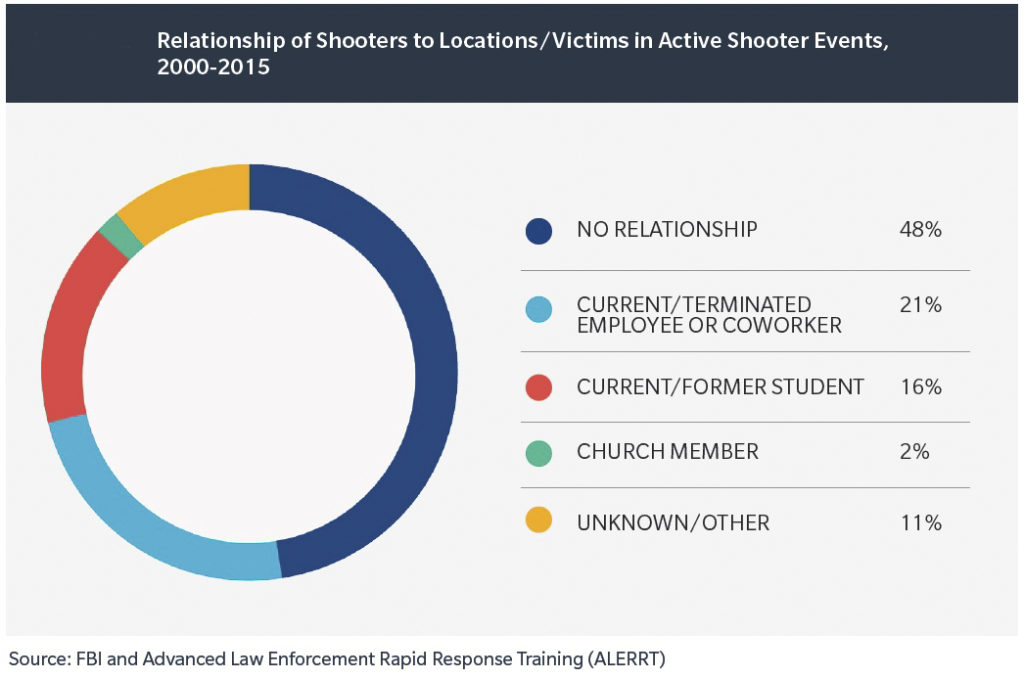 In 220 incidents that occurred from 2000 to 2016, nearly half (107) took place in an education, retail, or government/military setting. The remainder occurred in a variety of locations in a number of industries. And while there are some common elements to planning for an active shooter incident, there are also industry-specific issues to be aware of.
School Settings and the Merit of Drills
Unfortunately, school settings have often been the site of active shooter incidents. K-12, colleges, and universities were involved in 22 percent of all active shooter events in the U.S. from 2000 to 2016.
Schools should therefore prepare employees, students, and parents to properly respond in the event of an emergency. School administrators should consider the merit of drills that simulate events that require lockdowns, similar to fire drills and other exercises. These drills should be coordinated with local law enforcement, emergency medical professionals, and other first responders.
Although some K-12 schools have involved students in drills, administrators should consider the potential psychological impact on children, particularly young ones. It may be more appropriate, for example, to perform it on a weekend when students are not on campus. It may also be wise to warn parents and others ahead of any such drills to avoid panic and confusion.
A recent incident in California left little doubt as to the value of such drills. A gunman attempting to access an elementary school was thwarted by quick acting school employees who engaged lockdown procedures after hearing gunshots nearby, according to news reports. Although the shooter killed four people and wounded others, he was not able to enter the school, which was in session.
Colleges and universities typically have larger campuses, which may be more accessible to outsiders and harder to lock down. But in an emergency, colleges and universities may be able to rely on students, employees and faculty to watch for and report suspicious or dangerous activity—via text messages and other means—to administrators, security personnel, and law enforcement.
Health Care's Unique Challenges
Active shooter situations in health care settings present some complicating factors. Emergency response and crisis management plans for active shooter events should be nimble and able to adapt to active shooter events as they evolve. While true everywhere, this is especially important given the often-vulnerable population in a health care setting.
Health care facilities also often have large patient populations of varying ages and capabilities, including many who are vulnerable, dependent on equipment, and/or afflicted with infectious diseases. At the same time, many hospitals and other health care facilities have multiple entry and exit points, and security levels can vary by department and location.
Among other items, plans should consider which employees, leaders, and others should be notified in the event of an active shooter; how to communicate with internal and external stakeholders; whether employees lockdown or evacuate; how to coordinate with law enforcement; and whether enhanced security measures, including armed guards, are appropriate.
Balancing Safety With Customer Expectations
Protecting customers, spectators, and guests, along with employees, is critical for operators and managers of shopping malls, hotels, large retail spaces, casinos, stadiums, entertainment venues, and arenas. Organizations in these industries strive to provide the safest and most secure environment possible, without imposing restrictions that guests and patrons may find overly intrusive.
Building and facility owners, operators, and managers should develop proactive response plans that encompass all areas of risk exposure, including response and recovery actions. Risk professionals should work with key stakeholders, including tenants and concessionaires, to ensure emergency response plans and expectations are aligned.
Ahead of an event, employees, tenants, and other key groups—for example, concessionaires and performers—should participate in drills that specifically address active shooter threats. As in education settings, these drills should be similar to fire and earthquake drills. Conducting these drills whenever possible in conjunction with first responders—including local law enforcement agencies, fire departments, and hospitals—can help build a strong base for effective communication.
Finally, consider how guests, customers, and spectators receive and access information during an emergency. For example, would it help to print exit routes on the back of tickets or make emergency information available via an app, website or venue monitor for guests to review before they arrive?
Real Estate and Property Owners
Shopping malls have frequently been targeted in active shooter events, with incidents often beginning in one store before spreading to others or onto mall property. Other properties with multiple tenants—including residential and office buildings, hotels, airports, and college and university campuses—have also been the scene of shootings. These events present risks for property owners as well as tenants.
Property owners should be mindful of their role in providing security and other services to tenants. They should take an active role in assessing potential threats, work with tenants in both pre- and post-event risk management planning, including emergency response, and consult with their risk and insurance advisers to ensure proper planning, including insurance coverage, is in place.
Other Considerations
There are, of course, considerations unique to other industries and settings. And there are also many commonalities in preparing for the risk of an active shooter incident.
For example, to ensure awareness and responsiveness during an event, plans should include a common taxonomy and terminology to be used by all stakeholders during an event. Staff members should be familiarized with active shooter procedures through regular exercises and drills that involve internal and external stakeholders.
Consider providing employees with training specifically focused on active shooter events. This training can provide employees with general emergency response and safety information, including guidance on when and how emergency response plans will be implemented, a review of the DHS run-hide-fight methodology, and protocols for sharing information, including how employees can report their status during an emergency.
It can be helpful to review existing guidance from law enforcement and others related to active shooter events. In particular, the DHS active shooter preparedness website and the National Retail Federation's active shooter guidelines, developed in conjunction with DHS and the Federal Emergency Management Administration, can provide useful information that can be incorporated into an organization's response and recovery protocols.
It may seem unlikely that an active shooter incident could ever affect your organization, employees, or customers. But the threat exists. Planning—backed by regular exercises and drills—can position organizations to better protect employees and others and more quickly return to normal operations should the unthinkable occur.