Technology
Asia On Track To Claim Fintech Supremacy from the U.S.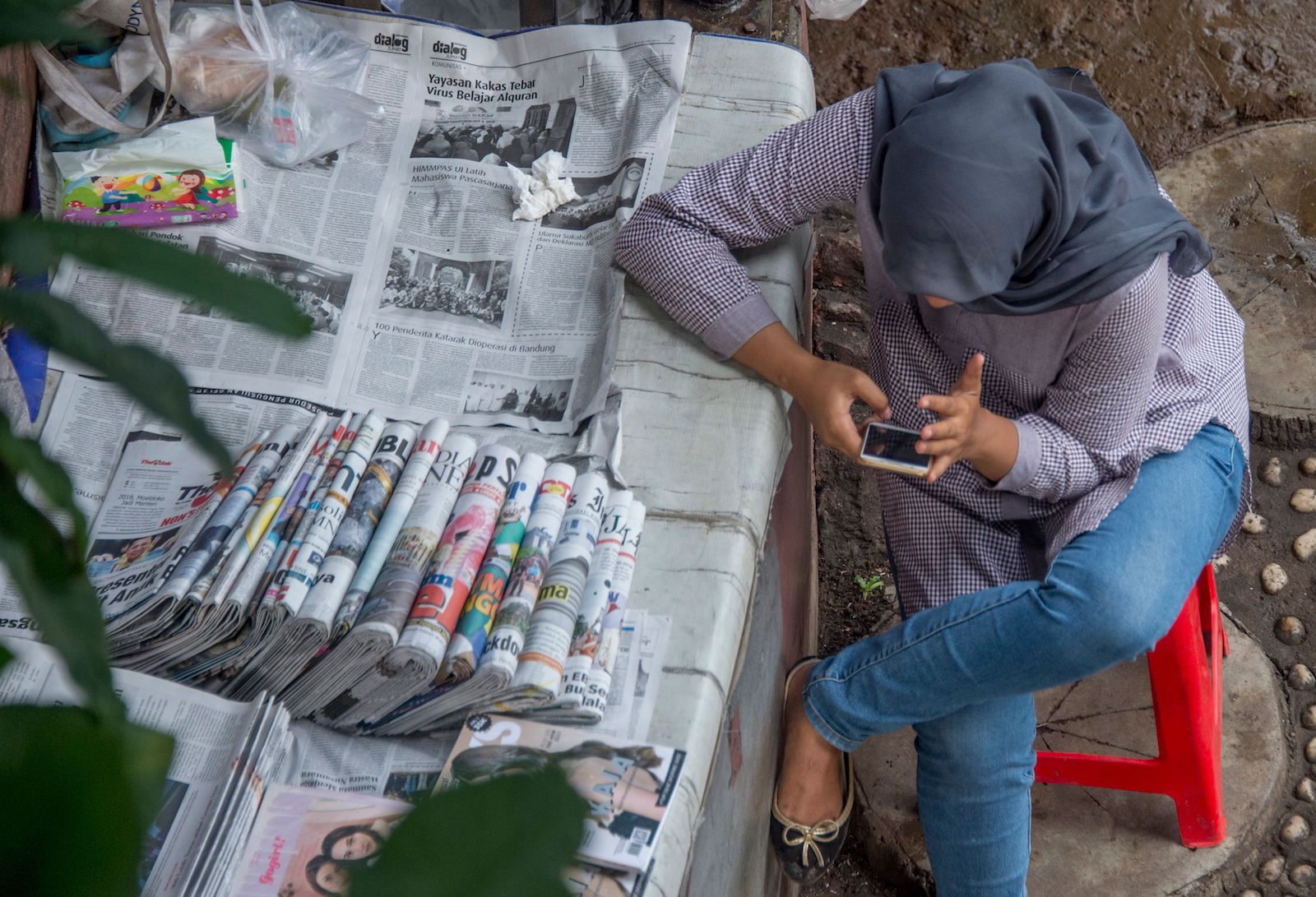 This is the final article in a weeklong series on fintech.  
Global venture capital-backed fintech investment reached an all-time high in 2018. Fintech companies backed by venture capital secured $39.57 billion in 2018 across 1,707 deals globally. While the number of deals increased by 15 percent year over year, deal value surged 120 percent, according to a recent CB Insights report.
The number of unique fintech startups that secured funding touched an annual high of 1,463 companies, while the number of total unique investors was 2,745, supported by a rush of corporate investors.
The U.S. retained its position as the top fintech market with 659 investments worth $11.89 billion in 2018, but Asia was close on its heels. Asia registered a surge in early-stage and mega-round investments and witnessed the biggest boost in deals—growing 38 percent YOY. Fintech companies in Asia were also recipients of record levels in funding, securing a massive $22.65 billion spanning 516 deals. In fact, Asia is likely to surpass the U.S. as a center for fintech investment in the near future, according to the report.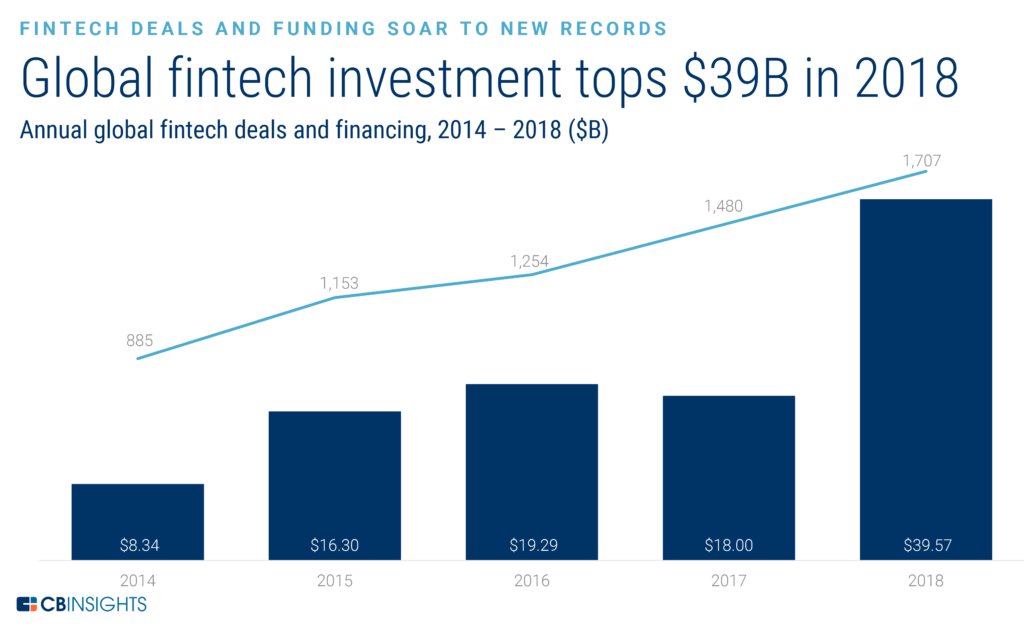 Early-stage deals, however, fell to a five-year low. This was due to investors' preference for perceived gainers, according to the report. In addition, global seed and Series A fintech deals recorded a 5 percent increase on an annual basis in 2018, but fell as a percentage of total deals to 57 percent. In the case of the U.S., early-stage deals were flat YOY, as investors prioritized their focus on already established fintech unicorns (companies with a valuation of $1 billion and higher). "Europe saw a pullback in deals to 367 deals, but funding topped $3.53 billion, an annual record," the report notes.
Fintech in Southeast Asia Is Heating Up
2018 was a record year for deals and funding in Southeast Asia—an increase of 143 percent YOY. The number of funding deals in the region increased from 19 in 2014 to 68 in 2018. In general, Southeast Asian fintech startups are attracting higher funding and foreign investors, according to the report. The largest recipient in 2018 was Vietnam-based fintech major Momo, which secured $100 million in Series C funding from Warburg Pincus. China's Ant Financial (an affiliate of the Alibaba Group) is seeking to aggressively expand its reach in Southeast Asia. Ant provides a suite of financial services spanning payments, insurance, credit, wealth management and others through various subsidiaries. Ant Financial alone made investments worth $14 billion—accounting for a whopping 35 percent of total investment in 2018.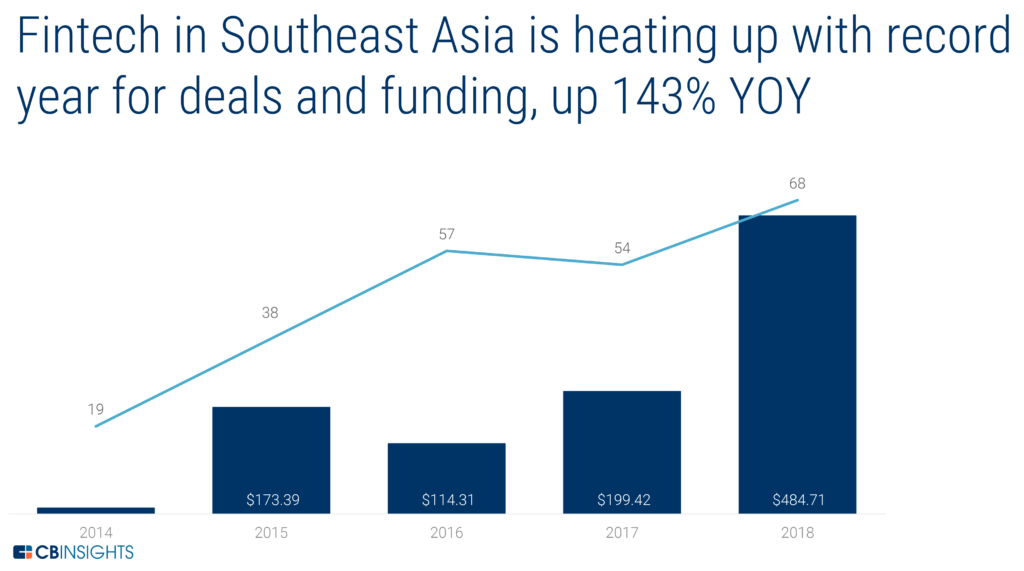 Indonesia Abuzz with Fintech Activity
Within the ASEAN region, Indonesia features the largest, as well as the fastest-growing Internet economy. In 2018, the total size of its Internet economy was $27 billion, having registered a 49 percent CAGR between 2015 and 2018. This upswing is projected to further continue based on recent data from Indonesia's leading e-commerce player Shopee. "The platform recorded 63.7 million orders, or a daily average of 700,000 orders, in Q3 2018, and reached 12 million orders on Indonesia's National Online Shopping Day in December," the report highlights.
Currently, Indonesia offers a conducive environment for investment. In no small measure, this is on account of a young and upwardly mobile population of 264 million. Fifty percent of its population is under the age of 30 and mostly upwardly mobile. Separately, Indonesia is expected to have the third-largest middle class population among emerging markets by 2050.
Smartphone penetration in Indonesia is forecast to witness continued growth with an estimated 50 percent of its population expected to own a smartphone by next year. As such, there is immense potential in the digital economy domain, which also ushers in opportunity for digital transformation in financial services.
Where Are Fintech Firms Headed?
Fintech startups are looking to serve as substitutes for the old order of financial services firms, and, indeed, in many areas they are complementing the products and services that are already on offer. They are also leveraging regulatory norms, although navigating the web of disparate regulatory frameworks is not always easy. That said, globally, regulators have been paving the way for easy access to enable disruption in the financial services sector and to encourage competition.
The investment numbers for 2018—a record year—suggest that "fintech will continue its upward tear," according to CB Insights. "With more areas ripe for fintech disruption, more technologies emerging and more fintech deal hubs materializing across the world, 2019 could be an exciting year."