Beginning May 1st, BRINK Asia coverage will become integrated with BRINK, which will now include more regional coverage on risk and resilience issues.
Technology
Aviation Mechanic Shortage Looms as Risk for Industry
Partner, Transportation and Operations at Oliver Wyman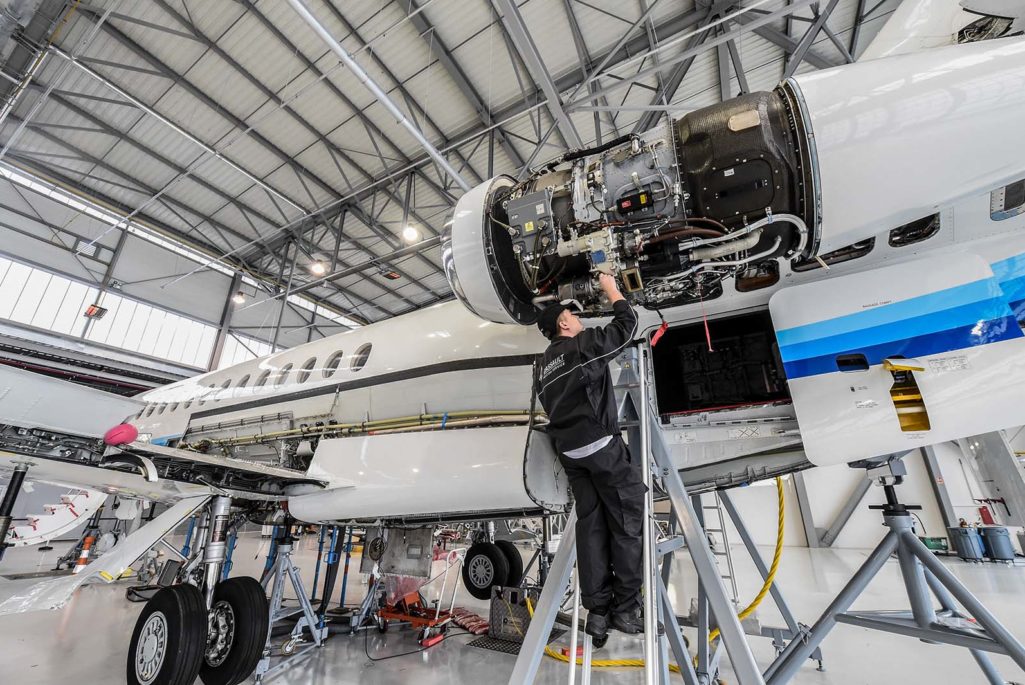 The aviation industry faces a best-of-times, worst-of-times situation as it moves into the next decade. While airlines are aggressively modernizing and enlarging the global fleet with new, technologically sophisticated planes designed and built post-2000, the long-predicted shortage of aircraft mechanics to service the fleet may be here.
Thanks to aging populations around the globe, aviation and the maintenance, repair and overhaul (MRO) industry are preparing for a rash of retirements among maintenance technicians as those of the baby boom generation reach their sixties. According to an Oliver Wyman report, there are not enough new mechanics entering the profession to make up the difference.
The labor shortage has crucial economic impact. Given the simple law of supply and demand, the shortfall may raise the cost of maintenance for airlines, potentially forcing some carriers to maintain spare planes to avoid cancellations and late departures resulting from maintenance delays.
Forecasted U.S. Commercial MRO Maintenance Technician Demand and Supply by Year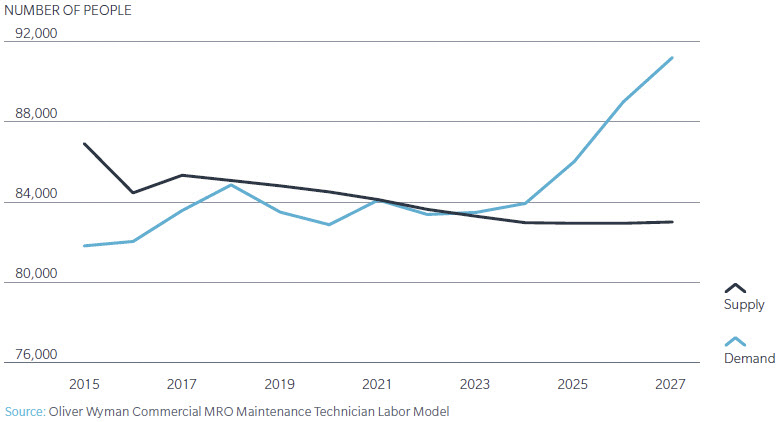 In five years, the industry's demand in the United States for mechanics will start outpacing supply—a situation where the jobs will be available but the people will not. That gap will continue to widen at least through 2027, when it is expected to reach 9 percent. The problem may emerge sooner in Asia where a bulk of the growth in the aircraft fleet is expected to take place.
Skills 'Aging Out'
The median age of aviation mechanics in the U.S. is 51, nine years older than the median age for the broader U.S. workforce, according to the Bureau of Labor Statistics. At the same time, relatively few millennials are looking to train as aviation mechanics. When asked why it was difficult to recruit, 51 percent of survey respondents identified wages and benefits as an obstacle.
The MRO labor supply shortage is a great concern of airline and aircraft manufacturer executives. Already, 78 percent of the respondents to a survey of the MRO industry say they are finding it difficult to hire mechanics and the tightening labor market is pushing them to rely on overtime and other stop-gap efforts to keep up with market demand.
Additionally, the shortfall is expected to create expertise gaps as the industry finds itself having to service a fleet that will be divided between older and newer technology aircraft. That reality is exacerbated by the industry's failure to upgrade its own maintenance and IT systems. The newer planes, specifically, create reams of data, which could make maintenance more effective for service providers with the capability to collect and analyze it.
Training Needed on Emerging Technologies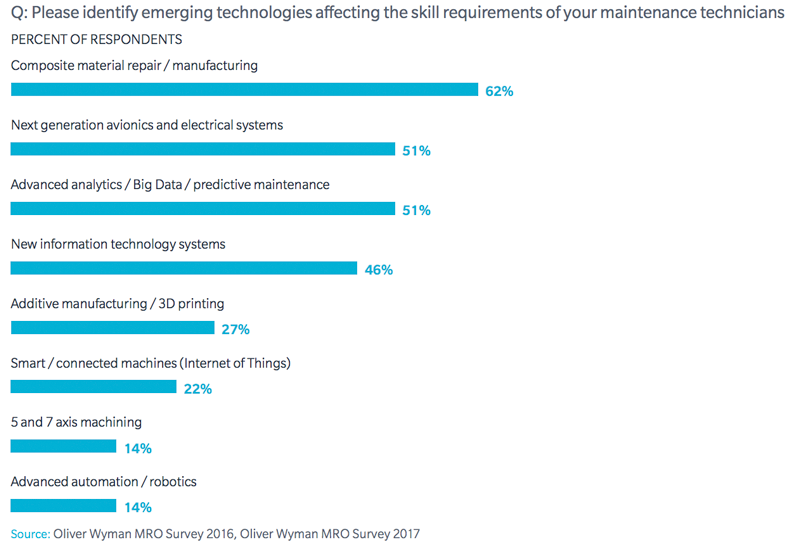 Tomorrow's maintenance technicians need to be tech-savvy diagnosticians—something that was not imaginable a few decades ago. The MRO survey of executives identified three emerging technologies vital for the next generation of mechanics, including composite material repair and manufacture (62 percent); collection and reporting of data for advanced analytics, big data, and predictive maintenance (51 percent); and the newest avionics and electrical systems (51 percent).
Eventually, the market will right this supply imbalance by forcing wages and benefits higher. But until then, airlines and MRO providers will have to carefully monitor the situation to avoid getting caught unprepared.
URL:
https://www.brinknews.com/aviation-mechanic-shortage-looms-as-risk-for-industry-2/
Please enter a valid email address.
Success! Thank you for signing up.