Environment
Can We Use Nature to Mitigate Wildfire Risk?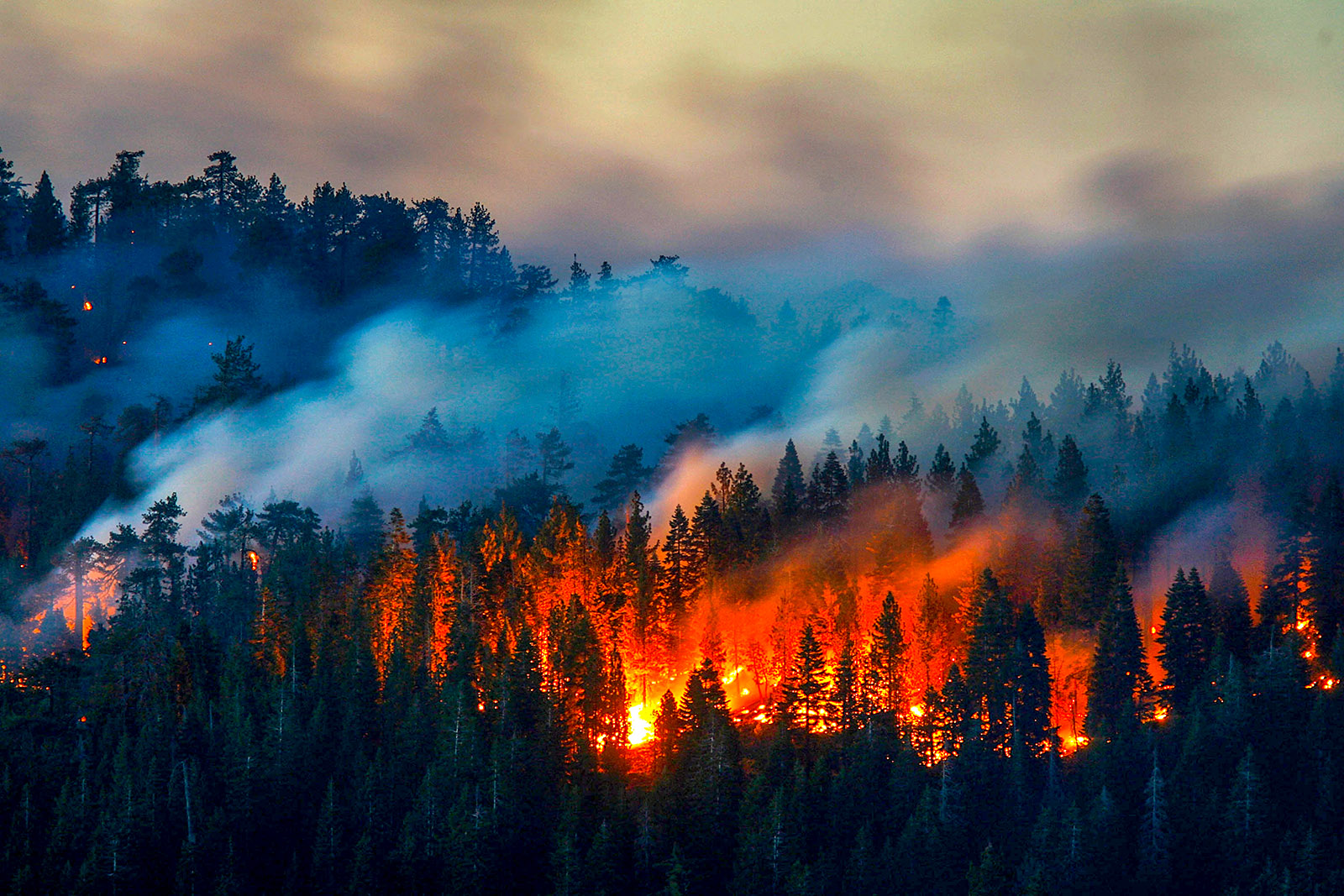 Catastrophic wildfires have been called the new normal in California and elsewhere, as global temperatures continue to rise. The 2017 and 2018 California wildfires took more than 135 lives, destroyed more than 32,000 structures and resulted in more than $25 billion in insured losses.  
For several countries in Europe, wildfires have rapidly become one of the most serious climate-driven risks. In April this year, for example, the environment ministry in Brandenburg, Germany, announced that wildfire risk had been pushed up to level five — the highest level — for the entire federal state. In the same year, wildfires in areas including Greece, Portugal and the Canary Islands reached catastrophic levels. 
Using a Nature-Based Approach
Against this ominous backdrop, the positive news is: The very same natural ecosystems facing devastation from these wildfires can actually help us to become more resilient to wildfire risks in the longer term.  
As one of the world's largest environmental organizations, The Nature Conservancy (TNC) has developed and is implementing a nature-based approach to reduce catastrophic wildfire risk, known as "ecological forestry."
TNC scientists have studied the historical role of fire in the Sierra Nevada forests of the Western United States. Prior to the 20th century, wildfires were prevalent over large areas. Most of these blazes were of low or moderate severity, with occasional patches of higher severity that created openings in the forest.  
Diversity Is a Strength
This, in turn, created a diversity of forest conditions, with open patches, pocket meadows and shady strands of large, fire-resistant trees, which maintained the long-term health and resilience of the ecosystem. Frequent, smaller fires effectively reduced the likelihood of larger, more severe wildfires by reducing the abundance of "fuel," while also keeping shrubs and understory trees in check.  
Widespread fire suppression during the 20th century, coupled with historical logging practices that removed most of the old-growth trees, has resulted in many forests in the Sierra Nevada that are now homogenous and overly dense, with small trees and shrubs. These uniform, dense and young forests are more prone to high-severity fire.
TNC's decades of forest science experience indicate that ecological forestry represents the best solution to the challenges our forests currently face. 
A combination of strategic thinning, carefully managed "prescribed burns" (replicating how nature reduced shrubs and understory trees through fire) and managed wildfires combine to mimic the role nature has historically played by promoting healthier, more resilient forests that are less vulnerable to large-scale wildfires. 
Living with Fire
As part of this work, TNC has also pioneered a Living with Fire strategy in North America, which includes: 
Shifting the policy and funding environments to support more proactive and adaptive approaches to fire management at federal, state, local and tribal levels.

Building a movement of people that acknowledges the role of fire as an essential ecological and cultural process that has shaped the diversity of life on this planet for millennia.

Building a diverse workforce at multiple scales.

Working with communities through the

Fire Adapted Communities Learning Network

to increase their ability to withstand and recover from fires.
Nature has a critical role to play in reducing risk — a role that can also deliver additional benefits for biodiversity and climate.
In North America, TNC has six place-based Living with Fire projects in Arkansas, California, Colorado, New Mexico, Oregon, Virginia and Washington.
In California, for example, TNC is partnering with federal, state and local agencies to treat more than 12,000 acres of largely U.S. Forest Service lands with mechanical thinning, hand-thinning, reforestation and restoration of aspen and meadow landscapes in the watershed of the Placer County Water Agency (PCWA). The French Meadows Project also proposes more than 7,000 acres of prescribed burns.
In Europe, TNC, through the Fire Adapted Communities Learning Network and the Prescribed Fire Training Exchanges, has been collaborating with local governments in Spain and Portugal since 2012. Trainings scheduled for November in the state of Andalucía will cover 600 hectares of prescribed burns depending on weather conditions. 
Fire Modeling
TNC and its partners undertook state-of-the-art fire behavior modeling of the greater project area, which revealed that most of the project area is at high risk of a catastrophic crown fire under current conditions. 
Such a fire would likely also result in significant soil erosion, with consequent damage to reservoirs and associated hydropower and municipal drinking water facilities owned and operated by PCWA and Placer County. Post-fire erosion from the 2014 King Fire resulted in major ongoing damage to reservoirs and infrastructure valued at millions of dollars a year.  
The fire modeling also demonstrated that, after proposed ecological forestry treatments, most of the project area would have a lower risk of crown fire and a lower probability of high-severity fire, and, if it caught fire, it would burn as a lower-intensity fire with slower spread rates than would otherwise have been the case. This in turn reduces the risk of loss and damage to the PCWA and its water and hydro facilities. 
Insurance Benefits
The demonstrable benefits of ecological forest management in reducing wildfire risk should create opportunities to develop insurance products with underwriting and pricing that reflect the benefits of this mitigation practice. 
This echoes the similar approaches being adopted by TNC and Munich Re for investments in nature-based coastal defenses like mangroves and coral reefs, which reduce the risk of storm damage. This partnership has developed a "resilience insurance" coastal property coverage, with pricing that reflects TNC's science demonstrating the benefits of this green infrastructure in mitigating storm impacts on coastal property.  
Building on its science in the area of ecological forest management, TNC is similarly interested in exploring with partners in the insurance sector the potential to pilot a "wildfire resilience insurance" product, the underwriting and pricing of which would be aligned with the risk reduction benefits of ecological forest management.
Nature has a critical role to play in reducing risk — a role that can also deliver additional benefits for biodiversity and climate. And the insurance sector, with its tremendous expertise and capacity, has a real opportunity to further assist those communities, businesses and governments that are making scientifically based investments in nature to reduce risk on a changing planet.