Environment
China Drives Global Electric Vehicle Market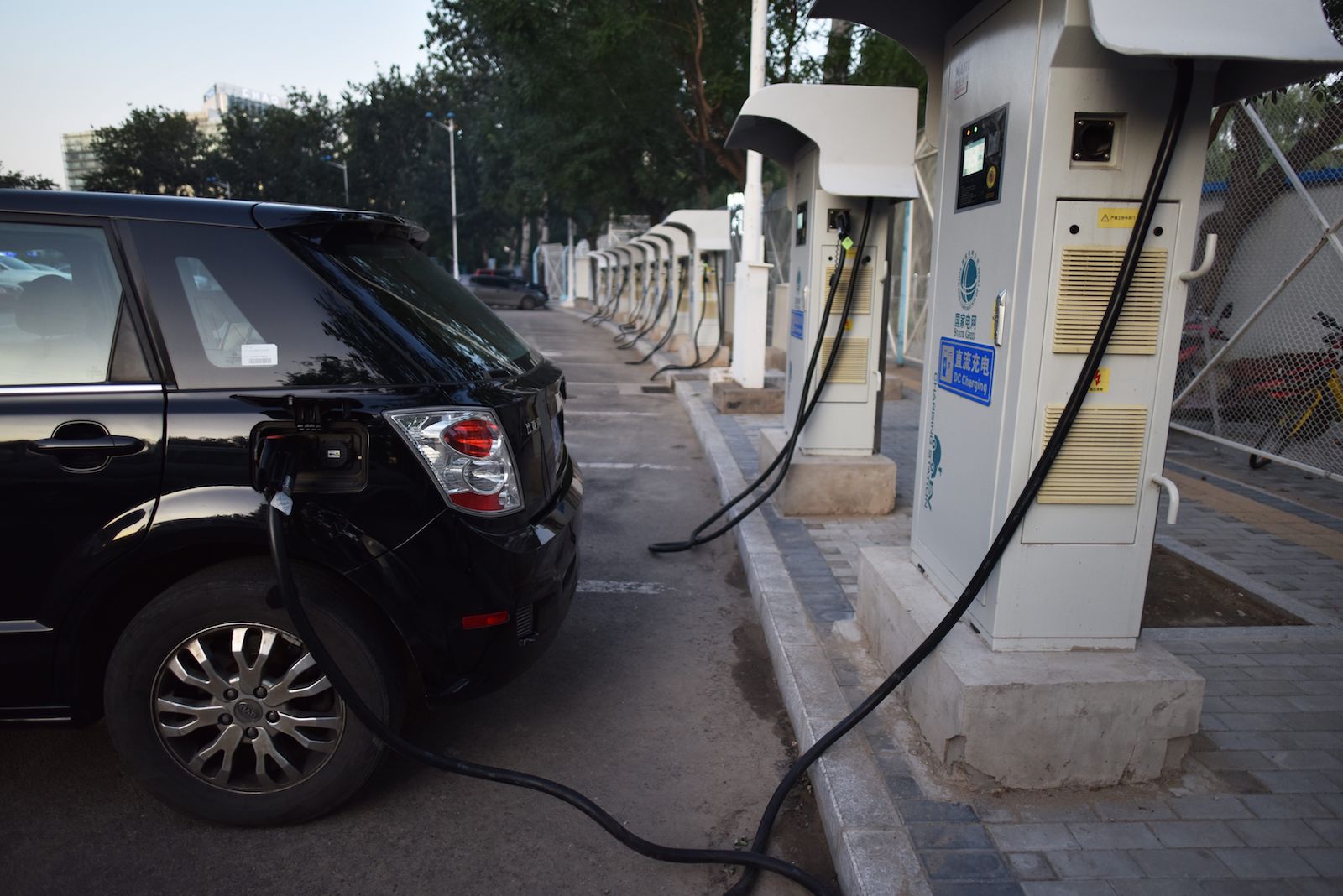 This is the final story in a weeklong series on China.
Automobile manufacturers across the world are bracing for a sweeping change. With stringent emission norms expected to take effect globally, the internal combustion engine is expected to gradually make way for electric vehicles (EVs) and hybrid electric vehicles (HEVs). According to recent JP Morgan research, the growth in EVs and HEVs is increasing rapidly, and by the year 2025, they will account for about 30 percent of all vehicle sales globally.
To place things in perspective, there were less than one million plug-in electric vehicle sales (PEVs) in 2016—accounting for 1 percent of global automobile sales. However, by 2025, the report estimates this number will near 8.4 million vehicles, translating into a 7.7 percent market share.
The EV market is poised to witness a significant surge, although HEVs are likely to be the market leader. HEVs combine an internal combustion engine with an electric motor. Growth in this segment by 2025 will be unprecedented—from a meager 3 percent of global market share to over 25 million vehicles or 23 percent of global sales over the same period. Therefore, by 2025, it is forecast that fossil fuel-burning vehicles will account for about 70 percent of the market share. By 2030, the figure is expected to decline to 40 percent, with a large chunk of HEV sales coming from emerging economies.
The good news for Asia is that a lot of this surge in activity is expected to be driven by Asian economies, particularly China, where the government has put in place policies and initiatives to support the development of the EV industry.
China Leads Global EV Production and Sales
According to the research, the compound annual growth rate of China's new electric vehicle market—comprising EVs and PHEVs (plug-in hybrid electric vehicles)—is expected to hit 46 percent by 2020, with 2.5 million units produced in that year. This is half a million more units than the government's target of having two million such units on the roads by 2020, it adds. The key drivers underpinning the surge in this segment are rapid battery cost reductions, charging facilities, new subsidies, dual-credit policies and public transport (local government policy in China requires 30 percent of all new buses to be EVs or PHEVs, for instance).
An increase in mini-EVs and a steady decrease in battery-pack prices have resulted in affordable EV offerings. Prices for mini-EVs start at around 40,000 yuan ($5,800) in China, and companies such as Beijing Auto Industry Corporation, BYD and ZhiDou are among the major producers.
East Asia Dominates Battery Production and Charging Infrastructure
A handful of Asian companies dominate the EV battery manufacturing landscape globally. Panasonic, for example, enjoys a 40 percent share globally and is followed by China's Contemporary Amperex Technology (23 percent) and LG Chem (18 percent).
Over the last decade, battery-pack prices have steadily declined—from $1,000/kilowatt hour (kWh) in 2010 to about $210-230/kWh in 2017. This is a positive sign for the EV industry, since lower battery prices will result in more affordable product portfolios, the report notes. Once prices fall to $100/kWh, the prices of EVs and internal combustion engine-powered vehicles will be comparable and, evidently, the consumer will lean toward the former. The report forecasts that this price point will likely be achieved by 2025 or earlier.
Internal combustion engine-powered vehicles have long dominated the auto sector, and as such, fueling stations are a common feature. Likewise, one aspect that has affected increased EV adoption is the lack of a wide charging network. However, China is leading globally on this front, too. According to the report, China is targeting 4 million new charging posts and 12,000 charging stations by 2020, with investment support from state-owned enterprises. As of 2017, there were about 600,000 public charging points installed globally, with 320,000 of those in China alone, the report says.
Asia To Drive EV Momentum
PEV sales in Japan and Korea are expected to reach 384,000 by 2025—representing a market share of 6 percent in the two countries; HEVs, meanwhile, will account for about 1.8 million units, accounting for 27 percent of total sales.
General Motors recently announced plans to launch 10 heavily electrified vehicle models in China from 2021 through 2023, in addition to the 10 already planned for 2016 through 2020. Tougher fuel economy regulation in the U.S., meanwhile, will lead to automakers expanding their EV product portfolio. Although, the transition will be gradual compared to Europe, where "a dramatic move away from [internal combustion engine]-only vehicles is expected, and by 2025, only plug-in electric vehicles and HEVs will likely be sold."
Globally, China is on track to become the global leader—both in terms of EV production and consumption. In only two years, it is expected to account for a whopping 59 percent of global sales. It may witness a slight easing in 2025 to 55 percent, but will remain comfortably ahead globally. This is a trend that is likely to play out over the next few years at least.