Economy
COVID-19 Is the Biggest Test African Governments Have Ever Faced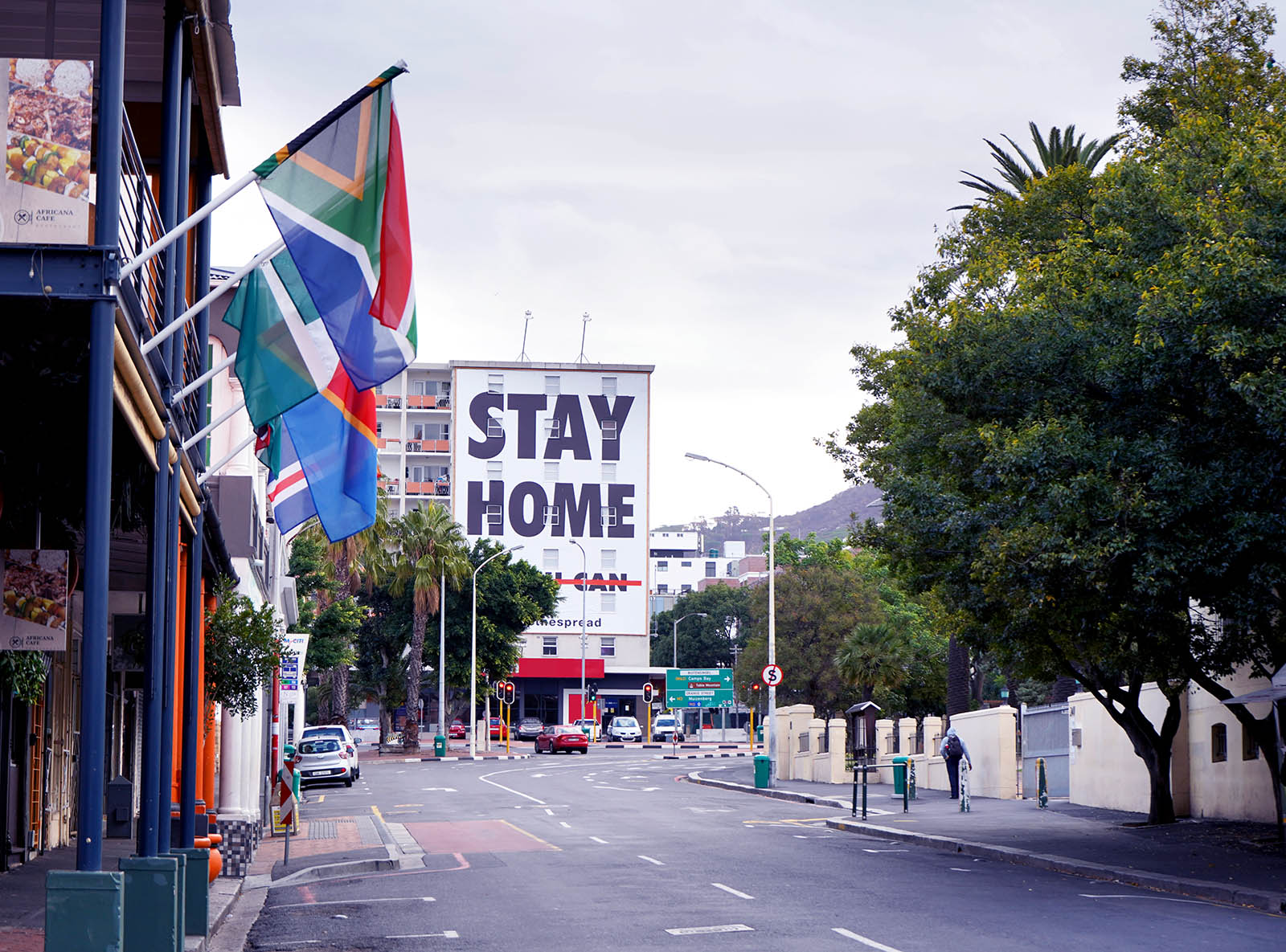 Africa's response to the coronavirus pandemic was quicker and more comprehensive than any other region globally. South Africa was one of the speediest, closing down its borders and putting residents into physical lockdown — even before it announced its first death from COVID-19.
The pace at which African leaders acted undoubtedly served populations well. Only 100,000 infections were recorded over the first 100 days, among a population of more than $1.2 billion. 
Since May, nations have been lifting restrictions in order to resume economic activity. Case numbers have been accelerating, with more than 100,000 new cases recorded in less than 20 days. 
As COVID-19 spreads, the majority of African countries have no option but to prioritize economic needs over the health implications of the virus; the limited fiscal headroom of most African governments doesn't enable them to offer the same sort of safety nets that have been made available in the United States, U.K., Europe and elsewhere.
Two Million Tests To Date
As with Europe, not all African nations have been equally affected by the virus. Mauritius is worthy of note. As of June 15, with only two active cases, restrictions have been lifted and the nation's famous white sandy beaches and blue lagoons are once again open to the public; but the country's borders remain closed. Mauritius is among five nations where levels of testing are the highest per capita on the continent. The others are South Africa, Djibouti, Seychelles and Cabo Verde. African countries have more than tripled the number of total tests completed — from around 785,000 in May to over 2.3 million in June. Maintaining or increasing this momentum may well be crucial for avoiding a second wave.
While there has been a lot of speculation as to whether relatively low infection rates in Africa are the result of demographics, prior experience fighting infectious disease or simply low levels of testing and reporting, what appears to matter most are the actions of governments to encourage their citizens to alter their behavior and to avoid risky situations so as to reduce transmission levels. 
Economic Impact Is Being Felt Everywhere
The majority of fatalities — more than 70% — have occurred in only five nations, namely Algeria, Egypt, Nigeria, South Africa and Sudan, but the economic damage has been far more widespread, with tourism, hospitality and aviation grinding to a halt in nearly all nations. Other sectors such as mining, fast-moving consumer goods and agribusiness were also hit due to trade disruptions and government restrictions. Car sales have collapsed, hitting automotive sectors in South Africa and Morocco particularly hard. Among notable victims is Kenya's horticulture sector, deprived of export markets to Europe because of international travel restrictions. Small traders, the backbone of many economies, have not been spared, with incomes falling by 80% since the introduction of quarantine measures in many cases. Meanwhile, acute financial market stress, commodity price volatility and currency weakness has dramatically reduced governments' revenues. 
Fiscal Policy Will Be Critical
The most crucial aspect of the continent's economic recovery will undoubtedly be fiscal policy support, a field in which some African heads of states are showing deftness and resolve. Ghana became the first sub-Saharan African country to cut interest rates, followed by Kenya, where the Central Bank has worked with commercial banks to provide relief to individual borrowers as well as corporate borrowers. 
COVID-19 Response Plans in Sub-Saharan Africa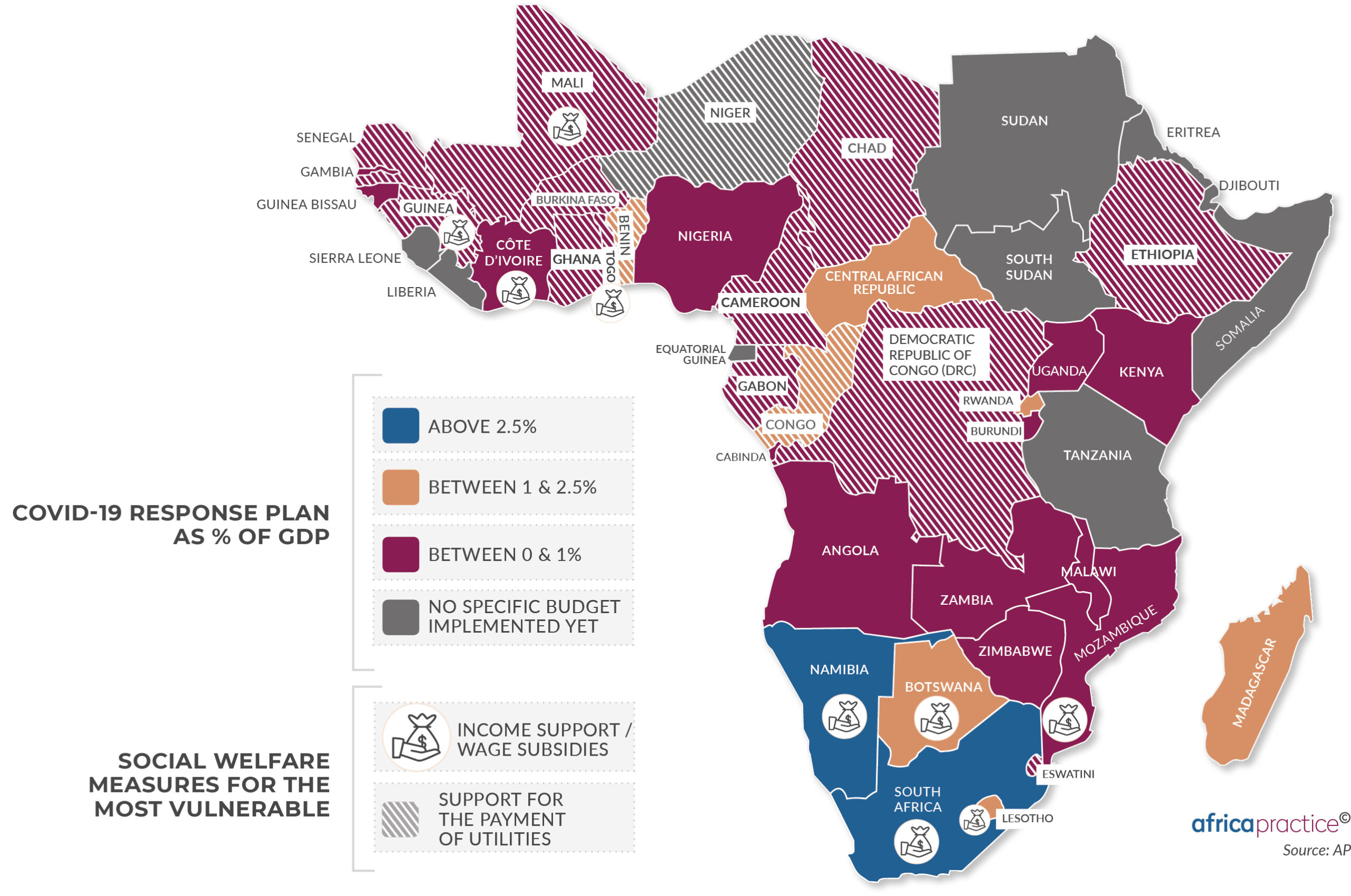 Across Africa, 28 countries have implemented tax relief measures, and 16 have adapted their regulations to encourage mobile money transactions. In Togo, the government introduced Novissi, a temporary digital cash transfer program that sent funds to citizens through mobile money. According to Anit Mukherjee, policy fellow at the Center for Global Development and co-author of the center's recent report on state-powered digital payment schemes, as of mid-April, over 1.1 million Togolese citizens — 13% of the population — had registered for Novissi with around 450,000 people (65% of which were women) proving eligible beneficiaries and receiving up to 35% of the minimum wage.
In the medium term, African markets must maintain fiscal deficits at sustainable levels while introducing measures to stimulate growth. Tough choices lie ahead for African leaders who must balance the impetus for self-reliance in food and essential supplies, with the need to increase regional and continental trade and integration. 
Without greater regional trade, efforts to restore growth on the continent will be anaemic. Set to start on July 1, 2020, but postponed to January 2021, the commencement of trading under the African Continental Free Trade Area will be a welcome stimulus for Africa's post-coronavirus recovery.
Globally, we have seen welcome levels of support from traditional lenders such as the IMF, the World Bank, G-20 finance ministers and non-concessional lenders, particularly China — providing both medical assistance, financial stimulus and debt relief. The G-20 group of the wealthiest countries in the world, including China, have granted 40 African nations a debt repayment holiday up to the end of 2020, and possibly longer. That debt is estimated at $20 billion in total, still leaving more than $56 billion to pay, according to Beijing-based consultancy Development Reimagined.  
Will African Administrations Use COVID-19 to Overhaul Their Economies?
Choosing which industries to support and which to abandon in an effort to structurally transform an economy will be a hallmark of leadership in the coming months. Administrations will want to closely review the role of their parastatals and state-owned enterprises. Some SOEs will be called on to assume ownership of ailing private companies, while others will be quietly merged or abandoned.
The coronavirus pandemic has redefined risk and opportunity on the continent. After years of creeping liberalization, the state is now being challenged to step in as employer of last resort, insurer of last resort and possibly even shareholder of last resort, in areas where the market will not assume the risk. Judging what is viable and acceptable, and at what point state intervention crowds out private enterprise, is a debate that will occupy African societies over the next five years and beyond.  
The continent that recorded the greatest increase in regulatory reforms since 2013 now looks set to witness an even greater wave of regulation. What emerges will be determined by the quality of dialogue between government and civil society and the administrative capacity of governments.