Economy
Nation Brands 2017: China Rapidly Closing the Gap on U.S.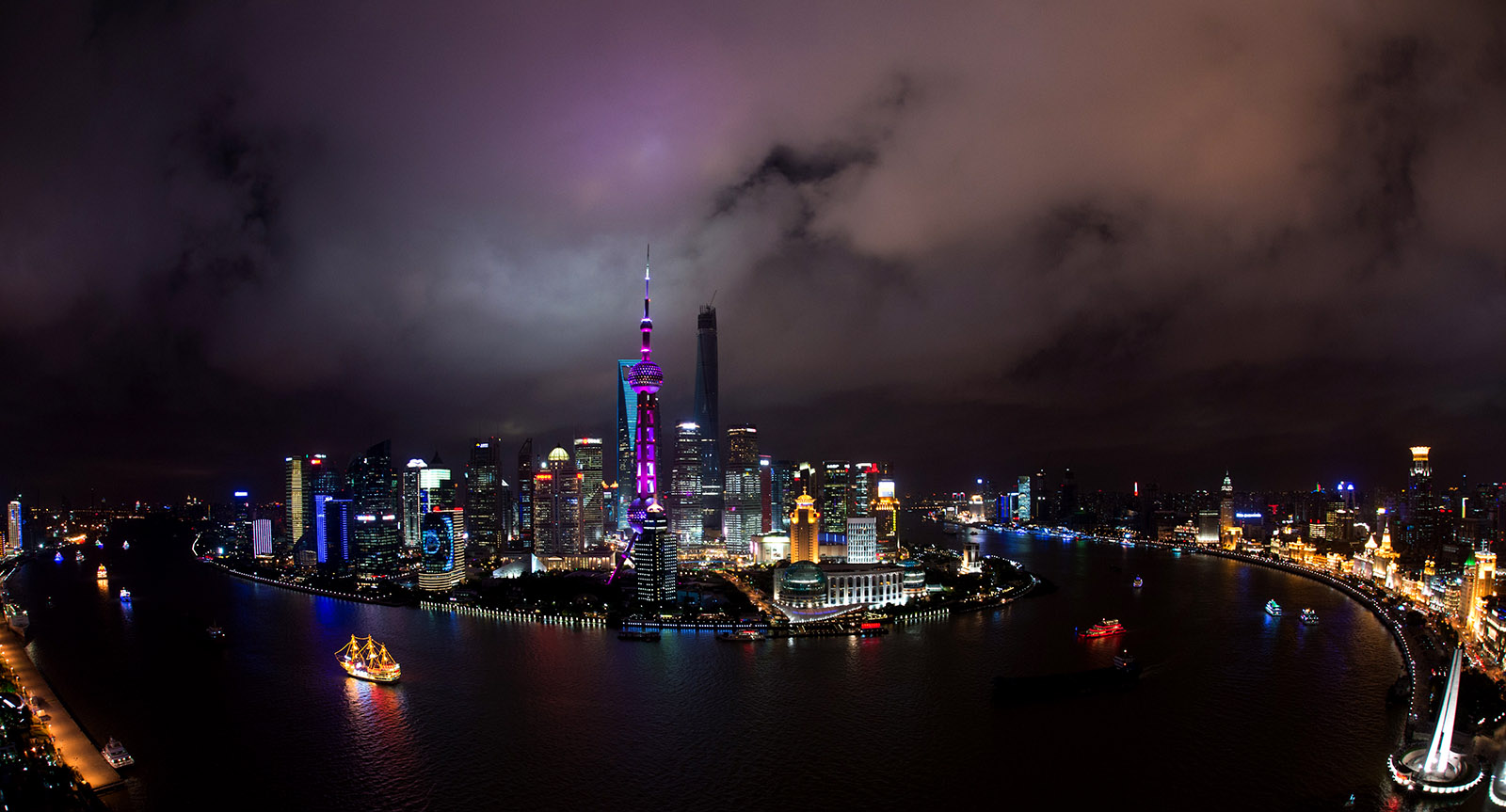 China is home to 50 of the world's 500 most valuable brands, according to a recent report. In 2008, the nation had only eight companies on this list of global 500. With an increase of $3.1 trillion every year, China is the fastest growing nation brand this year.
"In a virtuous circle, Chinese brands and the transformed national image of China as an emerging global power are reinforcing each other and further add to the country's attractiveness to investors and tourists," said David Haigh, CEO of Brand Finance, which produced the report. "In relative terms, China's nation brand value grew 44 percent year on year, or at a 20-times faster pace than the United States'." However, at $10.2 trillion, China's nation brand value is just half that of the U.S., Mr. Haigh said. "Sustaining growth will be key to narrow the gap."
A Global Force to Reckon With
China is emerging as a global force, and Chinese brands are leading in the banking (ICBC), spirits (Moutai), real estate (Dalian Wanda) and insurance (Ping An) sectors. These and other valuable organizations have firmly established China as an attractive destination for both investment and tourism.
Top 10 Most Valuable Nation Brands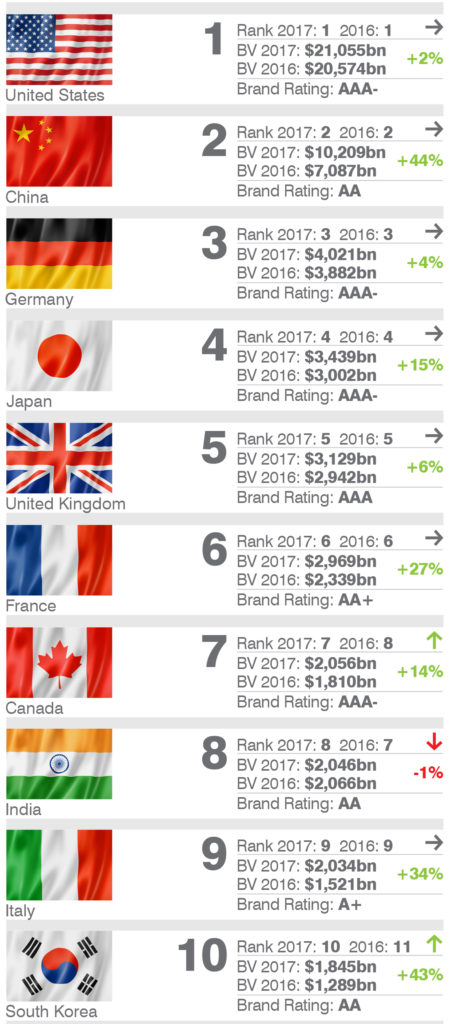 U.S. Is the Current Global Leader
The most valuable nation brand globally is the U.S., with a 2017 brand value of $21 trillion. However, it has witnessed only a two percent increase since last year. The report attributes it to "macroeconomic challenges, like the declining participation rate caused by the mass-retirement of baby boomers, ultimately contributing to a slow pace of GDP growth compared to previous expansions." Moreover, the current U.S. administration has been perceived as less predictable, which in turn has affected investments.
Japan, South Korea Rally; India Lags
Key Asian countries that feature among the top nation brands include Japan (ranked 4th), India (ranked 8th) and South Korea (ranked 10th). While Japan and South Korea have recorded year on year increases of 15 percent and 43 percent respectively, India witnessed a decline of 1 percent since 2016. Its current nation brand value stands at $2 trillion. In addition, Vietnam, the Philippines, Indonesia and Thailand have recorded gains to their nation brand value in the past year. Australia's current brand value stands at $1.5 trillion—a 15 percent increase from the previous year. Globally, Singapore was recognized as the strongest nation brand maintaining a AAA+ rating and a Brand Strength Index score of 92.9.* It was comfortably ahead of Switzerland, which was the only other nation worldwide with a AAA+ rating.
A Bit of Perspective
To better illustrate China's rapid pace of growth, it must be highlighted that the annual increase in China's brand value is equal to the entire nation brand value of the UK—ranked fifth with a nation brand value of $3.13 trillion in 2017. Asian countries are growing rapidly while many Western nations are witnessing stagnation.
*GDP data forms a significant part of the calculation of nation brand value. However, the final figures are calculated by combining the GDP data with more qualitative information drawn across three key "pillars": Goods & Services, Investment and Society. These are divided into sub-pillars: Tourism, Market, Governance and People & Skills. These are further subdivided into individual metrics. Each metric is scored out of 100 and together they contribute to an overall Brand Strength Index (BSI) score for the nation brand, also out of 100. Based on the score, each Nation Brand is assigned a rating from AAA+ to D in a format similar to a credit rating. Looking at nation brand strength in isolation can in some ways be seen as the truest reflection of a government's guidance of its nation brand, as the inherent GDP advantage of larger countries is removed.