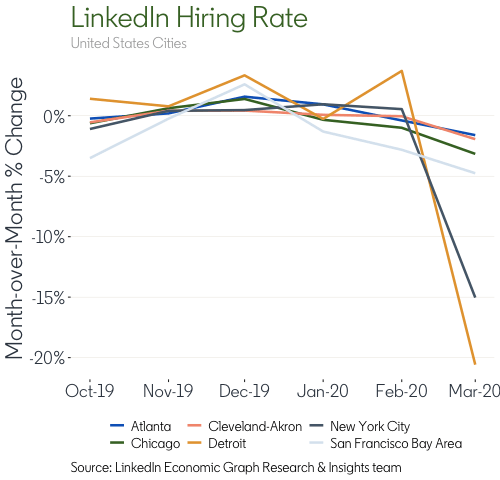 New York City, Los Angeles and Detroit have seen the steepest falls in hiring out of all major U.S. cities due to the coronavirus, according to a new LinkedIn report. 
Out of the 20 cities tracked, these three saw double-digit drops in March, while other cities reported limited declines — an ominous warning that the worst is still to come for cities where coronavirus is not as widespread.
Overall, job hiring is 1.1% lower year over year, which is the largest drop in LinkedIn's hiring rate since January 2017. The industries most hit are Recreation and Travel (-22.2% MoM), Wellness and Fitness (-20.9% MoM) and Nonprofits (-20.6%MoM). 
March was the first complete month that captured how the job market has been affected by COVID-19. The U.S. Department of Labor announced last week that a staggering 6,648,000 unemployment claims were filed — doubling the record set a week earlier of 3,307,000 claims filed.