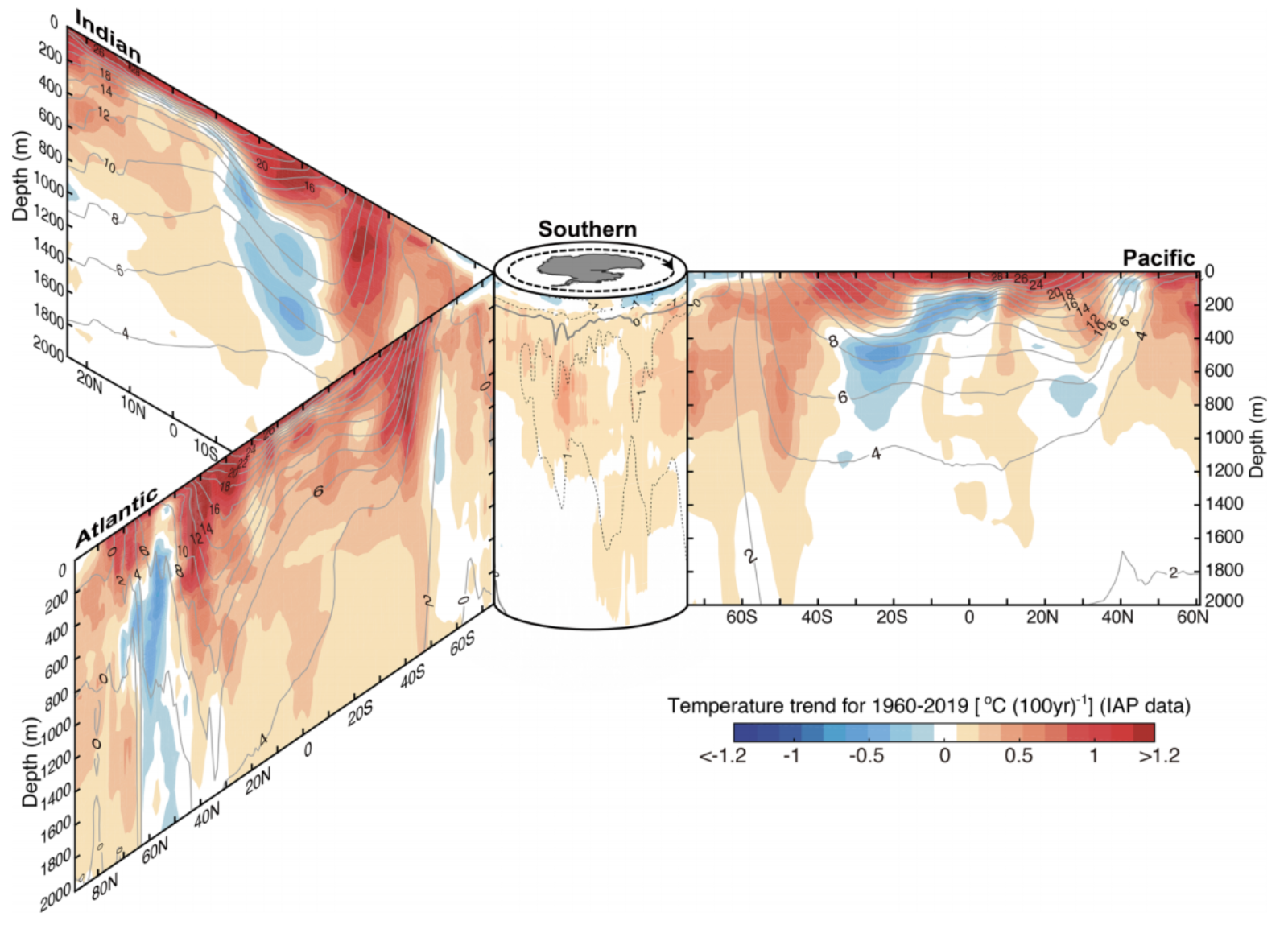 Notes: Vertical section of the ocean temperature trends within 1960 to 2019 from the sea surface to 2000 m (60-year ordinary least-squares linear trend). Shown are the zonal mean sections in each ocean basin organized around the Southern Ocean (south of 60°S) in the center. Black contours show the associated climatological mean temperature with intervals of 2°C (in the Southern Ocean, 1°C intervals are provided in dashed contours). IAP gridded data are used.
Expect more catastrophic fires and devastating hurricanes, scientists warn, as excess heat in the Earth's oceans continues to disrupt weather patterns. Ocean temperature readings from both the National Oceanic and Atmospheric Administration and the Chinese Academy of Sciences showed 2019 to be the warmest on record. 
Scientists look to ocean temperature as a key indicator of global warming, as oceans store 90% of the planet's excess heat. Not only are ocean surfaces warming, but — as illustrated in the above graphic taken from a recent Advances in Atmospheric Sciences article — heat is penetrating oceanic depths.
The impacts of ocean warming are significant and devastating. Warmer oceans "reduce dissolved oxygen," harming sea life, while increasing evaporation in the atmosphere, which "nourishes heavy rains and promotes flooding." The remaining 10% of the Earth's excess heat manifests in the atmosphere, causing a melting of ice and drying of lands.
"It is one of the key reasons why the Earth has experienced increasing catastrophic fires in the Amazon, California and Australia," the report says.