Economy
Report: Manufacturing 'Renaissance' is a Myth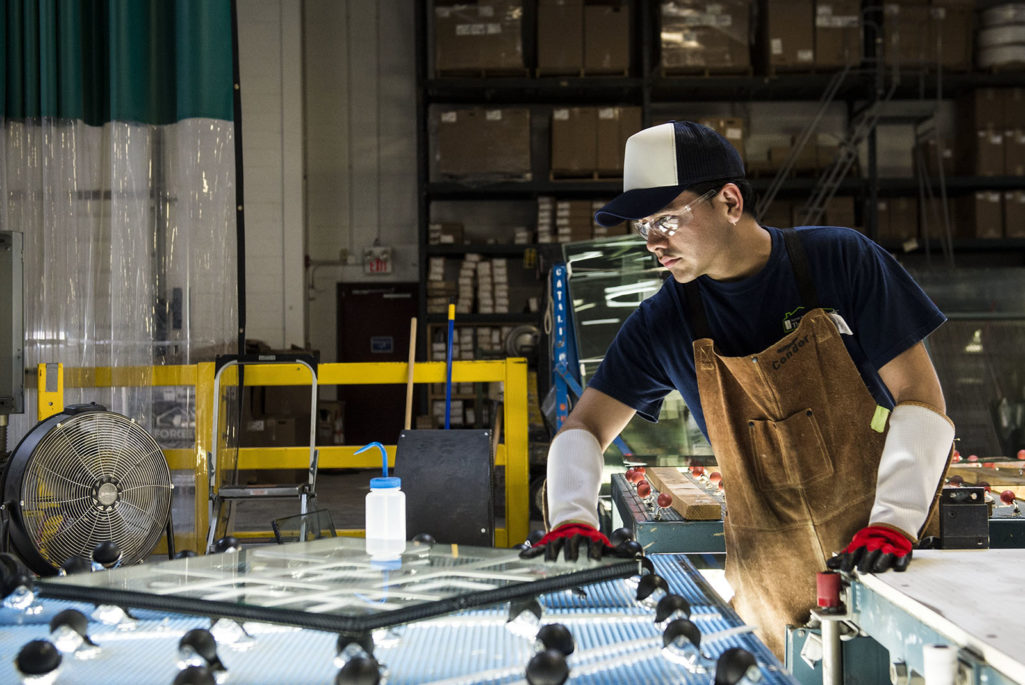 Manufacturers and small businesses have waited a long time for the chance to spread some good news about the state of their industry. After losing an entire third of their workforce from 2000 to 2009—compared to only three percent the decade before—manufacturers around the time of the Great Recession could no longer deny their industry was in crisis.
So it's no wonder that post-recession news of moderate job growth, increased shale gas prospects, and stabilized output levels has spurned a favorite new word to describe the industry's alleged bounceback: A renaissance.
But in a report released today from the Information Technology and Innovation Foundation doesn't mince words when describing what it believes is a tendency to exaggerate growth in the manufacturing sector, calling it nothing more than "Pollyannaish optimism" on the part of job creators and the media. In short, it argues, there is no manufacturing renaissance—just a moderate, and maybe temporary, uptick.
These are some harsh words from the report's co-author Adams Nager, but he uses data to prove that "much of the growth that is being heralded as a renaissance is actually just a steady, cyclical recovery from the depths of the recession," he writes, adding that "pundits have overestimated the impact of isolated incidents of reshored production and misread or ignored the data."
Nager works to set the record straight on a number of what he calls "myths" that have sustained this renaissance narrative. He points to data that shows manufacturing growth on a steady rise—with 11.6 percent growth in durable goods since 2010. But these numbers, and overall manufacturing growth numbers in general, are still far below what they were in 2007. In addition, Nager points to a significant manufacturing goods trade deficit of $458 billion in 2013, which demonstrates a notable decrease in output by manufacturing plants in the U.S.
"The risk is that after the cyclical recovery ends, manufacturing jobs continue to be lost overseas while policy makers are lulled into inaction by perceived success," Nager told BRINK in an email exchange. However, the "biggest danger," he says, is the U.S. "getting squeezed out of advanced and high-tech industries," owing to the fact that in 2013 the U.S. ran an $81 billion trade deficit in advanced technology goods, despite having a trade surplus until 2001. "That would lead to job losses, higher imbalances, lower output, decreased GDP growth, and a reduced ability to compete in new and emerging manufacturing industries," he said.
Obstacles to a Real Renaissance
Some chronic challenges hinder the manufacturing sector's ability to flourish into a full-fledged renaissance, including lagging public investments, high corporate tax rates, and what the report calls "pernicious foreign 'innovation mercantilism.'"
In fact, even job growth in the sector, which can appear promising on first glance, lacks enough momentum to truly lift manufacturing into a place of structural and long-term recovery. The manufacturing sector, for instance, has recovered 720,000 lost jobs since 2010—but this hasn't kept up with growth in the workforce overall. Since 2010, manufacturing jobs have hovered below five percent of the total U.S. workforce, never gaining significant proportional growth.
And even though the sector has recovered nearly three-quarters of a million jobs, as well as 2.4 percent overall growth, these figures suddenly seem rather inconsequential when compared to overall GDP growth of 6.3 percent since 2010.
"Much of the belief in a structural rebirth of manufacturing is unfortunately based on these myths and similar anecdotes and hyperbole," writes Robert Atkinson, ITIF's president and report co-author.
Proponents of the manufacturing renaissance narrative have pointed to abundant U.S. shale gas as a magnet for restoring manufacturing jobs at home, while cutting energy costs and increasing profit margins.
The National Association of Manufacturers found in 2013 that "increased oil and gas production made possible by advances in shale technology is supporting millions of jobs, increasing household incomes, boosting trade and contributing to a new increase in U.S. competitiveness around the world."
It is true that shale gas has helped cut U.S. energy costs by 11 percent from 1998-2010, cutting down overall domestic production and manufacturing costs. But the ITIF report argues that these lower energy costs have only a marginal impact on most manufacturing sectors because about 90 percent of manufacturing industries have energy costs valued at less than 5 percent of shipment value.
"The optimistic message of the manufacturing renaissance provides the public, business leaders, and policymakers with a dangerous sense of complacency," Nager writes, "that reduces the urgency and necessity for Congress and the administration to take the bold steps needed to truly and sustainably revitalize American manufacturing."