Geopolitics
Rising Instability and Deepening Challenges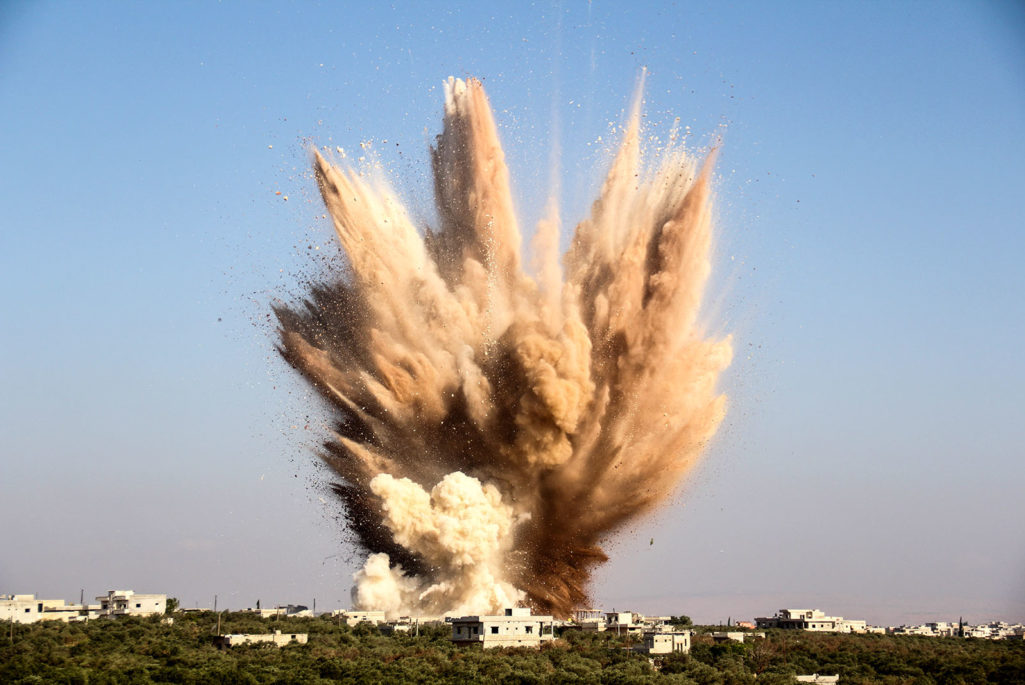 Companies face a daunting task in navigating today's global risks landscape. The world is confronted by an ever-increasing set of interconnected issues—pull on one thread and several others are affected. Resilience requires a complex and nuanced approach.
2015 was characterized by increasing social and political instability. Some 60 million people, the largest number in recorded history, have been forcibly displaced—and their migration is creating significant challenges in host countries. The number of fragile states, characterized by weak governance regimes or unremitting conflict, is growing. Radicalized insurgencies such as ISIS and Boko Haram have spread their tentacles across the Middle East and North Africa and threaten security in Europe and North America.
Geopolitical tensions are also escalating among major powers. Some have been drawn into Syria's civil war, with competing agendas. The crisis in Ukraine has not been resolved; territory remains occupied and sanction regimes are still in place. China's actions in the South China Sea have raised concerns about unlawful sovereignty claims, while Japan has advanced its efforts toward remilitarization. And the integrity of the EU remains under pressure, with leaders divided over responses to the Ukraine crisis, the Greek bailout, record migration flows, terrorist incidents and the prospect of a UK exit.
Risks in other spheres are also contributing to a climate of unrest. The slowdown in China has weakened global economic growth, in particular among emerging markets. High levels of youth unemployment continue to plague southern European countries and the Middle East, while asset bubbles are a growing concern in East Asia and parts of northern Europe. The U.S. and other advanced economies have been hit by cyber attacks with increasing frequency and financial impact.
Global Risks of Highest Concern
This year's Global Risks report, prepared by the World Economic Forum with the help of Marsh McLennan and other partners, presents a picture of the evolving global risk landscape on both short- and long-term horizons.
It is no surprise that the surveyed experts rated geopolitical and societal risks as the issues of highest concern in the short term, along with related economic woes. This continues the trend from last year's report, in which there was a marked shift toward these risk areas. Looking to the longer term, concern continues to coalesce around environmental issues—water crises, food security, extreme weather and climate change—with social instability both a threat and a consequence.
Risks of highest concern – by time period
Growing Social Instability
In addition to the refugee crisis, 2015 saw numerous anti-austerity protests in cities across the world, populist movements pressing for independence or regime change, online activist campaigns endorsed by millions of supporters, labor disputes and terrorist attacks. Some catalysts of unrest are economic, such as persistent unemployment in advanced economies or the sudden decline in fortune of many emerging markets. Others have their foundation in increasingly polarized societies, the rise of Islamic radicalism or simmering geopolitical tensions.
What we're seeing now may not be a passing phase of higher volatility. Resentment at a deepening income inequality is on the rise in many countries. In the coming years, this may be exacerbated by the increasing proportion of retirees with insufficient resources for their old age and the increasing loss of jobs due to the automation of workplace activity. A failure to properly integrate refugees into host countries will create a time bomb for the future.
Popular frustration with leaders is widespread and levels of trust are uncomfortably low. In some countries, the prevailing view is that government is weak and too cozy with big business; elsewhere, the exposure of scandals and corrupt behavior has served to further undermine trust. People expect more from governments and businesses, and advances in information and communication technology are providing opportunities for expressing "tribal" sympathies that are not geographically defined and can stimulate collective action—for better or worse.
This creates a very challenging context for business. At a macro level, the rising level of friction can act as a general drag on economic activity, at a time when positive impetus is sorely needed. The threat of business disruption is also higher, undermining the ability of international businesses to operate in certain countries or substantially changing the terms of operation. Activist-driven volatility can influence political decisions by fragile governments and provide a frame of reference for workforce disputes, which intensifies disagreements between companies and local communities.
Structural Challenges
This year's Global Risks report also highlights two structural challenges that require more effective coordination between governments, as well as between governments and the business sector: health and food security.
Before 2014's Ebola crisis fades from public and political memory, it is crucial that we do not lose sight of the damage that can be caused by infectious disease. Fighting an enemy that readily crosses borders is a global problem, one that is amplified by ever-increasing urbanization and the growing mobility of populations.
Many lives are at risk, and the humanitarian cost can be enormous if pandemics are not contained. The economic costs can also be huge. The World Bank estimates that Ebola might have cost Guinea, Liberia and Sierra Leone alone more than $1.6 billion in GDP in 2015. The global economic impact of the SARS outbreak in 2003 was in the order of $30 billion to $100 billion.
Better public health strategies in developing countries are vital. Also essential are faster political decision-making around the onset of a crisis, a new regime for the development of drugs and vaccines and new collaborative models between public and private sectors to support financing as well as early detection and logistics.
Food security is a stronger presence on the radar. Increasing population, greater demand for meat, declining crop yields and growing water shortages all contribute to the escalating risk. Disruption from extreme weather events only increases the likelihood of crises in future decades. While science may engineer biological solutions, soil quality is deteriorating in many locations and farmers will not be able to shift crop planting sufficiently in response to the changing climate.
Systemic crises might result, as price spikes and shortages in one region have knock-on consequences elsewhere, as we have seen in Syria. In the words of a former Executive Director of the World Food Programme, "Without food, people have only three options. They riot, they emigrate, or they die."
Concerted efforts to develop drought-resilient crop strains, deploy big data to monitor plantations, roll out (micro)insurance solutions to protect growers and implement initiatives to reduce waste are all constructive steps in the right direction.
Implications for Business
What can businesses do to remain resilient in this challenging environment? The construction of plausible developments and worst-case scenarios provides a platform for gauging which assets are at risk and the scale of the potential damage. The best scenario-planning involves thinking creatively about second- and third-order consequences—likely government responses and cross-border impacts, for example. Companies can then stress-test their supply chains and investment decisions and evaluate changes to their strategy that would help diversify their exposure to disruptive events within and across countries.
Firms should also ask themselves whether they are doing enough to protect and manage their reputation, which is even more vital in this type of environment. Companies need to keep their finger on the pulse of both internal and external sources of instability so that emerging issues can be addressed rapidly and constructively before they cause lasting damage. Becoming more attuned to social and political conversations will also help leaders assess where they might deepen engagement—with customers, employees and policymakers—to help mitigate potential threats in advance.
Of course, a more volatile environment will also create opportunities in the form of new patterns of demand and new customer allegiances. Staying power is critical and companies that are adept in building the skills to manage through a global context of continuous stress and unrest will be better placed to grab market share from competitors that address the same challenges less successfully.