Society
Intensifying Confrontations and Deepening Long-Term Threats: The Prospects for 2020 and Beyond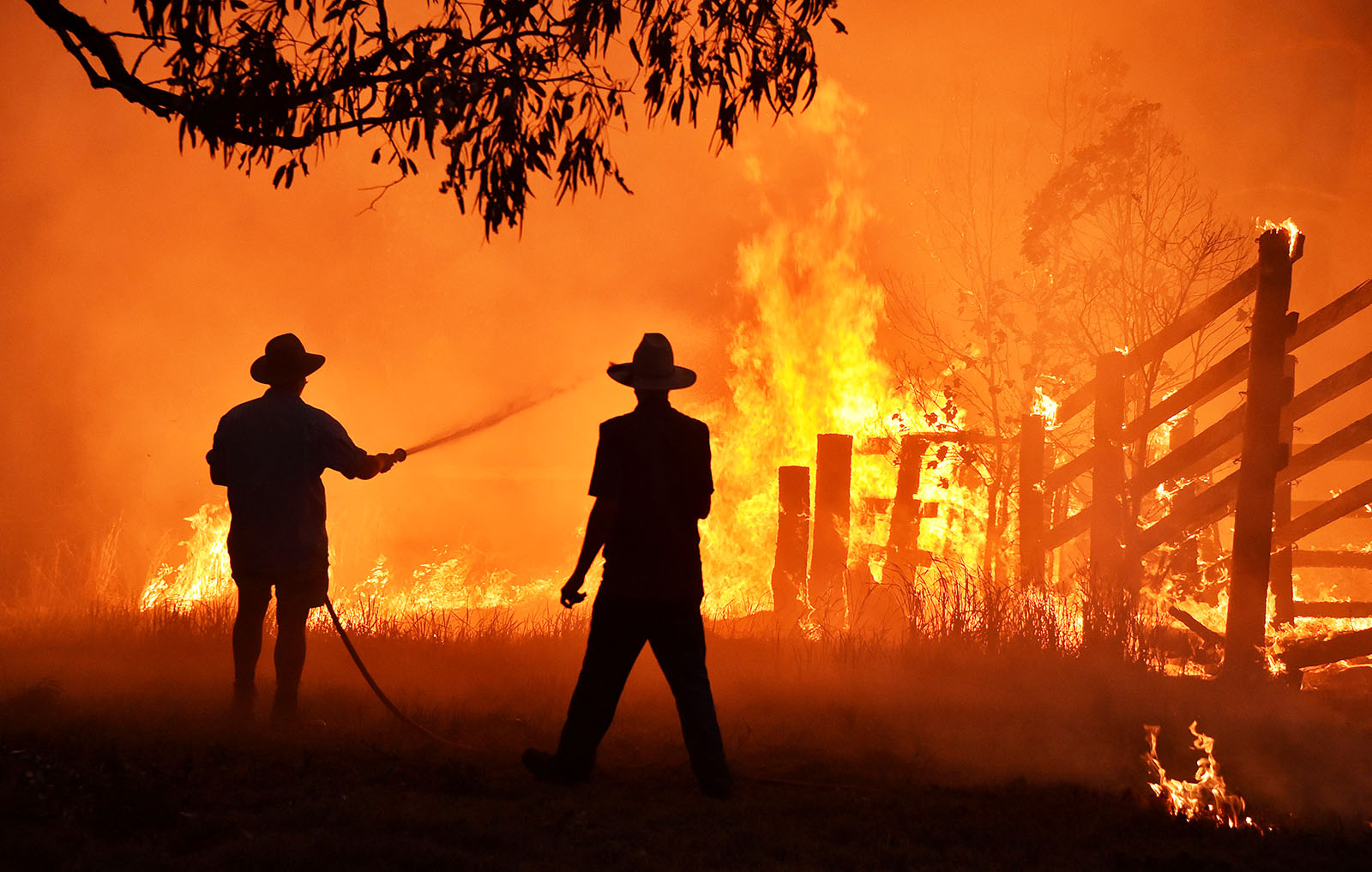 The new decade holds immense promise for societal, economic and technological advances. At the same time, as highlighted in the 2020 Global Risks Report prepared by the World Economic Forum with the support of Marsh McLennan and other partners, the world faces intensifying confrontations between and within countries, as well as escalating long-term threats from climate change and biodiversity loss. Emerging technologies are also amplifying some short-term risks and creating new risks, for example, with the increasingly pervasive deployments of artificial intelligence. 
An Unsettled Geopolitical Landscape
Conflict continues to persist in the Middle East, tensions are growing in North Asia and there are ongoing issues in the South China Sea. The role of multilateral institutions in coordinating around critical issues has been challenged by national political agendas, with many countries choosing to forge their own path. 
Economic confrontations between major powers have also been intensifying, reflected in the escalation of tariffs and trade disputes as well as increasing investment restrictions worldwide. 
While trade tensions between the U.S. and China have eased to some degree recently, most risk experts see the overall level of economic confrontations between major countries growing in 2020. High debt levels in the public and private sector have also been heightening economic vulnerability.
Nations also face deepening fractures in their domestic politics, with societies increasingly polarized and a growing level of protests in many regions. We have seen this in the U.K. with the frictions underpinning Brexit, in the partisan politics in the U.S., which will further intensify in the run up to the presidential election in 2020, and in the social unrest driven by systemic economic inequality in Latin America, Africa and Europe. Disapproval of how governments are addressing fundamental social and economic issues is sparking protests in the streets, for example, in Chile and Hong Kong. Domestic political polarization ranks as one of the risks most likely to continue increasing in this year's Global Risks Report. 
Technology is amplifying both domestic and international confrontations. Domestically, new digital technologies have spawned fake news and extremist content online, which has served to fracture discourse, erode trust and fuel unrest within countries. Technology is also facilitating interstate conflicts, evident in state-affiliated cyberattacks on critical infrastructure and the increasing strategic competition and conflict among countries with respect to the acquisition of sensitive technologies.
Growing Urgency on Environmental Risks
The most striking aspect of this year's Global Risks Report is that the top five long-term risks are all in the environmental sphere. 
Concerns about climate change have been rising over the past 10 years, and all key indicators point to a bad situation getting worse. The recent spike in the frequency and intensity of extreme weather events has served to further elevate concerns. 
Polar ice is melting more quickly than anticipated, with significant implications for sea-level rise. A growing proportion of the world's population is exposed to catastrophic flood risk due to the combination of climate shifts and rapid urbanization in coastal and low-lying areas. 
Australia is experiencing a continent-scale wildfire emergency with more than 5 million hectares burned, and California's catastrophic 2018 wildfire season caused more than $22 billion in direct property damages. Shifts in seasonal temperature and rainfall are damaging crop yields, increasing the stress on countries dependent on agricultural output and intensifying disputes over water resources.
Biodiversity loss also rose significantly in this year's risk ranking. 
Recent reports have brought greater attention to the irreversible consequences to society from the loss of biodiversity within and between species, which threatens food security and — in a vicious circle — amplifies climate change impacts. For example, damage to coral reefs increases flood risk, and deforestation in the Amazon increases the potential for drought and fire. 
Climate change activism is growing, and governments are facing mounting pressure to strengthen their efforts to address climate change mitigation and adaptation. This pressure and demand for action is also being channeled to the private sector. Companies should actively monitor legislative and regulatory developments so they don't get caught out by unexpected policy changes or regulation and prepare for increasing pressure on climate issues from all of their stakeholders: investors, customers, employees and communities. 
And as more governments are headed toward mandatory corporate disclosures of climate risks, companies will benefit from engaging in more rigorous risk quantification and scenario planning in this area.
Health Care Systems Are on Life Support
The Global Risks Report also underlines a heightened sense of urgency globally regarding health care. Surging social care and health demands and the rise of noncommunicable diseases (NCDs) and mental health disorders are increasing strains on an already stretched global health system. NCDs account for 41 million deaths each year, and the WHO expects this number to reach 52 million by 2030. Depression and anxiety disorders are also rising — currently 700 million people worldwide are estimated to have a mental health disorder. 
As an example of interconnected risks, climate change is further exacerbating the strain on health systems globally. Weather-related disruptions to health include air pollution, food and water insecurity and an increase in infectious diseases due to rising temperatures. 
Technology Risk Continues As a Critical Concern for Business
Cyberattacks remain the No. 1 risk concern among business leaders in advanced economies, and the rapid expansion in internet-of-things deployment is substantially amplifying the cyberattack surface for many companies. Data fraud and theft is also a high-ranking risk for the business community. 
There are also growing concerns with respect to the potential threats stemming from artificial intelligence — including safety, privacy and bias risks — and business leaders face increasing societal mistrust of emerging technologies generally. 
There has been limited progress in the development of any global governance standards with respect to emerging technology risks in the public sector. Some businesses are enhancing their internal approaches to technology governance — for example, by launching AI ethics frameworks or dedicated committees to oversee AI — as leaders grapple with the wide-ranging implications stemming from deploying these technologies.  
Improving Resilience and Capturing Opportunity
The Global Risks Report is a useful reference point for companies to consider external threats and their organization's resilience to them as well the potential growth opportunities that may stem from them. Focus should center on three areas.
First, business leaders should rigorously identify and assess the potential sources of disruption specific to their company stemming from the current global risk landscape. Risk quantification and scenario planning around the potential impact of individual or interconnected global risks can help identify potential tensions between commercial innovation, operational resilience and risk appetite. 
Second, they should review their risk prevention and response plans more fully, with a particular focus on whether their business is ready to respond effectively to fast-moving events that can impact operations and reputation. This process may facilitate the discovery and implementation of early-warning indicators, so that quick decision-making and response engagement can happen when a crisis arises. 
Finally, businesses should consider how to turn global risks into opportunities by pursuing growth and investment strategies that align their organization with the direction of change. 
In relation to climate risk, for example, many businesses are evaluating their physical and transition risk profile to consider their supply chain vulnerabilities and fulfill legal, regulatory and investor requirements. 
The same analysis can be leveraged to consider the new and expanded product and market opportunities that will be created from the evolution of climate change — for example, in renewable energy, sustainability-linked finance or more general innovations that will attract customers, investors and employees with a heightened sensitivity to the issue. 
The complex, multivector nature of these risks won't make it easy for companies to navigate the coming decade. It will require a constant weather eye on the geopolitical landscape, innovation and agility in technology, and a willingness to adapt supply chains and business models to accommodate the rapidly changing climate. But for those who do succeed, the rewards will be well worth it.