Society
Slavery Infuses Supply Chains, Demanding Closer Scrutiny by Companies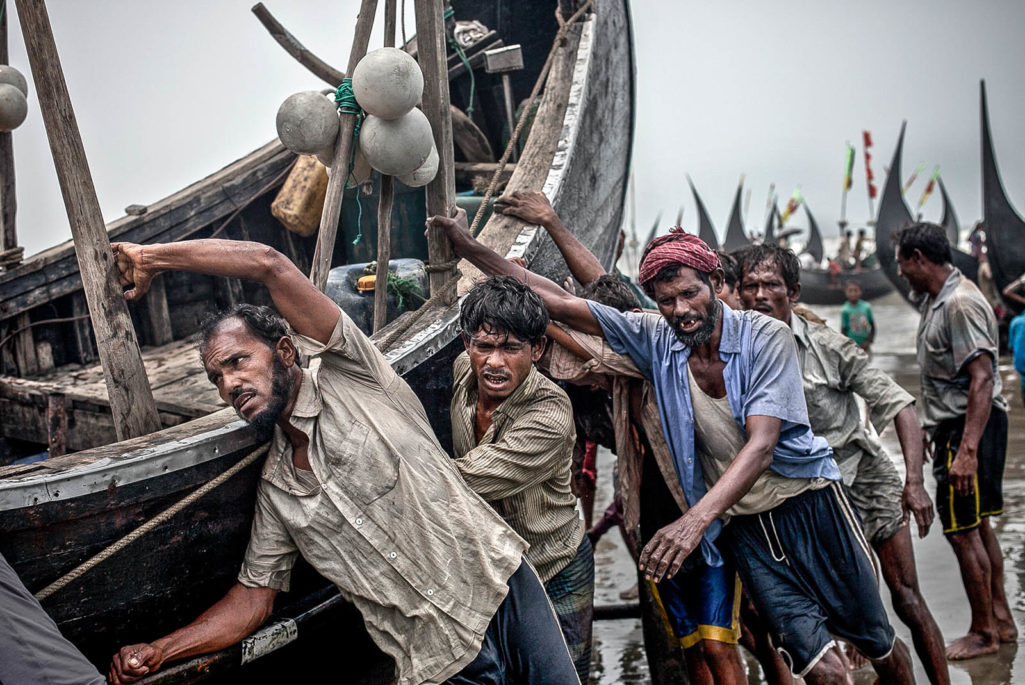 The global community has never before experienced such a large number of refugees and displaced persons. Many of these can be exploited, producing goods in our supply chain. This is the reason companies must show greater awareness—or else they leave themselves open to consumer discontent and legal action.
The recruitment of migrants and refugees into forced labor, a lack of transparency deep within supply chains and inadequate oversight of suppliers are among the greatest human rights issues facing companies today, according to a recent report. The identified issues go far beyond the need for corporate social responsibility and highlight areas that need to be addressed by diverse and coordinated sectors of senior management in American and global companies today.
The report, Human Rights Outlook 2016, identified 10 risks for business, more than half of which intersect with the problem of labor trafficking:
Labor Brokers: Building trust in ethical recruitment
Supply Chains: Achieving traceability
Moving Beyond the Audit: Increasing supply chain responsibility
Mandatory Reporting: Enhancing supply chain transparency
Migration: Preventing forced labor in European supply chains
Living Wage: Meeting worker and public expectations
Working Conditions: Rising labor rights scrutiny in Trans-Pacific Partnership
These risks exist not just in Europe but are very real in the United States. The California Transparency in Supply Chains Act, which went into effect in January 2012, requires companies with more than $100 million in annual revenues worldwide to report on their specific actions to eradicate slavery and human trafficking in their supply chains. The primary goal of the act is to make consumers better understand the standards of companies.
Such legislation is increasingly important to bolster a growing, informed and active constituency of anti-trafficking non-governmental organizations (NGOs) across the U.S. Although the Supply Chain Act is specific to California, it's having ripple effects across the U.S. and the pace of governmental action on labor trafficking has increased since 2012.
In 2013, the U.S. Department of Homeland Security launched a coordinated government-wide effort to combat labor trafficking. Combining enhanced public awareness through partnerships with communities, NGOs and universities, it seeks enhanced awareness and reporting of suspected instances of labor trafficking. The Blue Campaign, as it's known, also trains law enforcement and others to increase detection and investigation of human trafficking and to protect victims and bring suspected traffickers to justice.
A recent World Wildlife Fund study found that 85 percent of fish stocks globally could be at risk for illegal, unreported and unregulated fishing. U.S. President Barack Obama is set to sign into law this week measures that would close a loophole created by the Tariff Act of 1930 that allows for goods made by forced labor to enter the country due to consumer demand, including seafood. These measures are part of a larger trade bill that includes a ban on all imports made from forced labor. The National Oceanic and Atmospheric Administration has also announced a plan to better track seafood within supply chains.
Companies looking to remove forced labor from supply chains have many monitoring options.
Inspecting Supply Chains Worth the Price
The costs of engaging in human trafficking can be dramatic. The Signal Case from the Southern United States, concluded in 2015, highlights the enormous risks to a company that is determined not to have engaged in ethical recruitment—the first concern articulated in the Human Rights Outlook Report.
Signal, a Gulf company that repaired oil rigs, hired workers from India in the aftermath of Hurricane Katrina through an India-based recruiting company that did not inform them that the welders and other skilled employees they sought had paid exorbitant fees in India to obtain U.S. employment and a possible green card. Signal did none of the things usually associated with labor trafficking: withholding of wages, retention of passports and maintaining unsafe work conditions. It paid its workers at usual rates, provided vacation time and had one of the best safety records in the industry. But despite this, a jury in New Orleans found the company guilty of human trafficking because of the problems of unethical recruitment and the payment of excessive recruitment fees by the workers that the company did not refund. The company agreed to pay $22 million to 590 workers and has since gone into bankruptcy.
The Signal case is unusual because the workers who sued the company were working in the U.S. More often, the labor exploitation occurs in the supply chain of a company located overseas. For example, students in Florida organized a boycott of sportswear at their campus after learning that the sporting goods sold with the school logo were produced by trafficked Vietnamese workers in Jordan who were subjected to beatings, 16-hour shifts and other abuse. As a consequence of diverse pressures on the manufacturers, including from the American retailer that bought goods from the factory in question, the company producing the sporting goods finally agreed to let the workers go home.
The problem in Jordan cited above occurred before the rise of ISIS and the Syrian refugee crisis. With the millions of refugees in Turkey, Jordan and Lebanon, there is a temptation for companies to employ these individuals at sub-minimal wages. Items produced in these countries are part of the U.S. supply chain, particularly in the textiles and sportswear.
American importers and retailers are now under even greater pressure to verify their supply chains in the Middle East. There are retailers with production facilities in Turkey that are going the extra mile to vet their facilities to ensure there are not exploited workers in the factories that supply them. But many others that have not shown such foresight may find unwelcome risks in the future.
Multiple Monitoring Options Offered
Working in the global environment can be challenging when commodities cross so many borders and so many individuals handle the goods that we eat, wear, and use. Companies that seek to do the right thing have multiple options for information that were not available a few years ago to companies like Signal.
The DHS Blue Campaign has training and awareness materials on its website. Verité, an American research and training NGO that works with companies to ensure fair labor conditions for the workers in their supply chain, has extensive educational material available on its website at no charge. Their most recent additions identify risks for companies linked to supply chains for 43 primary commodities. Companies that are concerned about transparency in transport can engage with Truckers Against Trafficking, an American grassroots education and awareness-building NGO that works to set industry standards.
In 2015, initiatives to combat labor trafficking grew with public policy trends favoring anti-trafficking measures related to supply chains, government contractors and discourse surrounding the private sector in the fight against human trafficking. The UK Modern Slavery Act was passed with reporting requirements for corporations on efforts to combat trafficking. Key highlights on the importance of private sector engagement were included in the annual U.S. State Department's Trafficking in Persons Report as part of the U.S. government's 2015 focus on human trafficking in supply chains.
As 2016 begins, there is much promise to continue the momentum of the past few years as more and more companies begin to enlist in the war against modern slavery.