Economy
The Future of Jobs in Life Sciences: The View From Asia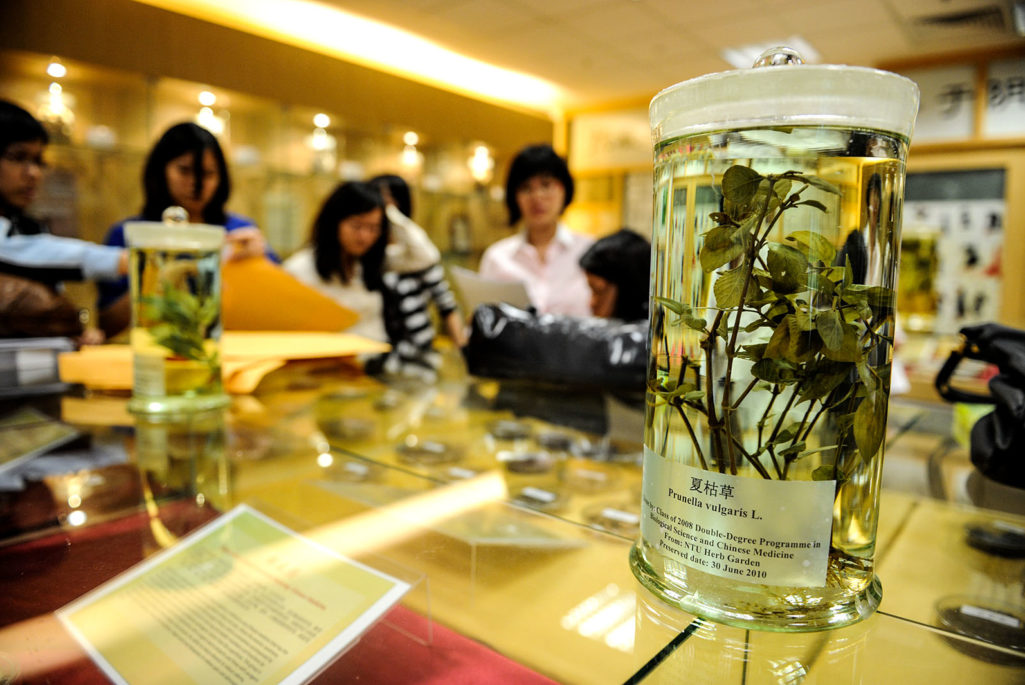 The Asia-Pacific region is home to more than half of the world's population and faces an ever-evolving health care ecosystem largely due to an aging population and societal lifestyle changes. With health care having been adopted as the third Sustainable Development Goal by the United Nations, governments around the world are getting more involved on both the demand and the supply side of the health care marketplace.
Aging populations coupled with the growing prevalence of chronic diseases, drug resistant microbes and rising consumer wealth are all expected to boost health care spending and demand for life sciences products over the next few decades. Projected medical inflation continues to outpace general inflation in Asia and was projected to increase by 11.5 percent year-on-year in 2016. According to a report on jobs in the life sciences, "Countries expected to have the most alarming medical inflation rates this year include Vietnam at 19.3 percent, Malaysia at 17.3 percent and Indonesia at 11.8 percent."
In a 2016 survey of 180 insurers across 49 countries, the key cause for the increased cost of employer health plans was attributed to noncommunicable diseases (NCDs). In particular, metabolic risk (which predisposes for NCDs such as cardiovascular disease and diabetes) was identified as the leading risk factor for rising health care costs in Asia.
Another noticeable trend impacting the industry is health care tourism, wherein foreigners from the U.S., the Middle East and Europe are visiting countries such as India, Thailand, Indonesia and Malaysia for medical interventions to realize significant cost savings.
The trend toward adoption of universal health care continues with more countries expanding public or private health care system coverage, or deepening coverage to reduce out-of-pocket spending.
While governments focus on affordability, access and quality, regulators are paying closer attention to distribution practices for emerging therapies, including adoption of new technologies such as nanorobotics. Pharmaceutical companies, on the other hand, are rushing in to bring new drugs and therapies to the market faster, amid increasing competition and regulatory scrutiny.
The Changing Nature of Jobs
The impact on required skills in the sector hits on multiple levels. On the one hand, deep specializations in specific niches are sought across both the pharmaceuticals (small molecules) and biologics (large molecules) spectrum. On the other hand, there is increasing need for specialized technocrats with big data, artificial intelligence, machine learning, robotics and nanotechnology with a strong biopharmaceutical orientation.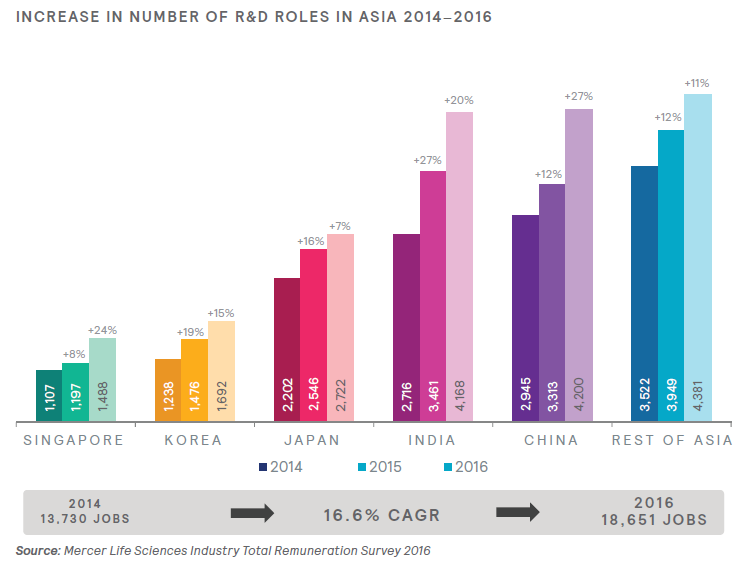 Asia is home to manufacturing and research facilities of all global pharmaceutical manufacturers, particularly in Japan, China and India. Additionally, the number of specialist R&D roles, such as those in pharmacovigilance, pharmacokinetics and biostatistics has more than doubled since 2014, indicating a robust shift of such roles from developed markets to Asia. There is a more even dispersion of growth in R&D roles seen across countries outside of Japan—the traditional hotbed for pharmaceutical R&D and manufacturing in Asia.
The number of senior roles within R&D in Asia has tripled in the past five years, according to Mercer research, which also indicates that more decisions around drug discovery and trials are happening today in this part of the world, and this trend is likely to continue.
From an increased demand for deep specialization in biologics, robotics and biomedical engineering, the industry is also likely to fuel the demand for functional skills such as supply chain, sales, digital marketing and finance. This trend is predominantly true of hubs like Singapore, where global life sciences multinationals have their regional headquarters. Biomedical engineering, biostatistics and pharmacists specializing in biologics are likely to be in huge demand given the increasing focus on the use of big data and technology, not only in health care delivery, but also in new drug development. In the medical devices industry, the increasing focus on automation, robotics and health care monitoring through the Internet of Things would mean an increasing demand for applied robotics with health care specialization.
The life sciences industry will need many more information, communication and technology professionals over the next three to five years, along with advanced professionals with backgrounds in pure sciences to undertake research in emerging areas such as stem cells and personalized medicine. With genome sequencing becoming increasingly affordable, for example, not only will demand for personalized medicine grow, but with the U.S. Food and Drug Administration's approval of the first 3-D printed drug—Spritam—the value chain will also have to be reconfigured.
With the emergence of new technologies, there will be an increasing need to deploy cross-functional teams at every stage of discovery and development. Given the paucity of certain skills in the region, companies will have to create a culture of cross-pollination of skills and "deep generalization." This will need to be accomplished through a combination of robust career frameworks and mobility programs that provide the employees visibility into various available career paths as well as the choices and associated benefits linked with those choices.
There has been a sharp increase in the need for data scientists specializing in biopharmaceuticals. A recent report by Oliver Wyman provides a glimpse of how big data can be leveraged across patient care and commercial value. Data scientists with a strong ability to combine vast streams of data from multiple sources such as clinical research, social care, patient-reported, medical records and economic data will be much sought after.
How can Companies Adapt?
The life sciences industry continues to be among the front-runners of innovation and change. The workforce of the future will need deep specialization in pure sciences and other functional areas, but also an increasing number of roles will demand cross-functional expertise, commercial acumen and application of technology. As the industry moves toward consolidation to draw on economies of scale, and large corporations begin to carve out niches that focus on generics as well as innovative therapies, there will be an even greater cross-pollination of skills. Companies that succeed will have built robust infrastructure for development of core and emerging skills, coupled with strong career architecture that allows for mobility of talent across a multitude of career paths—both across specialists and other generalist tracks.
As governments deploy digital health programs to make health care distribution more nimble and efficient, life sciences companies will have to increasingly co-opt with other stakeholders across the value chain (for example, closer partnerships with academia to co-create curriculum for jobs that do not exist today). With the transformation of the sales model from supply-side product push to demand-led self-selection, the value chain will compel the creation of new techno-commercial and specialist roles at the inflection of the two disciplines—medicine and technology. A dynamic approach to curriculum development through closer public-private partnerships and a supporting regulatory environment that fosters talent development and innovation will be needed across Asia.
A more in-depth look at this topic can be found here.