Society
The Story of Retail Is the Story of Urbanization. So What's Next?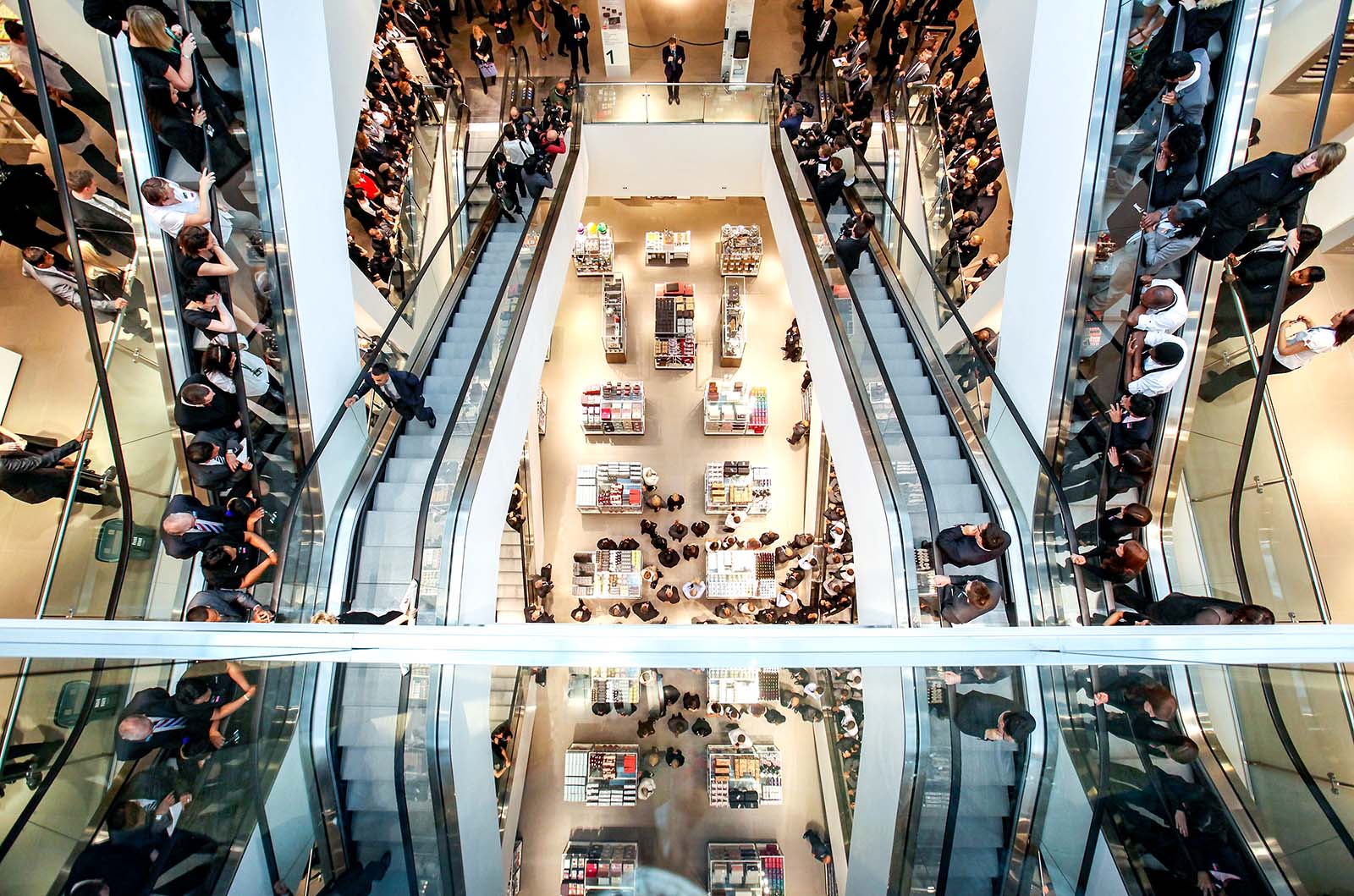 Earlier this year, the retail giant Sears filed for bankruptcy in a last-ditch effort to save a fraction of its stores from liquidation. Analysts tend to identify an easy scapegoat: online retail. But the story of Sears' decline and the death of B- and C-tier malls in America is not just one of technological disruption. It is also one of urbanization.
As an architect and urban designer working internationally on large projects that often include retail, I am increasingly seeing new and successful forms of shopping that depart from the traditional mall. But as wildly varied as these different models may be from another, they tend to have one thing in common: the mall of the future embraces the urban.
The Rise and Fall of Suburban Retail
The history of the development of retail in the United States parallels the flow of people in and out of cities. A useful case study for this is Sears.
By 1920, more Americans lived in cities than in rural areas for the first time in history as a function of industrialization. To cater to this urban demographic, Sears started building department stores in American cities. But by the end of the 1960s, more people inhabited suburbia than cities, enticed by federal highways and government mortgage insurance programs (although it's worth noting that minorities were largely missing from these new neighborhoods, excluded through redlining and mortgage discrimination).
Riding this nationwide trend, Sears doubled-down on suburban stores. It even created a subsidiary, Homart Development Company, to build suburban malls around the country.
It was a smashing success. A quintessential part of the postwar American dream—the suburban home with its verdant lawn—became a visit to a Sears mall, where you could easily park your car and fill it up with the obligatory washer, lawn mower and leaf blower.
At the peak of its prime, Homart was the second-largest mall developer in the U.S. As an expression of Sears' economic might, Sears built a new headquarters in Chicago, the Sears Tower, which was the world's tallest tower when it was built in 1974. It's telling that the tower is no longer named Sears Tower. In 2003, Sears' naming rights contract expired; in 2009, the building was renamed Willis Tower.
A Changing Demographic Landscape
The name change was presaged by a meaningful demographic shift. In the new millennium, America's urban landscape changed once again, and shopping preferences changed along with it.
Millennials are far less drawn to the auto-oriented lifestyle of their parents. According to one Goldman Sachs survey, only 15 percent of millennials view car ownership as "extremely important"; the largest group of respondents, at 30 percent, responded that they did not intend to buy a car at all in the near future.
The retail industry will need a strategy that provides customers with the excitement and convenience that we associate with the world's most vibrant cities.
Unlike baby boomers—for whom home and car ownership tended to be lifelong goals—millennials are more inclined to direct their incomes to travel, eating out, going to concerts, and other types of life experiences. They prefer to live in cities, where they have easier access to a larger diversity of such potential experiences. And with relatively small city apartments, they have less room for stuff. Today, two-thirds of America's 25- to 34-year-olds with a bachelor's degree live in the nation's metropolitan areas with populations of a million or more.
Unfortunately for Sears, the suburban exodus impacted its mall business. The bottom tier of malls suffer or is already "dead," marked by parking lots with cracked asphalt and facades with "label scars," a term that denotes the faint trace of a sign left by the previous tenant.
Is This the End of Mall Retail?
Across the United States, suburban malls are getting a makeover.
Instead of expansive parking lots, malls are welcoming residential apartments, office buildings, and walkable urban-style streets. Developers are doing this because there is a growing demand for walkable, urban-like neighborhoods, and shopping centers provide developers with massive properties and parking lots that are easy to build on. These new developments, in turn, increase foot traffic at the mall's remaining stores.
The Northgate Mall in Seattle, for example, which opened in 1950 as the first covered mall in the nation, is converting its parking lots to residential and office towers, while reducing commercial space. An extension of the light rail system will connect the mall to the city. What was once a prototypical suburban mall is increasingly adopting urban characteristics and strengthening its connections to urban Seattle.
Retail Villages and Vertical Malls
On the other side of the globe, in China, developers are building retail "villages" in cities. Departing from the traditional mall as a single massive building, the shops are housed in a range of buildings organized around plazas and lanes and complemented with restaurants, hotels, and office buildings.
The Taikoo Li project in Chengdu, for example, is a village of timber-framed buildings with stores and restaurants placed along tree-lined lanes and intricate public space. A hotel, serviced apartments and an office tower guarantee foot traffic around the clock.
Another new model is the "vertical" mall. Hysan Place in Hong Kong (designed by the architecture firm KPF, for which I work) is a 40-story office and retail building that includes 17 levels of retail. The building's staggered forms generate various outdoor vertical gardens that provide users with a green oasis in the density of the city. Meanwhile, crisscrossing elevators through the building's soaring atrium provides people with an exciting visual experience—not unlike the spectacle enjoyed by Charles Baudelaire's flâneurs in 19th-century Parisian boulevards.
Conclusion
In 2019, millennials are expected to overtake baby boomers in the United States. Even companies like Amazon and Alibaba, traditionally online retailers, are opening urban stores. It may be too late for retailers such as Sears, but there is still a place in the social fabric for shopping centers. They're just not a boring big box on an asphalt parking lot.
To cater to the new largest demographic, the retail industry will need a strategy that provides customers with the excitement and convenience that we associate with the world's most vibrant cities.