Geopolitics
The Three Major Obstacles Facing Next Defense Secretary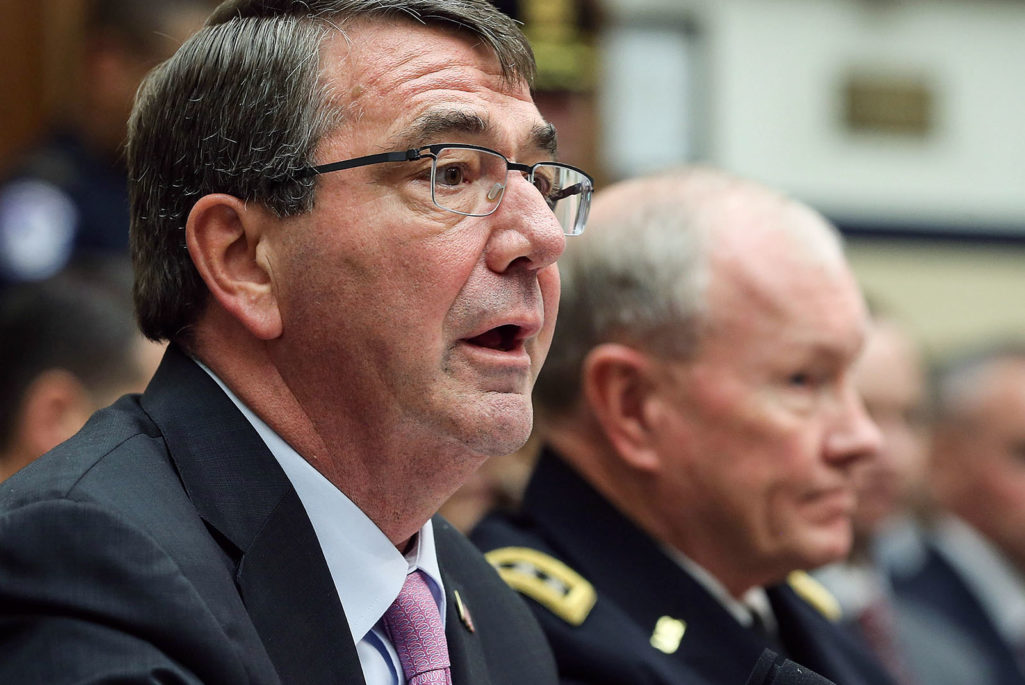 In an otherwise unremarkable ceremony at the White House's Roosevelt Room early this month, President Obama nominated Ashton Carter, a long-term Pentagon technocrat, to replace Chuck Hagel as the next secretary of defense.
And while all of the proceedings rang as ordinary—including Carter saying his nomination was a real "honor and privilege"—experts believe the challenges he will face if confirmed are threefold: A shrinking budget that leaves little room for technology development and weapons acquisition, a president who has historically leaned on the counsel of a small number of close advisers, and an unpredictable global landscape—particularly with respect to ISIS, Iran, Russia, and China.
Christopher Preble, vice president for defense and foreign policy studies at the Cato Institute, stated the problem bluntly: "He doesn't have enough money."
"The amount of money that's been budgeted for the Pentagon is inadequate to [carry out] the missions that the Pentagon has been assigned," Preble said. "I think it would be too much to expect him to discover the equivalent of about $500 billion under a rock over the next decade."
Not only has the military's budget remained flat in real dollar terms, but Congress' reluctance to raise taxes in order to beef up the Pentagon's budget will likely result in Carter postponing new weapons acquisitions, reducing the military's presence when it's not engaged in active conflict, and cutting a significant portion of contractor costs, Preble added.
"There is pretty strong opposition to raising taxes, mostly among Republicans but not exclusively," Preble said. "I don't think you are going to see a lot of public enthusiasm for higher taxes to pay for more military spending."
Some question whether Ashton Carter can sell his foreign policy strategy to an unresponsive White House.
But Carter, who has spent more than 20 years at the department, is well equipped to handle internal budgeting, operational procedures, and weapons procurement initiatives. Since 2011, he has served as the defense department's chief operating officer, where he oversaw global logistics and nearly 2.5 million personnel.
"I think he's shown that he's somebody who can manage the department," said Anthony Cordesman, an analyst with the Center for Strategic and International Studies. "People are often interested in strategy, policy, and technology, but making a $600 billion enterprise actually function is by itself a pretty demanding task."
While Carter's operational proficiency and weapons procurement savvy is widely recognized, Republicans in Congress are questioning whether Carter will be able to successfully sell his foreign policy strategy to a White House they claim has been unreceptive to the opinions of high-level cabinet officials.
"I'm sure that [Carter's] been around long enough to know that he will have little to no voice in the crucial decision on national security," Sen. John McCain (R-AZ), said earlier this month. "It's a reality, this administration doesn't give decision making authority to anybody but three or four people in the White House, which is one of the reasons it's been such an abysmal failure."
This sentiment was echoed by nonpartisan experts as well, who have criticized Obama for relying on a close-knit circle of advisers rather than the cabinet officials confirmed by the Senate.
Even if Carter is able to form a close personal relationship with the president, his vision for long-term strategic goals will likely be ignored, said Kenneth Weinstein, president of the Hudson Institute, a Washington-based research organization. This was the case with Carter's most recent predecessors, who've all left office frustrated at the lack of attention paid to them by senior White House officials.
"We have a system that is a very much a close-hold, which means there is very little consultation even with our allies on critical issues," Weinstein said. "He is not going to be a secretary of defense who's charged with issues of war and peace. He will be a secretary of defense charged with managing, acquisition, technology, and reform."
If Carter had only the budget or cost escalation to deal with, the challenge would be serious enough—but at some point global realities will intervene, Cordesman said, referring to the rapidly changing foreign policy concerns in Syria, Iraq, and Russia. "Is he going to have, shall we say, an exciting and demanding time? Yes."