Society
What Testing Do You Need to Do to Reopen Your Office?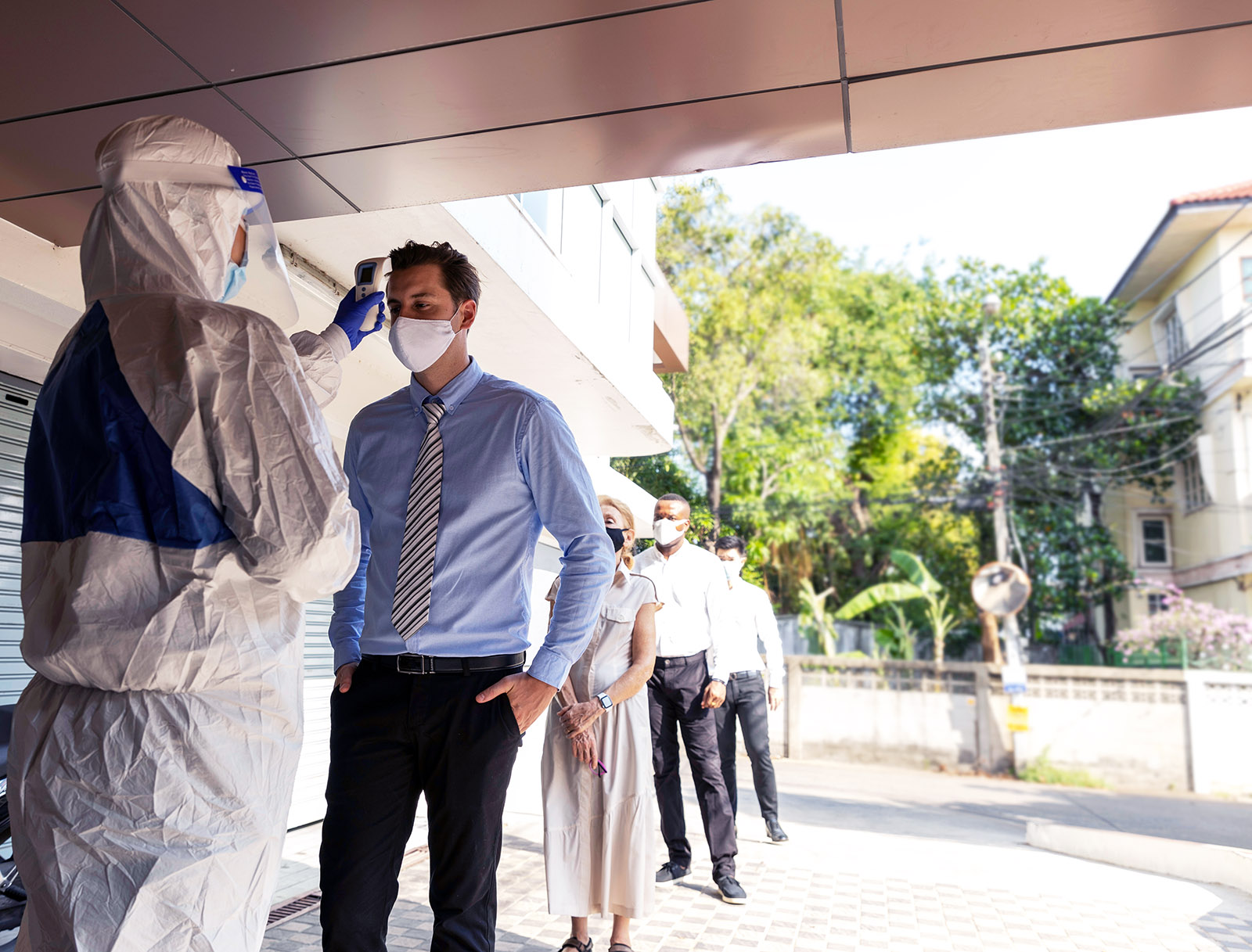 With total global cases reaching 11.47 million as of July 5th, 2020 (with over 25% located in the US), it's evident that the COVID-19 pandemic is going to be part of our landscape for some time to come. 
Our research suggests that the pandemic won't be ending before 2022, and the World Health Organization expects it might even take up to five years to fully control the virus globally, so it will be critical for organizations to implement some form of diagnostic testing.
It Is Everyone's First Rodeo
While public health experts and government officials have repeatedly stressed that widespread testing will be vital to reopening, there is limited clear guidance from U.S. state and federal agencies on how employers can actually detect and track coronavirus among their staff. 
As a result, businesses are currently feeling mostly on their own in sorting out whether to test — and how to do it — to ensure the safety of their employees and customers.
"It's the Wild West out there when it comes to testing," said Scott Oswald, a managing principal specializing in workplace issues at Employment Law Group. "There really is no standard at all, and employers are left to come up with decisions about testing on their own." 
Public health experts concur that the lack of testing guidance has left business owners in a precarious situation. "Because we do not have a federal response, it undermines the ability of businesses to predict how and when and where to do [testing]," said Dr. Ingrid Katz, Harvard Global Health Institute infectious disease specialist.
Still Pressure to Test
Despite the uncertainty, employers still face pressure to test. In Nevada, the Culinary Workers Union required casino resorts to implement regular testing of all employees. Detroit has made threats to shut down grocery stores that are not able to get their employees tested. Many large employers have shared few details about their proposed testing strategies. Walmart was working to "sort out" the company's testing strategy, and Ford only disclosed that they were considering a testing plan. 
A recent report released by PreScouter explored a wide range of options to implement workplace testing, from at-home kits to how businesses can set up their own complex lab. Most companies will want to optimize for the most cost-effective, long-term solution that provides test results quickly, before a viral outbreak spreads at a work site. Infectious disease expert and co-author, Dr. Maikel Boot, who has actively been providing guidance to organizations regarding COVID-19 testing options, stresses that diagnostic testing at workplaces is still a nascent field: "No one has done this before and it's everyone's first rodeo. Therefore, a lot of companies we contact are still unsure of what to do and perhaps in doubt of whether or not to take action," Boot said.  
Why Workplace Testing Is Important
Despite workplaces doing their best to implement safety measures, such as conducting daily wellness checks (temperature reads and questionnaires asking employees about COVID-19 symptoms) before entering a site, many carriers of SARS-CoV-2 ((the virus causing COVID-19) are asymptomatic. 
Even work sites with the most stringent safety practices may be "ticking time-bombs" that result in devastating media headlines and shut-downs of business-critical facilities. One recent example was with Tyson's Pasco, Washington-based plant where, even with rotating shifts and other safety practices, 19% of their 1,482 workers tested positive for COVID-19. Half of the workers who tested positive were asymptomatic. The plant was closed for about 12 days in order to test all workers and conduct deep cleaning. Only enough workers were able to return to work to operate the plant at a little over half of normal production.
Preventative, regular testing of workers can catch asymptomatic carriers of the virus and further prevent a viral outbreak at company facilities. The Equal Employment Opportunity Commission, which regulates anti-discrimination laws, has provided guidance permitting such tests. 
Types of Test Kits
There are two main types of tests: serological (antibody) testing and diagnostic RT-PCR. It is critical to know what each offers: 
Serology tests detect antibodies that have been made in response to infection and use patient blood or blood plasma as the testing sample. Serology tests are variably reliable and are used to detect late-stage or past infections.

RT-PCR tests indicate a current infection. Diagnostic RT-PCR tests detect viral RNA from patient sputum, saliva or nasal swabs.
In the U.S., there are 120 FDA-EAU approved RT-PCR and serology testing kits. These vary from high-complexity molecular tests to moderate complexity tests and so-called CLIA-waived (point of care) tests. There are, however, many differences between kits; for instance, sample administering methods have a big impact on an RT-PCR's sensitivity. 
PreScouter advises in favor of RT-PCR for preventative testing because it can detect infections early on, whereas serology testing cannot with a high enough certainty.
What Do You Do While Testing Capacity Is Limited?
While preventative workplace testing can prevent site closures and the resulting financial and reputational damage, there is currently a shortage of supplies for every aspect of COVID-19 testing. Nevertheless, the entire supply chain is working hard to expand capacity over the next few months. According to scientists at Harvard and Johns Hopkins, the U.S. should be testing about 20 million people each day in July to safely and fully reopen society. 
In addition to supply chain shortages seen in the figure below, it must be noted that testing capacity is also limited for test kit providers who are currently backlogged with orders. But, efforts are in place to gradually increase capacity within the coming six to eight weeks. 
In the meanwhile, workplaces can start the process for obtaining necessary local licenses and establishing testing protocols, so they can begin workplace testing as and when it becomes necessary. 
For how frequently testing should be done, infection rates within the community that a workplace resides may be a good indicator for when, and the extent to which, workplace testing is regularly conducted. Depending on the size of your company, the expertise of your employees and the criticality of each work site, some options may be more feasible and cost-effective than others. Experts can help determine and implement the most effective approach for a company's business needs.